Homepage A to Z Index Book outline People Places Plays About these letters About EJ Phillips EJ Phillips Facebook Fan Page

Photographs, playbills and artifacts
Family photographs Artifacts Colleagues Playbills & programs Hotels and cities Maps Cities Films & recordings of colleagues, plays and music
Professional photographs
Elizabeth Jane Phillips [Nickinson]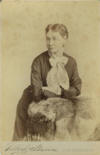 Gilbert & Bacon, No. 40 N. Eighth St. Philadelphia
EJ Phillips Philadelphia
Sarony photograph 1886
EJ Phillips probably in Jim the Penman
EJ Phillips sketch from San Francisco Our Society review 1888
EJP San Francisco 1896
EJP Playbills
EJ Phillips' Family
John Nickinson c. 1850's portrait




c. 1860 Charles D. Fredericks CDV John Nickinson bought on eBay July 2015 from Chris Marsicano of Delevan Wisconsin, who bought it at as part of a box lot at a New York auction. The same picture is in the Harvard Theatre Collection's scrapbook edition of Ireland's Record of the New York Stage [I think].
John Nickinson photograph
EJ Phillips, John Nickinson c. 1860
John and Charlotte Nickinson as Havresack and Melanie in Dion Boucicault's Napoleon's Old Guard 1850's
John Dolman Sr. c. 1850's
Hattie and Albert, Cincinnati 1865
Albert at about 10, Indianapolis



Albert Edward Nickinson 1878, 15 years old
Albert Nickinson & Mary Penelope Macardell Nickinson "Neppie" Married Nov 1889
Albert Nickinson in his Middletown Fire Department uniform c. 1890's
Albert's Excelsior Hook & Ladder Co. card
Albert in Middletown theatre troup
Albert with Kathy Dolman Pensacola, Florida 1940's

Edward Phillips Nickinson "Ted" about 1 year old c.1892, Middletown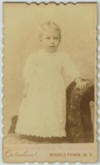 Ted Nickinson and his cousin Jack Dolman c. 1893
EJ Phillips & grandson Jack Dolman c. 1894
Gilbert & Sullivan's Mikado Ted Nickinson & Arthur Fanshon, Middletown NY, 1896 Ted about 6



Hattie Nickinson Dolman Hattie and Jack
Dolman plot, West Laurel Hill Cemetery, Philadelphia 1999

Cornelius Macardell, Neppie's father, c. 1900, Middletown NY

Em Turner Nickinson Kuhl reading the 1996 Letters edition Ft. Lauderdale
Great, great-great and great-great-great grandchildren of EJ Phillips Nickinson Pensacola, July 1999
Great Great Grandaughters Marjorie and Mary Glen in Union Square, New York Nov. 2002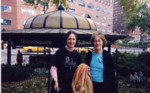 Artifacts
Fabric "from a dress made by Olimpe" Canal Street, New Orleans



EJ Phillips' heart shaped box
Money order for care of Hattie and Albert 1874
Souvenir card Lady D. Mrs. Phillips "Washington trip April 18, 1887
Souvenir of the 50th performance of the Gay Parisians New York 1895
Telegram 1888
Trunk label
Albert and Neppie's bedroom china from Macy's
Albert's moustache cup
Albert & Neppie's gold rimmed china cups and teapot
Zavistowski's wedding present to Albert and Neppie 1889
EJ Phillips' quilt 1870-1930
Albert Nickinson in his Middletown Fire Department uniform 1890's
Albert's Excelsior Hook & Ladder Company card
Colleagues
Palmer Companies colleagues
Sarah Bernhardt, Between the Acts cigarette card
Agnes Booth, Between the Acts cigarette card



Dion Boucicault playwright
May Brookyn Our Society 1888
Marie Burroughs
William Davidge 1888
CP Flockton
Maud Harrison Our Society 1888
EM Holland
Gertie Homans
Herbert Kelcey
William LeMoyne self-portrait "Sam Hoggard" The "Saint" to E.J.P. "The Sinner"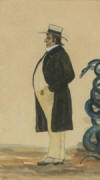 Louis Massen
Dr. John T. Nagle 1864 and 1900
AM Palmer of the Union Square and Madison Square Stock Companies
Annie Pixley postcard
Walden Ramsey
Frederick Robinson
Annie Russell Our Society 1888 Sealed Instructions
Alexander Salvini
Oscar Wilde, Between the Acts cigarette card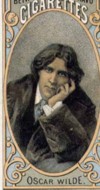 Can you help identify these people?
Playbills and programs
Charlotte Cushman playbill, Hamlet, May 1858 Philadelphia
John Nickinson playbills Roll of the Drum, Royal Lyceum, Toronto, Jan. 12, 1855
Uncle Tom's Cabin, Royal Lyceum, Toronto, Feb. 1857
Dion Boucicault's Octoroon, Metropolitan Theatre, 1861
Fanchon with Maggie Mitchell newspaper ad, Pike's Opera House, Cincinnati, 1864
EJ Phillips playbills and programs
Othello playbill 1865, Junius Brutus Booth, Jr., Pike's Opera House, Cincinnati, April 1865
Our Boys, Chestnut St. Theatre, Philadelphia Sept 6, 1897, 100th performance
Pink Dominos Union Square Theatre
Stormbeaten, Union Square Theatre, Jan. 1884, 75th performance
Saints and Sinners program Dec. 1885, Madison Square Theatre, New York
Closing act of Jim the Penman
Portland, Oregon Madison Square Theatre playbill June 1890
Actor's Fund Fair patrons May 1892
Joseph at Stone's Opera House, Binghamton New York, Nov. 1892
Camille, Hammerstein's Harlem Opera House, Jan. 1895
Gay Parisians, Hoyt's Theatre, Nov 1895
Actors Fund Fair 1892 Committee Garden Theatre Patrons
Ads
Alcohol Best tonic malt and hops Bicycles Corsets furs and gloves
Microbe killers Morphine Tonics Sewing machines
Theatre advertising
Cities, Hotels and Theatres
Atlanta, Hotel Aragon 1897
Boston South End [baseball] Grounds US Hotel, 1886, 1891 Hotel Bowdoin 1895



Chicago, Tremont House 1886 Palmer House 1888 Leland Hotel 1890 Sherman House 1889 1893 Tremont House 1895
Denver, St. James 1886 The Windsor 1890
Kansas City, Coates House 1890 New Coates 1896
Los Angeles, Hotel Nadeau 1888
Montreal, The Windsor 1894 Queen's Hotel 1895

New York, Sturtevant House New York Theatres Madison Square Theatre


New York Stanford White's Madison Square Theatre 1890
Marjorie and Mary Glen in Union Square, New York Nov. 2002
Philadelphia New Year's celebration 1901 Dolman plot West Laurel Hill Cemetery
Portland, Oregon The Portland 1890 1896
Salt Lake City, Walker House 1886 Cullen 1888 Knutsford 1896

San Francisco, The Baldwin Hotel 1886 1890 1896



Cliff House 1896

Seattle, Washington, The Rainier 1890 The Genesee 1896
Stockton, California, Yosemite House
Tacoma Washington, The Tacoma 1890
Toronto, The Rossin House 1894
Washington DC, Willard's Hotel 1893 Randall 1894
Grover Cleveland's Inauguration Mar. 4, 1885 Inauguration Ball dance program and menu Ball Regulations and floor plan, New Pension Building


EJ Phillips' Manhattan with a number of photographs
Railroads
Still need photographs
A silver mug "presented by the patrons of the Utica Museum to John Nickinson, Manger, March 8, 1858. Is this in Pensacola? Can we get a photograph?
Lizzy has EJ Phillips' traveling mirror. I'd love a photograph of that.
Em is to get me a picture of EJP's trunk, and the flowered bodice that was in it, too small for anyone but a young girl.
Do we know where the Nickinson sword, shoe buckles and/or Masonic items are?
Bibliography
Dating photographs http://www.genealogy.com/73_taylor.html
Photo Detective Maureen A Taylor https://maureentaylor.com/
Last updated Aug 23, 2020
Homepage A to Z Index Bibliography People Places Plays Site Map About these letters About EJ Phillips EJ Phillips Facebook Fan Page