Homepage A to Z Index Book outline EJ Phillips Facebook Fan Page

Cincinnati

1860s Civil War and Assassination of Abraham Lincoln 1893 Cleveland 1893 1895

EJP's Cincinnati Google Map http://maps.google.com/maps/ms?ie=UTF8&hl=en&msa=0&msid=202426891661796490166.0004980b2bec7cb370b54&z=15
"In 1862 I was engaged for "Pike's Opera House", Cincinnati where I remained until the destruction of the theatre by fire on the 22nd of March 1866. The performance that night was a revival of "Midsummer Night's Dream". [Alice Zavistowski played Puck.] Twenty minutes after the performers had left the theatre the stage and auditorium were in flames and all efforts to save any portion of the building were in vain. During my four years at this "Temple of the Drama" I had to work very hard and in every "line of business". From Tragedy to Comedy, Farce, Burlesque & Pantomime, "Leading Parts" Heavies, Old humour & Soubrettes – nothing came amiss. It was very seldom that I was "out of the bill".
I remained in Cincinnati for another season playing in "Wood's Theatre". Scene painter ET Harvey compares the two theatres "There was a dignity about the aristocratic Pike's which kept the general public from getting familiar with either the theatre of the company. But there was always an easy sociability about the "Old Woods," It was built by Geo[rge] Wood, who had married Cincinnati's greatest actress Eliza Logan. They moved to New York in the early part of the Civil War." [and EJ Phillips knew them and their children when she lived in New York.] EJ Phillips autobiography written for AM Palmer in 1890 and found in the Harvard Theatre Collection.
Albert Nickinson was born in Cincinnati July 8, 1863. Hattie had been born in Toronto in 1860, so John Nickinson and EJ Phillips seems to have come from Canada in September 1862. EJ Phillips' handwritten autobiography in AM Palmer's Union Square papers at the Harvard Theatre Collection records that she was engaged by Pike's Opera House in Cincinnati in 1862 and remained there until the theatre burned in March 1866. John Nickinson was eventually hired by Samuel Pike, but not until 1863 – so perhaps she was more employable than he was by the time they moved to Cincinnati, where their third child (and my great grandfather) Albert Edward Nickinson (July 8, 1863-1948), was born. Samuel N. Pike (1822-1872), a wealthy distiller had built Cincinnati's first Opera House in 1859, after hearing Jenny Lind sing and "vowed he would build a theater worthy of such a voice".
But were EJ Phillips and John Nickinson ever married? One source expressed doubts in a chapter on "Samuel N. Pike and Pike's Opera House" from Recollections of a Scene painter, E.T. Harvey, Cincinnati Ohio 1914 [via Google Books] . "John Nickerson [sic] was stage manager at this time. He and Miss Phillips lived together as man and wife. There was a mystery about them, however, it was hinted that he had a wife and family living in Canada. [The first Mrs. Nickinson was then living in New York.] Nickerson had been an officer in the English army. He was found dead one evening in a little cigar [drug] store that he used to frequent. Heart disease was the cause it was said.
Miss Phillips continued with the Pike company until the theatre burned down, and if there was any scandal it was forgotten. She was a pleasant, home-like woman of about forty [actually 33 at the time of John Nickinson's death] perhaps. She had a quiet way with her, and Nickerson [sic] and her seemed to live very happily together. She played what was called 'Old Women and Heavies" and was very capable. After Pike's burned she went to the Union Square, New York [12 years later] and was in all their big successes."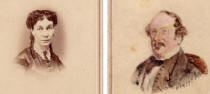 EJ Phillips A.R. Miller's Photographic Gallery, Indianapolis No 45 E. Washington St. [about 1866]
John Nickinson Dewey's Gallery 102 W. Fifth St., bet. Vine & Race, Cincinnati [1862]
One surprise as I expanded my chronology of plays and other events was that a group from Pike's including John Nickinson and the Zavistowskis went to Nashville in 1863 June 22-July 20. Albert was born July 8, 1863 in Cincinnati. I can't imagine that EJ Phillips was enthusiastic about this trip. The New York Clipper reported that audiences were large and enthusiastic for Napoleon's Old Guard and School for Scandal. John Nickinson played Sir Peter Teazle.

Nashville Civil War history: The General Assembly was in session at Nashville when Fort Donelson fell on February 16, 1862. Soon after at the end of the month, Nashville became the first state capital to fall to the Union troops... Governor Harris issued a call for the legislature to assemble at Memphis, and the executive office was moved to that city. In the meantime President Lincoln appointed future President Andrew Johnson Military Governor of Tennessee. He set up offices in the capitol at Nashville. Confederate uprisings and guerrilla attacks continued sporadically in the city....Refugees poured into Nashville during the war, because jobs were plentiful in the depots, warehouses and hospitals serving the war effort, and furthermore the city was much safer place than the countryside. Unionists and Confederate sympathizers both flooded in, as did free blacks and escaped slaves, and businessmen from the North.[21][22] Nashville, with its very large transient population, had flourishing red light districts... A secret Confederate underground operated in the city, smuggling arms, medicines and information to the Confederacy, helping prisoners escape, and giving information to Confederate spies.[24] Wikipedia History of Nashville Civil War accessed 2018 Feb 5 https://en.wikipedia.org/wiki/History_of_Nashville,_Tennessee#Civil_War
Albert Edward Nickinson, Cincinnati, Ohio How old was Albert in this photograph?




Hattie and Albert, Cincinnati c. 1865
Hattie aged four years and nine months Albert aged one year and ten months
Hattie- Hoag and Quick's Art Palace, 100 4th Street Albert - Ball & Thomas Photographic Art Gallery, 120 W. 4th St. near Race
1863 May John Nickinson and Maggie Mitchell in Little Barefoot, Louisville theatre, Louisville KY https://en.wikipedia.org/wiki/Margaret_Mitchell_(actress)' 1836-1918

1864 JN EJP And Maggie Mitchell in Fanchon the Cricket Pike's Opera House, Cincinnati

A newspaper clipping gives the program at Pike's Opera-house [Cincinnati] Jan. 25, 1864 as Maggie Mitchell in Fanchon OR the Cricket! with Mr. Nickinson as Father Barbeaud and Miss Phillips as Old Fadet, concluded by a Grand Ballet Divertissement by the renowned Zavistowski Troupe.
Maggie Mitchell in Fanchon ad 1864



Maggie Mitchell as Fanchon, https://digital.library.illinois.edu/items/b6bcc590-4e7d-0134-1db1-0050569601ca-f

Maggie Mitchell Matthew Brady Studio portrait http://www.npg.si.edu/exh/brady/gallery/100gal.html
John Nickinson



John Nickinson, CD Fredericks & Co., 587 Broadway, New York, 1863, 19th century actors carte de visite collection, Univ. of Washington Libraries Digital Collection http://digitalcollections.lib.washington.edu/cdm/ref/collection/19thcenturyactors/id/437 Thanks to Allister Hardiman for telling me of this find and enabling me to buy a copy on eBay.
Death of John Nickinson 1864 EJ Phillips, Junius Brutus Booth Jr and the Assassination of Abraham Lincoln
John Nickinson obituaries 1864
London Era, Mar 13, 1864
The Cincinnati Gazette of Thursday, Feb. 19th, says -- "The well-known actor, Mr. John Nickinson, died suddenly on Tuesday evening, under the following circumstances: -- at nine o'clock he called into the apothecary store of Mr. C.H. Brutton, on the north-west corner of Fifth and Elm streets, and reclined upon a lounge. A gentlemen present, feeling fatigued, placed himself by the side of Mr. Nickinson and fell asleep, but was awakened in a few minutes by a lad who drew his attention to a change in the appearance of his companion, whom he found had quietly died by his side.
Mr. Nickinson arrived in this country [what about Canada?] twenty-seven years ago [1837], as a private soldier of the English army. His term of service expiring while the regiment was stationed at Montreal, he turned his attention to the stage, and soon became an accomplished actor, especially in burlesque parts, in which he was quite prominent in Mitchell's Olympic Theatre in its palmiest days. The highest testimony to the goodness of heart of the deceased is the fact that the members of the Opera House Company were all strongly attached to him, which we can venture to assert can be said of but few men who have held a similar position. Coroner Doherty held an inquest over the body yesterday and the Jury summoned upon that occasion returned a verdict of 'Death from apoplexy'.
DEATH OF MR. JOHN NICKINSON [as recorded in a typed page, hand annotated with "This is a newspaper clipping in a Cincinnati paper.]
We regret to announce the sudden decease of the above eminent comedian, late stage manager at Pike's Opera-house. He died of apoplexy at the store of Dr. Brutton, on the northwester corner of Fifth and Elm-streets, last night. Mr. Nickinson, in the early part of the evening, visited the Doctor, and not feeling well he retired into the back room, where he sat down, and was soon in an apparently deep slumber, but it was the sleep of death; for, some time after, when Dr. Brutton went to him, it was discovered that he had breathed his last.
Mr. Nickinson was loved and respected by all who knew him. In his profession he had but few equals in his peculiar walk of the drama, upon the stage, while, in private life, he was recognized by all as a generous, warm-hearted and genial gentleman. The sudden, unlooked-for event has cast a gloomy shade upon a large circle of friends, to whom he was endeared, and who fully appreciated his warm and unselfish nature. He was an Englishman by birth, and for some time an officer in the British army, but his passion for the stage caused him to relinquish the profession of arms.
New York Clipper of Feb. 27, 1864.
In our last issue we briefly mentioned the demise of Mr. John Nickinson, which occurred at a drugstore in Cincinnati. It appears that abut 5 o'clock in the evening he entered Mr. B.'s store (with which he was intimately acquainted [what does this mean?]) and sat down to rest on the sofa. Shortly after he fell asleep. Prior to the closing of the store the boy in attendance, noticing that he slept very soundly, shook him in order to awaken him, but still he slumbered on. The boy then concluded not to disturb him until the closing of the store, and when he found it necessary to close for the evening , he again approached the sofa and found that Mr. N. was dead.
Word was immediately conveyed to his wife, who at the time of his death was engaged in her professional activities at the Opera House. A messenger was also dispatched for Mr. Brutton , who shortly after arrived with a physician, but on examination, life was found to be extinct. Mr. Nickinson was formerly in the British Army, but turned his attention to the stage, for which he left the service. He was an excellent actor, and dressed and looked certain characters to perfection. It was perceptible to those acquainted with him that of late his memory was less tenacious, and though his make up was exact, his adherence to the script was, to use a stage term, rather "shaky".
He always managed to get through respectably, and very recently gave great satisfaction as Polonius [in Hamlet], Sir Peter Teazle [School for Scandal] and Ephraim Smooth [Wild Oats]. His elder daughters, by a former marriage, are Mrs. [Daniel (Charlotte)] Morrison, now in Montreal, where she is a favorite. and Mrs. C.[harles (Isabella) Walcot, Jr. Mr. Nickinson by his first wife leaves a son and 2 daughters, [what about Eliza and Virginia?] the former an officer in the English service in Canada, the latter prominent members of the theatrical profession.
By his second wife - who is better known by her professional name as Miss Phillips, an accomplished member of the Pike's Opera Troupe , Cincinnati, he leaves two more children of tender age [Hattie was 3 and Albert 7 months old] now solely depending on their mother for support and education. Poor Nickinson was, unfortunately for himself and his family, endowed by nature with too large a heart for his pecuniary welfare, and those he left must struggle on "amid this world's wide way". with no aid but the professional toil of the bereaved mother. The funeral of the lamented comedian took place on the 11th inst. The remains were attended to their final resting place by the friends of the deceased, who will long cherish a vivid remembrance of the genial and amiable departed.
John Nickinson is buried in Spring Grove Cemetery in Cincinnati. History of Spring Grove Cemetery and Arboretum Garden LN, Section 23, Lot 1, Space 24 Cincinnati map, 1860 http://davidrumsey.artselect.com/perl/frMagnify?artID=21655&matID=920&frameID=405&collectionID=4709
"Spirit Letter"
Received after Mr. Nickinson's death from Judge Carter addressed to Miss Phillips
Pike's Opera House, Cincinnati (Confidential)
Cincinnati March 4th, 1864
Mrs. Nickenson [his spelling]
Dear Madam,
Enclosed you will please find a communication to you purporting to come from your departed husband John Nickenson. I thus send it to you because there is something mentioned in it about a dream occurring to you last Sunday night, and if you had such a dream it will be good evidence of the verity of the communication from the other world, and because the spirit purporting to be John Nickenson directed it so to be done.
The communication was written by a medium Mr. William C. Oden who never knew, ever heard of your husband by name. And it was written in a most singular manner too. The medium held the pencil - by the top in his fingers, and the paper moved instead of the pencil. It was indeed a very curious spiritual manifestation.
I know not what you think of those so called spiritual manifestations, but I have seen enough to convince me - that the spirits of the other world -- whether good or bad, do communicate with us here - through mediums - and you will not be surprised when I tell you that with your husband of whom I thought a great deal in life, I believe have held several communications through mediums, since his decease
Yours respectally
A G W Carter
[A note written in pencil was enclosed with Mr. Carter's letter]
I am Jno Nickinson
Player commedien parts at Pike's Opera
My wife thinks I have gone to Hell, tell her if you please that I have not. I want a talk to her but she fears Spirits. Last Sunday night, I came to her in her sleep. She thinks it was a dream. But it was not. Say to her that I am satisfied with my condition here. I see not such hell as I see on Earth as yet and think I can see before me there is something I wish to say to her and not have the public to know it. [three illegible words]. She fears me -- say to her - watch here.
She lives 208 West Fifth St.
Jno Nickinson
by Jim King
We don't know whether EJ Phillips had such a dream, or what she thought of the letter. But she kept it, and it has been read by a number of generations since. I'd heard about it long before I saw it.
Theatre historian Mary Shortt wrote in Feb. 1979 "I wonder whether the message from the medium suggesting that JN's wife expected him to have gone to hell was intended for [Mary] Ann Talbot? The fact that she never acted here, while little Isabella was being pressed into unsuitably adult roles may indicate a refusal to pull her weight in the family business, which must have caused friction. In justice to the poor lady, she must have had a difficult time raising five children on an actor's uncertain income, and with a husband of autocratic temper.
EJ Phillips was leading woman in Pike's Stock Company in Cincinnati, playing in the Shakespearean and "standard drama". EJ Phillips was Emelia in Othello with Junius Brutus Booth, Jr. as Othello at Pike's Opera House in Cincinnati the night that John Wilkes Booth killed Abraham Lincoln on April 14, 1865 The acting company had to leave town under the protection of a covered wagon to protect their lives. Charles Seymour Jr. "Theater in his blood" http://www.cloche-dor-productions.com/overview.htm
Life on the Stage," 1901 Clara Morris Harriott, S. S. McClure Company, New York http://www.authorama.com/19th-century-actor-autobiographies-5.html An excerpt include Some Recollections of John Wilkes Booth, which provides some insight. EJ Phillips never mentions the Civil War but she did know William Jason Ferguson (1841-1930) who was famous as the actor who saw Lincoln shot. His stage career had begun at Ford's Theatre as a call boy.
Othello playbill April 1865, Pike's Opera House, Cincinnati, Ohio

Cincinnati, A guide to the Queen City, Federal Writer's Project 1943 [reprinted 1973] gives the location of the theater as the east side of 4th St near the intersection with Vine St. and describes Samuel Pike as "a wealthy liquor dealer" who heard Jenny Lind sing and "vowed he would build a theater worthy of such a voice." This book notes that "The news of Lee's surrender brought great rejoicing to the North. At Pike's Opera House in Cincinnati, where Junius Brutus Booth Jr. was playing a two week engagement, theatergoers wondered when the other generals would lay down their arms. Appearing for rehearsal on the morning of April 15, Booth was told that his brother had shot the President. "My God, can it be possible?" he exclaimed and fell in a faint. When he recovered consciousness he left the theater and stole out of the city. Flags at half mast and black bunting everywhere the city mourned the dead Lincoln. On April 17 formal memorial services were held at Pike's Opera House. Hundreds had to be turned away." http://books.google.com/books?id=g9vJrsMSnEQC&vq=booth&dq=%22samuel+pike%22+theatre&source=gbs_navlinks_s Did EJ Phillips try to go? Had she left town as well?
Junius Brutus Booth Jr. [1821-1883] was the youngest son of Junius Brutus Booth, and brother of Edwin and John Wilkes. EJ Phillips worked with his third wife Agnes Booth in the Madison Square Theatre Co. I also have a crazy quilt made of squares EJ Phillips embroidered during her many Union Square, Madison Square Theatre Company and other stock company train trips, twelve of them between New York and California. One square has lavender brocade from a ball gown worn by the wife of theater proprietor and manager Samuel N. Pike at a reception for the Prince of Wales in 1860 in Cincinnati. When EJ Phillips was playing at his Opera House Mr. Pike brought the dress to her saying it was too conspicuous for his wife to wear often, and if she could use it, she might have it. She wore that dress in plays for many years.
Othello enjoyed tremendous popularity in both the South and the North before the Civil War. In fact, Othello was performed so frequently in the United States that it was sometimes called "Shakespeare's American Play" (Kaul 8). Elaine Brousseau, Othello, Shylock and the Face of White Anxiety, Univ. of Massachusetts at Amherst dissertation, 2002 http://www-unix.oit.umass.edu/~elaineb/Chapter.html http://scholarworks.umass.edu/dissertations/AAI3078670/
Octoroon by Dion Boucicault Uncle Tom's Cabin
previous: Richmond, Jan .10, 1893
The Burnet House Hotel Co.
T.W. Zimmerman, Treas & Manager
Cincinnati,
Jan 20th 1893
My dear Son
I hope McMacardell [the original spelling in Ireland, later changed to Macardell] was successful in his suit yesterday.
We leave here Sunday night for Canton Ohio for 1 night, Tuesday Alliance, Wed Zanesville Ohio 1 night, Thursday Cleveland for 3 nights. I have seen a few old acquaintances here, but more that knew me than those I knew. Have not heard from the Egans or Mrs. Bass -- all my other friends have died or gone away. It makes me feel sad.
We are going to play The Judge tomorrow night. We are busy rehearsing it. It is only for the 1 performance at present to secure the right of the play. Love and Kisses to my dear children Albert, Neppie & Ted from their loving Mother
Enclosed in this letter is a clipping, no date THE JUDGE
The production in Cincinnati by Ramsay Morris' Comedy company of The Judge was a success, as the Mirror's special wire chronicled. Criticisms of the comedy since received indicate that Mr. Ramsay has secured a valuable piece of property. He will not need to use it for some time to come as Joseph maintains popularity. In the production of the Judge hits were made by George Giddens, Jameson Lee Finney (1863/68-1911), Elsie De Wolfe, Mrs. E.J. Phillips, and Helen Stockwell. Mr. Giddens and Miss De Wolfe received unusually high praise. John Glendenning, an able actor in many lines, seems to have been miscast.
Did Neppie get the [letter] I sent from Cin'iti on the 18th in which I put a V? I hope so. Love and Kisses to my dear daughter Neppie and my grandson Ted from your loving Mother I hope the boy keeps well.
Palace Hotel
Cincinnati Ohio
Novr 23rd 1893
My dear Son,
Enclosed find order for $20. A Thanksgiving and anniversary remembrance to you, wife and Son. I wish you all a pleasant time, a good Turkey and plenty of cranberry sauce.
We arrived here 7 PM last Sunday. Have not had a very pleasant time so far. Yesterday a Matinee and today is very cold and dark. Think snow will fall before night.
We will leave here on Sunday for Louisville. And I shall be in Evansville, Ind on Thanksgiving Day. Hope we will not get there in time for the Matinee, but we may as I do not think the journey is very far from Louisville. On the 4th St Louis. We play at the Olympic Theatre there and I shall stop at Southern hotel which is just opposite theatre.
From Hattie you will get a trifling Souvenir of the [Columbian Exposition] Fair. I did not have time to send them right to you for I got them after the Fair was officially closed. Do not expect much. They are only trifles, for funds were low and time short. Wishing you and Neppie many happy returns of the [wedding] anniversary, and with love and Kisses to you both dear children and to my darling grandson Ted. I remain as always your affectionate Mother
next: Louisville, St. Louis, Philadelphia for Christmas
AMERICAN HOTEL
Columbus, O.
March 1st 1895
My dear daughter Neppie,
Mr. Smith's farm must be a very desirable one to have caught a purchaser so soon and no doubt at this season farming implements and livestock will meet with a ready sale. Poor Mr. Smith will feel lonely, and I suppose imagine he will soon follow his wife [Neppie's sister Grace had died at 22, after a long illness]. He no doubt feels terribly lonesome without her.
Yes, Nellie's family is nicely alternated, girl & boy, girl & boy. But whether there ever will be a reconciliation or not remains to be found out. Will [Law] called and saw the baby Sunday after its birth, and Mrs. Law called a few hours after its birth, knowing it had occurred. Nellie had a very easy time, and is doing well with plenty of nourishment for the baby They have not yet decided on a name for him.
Mrs. Cady and Mrs. McKenzie called on me, the latter Albert's Sunday School teacher's wife. Mrs. Glessing called at the hotel and wanted to take me home, and if I had had another three days, I think I should have seen everyone from Christ Church [Indianapolis]. Love and Kisses dear children Albert, Neppie & Ted from your loving Mother
Mrs Glessing seems likely to be a relative of Thomas Balthazar Glessing the theatrical scene painter at the Metropolitan Theatre, Indianapolis 1861-1873, and a great friend of actor Joseph Jefferson, or his wife Louise Fletcher Glessing. . [ET Harvey Recollections of a Scene Painter]
Cincinnati Railroads
Cincinnati's magnificent art deco style railroad terminal building, now the home of Cincinnati Museum Center, was dedicated on March 31, 1933. Union Terminal was first proposed in the early part of the 20th century as a solution to the chaotic existing railroad system, which consisted of seven lines operating out of five stations. History of Cincinnati Union Terminal, Cincinnati Historical Library http://library.cincymuseum.org/uthisthelp.htm more on Railroads
Cincinnati in the 1860s - 1890s
Walking through the Cincinnati airport in March 2006 I passed a large photograph of Roebling's 1866 suspension bridge, which predated the Brooklyn Bridge http://www.cincinnati-transit.net/suspension.html and was happy to find two Cincinnati history books in the airport bookstore. Not much seems to be left of John Nickinson's Cincinnati, but EJ Phillips almost certainly saw that bridge, the 1871 Tyler Davidson Fountain, and possibly the 1886 (posthumous) HH Richardson Chamber of Commerce building, 1874 Grand Hotel, West Fourth St. [John Nickinson and EJ Phillips lived on West Fifth St.] Construction of the Roebling bridge was interrupted by the Civil War, so people saw only the pier foundations, begun in 1862 until 1865. A military pontoon bridge crossed the Ohio River from Cincinnati to Covington Kentucky. Phillips, Christopher, The River ran backward: The Civil War and the Remaking of the American Middle Border, Oxford University Press 2016 https://books.google.com/books?id=OZoDDAAAQBAJ&dq=canada+civil+war+immigration+cincinnati&source=gbs_navlinks_s
Burnet house 1850, Pike's Opera House, Fourth and Vine, opened 1859, held more than 3,000 people. Burned in 1866, was rebuilt and burned again in 1903 and was replaced by the Hotel Sinton.

Palace Hotel is now the Cincinnatian
Built in 1882, The Cincinnatian Hotel was designed as a "Grand Hotel" of the 19th century. Originally named the Palace Hotel, this eight-story French Second Empire hotel was the tallest building in Cincinnati and designed by the same architect as Cincinnati's Music Hall and City Hall. The Palace Hotel featured 300 guest rooms and a shared bathroom at either end of each corridor. As the finest hotel in the city, The Palace hotel provided elevators and incandescent lighting to its guests. There were hitching posts outside and the hotel was conveniently located where the trolley cars made their turn. .http://www.cincinnatianhotel.com/about_history.html
Spring Grove Cemetery History had a record of John Nickinson's burial No 12758 Garden LN Section 23 Lot 1 Space 24. http://www.springgrove.org/SG/PDF/SGMap.pdf Section 23 is labeled Masonic Lot.

Spring Grove Cemetery History In the 1830s and 1840s, Cincinnatians were saddened by the recurrence of the cholera epidemic. The crowded and sometimes unkempt appearance of many of the small church cemeteries in the basin area offered little comfort to bereaved families. Many of the leaders in the professional and industrial enterprises of the city expressed their concern over the lack of proper interment facilities. Resulting from this concern, members of the Cincinnati Horticultural Society formed a cemetery association in 1844. They endeavored to find a location suitable for creating a picturesque park like institution, a rural cemetery, contiguous to the city yet remote enough not to be disturbed by expansion. They sought to acquire enough land to be used for funerary purposes into the indefinite future, which could be embellished with shrubbery, flowers, trees, walks, and rural ornaments. On December 1, 1844 Salmon Chase and others prepared the Articles of Incorporation. Chase lobbied with legislators, persuading them to grant a charter for a non-profit nondenominational corporation, which was granted by a special act on January 21, 1845. At the consecration ceremony the founders publicly proclaimed their hope that the natural setting would be a contemplative atmosphere conducive to consolation, commemoration, and education. The first interment was made September 1, 1845. http://www.springgrove.org/history.aspx

Horticulture at Spring Grove The Cincinnati Men's Horticulture Society recognized the need for a new cemetery outside the city, but they also brought their own interest in horticulture to the design and improvements of the grounds, including the selection of an appropriate site. The founders sought topographically diverse grounds where they could apply picturesque aesthetics as described by such authors as Bryant and Wordsworth. To design such a landscape, proper site choice was crucial. Robert Buchanan (first president of the Cincinnati Horticulture Society) insisted on terrain with wet lands that could "easily be converted into ponds," appropriate for cultivation of aquatic plants and conducive to creation of a romantic landscape in the English fashion. … By 1850, the horticulturists listed 4,300 ornamental plant varieties and a stock of 11,300 nursery plants, many of which were donated. … The structure of Adolph Strauch's ideal naturalistic landscape design grew from its plants, not just the layout of the sinuous avenues and lakes on diverse terrain. Strauch furthered the horticulturists' efforts to diversify Spring Grove's collection. From 1855 to 1865, he planted over 200 tree varieties, grouping families and carefully choosing sites so that "the beauty of form, color, and size shall be most effective." He created backdrops or frames of foliage for major monuments and loosely sculpted masses of greenery that alternated spaces of light and shade that would "delight the casual observer." In 1856, he set out a cucumber tree, an ornamental variety from the American South, known to thrive in Cincinnati's climate. He introduced azaleas and laurel. He imported dwarf pines from Silesia for planting along the periphery of the grounds. In 1861, he ordered foreign maples - a compact, globular tree - that was allowed to spread to specimen form in open spaces. In 1865, Paris, Kentucky, sent 400 holly trees to "ornament" Spring Grove. In 1870, Strauch and Probasco ordered diverse vines, shrubs, and trees from England; in 1876, magnolias from Memphis; in 1878, a thousand red pines and many spruce. http://www.springgrove.org/history.aspx?mID=33
Grace, Kevin, and Tom White, Cincinnati Revealed: A photographic heritage of the Queen City, Charleston, SC: Arcadia Publishing, 2002. http://www.arcadiapublishing.com/Merchant2/merchant.mvc?Screen=PROD&Store_Code=arcadia&Product_Code=0738519553&Product_Count=&Category_Code=
Grace, Kevin and Tom White, Cincinnati's Over-The-Rhine, Charleston SC: Arcadia Publishing, 2003. http://www.arcadiapublishing.com/Merchant2/merchant.mvc?Screen=PROD&Store_Code=arcadia&Product_Code=073853157X&Product_Count=&Category_Code=
Seuss, Jeff, Hidden History of Cincinnati, History Press, 2016 https://www.amazon.com/Hidden-History-Cincinnati-Jeff-Suess/dp/146711989X
Seuss, Jeff, Lost Cincinnati, History Press 2015
Phillips, Christopher, The Rivers Ran Backward: The Civil War and the Remaking of the American Middle Border, Oxford University Press 2016 https://www.amazon.com/dp/0195187237/ref=rdr_ext_tmb
Cincinnati Historical Society http://library.cincymuseum.org/
Last updated August 24, 2020
1860
9
29
Cincinnati OH
Pikes Opera House
Prince of Wales ball see EJP's quilt piece from a dress worn by Mrs. Pike
1862
10
?
to 1866
Cincinnati OH
Pike's Opera House

Cincinnati Pike's Opera House and the Civil War
1862
10
?
to 66 mar
Cincinnati OH
Pike's Opera House

EJP joins Pike's Opera House until fire destroys it march 1866
1863
3
11
Cincinnati OH
Pike's Opera House

John Nickinson becomes stage manager Pike's Opera House
1863
3
.
Cincinnati OH
Major Gen Ambrose Burnside HQ Dept of the Ohio XXIII Corp Morgans Raid in July
1863
4
13
to Ao4 16
Cincinnati OH
Pike's Opera House

Chimney Corner
1863
4
17
to 18
Cincinnati OH
Pike's Opera House

Willow Copse

John Nickinson as Bill Staggers EJP as Lady Apsley

in Boucicault's Willow Copse
1863
4
20
to 23
Cincinnati OH
Pike's Opera House

Massaniello

opera by Christine Zavistowski

1863
4
27
to 30
Cincinnati OH
Pike's Opera House

Napoleons Old Guard
1863
5
15
Cincinnati OH
Pike's Opera House

Major John Nickinson at Pike's letter from New York
1863
6
14
1 week?
Cincinnati OH
Pikes Opera House
Nickinson rehearses French Spy Massienallo Midsummer Nights Dream for Nashville trip
1863
6
Cincinnati OH
A Zavistowski actor listed at Clifton House
1863
7
8
Cincinnati OH
Albert Edward Nickinson born
1863
11
17
to Apr 21
Cincinnati OH
Mozart

Hall
Cincinnati Sanitary Fair

with art gallery lectures concerts to raise money for soldiers' relief

1863
12
17
Cincinnati OH
Pikes Opera House
Leah the forsaken EJP as Dame Gertrude in Augustin Daly's [Salomon Hermann von Mosenthal] JN father Herman
1863
to 1866
Cincinnati OH
Pikes Opera house
Zavistowskis at for season
1864
1
25
Cincinnati OH
Pike's Opera House

Fanchon Maggie Mitchell, John Nickinson as Father Barbeaud EJP Old Fadet

in Fanchon the Cricket
1864
2
9
Cincinnati OH
John Nickinson died
1864
3
4
Cincinnati OH
spirit letter to EJP about John Nickinson
1864
Cincinnati OH
Pikes Opera House
Romeo and Juliet
1865
2
6
Cincinnati OH
Pikes Opera House
Hamlet for benefit of Civil War widows orphans
1865
4
14
Cincinnati OH
Pike's Opera House

Othello
1865
4
16
Cincinnati OH
Pike's Opera House

Pike's Opera House closed after Lincoln Assassination Junius Brutus Booth flees town
1865
4
16
Cincinnati OH
Pikes Opera House
Sermon on the assassination of Abraham Lincoln
1866
3
16
to Mar 22
Cincinnati OH
Pikes Opera House
Alice Zavistowski appears as Puck in Midsummer Night's Dream hours before Pike's burns down
1866
3
22
Cincinnati OH
Pike's Opera House

Pike's Opera House burns

1866
9
21
to 1867?
Cincinnati OH
Woods Theatre
EJP engaged by Wood's Theatre
1874
10
24
Cincinnati OH
Cash to Madame Zavistowski for children
1893
1
20
1 week
Cincinnati OH
Pikes Opera House
Joseph Judge 1 perf copyright
1893
11
23
1 week
Cincinnati OH
Grand Opera house
Lady Windermere's Fan
Homepage A to Z Index People Places Plays About these letters About EJ Phillips EJ Phillips Facebook Fan Page