Homepage A to Z Index About these letters About EJ Phillips Book outline Bibliography People Places Plays EJ Phillips Facebook Fan Page
Gilbert & Sullivan Patience Pinafore Pirates Mikado
Engaged BY WS Gilbert The first New York performance of Engaged was in Feb. 1879. (It opened in London in 1877). The production first described in these letters was the Feb. 1886 Actor's Fund benefit performance in New York.. EJ Phillips played Mrs. MacFarlane. Gilbert was already collaborating with Sullivan but this play preceded their operettas.
NY, Feby 6th/ [18]90 Last night I and Mrs. Dolman went to see the Gondoliers [Gilbert & Sullivan, 1889]. We liked it very much. But it is not Pinafore or Patience. This is the last week of the Gondoliers at the Park [Theatre, Brooklyn ]. But a new company will play it at "Palmer's Theater" commencing on 10th or 17th. In the present "cast "the voices are not strong enough for the music.
I met Mr. Wm Palmer at the Madison Square Theater yesterday, and he asked me if I had seen the Gondoliers. I told him I had not -- He said "Well, why don't you go"? I said, "Nobody has asked me". "I ask you now", said he. "And will give you the order now." He did, and I went. It was my second visit to a theater this winter,
Mary Glen went to see the Harvard Radcliffe Gilbert & Sullivan Players' production of the Gondoliers in October 2014. It isn't Pinafore or Patience, but has lots of singing and dancing, but lacks tunes as memorable as some in the others. (though "In Enterprise of Martial Kind", "Of happiness the very Pith", and I am a Courtier Grave and Serious" certainly have their charm. The program notes by the HRG&SP historian CE Chiemeka Ezie notes that The Gondoliers was the last great success of Gilbert and Sullivan, with 554 performances in the original run, the fifth longest running work of musical theater in history for a time.
Arthur Fanshon and EP Nickinson [aged about 6] in The Mikado [Middletown NY] circa 1896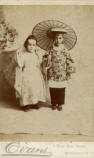 Josephine Lee found the photograph of Edward Nickinson in the Middletown production of the Mikado and used it in her book The Japan of Pure invention., 2010
The Gondoliers or The King of Barataria opened December 7, 1889 at the Savoy Theatre [London] One of two just-married gondoliers is the King of Barataria, but no one knows which one. As Barataria needs a king to put down unrest in the country, they travel there to reign jointly, leaving their wives behind. A fine romp, with lots of bright music and dancing. http://www.gsarchive.net/gondoliers/html/intro.html
On January 13, 1890, [Patrick William] Halton conducted the First American production of The Gondoliers, at the Park Theatre in New York. A weak cast spelled disaster, and Carte himself witnessed the performance (and empty seats) on January 28. He immediately cabled London for replacements. A new production was launched on February 18, 1890, at Palmer's Theatre, and was much better received. "PW Halton" (1841-1909) D'Oyly Carte Opera Company http://www.gsarchive.net/whowaswho/H/HaltonPW.htm
Gondoliers reviews
Musical World, Dec. 1889 http://www.savoyoperas.org.uk/gondoliers/gon1.html
Gondoliers, Gilbert & Sullivan archive https://gsarchive.net/gondoliers/html/index.html
Punch review 1890 https://gsarchive.net/gondoliers/reviews/punch_rev.html
Wikipedia https://en.wikipedia.org/wiki/The_Gondoliers
Patience [1881] Satirized Oscar Wilde. Producer Daniel Frohman wrote "I remember Oscar Wilde at the Lotus Club, wearing knee breeches like the character in "Patience' modelled after him. He was than a very young man. Oscar Wilde affected most of his mannerisms and oddities in dress to attract attention to himself. They were publicity stunts and they succeeded admirably."
Did EJ Phillips meet and/or hear Oscar Wilde speak in New York in 1882?
Did she come across him as he prepared for Vera the Nihilist at the Union Square Theatre?

Patience, Gilbert & Sullivan Archives https://gsarchive.net/patience/html/index.html Opened April 23, 1881, Opera Comique, London.
Bunthorne and Oscar Wilde G&S archive http://www.gsarchive.net/patience/wilde/wilde.html Andrew Crowther explains why Wilde is not the model for Bunthorne.
Patience discussion,http://www.gsarchive.net/patience/discussion/discuss_home.html
HMS Pinafore 1878
EJ Phillips' colleagues, and neighbors at 475 Fourth Avenue Mr. and Mrs. Thomas Whiffen were in the original New York production-- Mrs. Whiffen the original Buttercup and Mr. Whiffen First Lord of the Admiralty. Mrs. Whiffen writes of Pinafore in her autobiography Keeping off the shelf "in [18]'78 I was on the road again with Lingard, but the tour was cut short in Houston, Texas, and I came hurrying back to find Mr. Whiffen rehearing in a new opera called "Pinafore" written by Tom's old friend Sullivan and his partner, Gilbert. I had heard something about its success when it was done in England at the Savoy theatre. The play in America was to be launched at the Standard theatre by a man named Duff. Duff was not paying a royalty to the authors because there was no international copyright law and an English play done in America could be produced by anyone.
It was just a matter of luck that I happened to create the part of Buttercup, for I was called in at the lat moment because of the sudden illness of the actress assigned to the role. I rehearsed Monday and Tuesday and played Wednesday night I'll never forget that opening. I did not think the play was a hit, at first, but after Mr. Whiffen came off a Sir Joseph Porter, we knew from the applause and the shouting that all was well. Mr. Whiffen's performance received great praise from the press and the public, and dear Tom could feel that he was at last coming into this own. ... "Pinafore" run for a hundred and five nights, a very long run for those days, and during that time we counted the companies playing the opera in New York City at the same time, all pirated companies, the same as ours. When the English company finally came over from England, the rivalry became hot and much interest was evinced to see wherein the original production differed from the various companies playing in and around New York,, especially ours.

Blanche Galton [Mrs Thomas Whiffen] as Little Butterfup
Houghton Library Harvard Theatre Collection TCS 46
Mr. Gilbert himself undertook the stage management and attacked his duties with such zeal that he dressed as a man-of-war's man and mingled with the chorus on the stage. The audience, to whom he was a stranger did not know him. Mr. Sullivan conducted. The opening night they had a large house and a very enthusiastic one. Indeed, it was right that they should have been greeted so warmly for after all, they were really the only company that had the right to play "Pinafore." The English company proved to have better singers than we had, but the actor who played Sir Joseph Porter suffered by comparison with my husband. All the other Sir Josephs burlesqued the part, but Tom played it sincerely, quietly and unctuously. It is interesting to me that there was some talk of having Richard Mansfield play Sir Joseph Porter, but he had a disagreement and my husband was given the part ... After our long run in New York we took "Pinafore" to Chicago where it success was duplicated.'
Later Mrs. Whiffen was asked to present Sarah Bernhardt with a gold laurel wreath on her "next to last "farewell tour" in America ... The amusing part of all this, as far as I'm concerned, happened afterwards, when Mr. Acton Davis informed Madame Bernhardt that I was the original Buttercup in America. Sarah Bernhardt could not make this out She looked t me in a most bewildered manner and shook her head, and then went off into volley of amazed excited questions, flinging them at Davis Then I understood what it was the puzzled her. She thought that Acton Davis had said that I was the original Butterfly in Puccini's opera. It took some time before we could make her understand, giving her a literal translation of butter and cup. I didn't blame her for being amazed, for I was about seventy then and Puccini's opera had been first produced in American only about ten years before that time."
Mrs. Whiffen also writes of her friendship with Isabella Nickinson Walcottin these memoirs.
Pinafore Gilbert & Sullivan archive https://gsarchive.net/pinafore/html/index.html Opened May 28, 1878, Opera Comique, London
New York premiere, 1879 http://www.imagi-nation.com/moonstruck/albm67.html
Pinafore Mania, John Kendrick, G&S101 http://www.musicals101.com/gilbert2.htm
Wikipedia http://en.wikipedia.org/wiki/H.M.S._Pinafore
Pirates of Penzance 1879
Premiered at the Fifth Ave. Theater, New York Opened Dec. 31, 1879 http://www.imagi-nation.com/moonstruck/albm66.html Piracy does seem to be a subtle reference to copyright piracy.
Pirates of Penzance Gilbert & Sullivan archive https://gsarchive.net/pirates/html/index.html
The Mikado 1885 US
Mrs. Thomas Whiffen also wrote about the Mikado "While I was still playing with Miss [Clara] Morris, Mr. Whiffen was approached about playing a part in Gilbert and Sullivan's 'Mikado," which had not yet been produced in the States. Remembering his success with "Pinafore," my husband was anxious to play in another Gilbert and Sullivan opera, so he accepted the part of Pooh-Bah.
Just before the opera opened, Sullivan came over from England. He was a very famous personage then and was wearing his title, Sir Arthur Sullivan. He looked up my husband and said, "Whiffen, you're not going to sing in this company against me, are you? Why man, they're still not paying us any royalties."
It was true. Nothing had been done yet about the international copyright, a very shameful neglect. My husband, although loath to do anything that would hurt the friend of his youth, was helpless because of a contract that he had already signed, and was forced to sing the part.... There was a good English company that ran in opposition tot he American company and helped share the profits and honors, so that "The Mikado" was not such a tremendous success as "Pinafore.". Mr. Whitten again made a personal hit and had a wonderful make-up.
I met Sullivan at this time and Tom and I dined with him at old Delmonico's That was when the famous restaurant was located on Twenty-sixth Street. Sullivan had a keen sense of humor of the quiet, English sort, and Tom was a fine foil for him. They kept me laughing all through that dinner as they brought up memories of the old days at Rochester [Cathedral where they had been choristers together].
See the Madison Square Portland Oregon 1890 playbill with a definite Mikado influence -- though the plays seem to have no direct connection.
There was so much interest in this Gilbert and Sullivan play that Sydney Rosenfeld wanted his production to be the first in the United States. Rosenfeld rushed the presentation to beat out rival theaters and the show first ran on July 20, 1885 at the Union Square Theater. His celebration was cut short as an injunction was obtained to stop further performances and Rosenfeld was jailed for "unauthorized production." After its "official debut" at the Fifth Avenue Theater on August 19, it went on to dominate the 1885-86 season and achieved critical success amid an atmosphere rife with competing performances and legal battles. The play focuses on the disguised son of a Mikado who agrees to be beheaded in exchange for permission to spend a month married to the woman he loves. Its famous score includes the song Willow, tit-Willow and the play flourished at a time when there was a penchant for things oriental. To that point, Mikado had one of the longest runs in New York Theater at 250 performances. It was followed by the production of new version, widely considered to be inferior to the original, which moved on to play in Chicago. http://xroads.virginia.edu/~MA02/volpe/theater/theater/plays.html
Alice Harrison The original [Mikado] production occurred in London at the Savoy March 14, 1885 and the following July 20 one memorable performance at the Union Square Theatre, under the direction of Sydney Rosenfeld. An injunction was immediately gotten out against Mr. Rosenfeld, restraining him from presenting the piece… but another company was gotten together under Harry Miner's direction, presenting the piece at the same theatre on Aug 17 with Alice Harrison as Yum Yum. Green Book Magazine 1911 https://books.google.com/books?id=TXIhAQAAMAAJ&dq=mikado+new+york+roland+reed+union+square+alice+harrison&source=gbs_navlinks_s




Bradley & Rulofson, San Francisco, United Stats, The World, Vienna 1873, 129 Montgomery Street, San Francisco
Have the only ELEVATOR PHOTOGRAPHY connected with in the World

Alice Maude Harrison (1850-1896) A popular nineteenth-century actress and singer, born Alice Maude Metz. She made her stage debut at the Chestnut Street Theatre in Philadelphia at age eleven. Harrison's New York debut was in 1866 as Fan God in the "Ice Witch." In 1868 Harrison was the original Burlesque in "Humpty Dumpty." She toured California as a star and then made a transition into opera buffo. Before her health failed the actress appeared as Yum-Yum in "The Mikado" on Broadway.
Mikado, Gilbert & Sullivan archive https://gsarchive.net/mikado/html/index.html Savoy Theatre London 1885 March 14
Bibliography
Frohman, Daniel, Daniel Frohman Presents, New York, C. Kendall & W. Sharp [c1935]
Gilbert & Sullivan archive http://www.gsarchive.net/index.html Gilbert http://www.gsarchive.net/gilbert/gilbert_home.html
William S. Gilbert biography, Andrew Crowther, 1997 https://www.thehistorypress.co.uk/publication/gilbert-of-gilbert-and-sullivan/9780752455891/
Kendrick, John, G&S 101 The Gilbert and Sullivan Story, 2002-2003 http://www.musicals101.com/gilbert.htm
Lee, Josephine, The Japan of Pure Invention, Gilbert & Sullivan's The Mikado, Univ of Minnesota Press 2010 http://www.upress.umn.edu/Books/L/lee_japan.html
Whiffen, Mrs. Thomas Keeping off the Shelf, New York, EP Dutton & Co. 1928
Whiffen Blanche http://en.wikipedia.org/wiki/Blanche_Whiffen
Williams, Carolyn, Gilbert & Sullivan: Gender Genre Parody, Columbia University Press, 2011
Harvard Radcliffe Gilbert & Sullivan Players http://hrgsp.org/
Last updated August 17, 2019
Homepage A to Z Index About these letters About EJ Phillips Bibliography People Places Plays Site Map EJ Phillips Facebook Fan Page