Life and Times of Actress EJ Phillips
Her dramatic career, cross-country travels, family life,
Golden Age of the American theatre, 19th century technologies & Arrival of the 20th century
Em Turner Nickinson Kuhl and Mary Glen Kuhl Chitty
Elizabeth Jane Phillips Nickinson 1830-1904
Photographs, playbills, & artifacts Films EJP's 150 year old traveling quilt
About these letters Book outline Cast of characters John Nickinson Dolman Family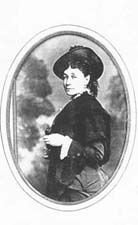 EJ Phillips in The Rivals as Mrs. Malaprop, Chestnut St Theatre Philadelphia 1877
Acting life & profession Plays Playwrights Barrymores Booths Theatres Theatre companies & managers
Gilbert (& Sullivan) Oscar Wilde, Vera the Nihilist & Lady Windermere's Fan Shakespeare Uncle Tom's Cabin and other plays about slavery
Health & Medicine Sarah Bernhardt's cold prevention recipe Pregnancy & Childbirth Babies & single parenthood
Houses, Boarding Houses & Housekeeping Food Hotels & hotel life Costumes, street wear & children's clothes
History Civil War in Cincinnati Bartholdi Day & the Statue of Liberty 1886 Centennial of Washington's Inauguration 1889 Columbian Exposition 1893
Money Newspapers Politics
Strenuous travel Climbing Pike's Peak 1883 Railroads Train wrecks An EJ Phillips' 21st century railroad trip
Cities Baltimore Boston Buffalo Chicago Cincinnati Cleveland Denver Hamilton Ontario Los Angeles Middletown NY Montreal New Orleans New York City 1839-1850 New York Walking Tour Omaha Philadelphia Portland, Oregon Salt Lake City San Francisco Seattle Texas Toronto Vancouver Washington DC
Recreations & sports Baseball Bicycles Circuses Dancing Fishing Horse racing & driving Sleighing Swimming Volunteer fire dept and fires
RUM & drinking Slang
Telecommunications & other technologies Air conditioning Electricity Photography Transportation Typewriters
Letters 1883-1901 Arrival of the Twentieth Century EJ Phillips now on Facebook please become a fan!
A to Z index Bibliography Chronology Family AM Palmer Company colleagues People Places Site Map
This site is a treasury of late 19th century American theatrical information, with copious links to major theatrical figures, theatres and productions of the period. Theatre History on the Web 19th century resources, Jack Wolcott http://www.videoccasions-nw.com/history/jw19th.html#resources
Last updated March 2022 Contact us mary@maryglenchitty.com mgchitty@gmail.com
On the web since 2003.