Homepage A to Z Index Book outline About these letters About EJ Phillips EJ Phillips Facebook Fan Page

Toronto and the Royal Lyceum Theatre 1850s 1892 1894 Walking Tour Toronto London Ontario 21st century Toronto
EJP's Toronto Google Map John Nickinson EJ Phillips and other Nickinsons Royal Lyceum Theatre people & plays
In the city of Toronto, Ont. Canada, in the "Royal Lyceum" Theatre on Easter Monday 1852 I made my first professional appearance as a stock actress, playing "Grace Harkaway" In "London Assurance". The "stars" Mr. John Nickinson and Miss Charlotte Nickinson appearing as Sir Harcourt Courtly and "Lady Gay Spanker" .... Early in 1853 Mr. Thos. P.[ope] Besnard, an Irish comedian and a retired officer of the British Army induced the "Association" to appear with him in [Samuel Lover's ] "The White Horse of the Peppers: how to pay the rent" etc. I taking a part in all his performances which resulted in his offering me an engagement, he having become Leasee and Manager of the "Royal Lyceum" Toronto which he was to open on the 12th of April 1852. I accepted his offer and through him was introduced into the Dramatic Profession and began my professional career.
I soon realized that acting was work not play! Day after day new parts were handed to me to study for the next night. But experience was gained and confidence strengthened and now – near the close of 38 years I still feel the benefit derived from those early struggles. During my first ten years I played in the chief cities of Canada and in the western cities of New York State. Playing with nearly all of the prominent "stars" of the time, whose kindness and encouragement are still happy memories with me, Among whom I may mention C.W. Couldock [1815-1898], James Anderson, John Brougham [1814-1880], James Wallack Jr. [1818-1873], James Wallack [1794-1864] and Charles Mathews [1803-1878] Sir Wm Don [1825-1862], Charles Dillon [1819-1881], James Bennett? Mrs. Barnes?, Mrs. Fannon? Miss [Fanny 1821-1900] Morant, Mrs. Chas. Mathews [Lizzie Weston Davenport Mathews d 1899], Mr. [died 1882] and Mrs. D[aniel]W[ilmarth] Waller [Emma 1819-1899] and many many others. Autobiography of EJ Phillips, written for AM Palmer in 1890 and found in the Harvard Theatre Collection. more about these people
John Nickinson and the Royal Lyceum Theatre, Toronto
After Mitchell's Olympic Theatre in New York closed abruptly in 1850, John Nickinson formed his own company and with daughter Charlotte toured in Providence Rhode Island, Montreal, and Rochester and ended up in Toronto in 1851. In 1852 he and Charlotte took to the road again with a larger company and more varied repertoire. The company included Charles Peters (who married Eliza Nickinson) and Miss EJ Phillips. After the Utica Museum [Theatre] Nickinson had been managing failed in 1852 he resettled in Toronto. A local newspaper, the Patriot, wrote of the company as "persons distinguished for respectability in private life, a point which all who know John Nickinson would feel satisfied that he would particularly consult". In 1852 actor/manager John Nickinson, along with his theatrical company, arrived from Buffalo for a 2-week engagement at the Royal Lyceum. Bruce Bell, Toronto's World Class Music Halls, Dec. 2005


Royal Lyceum Theatre copied from 1888 pen and ink drawing.
Robertson's Landmarks of Toronto, 1894 notes that "It was a long time after he had taken the management of the Royal Lyceum that Mr. Nickinson was able to get any of the great actors of the day to visit Toronto and play in it. Fortunately while in New York he had gained the friendship of James Wallack, the wallack whose star was in the ascendant, and as an act of friendship Mr Wallack accompanied by James Wallack Jr. came here to play a short engagement in the summer, for the theatre was kept open the year round. Mr. Wallack played his great part of Benedick to Miss Nickinson's Beatrice...Mr. Wallack's coming broke the ice, and after that it was comparatively easy to engage stars. ... CW Couldock starred frequently ... and was a great friend of Mr. Nickinson. ...During Mr. Nickinson's palmy days Toronto had all the best opera companies....G. Simcoe Lee, Owen Marlowe, Allan Halford and the once famous prince of burnt cork comedians Cool Burgess all took their early baths in the dramatic tub, under the managerial dictum of John Nickinson.
Uncle Tom's Cabin was the outstanding success of John Nickinson's first Royal Lyceum Theatre season, which achieved an unprecedented run of nine performances, from May 31 to June 8, 1853. Toronto's first production was a tremendous hit, and the first production to have an extended run. Charlotte Nickinson played Eliza, EJ Phillips Cassey, and Virginia Nickinson was Topsey.
(EJ Phillips and Virginia Nickinson would have been in blackface.) John Nickinson and EJ Phillips also produced and performed in Dion Boucicault's Octoroon 1861, the second most popular antebellum play about slavery, after Uncle Tom's Cabin.
After the Utica Museum [Theatre] Nickinson had been managing failed in 1852 he resettled in Toronto in 1853 as Manager of the Royal Lyceum [Theatre and stock company]. The first purpose built theatre in Toronto opened in December 1848. The brick building seated 750 and was lighted by gas, but awkwardly designed, eventually stopping first rate actors from coming to Toronto. The theatre burned down in January 1874. [Durham]
Royal Lyceum Theater
In 1848 wealthy landowner John Ritchey opened his Royal Lyceum (now on the site of the TD Centre), the largest and the first fully equipped theatre in Toronto complete with a balcony, dressing rooms, footlights, an orchestra pit and the Holman Troupe-Toronto's first opera company. In 1852 actor/manager John Nickinson, along with his theatrical company, arrived from Buffalo for a 2-week engagement at the Royal Lyceum. Realizing Toronto needed a theatrical gap to be filled for the next quarter century, most of it under Nickinson's expert direction, the Royal Lyceum paved the way for such great international stars as Sarah Bernhardt to look upon Toronto as a prosperous high point of any tour. The Royal Lyceum that stood approximately where the cow pasture sculpture sits today is now part of the TD Centre was in operation for 25 years before it was destroyed by fire in 1874. In 1875 the site became home to the Royal Opera House but it too succumbed to fire in 1883.

By July 1858 Owen Marlowe, husband of Virginia Nickinson Marlowe, was the manager of the Royal Lyceum and John Nickinson had resigned (though he became manager again in September). "But the December Aladdin holiday spectacle failed to revive the theatre's failing fortunes" and the New York Clipper announced the closing of the Royal Lyceum Feb 19, 1859. The Marlowes reopened the theatre in April 1859. Later that year EJ Phillips and other Royal Lyceum actors were hired by the Pittsburgh Theatre, which closed after four months. In August the Marlowes announced the closing of the Royal Lyceum having lost $1,000. In September John Nickinson was In Buffalo to see Henry T. Meech "with every expectation of getting that theatre". In March 1860 Nickinson once more took over the Royal Lyceum until August (when ads stopped appearing in the newspapers]. We have playbills from Rochester (1859), Toronto and Belleville, Ontario (1860), Lockport, Hamilton and Ottawa, Ontario, Erie, Pennsylvania and Montreal and Quebec City (1861). The Ottawa theatre closed in December 1861. Clearly this was a very unsettled time.
TD Toronto Dominion Centre The Pasture by Joe Fafard, has a herd of seven bronze cows where the Royal Lyceum stood. https://torontoist.com/2010/06/ask_torontoist_whats_happening_with_the_td_centre_cows/
Now temporarily relocated during renovations.
Royal Lyceum, Toronto, Jan. 12, 1855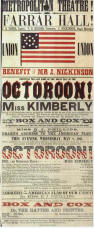 Playbill for Dion Boucicault's Octoroon, May 8, 1861
Metropolitan Theatre, Hamilton, Ontario CANADA
Dion Boucicault's "Octoroon (1860) was notable for its condemnation of slavery ... and features a camera as a major plot device in capturing the villain." Dion Boucicault: His Life and Times, David W. Dwyer, 1998
Burnt Cork and Tambourines, William L. Slout, Circus Historical Society, 2005 http://classic.circushistory.org/Cork/BurntCork1.htm
Dion Boucicault Theatre Programme Collection, Templeman Library, Univ. of Kent at Canterbury http://www.kent.ac.uk/library/specialcollections/theatre/Boucicault/index.html
"The second most frequently performed anti-slavery play, after George Aiken's adaptation of Harriet Beecher Stowe's Uncle Tom's Cabin.... John Brown had been hanged three days before the play opened, Chapter Five: The Work of the Public Mind, Univ of California -Irvine, Octoroon included an exploding river boat scene.
585 NICKINSON, JOHN Born in London, Eng., in 1808; at an early age he enlisted in the 24th Regiment, receiving his discharge with the rank of color-sergeant in 1835.
He thereupon entered the theatrical profession, his first engagement being at Albany, N.Y. He then went to New York City, where he remained for several years, coming to Canada in 1852.

From 1853-8 he managed the Royal Lyceum, King street west, Toronto. Mr. Nickinson possessed histrionic ability of a high character, and displayed wonderful versatility.
He died in 1864 in Cincinnati, Ohio. His only son, John, an American Custom House official, died in New York in 1916. His eldest daughter, Charlotte, married Daniel Morrison, and his two granddaughters, Miss Charlotte Morrison and Miss Agnes Morrison, married Mr. E. B. Brown, son of the late Gordon Brown, and the late Mr. Raynald Gamble, of the Dominion Bank, respectively. Photograph, colored. Size 4x5. Head and shoulders. See 1121.

1121 NICKINSON, JOHN In "The Old Guard" Mr. Nickinson was the pioneer in theatrical management in Toronto, and was the manager of the Royal Lyceum, Toronto, from 1853-8. He was an actor of high reputation. The picture shows him as "Havresack" in the play of "The Old Guard." Mr. Nickinson acted the part in 1848-52 in the Olympic Theatre,
New York, and at various times between 1853-8, when manager of the Lyceum, Toronto. Miss Charlotte Nickinson (Mrs. Daniel Morrison), his eldest daughter, an accomplished actress, acted the part of "Melanie" in the piece. Mr. Nickinson's death took place in Cincinnati, Ohio, 1864. "The Old Guard" was produced at the Princess', London, in 1844, and was first performed in America at the Chatham Theatre, 1845. Water color by John Fraser, presented to J. Ross Robertson by Mr. Nickinson's granddaughter, Mrs.- Raynald Gamble, Toronto. Size 11 x 14. Full length, sitting. See 585. LANDMARKS OF CANADA WHAT ART HAS DONE FOR CANADIAN HISTORY A GUIDE TO THE J. ROSS ROBERTSON HISTORICAL COLLECTION IN THE PUBLIC REFERENCE LIBRARY TORONTO, CANADA PRESENTED TO THE TRUSTEES OF THE PUBLIC LIBRARY BY J. ROSS ROBERTSON TORONTO, DECEMBER, 1917 http://www.archive.org/stream/landmarksofcanad01torouoft/landmarksofcanad01torouoft_djvu.txt
1857 Lola Montez
On Saturday she [Lola Montez] appeared as "Lady Teazle" in the "School for Scandal." Our limits forbid us to say more than that she was received with great applause, and that she threw much archness and vivacity into the character. The acting of Capt. Nickinson as Sir Peter is too well known to need comment for we consider it one of his happiest impersonations. ... After the curtain descended, Lola was summoned back to receive the most flattering and hearty applause. She was led in by Capt. Nickinson. ... Having established my identity, I would thank you for the kind manner in which you have received me during my stay here. (Applause.) To the Manager -- Mr. Nickinson -- I would especially express my indebtedness for the great attention shown by him to make my stay here as pleasant as possible. (Applause.) The theatrical company also deserves my thanks for their consideration and desire to make me comfortable while among them. I am an old stager now, having been on the stage since 1842, and therefore can speak from experience, when I say that Mr. Nickinson's company -- although most of the members are young -- embraces ladies and gentlemen of promising talent. (Applause.) Again, I would thank the audience for their kind reception of me. To the Toronto press, I have only to say a few words; but it is not to thank its members -- except one person. Let me say to the press of Toronto a word of advice. The stage may be made an instrument of much good, and it is the province of the press to watch over it and encourage it. And I hope that the press will take down my words and act upon them!
An intense silence that ensued when Lola commenced to speak of the press, was broken by a burst of applause, as, in conclusion she bowed, and, extending her hand to Capt. Nickinson, retired, frequently acknowledging the applause vouchsafed to her. The Leader, Toronto 27 July 1857, page 2, cols 2-3 [Chronological Documentation for 1857, Bruce Seymour, Harvard Theatre Collection]
Lola Montez (1821-1861) Known for being the mistress of Ludwig of Bavaria, famed for her Tarantula or "spider dance" and the origin of the phrase "Whatever Lola wants, Lola gets" http://www.zpub.com/sf/history/lola/Bc1857.doc
Lola Montez, Wikipedia http://en.wikipedia.org/wiki/Lola_Montez
Seymour, Bruce, Lola Montez: A Life, New Haven and London, Yale University Press, 1996 mentions Lola's School for Scandal appearance in Toronto, but "no record survives except a copy of a program billed as her last night. From there she went to Hamilton, Ontario to begin her career as a lecturer, speaking in Hamilton on "Beautiful Women." Lola Montez had performed Lady Teazle in New Orleans, San Francisco (where a review called her acting "entirely original and the rendering piquant and effective" but noted that she "was rather free with Sheridan's text" and in Australia. She died in January 1861, a parishioner of Calvary Church in New York, which EJ Phillips attended some years later.
Mrs. John Drew [mother of Georgie Drew Barrymore, and grandmother of John, Lionel and Ethel] appeared in Toronto in 1858 with her third husband an Irish comedian, drawing good houses with familiar Irish comedies and farces: The Irish Ambassador, The Irish Emigrant and the Irish Lion. [Shortt]
Hard times came to Canada in 1858 and by Feb 19, 1859, the New York Clipper reported "Blue times in Toronto. Both theatres closed. hope Brother Nickinson is not a loser. Cheer up Villikins'! We know you deserve success even if you have not obtained it." (Nickinson returned to Toronto primarily as a booking agent for a few months in the spring and summer of 1860.) [Mary Shortt]
Theater historian Mary Shortt wrote in Jan. 1979 "I wonder whether Albert [Edward Nickinson] was named after Queen Victoria's husband, and the Prince of Wales? In 1860 Nickinson returned briefly to Toronto, leased the Royal Lyceum, and renamed it The Prince of Wales Theatre in honor of the Prince, who was on a North American tour at that time. As far as I can learn, the ungrateful Prince never went near the theatre during his stay in Toronto, but Nickinson was a keen British patriot, who used to finish his theatrical ads with "God Save the Queen!" and during the Crimean War (1854-1856] would add 'Vive L'empereur Francais!"
EJ Phillips enters the picture First stage appearances
John Nickinson had made his first stage appearance in Toronto at the Royal Lyceum Theatre Easter Monday 1851. EJ Phillips wrote at the end of her life "In the meantime I had received several offers of employment from professional companies and at last accepted one from Messrs Besnard & Nickinson to open the season in Toronto, Ont on Easter Monday 1852 at the Royal Lyceum Theatre."
This performance was supported by Charlotte Nickinson and a number of other professionals, including "Miss Phillips, of whom we do not feel we are prophesying at random when we venture to vaticinate [predict] that at no distant date she will be admitted to have added to the already respectable display of theatrical talent which owns Canada for its nursing mother." [Patriot April 10, 1852] The bill consisted of THE LADIES BATTLE and an afterpiece, THE FIRST NIGHT. On May 11, 1852, Nickinson's company presented LONDON ASSURANCE [yet another Boucicault play] at a benefit for EJ Phillips, who played Grace Harkaway.
In 1852 Nickinson and Charlotte took to the road again with a larger company and more varied repertoire. The company included Charles Peters (who married Eliza Nickinson) and Miss EJ Phillips. A local newspaper, the Patriot, wrote of the company as "persons distinguished for respectability in private life, a point which all who know John Nickinson would feel satisfied that he would particularly consult".
EJ Phillips was engaged for Nickinson's Utica, NY company and remained with the company until early 1858 when her disappearance from the bills may be accounted for by the birth of her first child. The following years of economic depression were very unsettled ones for Nickinson, who turns up in several places, including Toronto, where he tried to make a comeback as manager of the Royal Lyceum in 1860. [Mary Shortt Nov 1978 letter]
Mary Shortt wrote in Feb. 1979 "When I wrote my thesis, I had no idea of the strains John Nickinson was under in his personal life. His youngest daughter, Isabella, remained in Toronto until 1858, the year that Charlotte married and left the company. It seemed likely that with the theatre no longer yielding enough income to support the family, Mrs. Nickinson had returned to New York and had taken Isabella, then only eleven years old, with her. However in the light of your information about the separation document of 1855, it seems more probable that Isabella (who was very active and useful in the company, in spite of her tender years) had been looked after by Charlotte and went to New York at the time of Charlotte's Marriage. 1858 must have been a miserable year for John Nickinson, whose financial troubles were compounded by the loss of Charlotte, his touring companion and popular leading lady, and lively little Isabella. I can understand why he seemed to lose heart and left the management of the Royal Lyceum in the hands of his son-in-law and another actor for several months that summer. EJ Phillips must have been his chief source of comfort and consolation at this time."
John Nickinson was 22 years older than EJ Phillips. Their relationship obviously dated from about the time EJ Phillips joined his stage company in 1852, for his letter of October 3, 1859 refers to "our seven years of past love". The date of their marriage is less clear. (John Nickinson, son of his first marriage, wrote to the New York Clipper after his father's death that his parents had never been divorced.)
Mary Shortt, in a January 1980 letter about her thesis on Toronto theatre notes that "I was unable to explain Nickinson's strange behavior in 1858, when he disappeared for an extended period from the Royal Lyceum. The loss of Charlotte, who married and left the stage in the spring of '58 was obviously a blow, but I was unaware of the great stress created by E.J.'s pregnancy (in strait- laced Toronto, where Nickinson had been considered a pillar of respectability!").
John Nickinson often refers to himself as EJ Phillips' husband in his letters. EJ Phillips occasionally calls herself Nickinson, though she uses Phillips much more often, and in her letters does not directly call him her husband. The fullest obituary of EJ Phillips (New York Dramatic Mirror, August 20, 1904) makes no reference to John or Albert Nickinson, but lists Hattie and the three grandchildren. The New York Times obituary mentions only Hattie.
I had wanted to know when Miss Phillips became Mrs. Phillips. An explanation came in the recent discovery of a Nov. 1978 letter from Barbie Dolman Spencer [granddaughter of Hattie Nickinson Dolman] to Toronto theatre historian Mary Shortt. "The "Mrs." was a printer's error which she accepted and used thereafter. She was married in 1857 or earlier to the actor-manage John Nickinson of the Royal Lyceum. He was a famous Sir Peter Teazle [in Sheridan's School for Scandal], and though not an "old bachelor" he did marry a "young wife". Whether she played Lady Teazle with him I have no record, but I do have her own list of parts she played in her 45 years on the stage, and Lady Teazle is among them."
The 1978 letter from Barbie Spencer lists various Shakespearean roles EJ Phillips played in Toronto
Hamlet: Player Queen, Marcellus, Guildenstern, Queen Gertrude
Othello: Emilia [and Desdemona in Rochester]
Romeo & Juliet: Nurse [and Juliet in Cincinnati 1864]
King Lear: Goneril [and in Indianapolis 1868]
Macbeth: Donalbein, Gentlewoman, Malcolm, Witches [and Lady MacBeth in Ottawa 1861]
John Nickinson and EJ Phillips had three children -- Charles Alderman (born. Toronto, Apr. 30, 1858 - died Pittsburgh, Sept. 1859, reportedly of a fall from a high chair.
Hattie Christine Harriet Melanie (born Toronto, Aug. 24, 1860 - died Philadelphia Oct. 9, 1946) Dolman family and Albert Edward (born Cincinnati July 8, 1863 - died Pensacola, Florida June 3, 1948) Nickinson Family
Royal Lyceum playbill Sept. 10, 1858 The Great Nautical Drama of the SEA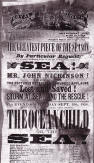 This piece produced under the Management and personal direction of
Mr. JOHN NICKINSON!
with every appointment.
THE PICTURES RECEIVED UNBOUNDED APPLAUSE
Lost and Saved!
STORM AT SEA! AND THE RESCUE!
The OCEAN CHILD
OR, THE
SEA!
EJ Phillips is not listed in the program and Charles Nickinson would have been five months old. Many thanks to Mary Shortt who provided a copy of this playbill, "discovered by somebody at the back of an old mirror."
Hattie Nickinson [Dolman] had been born in Toronto in August 1860 and Albert Nickinson in Cincinnati, Ohio in July 1863 so John Nickinson and EJ Phillips seem to have come to the US when they moved to Cincinnati in 1862-1863. What did they know of what was going on in the US and in Cincinnati?
John Boyko's 2013 book Blood and Daring: How Canada fought the American Civil war and forged a nation gives some insight. What we know as Canada today was largely under Britain (Except Rupert's Land surrounding James and Hudson Bay, "owned and governed by the Hudson Bay Company." Newfoundland, Prince Edward Island, Nova Scotia and New Brunswick were separate. "Canada was composed of Canada East and West and occupying what is now the southern portions of Ontario and Quebec.. We must accept a world where the air was empty and the sky silent. The trans-Atlantic cable had been laid but did not yet work and the marvel of the telegraph was new but reliable. ... We must also disenthrall ourselves of current myths, including that of the undefended border. Those struggling through the Civil War years bore memories not of Canadian-American friendship and cultural integration but of more than a century of suspicion, hatred and bloodshed. ...Shortly after the war began in April 1861, Britain declared itself neutral. The Canadian and Maritime governments dutifully echoed that official line...Many factors led Canadian to sympathize with the Confederacy. The Toronto Leader was pro-South while the Toronto Globe was pro-North. ...many young Canadian and Maritimers left home to fight. Those who did fought overwhelmingly in Union ranks. ...About forty thousand Canadians and Maritimers joined the fight and the ratio was approximately five Canadians in Union regiments for everyone in a Confederate regiment. ...Americans Frederick Douglass, John Brown and John Wilkes Booth advanced their goals while in Canada. Jefferson Davis and many of his generals sought post war refuge in Canada. ... In the summer of 1861 a placard found its way to trees and walls in a number of Toronto's working-class neighbourhoods. It claimed a need for young men for railway work in Pennsylvania. It seemed harmless enough in an era when so many were crossing the border for work. However all who saw it understood that the poster was really about filling Pennsylvania regiments. Newspapers were filled with similar advertisements offering a range of American jobs. Canadian political leaders deemed them all suspicious. ...On Dec 17 [1864] tensions worsened when Lincoln signed a law stating that no one could enter the United States without a passport. The Canadian and New Brunswick borders were long and largely undefended, so that law was meant less to stop traffic than to express displeasure. ...the law nonetheless threatened workers by making travel for employment in the United States more difficult.
Slavery in Canada
Britain had abolished the Atlantic slave trade in 1807 and in 1834 it abolished slavery throughout the Empire....With numbers that started slowly but grew each year American slaves began moving to what many called Canaan....in 1850 the American Congress passed and weak president Millard Fillmore signed, an omnibus bill that included a new and strengthened version of the Fugitive Slave Law. ...All at once the slow but steady migration across the Canadian border became a flood.
Charlotte Nickinson Morrison
Charlotte Nickinson (1832-1910) married the editor of the Toronto Leader and forthright theatre critic Daniel Morrison in 1858 She had toured extensively with her father.. The Morrisons moved to Quebec City, London, New York, and finally back to Toronto. Daniel Morrison died in 1870, leaving Charlotte a widow with four children. Charlotte returned to acting and producing at Toronto's Royal Lyceum in 1871 and 1872. She became a director of the Toronto Opera House Company in 1873, and was the first manager of the Grand Opera House, until it was sold to a new owner who replaced her two years later in 1878. more on Charlotte Nickinson Morrison
1892 previous: Columbus celebration
The Saratoga of Canada
Tecumseh House
London, Ont
Novr 30th 1892
My dear Son,
Here I am all right. Played to a crowded house in Hamilton. Ladies in full dress.
Arrived here today at 11:15. Leave tomorrow at noon for Brantford, only a short ride. Friday St Thomas and go back to give a matinee Sat in Hamilton. Do not play Sat night. I think we shall leave for Toronto after Matinee on Saturday.
No letters here from anyone but "Aunt Louisa", Mrs. Eldridge, who wants a donation to the children's Xmas at Tony Pastors. Love and Kisses to you all from your loving Mother
Tony Pastors Theatre was "a little playhouse in the Tammany Hall Building, on the north side of 14th Street, near Third Avenue. The attractions are invariably of the variety order." (Kings NYC)
The Rossin House
Toronto, Canada
King & York Sts
Dec 7, 1892
My dear Son,
Opened on Monday night to a very fine house, and had a fine house last night - $200 better than the first night. The house is a very pleasant one to play in. Have not met anyone I know. All are gone - and it makes me feel like a Centenarian.
Rehearsals of the Judge began this morning. I am only in the last act - and did not have to go to-day. It is another farcical comedy. Love and Kisses to my dear children Albert, Neppie & Edward from their loving Mother
Centenarian Still a subject heading in the NY Times index in the 19th century. Eventually cross referenced to Longevity.
next: Detroit Dec 13,1892 previous: Rochester Dec. 19, 1894
1894
The Rossin House
Toronto Canada
Xmas eve 1894
My dear Son,
I did hope to have posted a letter to reach you all, on Xmas morn, but I am too late. Left Buffalo 1:30 PM Sunday, reached Niagara Falls an hour later -- went sight seeing -- stopped at the Kaltenbach Hotel all night. Now am trying to scratch a few lines to you and wish you a Merry Xmas -- though it will be over before this will reach you.
I am feeling pretty well, only had a little attack of indigestion last night -- produced by eating a banana in the morning -- nothing else I had eaten could have done it so I have "sworn off" banana
We open with Camille to-night and play it at Matinee to-morrow and Thursday night -- and Saturday night -- Wed night Romeo & Juliet. Friday night and Sat night Frou-Frou in which I do not appear. Love and Kisses and best wishes for a Happy New Year to my dear children Albert, Ted and Neppie from their loving Mother
A Complete Record of Niagara Falls and Vicinage by Thos. Holder, 1882 https://library.niagara.edu/about/special-collections/digital-collection-of-niagara-falls-guidebooks-from-the-19th-century/a-complete-record-of-niagara-falls-and-vicinage-by-thos-holder-1882

The Rossin House
Toronto Canada
Dec 26th 1894
My dear daughter Neppie,
I hope yesterday was a very happy day for you all. It was a very quiet day for me - for before I got up, word was brought to me that there would be no Matinee on account of Miss Nethersole having a very severe cold - so I concluded to keep quiet and did not get up until after 11 o'clock.
Took dinner at 3 and read during the rest of the day - went to work at seven, Transgressor being the bill. We had a fine house. Miss Nethersole's cold was still bad - but she got through having had two doctors - one a throat specialist - and I hear she is a little better this morning, but the weather has turned very cold and I am afraid it will not be very good for her to come out tonight - for it has been trying to snow.
Miss Nethersole caught cold at the Falls. She left Buffalo after the performance on Saturday night and went to the Falls with her maid and her dog - stayed up to see the Falls by moonlight - 4 AM. Was out early again in the morning and walked about - had dinner at 3 PM and then went driving in an open wagon until six. Consequently could scarcely speak on Monday morning.
I had told her to be careful - the air is always damp from the spray rising from the Falls - and is very apt to give cold the hottest day in summer. Sunday was a lovely day and the air just crisp enough to be very enticing. I took a long walk, but did not go riding and have no cold.
Tonight we play Romeo & Juliet if Miss Nethersole is well enough. Tomorrow night Camille, Friday night & Saturday Mat[inee] Frou-Frou, at night Transgressor. Then off for "Montreal". I am glad you did not send your present to me here - and do not worry yourself about embroidering the hand'fs.
You have enough to do without that. I shall appreciate them all the same - for I am sure you "love me very very much" - and I love you very very much - and would be happy to do much more for you, if I were able, to prove my love but can only ask you not to try your eyes embroidering for me. Your eyes are more precious than embroidery to me.
Rec'd a letter from Hattie this morning. They are all well. She went to the Cemetery on Sunday to place some flowers on her little daughter's grave.
I hope Teddy is satisfied with his presents - should like to see him enjoying them. I was having a good time thinking my loved ones were all having a good time. My love and Kisses to you dear children. Your loving Mother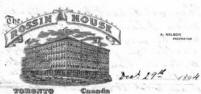 THE ROSSIN HOUSE
Decr 29th 1894
Toronto Canada
My dear Son,
This is likely to be my last letter to you in 1894. It will be my greeting to you for the New Year 1895. I wish you, Neppie & Ted a Happy New Year.
Miss Nethersole was unable to play Thursday night. The doctor would not allow her to play but she played last night in Frou-Frou. Repeats it this Afternoon and gives the Transgressor tonight. I want to send you a little New Years all, but I think I had better wait until I get to Providence. Will however enclose a dollar for Ted, and tell him he had better buy beefsteak than candy. I am going over to theatre to see how Matinee is getting on. With love and Kisses to my dear children Albert, Ted and Neppie. Your loving Mother
next: Montreal Jan 1895
21st century Toronto -- in search of John Nickinson and EJ Phillips
Mary Glen visited Toronto for the first time in June 2005, for an SLA [Special Libraries Association] conference at the Toronto Convention Centre, and to visit cousin Sue Spencer. We walked the Distillery district, dined on Thai on Front Street, not far from John Nickinson's Royal Lyceum site. MG went to see the seven bronzed cows, next to PriceWaterhouseCoopers that mark the Theatre's site.
Sue, Paula Sperdakos and I had tea with theatre historian Mary Shortt and Barbara. We had much discussion, and great excitement about hitherto unseen pictures of various Nickinson daughters and their families. New information surfaced later in copies of letters between Mary Shortt and Barbie Dolman Spencer, Sue's mother.

Toronto the good was one mean city 160 years ago March 2018 https://nowtoronto.com/news/toronto-the-good-was-one-mean-city-160-years-ago/
Photo Essay Toronto's Heritage Lost Refound Reframed, march 2018 earliest photos of Toronto include an 1857 image of the Rossin Hotel https://nowtoronto.com/news/photo-essay-toronto-heritage-lost-and-found/
Toronto Walking Tour
Cathedral Church of St. James http://www.stjamescathedral.on.ca/ 65 Church St. Charlotte Nickinson married Daniel Morrison here. in 1858. At one point she lived at 146 John Street. Mary Shortt had a letter addressed to her there.
Front Street What Front Street used to look like http://www.blogto.com/city/2013/04/what_front_street_used_to_look_like_in_toronto/
St. Lawrence Market http://www.stlawrencemarket.com/ Built 1850.
Wikipedia http://en.wikipedia.org/wiki/St._Lawrence_Market
St. Lawrence Hall http://www.stlawrencemarket.com/hall/hall.html
Wikipedia http://en.wikipedia.org/wiki/St._Lawrence_Hall
St. Lawrence Hall 1849-1850, King and Jarvis Streets, originally Toronto's second City Hall. A competitor to the Royal Lyceum in the 1850s.
EJP's Toronto train station
Before the current [1927] structure, an earlier Union Station was built in 1872 on Front Street between York and Simcoe Streets. The front of the old station was completed in 1895 and contained ticket offices, waiting rooms and railway offices. It was designed by E. P. Hannaford, Chief Engineer of the Grand Trunk Railway. The station was modelled on the Illinois Central Station in Chicago and had three domed towers, one containing a clock. In its time, the previous Union Station was considered to be one of the most modern and handsome stations on the continent. Its tall silhouette was a noted feature of the turn- of- the- century Toronto skyline. Even though this station almost doubled the previous station in size, demands for an even larger station came soon after the completion. http://www.city.toronto.on.ca/union_station/oldus.htm
Bruce Bell, Archives Railroad history Floor 15 http://archive.today/5fiRB more on Railroads
Distillery Historic District http://www.thedistillerydistrict.com/


Distillery District roses, Sue Spencer



Distillery District Iris, Sue Spencer



Woofstock, Distillery District, June 2005

The former Toronto branch of the Bank of Montreal 1884 building is now part of the Hockey Hall of Fame, http://www.hhof.com/index.htm
Front and Yonge Streets. Wikipedia http://en.wikipedia.org/wiki/Hockey_Hall_of_Fame

Mary Glen Hockey Hall of Fame, June 2005



photograph by Sue Spencer

List of oldest building & structures in Toronto Wikipedia http://en.wikipedia.org/wiki/List_of_oldest_buildings_and_structures_in_Toronto
Adelaide Court House built 1851-1852, now a jazz club and trattoria http://en.wikipedia.org/wiki/Adelaide_Street_Court_House
Daniel Brooke Building 1833, rebuilt 1848-1849 now a luxury condo building http://en.wikipedia.org/wiki/Daniel_Brooke_Building
Flatiron Building 1891 now offices http://www.aviewoncities.com/toronto/flatiron.htm
Gooderham [Flatiron[ Building http://en.wikipedia.org/wiki/Gooderham_Building completed 1892 49 Wellington St East
Great Hall http://www.thegreathall.ca/the-great-halls-heritage-plaque/
Hockey Hall of Fame, 1885 Bank of Montreal branch http://www.hhof.com/ http://en.wikipedia.org/wiki/Hockey_Hall_of_Fame#History
Market St West http://www.torontohistory.org/Pages/West_Market_Street.html
MacKenzie house 1859-61, built 1857 museum of 1860's Victorian life https://www.toronto.ca/explore-enjoy/history-art-culture/museums/mackenzie-house/
http://en.wikipedia.org/wiki/Mackenzie_House
Toronto Street Post Office, built 1851-1853 now an office building http://en.wikipedia.org/wiki/Toronto_Street_Post_Office
University College 1856- 1859 http://www.uc.utoronto.ca/history http://en.wikipedia.org/wiki/University_College,_Toronto#History
York Post Office - Toronto's first PO 1833 Now museum and post office http://en.wikipedia.org/wiki/First_Toronto_Post_Office

Bibliography See also Nickinson bibliography
History of Toronto and County Of York Ontario, C. Blackett Robinson, Publisher 1885 http://archive.org/stream/historyyork01unknuoft/historyyork01unknuoft_djvu.txt
Becker, Larry, Collecting Toronto, Toronto City Archives http://www.city.toronto.on.ca/archives/becker_collections/index.htm
Becker, Transporting Toronto http://www.city.toronto.on.ca/archives/becker_collections/transporting.htm
Bell, Bruce, Amazing Tales of St. Lawrence Neighbourhood, Community Bulletin Newspaper Group, Inc. 2001 https://www.amazon.ca/Amazing-Tales-St-Lawrence-Neighbourhood/dp/0973011602
Boyko, John, Blood and Daring: How Canada fought the American Civil War and Forged a Nation, Alfred A.Knopf Canada, 2013 https://www.amazon.com/Blood-Daring-Canada-Fought-American/dp/0307361462
City of Toronto Archives http://www.city.toronto.on.ca/archives/description.htm have Toronto City Directories from 1833 -2001 and 25 views of mid-Victorian Toronto photographed by Armstrong, Beere and Hime in 1856.
O'Neill, PB Anthony, A History of Theatrical Activity in Toronto, Canada, from its beginning to 1858, Louisiana State University dissertation, 1973 A wonderful resource with lots of new information on John Nickinson, EJ Phillips and others.
https://digitalcommons.lsu.edu/gradschool_disstheses/2488/
O'Neill, Patrick, Thomas Pope Besnard, Less than Enshrinement, Theatre Research in Canada, Fall 1993 https://journals.lib.unb.ca/index.php/tric/article/view/7223/8282
Robertson's Landmarks of Toronto: A collection of Historical Sketches of the Old Town of York From 1792 until 1833, and of Toronto From 1834 to 1895, vol. 2, J. Ross Robertson, Toronto, 1896 mentioned John Nickinson and Charlotte Nickinson Morrison. http://archive.org/stream/landmarkstoronto03robeuoft/landmarkstoronto03robeuoft.txt
Toronto's historical plaques http://www.torontohistory.org/index.html

I found a handwritten EJ Phillips autobiography in the Harvard Theatre Collection. Her manager AM Palmer collected them from almost every Union Square Theatre Co actor. But the discovery of O'Neills 1973 thesis on the web in the summer of 2017 provided many more details of the Royal Lyceum years

.

1848 In the new year, Leslie, editor of the Examiner. continued to berate his readers for their apathy in theatrical matters: "Our 'Lyceum's bare and white washed walls' are now devoted to educational purposes, instead of those of the votaries of Thespis," while Hamilton boasted a "pretty little theatre . . . under Mr. Harrison's management," 114 staffed by T. P. Besnard and his Toronto amateurs.

Henry Heyward, the first lessee of the [Royal Lyceum] theatre, brought the Hamilton Amateurs to Toronto under the direction of T. P. Besnard, the former Toronto amateur actor, for four evenings in January 1849. Toronto audiences witnessed Faint Heart Never Won Fair Lady, The Two Gregories, and Irish Mesmerism on 16 January 1849, White Horse of the Peppers and The King1s Gardener on 18 January 1849, The Irish Tutor, The Loan of a Lover, and How to Pay the Rent on 20 January 1849, and Cramond Brig and The Widow's Victim on 23 January 1849. Their return to Toronto from Hamilton on 15 February 1849 1 for another three-night engagement suggests the financial success of their first venture.

A Toronto group replaced the Hamilton Amateurs in the quest for audience favour. The Toronto Colored Young Men's Amateur Theatrical Society performed Venice Preserv'd with scenes from Shakespeare for a run of three nights on 20, 21, and 22 February.22

Toronto's population at this time approached 25,000, but the lower classes tended to frequent the one hundred and fifty-two taverns 23 and two hundred and six beer shops which dotted the city in 1850 rather than the Royal Lyceum Theatre. The Apollo Saloon and Concert Room on King Street and the Shakespearean Saloon offered music, recitations, and comic skits for the amusement of the populace and the enhancement of their liquors. Presumably other saloons offered similar music hall attractions, which offered sturdy competition for the Royal Lyceum.

Early in 1849, the Toronto Amateurs regrouped and advertised their first performance for 9 April 1849 as the Toronto Dramatic Society with G. W. F. as stage manager, and an acting company which guarded its anonymity no less eagerly, including performers who identified themselves as L., G. W. F., A. J., T. T., Mrs. __, and Mrs. in prominent roles.

Records do not indicate a performance on 9 April as advertised and the new amateurs probably delayed their maiden 27 venture in the theatre until 16 April 1849. The great fire of 7 April 1849 undoubtedly caused such delay. It destroyed nearly fifteen acres of domestic and commercial buildings in the older part of the city including St. James' Cathedral, and part of the newly erected Market Buildings. The distress the fire caused Toronto's citizens undoubtedly resulted in a postponement of the play 29 for a week. The amateurs continued productions until the summer when Charles Kemble Mason,30 assisted by several actors from the Hamilton and Toronto Amateur Groups, performed for three nights on 6, 8, 11 June 1849.31 After two weeks of "Operatic Soirees in Full Costume,"32 the amateurs hosted a benefit on 6 July for Mrs. Lyons and Miss Phillips 33 of Hamilton who had performed with Mason.

33Toronto, Daily Telegraph, 6 July 1849. Mrs. Lyons and Miss Phillips acted in numerous amateur productions in Toronto and Hamilton, Miss Phillips eventually turned professional under Nickinson's management of the Royal Lyceum Theatre after Besnard.

1851 Following the farewell benefit of the Heron family on 16 June, Besnard's production on 17 June assumes crucial importance in the history of theatre in Toronto, for he introduced to his patrons, the "celebrated dialect comedian," and manager John Nickinson, and his 91 daughter "the accomplished Canadian actress," Charlotte Nickinson.

Nickinson at this time managed the theatre at Utica, New York, and spent the summer travelling with his family and a portion of his company, but the future possibilities of Toronto as a theatre town had impressed him probably, for both Nickinson and his daughter would operate permanent companies in future years at the Royal Lyceum.

91 Toronto, Daily Patriot and Express, 18 June 1851. Born in London in 1808, John Nickinson enlisted in the British army at the age of fifteen as a drummer boy. He performed with the South Wales Borderers and Monmouthshire Regiment, or the 24th Regiment, in Amateur Theatricals in Quebec City and Montreal. Taking his leave from the army, Nickinson made his professional debut in Montreal in 1836 and eventually managed in Montreal in 1843. In 1852 he toured through Canada, and began managing at the Royal Lyceum Theatre in 1853. His daughter Charlotte was born in Canada and was named after her godmother, Charlotte Cushman. [not true] Nickinson acted in Albany in 1837. In all, Nickinson had five children; four of whom followed an acting career. [missing Hattie and Albert and Charles] Graham, Montreal, p. 83, and Phelps, Players, pp. 149, 204, 206, 241, 257, and 259.

Besnard re-engaged the Heron family for the second and third appearances of the Nickinsons on 18 and 19 June 1851, after which Besnard closed the Royal Lyceum ostensibly "to effect sundry 92 alterations and improvements in the scenery and decorations;" but in reality he managed the Herons on a tour around the Great Lakes. A month and a half later, on 26 July 1851, the Nickinsons 94 returned to the Royal Lyceum, along with Kate Horn and C. W. 95 Couldock, who would star frequently on the Royal Lyceum boards under John Nickinson's management. They remained in Toronto for a week until 2 August.

During his second season as a producing manager in the spring of 1851, Besnard introduced Toronto audiences to John Nickinson and his daughter Charlotte among his visiting stars. He inaugurated his third season in August 1851, but ill-health, perhaps prompted by the announcement of a new theatre which failed to materialize, and the regular operation of the St. Lawrence Hall as a concert stage, cut short the season. Besnard's fourth and last season, beginning on 2 January 1852, depended primarily on amateur actors.

As in previous chapters of its history, theatrical activity in Toronto between 1848 and 1852 depended entirely on visiting companies and local amateurs. During this period, however, the economics of the theatre changed drastically. Previously the problem of locating and establishing a theatre fell to the manager of each visiting troupe. With the erection of the Royal Lyceum Theatre in 1848, theatre in Toronto passed into the hands of a business man, John Ritchie, unconnected in any way with the day-to-day activity of the theatre.

Ritchie built the Royal Lyceum as a piece of commercial property which he rented to others more directly concerned with theatrical activity on its stage. The closure of Besnard's winter season on 24 February 1852 ended the first period in the history of the Royal Lyceum Theatre. In its first three years, the Royal Lyceum did not provide Ritchie or his lessees, Henry Heyward and T. P. Besnard, the fullest possible return, probably as a result of the inexperience of the lessees and their dependence on visiting companies. Under the management of John Nickinson, the Royal Lyceum would realize its full potentiality commercially. In April 1852, John Nickinson began his association with the Royal Lyceum as manager, and a new era in Toronto's theatrical history began.

The Nickinson Years: 1852-1858
Early in April 1852, T. P. Besnard completed arrangements with John Nickinson to bring his company from Utica, New York, to the Royal Lyceum for a short season.1' Prior to the arrival of Nickinson's company, Almy, Nickinson's scenic artist, prepared new scenery, including a "magnificent Drop Scene, representing the Citadel and Town of Quebec, from the opposite side of the River."2 Nickinson's engagement commenced on Easter Monday, 12 April 1852, with a company from Utica which included John Nickinson and his daughters, Charlotte,"1 Eliza, and Virginia,"1 T. P. Besnard, Joseph S. Lee,*1 Hayes, Charles Peters,7 D. Robertson,8 William J. Florence,9 Miss E. J. Phillips,10 and Mrs. John Sefton.11 The smallest of the companies Nickinson would present at the Royal Lyceum, the troupe performed nightly,12 Monday through Saturday, during the month-long engagement, with two exceptions: the theatre remained closed on 23 April 1852 "for the purpose of giving the different members of the establishment--almost the whole of whom are Englishmen--an opportunity of participating in the enjoyment of St. George's Day,"13 and on 18 May 1852 to avoid a conflict with a concert for a charitable purpose that evening.1

Because Nickinson brought his company from the Utica Museum where they had performed during the season of 1851-1852, he was able to present a repertoire of forty-two plays, primarily comedies and farces, to the Toronto audience, twenty-three of them new to the Toronto stage. During the thirty-one night season, Nickinson presented seventy pieces, an average of two plays each night. Twenty-seven of the forty-two plays appeared on the evening's bill only once; and thirteen reappeared two or three times. The two most popular pieces, The Good for Nothing and Kate Kearney, appeared six and five times respectively, and both starred Charlotte Nickinson. Nickinson selected the personnel of his company primarily to provide support for his daughter Charlotte and himself in their particular forte of comedy and light drama. Observations on the season by the city's newspaper editors suggest that Nickinson enjoyed the favour of the populace and remunerative expression of that favour, both financially and artistically.15 The editor of the Daily Patriot and Express considered John Nickinson's interpretation of the soldier in Napoleon's Old Guard, his best role, "whether it is Mr. Nickinson's long and honourable service as a sergeant in the 24th Regiment, or from what other cause it arises." 7

Charles Peters (1825-1870) worked with Nickinson at the Utica Museum prior to Nickinson's arrival in Toronto. Born in Birmingham, England, Charles Peters came to America in 1849. After marrying Eliza Nickinson, the couple toured through the Great Lakes region acting with various companies. In 1858, they joined Laura Keene's Theatre in New York city. There Peters played the original "Binney" in Our American Cousin. Peters died on 2 November 1870. Graham, Montreal,

10 In the late 1840's, Miss E. J. Phillips acted as an amateur in Hamilton and Toronto. She debuted as a professional with Nickinson's company in 1852.

After a series of benefits for the members of the company and one for the manager, the season ended with a benefit for Charlotte Nickinson on 19 May 1852. Nickinson and his company then left Toronto for Quebec and toured throughout the Canadas for the remainder of the summer, returning in September to the Utica Museum in Utica, New York, for the winter season. The short season in Toronto had proved that Toronto could support a theatre, but his previous commitments compelled Nickinson's departure. The theatrical possibilities of Toronto had registered on Nickinson and others in the city: an editorial in the Toronto Daily Patriot and Express, noting the city's obvious capacity for the support of a regular theatre, also wondered what aspects of civilized life Toronto could harbour with the completion of railroad communications and with the subsequent increase of travel. Toronto had already established itself as the wholesale and distributing centre for the area north and west of Lake Ontario.

Beginning in 1855, a small, independent line, the Hamilton and Toronto Railroad, linked Toronto with the Great Western Railroad and spurred the growth of Toronto. In October 1856, the Grand Trunk Railway linked Toronto with Montreal. However, Toronto capital favoured the establishment of lines north from Toronto rather than these three east-west arteries, and, therefore, Toronto citizens invested in the Toronto and Guelph Railway and in the Northern Railway. Thus Toronto became the hub for the spokes supplied by the lines of the railroads. Thirty thousand people had assembled in Toronto for the breaking of the first ground for the Northern Railroad in 1849. In 1851 and 1852, Nickinson saw a city about to boom because of the railroads. He also noticed that a theatre in Toronto could utilize these railroads to import stars throughout the year. If a company failed in Toronto, no longer would a manager have to petition the "generosity of a British Public" because the winter precluded navigation and departure. The ensuing years would witness Nickinson's employment of the railroads to his advantage.

With the departure of Nickinson's company in May 1852, reference to T. P. Besnard ceased in the Toronto press. A notice in the Daily Patriot and Express on 26 October announced "To Let--The Royal Lyceum" and stated further that "Professional Parties or others, wishing to engage the above fashionable place of amusement by the night or week, will please address (post paid) to Mr. John Ritchie, Toronto, any time 29 previous to April." The phrase, "previous to April," in this notice suggests Nickinson's decision to establish his company in Toronto, since his lease on the Utica Museum would expire in April 1853.

The Dramatic Association's performances of comedies and farces provided Toronto its main dramatic fare between 18 November 1852 and 8 February 1853, prior to the arrival of Nickinson in March with an expanded company. First Season, 1853-1854 Possibly foreseeing a prolonged tenure at the Royal Lyceum, Nickinson accepted the lease conditional on some improvements to the 32 theatre. Robertson described the interior of the Royal Lyceum as: A queer little theatre. . . when Mr. Nickinson obtained the lease on it. Great pillars obstructed the view from pit and gallery. There were little holes in the wall, fringed with pink curtains, but so arranged that their occupants faced the audience instead of the stage. On taking possession Mr. Nickinson had all this cleared out, and four comfortable boxes put in, the auditorium lighted by gas, and other improvements made. 3 The advertisement for the inaugural appearance of Nickinson's company under his lesseeship of the theatre in 1853 proclaimed the remodelling and redecoration of the Royal Lyceum Theatre.

Robertson, Landmarks, I, 486-487. The stage had gas lighting from the opening of the Royal Lyceum in December 1848. Robertson's comment suggests that the auditorium may not have had gas lights from the beginning.

The advertisement for the inaugural appearance of Nickinson's company under his lesseeship of the theatre in 1853 proclaimed the remodelling and redecoration of the Royal Lyceum Theatre. The review in the Toronto Dally Patriot and Express for this first performance complimented "the proprietor and manager upon the entire change the Lyceum has undergone. From pit to ceiling all is altered--the decorations are light and graceful. The old fashioned green curtain has been changed from a crimson one. The proscenium is very chaste 35 and beautiful." The reviewer continued with the note that Nickinson re-christened the Boxes and Gallery as Dress Boxes should "go as they do in other well regulated Theatres, in full dress. The thirty-four actors, musicians, and technicians of this 37 company, the largest ever assembled in Toronto, consisted of John Nickinson, Charlotte Nickinson, Virginia Nickinson, Eliza Nickinson, Mrs. Julia Sylvester, Miss M. A. Cook, Julia Cook, Miss E. J. Phillips, W. J. Burton, G. Simcoe Lee, 1 Charles Peters, Thomas E. 42 Morris, William Petrie,M. Bambruck, Thomas Notter, Robert T. Wilson, W. P. Swift, J. Craig, F. E. Wyman, A. Maul, F. Schmidt, T. Wild, William Allcock, J. Chambers, Alexander Scott, L. Wild, S. 46 47 Klinger, Hugh Rodgers, T. Luke McIntosh, W. A. Lyon, Robert Collins, G. S. Gleason, and Patrick Redmond. Undoubtedly, the success of his previous season in Toronto had inspired John Nickinson to recruit Phillips, W. J. Burton, G. Simcoe Lee, Charles Peters, Thomas E. Morris, William Petrie, M. Bambruck, Thomas Notter, Robert T. Wilson, W. P. Swift, J. Craig, F. E. Wyman, A. Maul, F. Schmidt, T. Wild, William Allcock, J. Chambers, Alexander Scott, L. Wild, S. 46 47 Klinger, Hugh Rodgers, T. Luke McIntosh, W. A. Lyon, Robert Collins, G. S. Gleason, and Patrick Redmond. Undoubtedly, the success of his previous season in Toronto had inspired John Nickinson to recruit a larger company than the small touring troupe he had brought from the Utica Museum in 1852. Probably most of this company had performed with Nickinson during the season of 1852-1853, although Lyon, McIntosh, Rodgers, and Maul had worked regularly in Toronto since before the building of the Royal Lyceum. Nickinson apparently had not pre-established a convention for the labelling of his seasons at the Royal Lyceum Theatre in 1853, and announced the conclusion of his first season in mid-August 1853. During this first partial season which lasted from 28 March 1853 until 15 August 1853, Nickinson imported six stars to assist his company: Herr John Cline,50 Mademoiselle Marie Duret, Miss Talbot,52 Charles W. Couldock, Harry Grattan Plunkett, and Lysander S. Thompson.

49 During the season of 1853-1854, Nickinson advertised three seasons. Later, however, he described the season of 1857-1858 as his fifth season, thereby considering all of 1853-1854 as one season. W. Couldock," Harry Grattan Plunkett, and Lysander S. Thompson. All these stars frequented a circuit around the Great Lakes at this time.

All these stars frequented a circuit around the Great Lakes at this time. Specialty stars in the main, only Charles W. Couldock could undertake successfully a wide range of roles, from the tragic leads in Hamlet and The Willow Copse to Petruchio in Catharine and Petrucnio. Nickinson's twenty-week season attracted good houses and favourable notices from the newspaper editors. The most successful production of the season, Uncle Tom' s Cabin, ran for nine consecutive nights, inspiring the editor of the Daily Patriot to remark that "a run of nine nights in this city is equivalent to one of five hundred and thirty in London (taking the population of London, and comparing 56 with that of Toronto). Two factors probably prompted Nickinson's closure of the Royal Lyceum on 15 August in the midst of this auspicious response. First, the thermometer registered over ninety degrees in the shade during the second week of August, a phenomenon not uncommon during the summer months in Toronto.''7 Secondly, Nickinson busied himself at that time with the opening of a second theatre, the Royal Metropolitan on the corner of John and Rebecca Streets in Hamilton, a fifty-mile trip by train from Toronto.

Toronto, Daily Patriot and Express, 10 June 1853. Uncle Tom's Cabin met with phenomenal success in the American theatre beginning with the G. C. Howard production at Troy, New York, in September 1852 where it ran for one hundred nights. The vogue of Uncle Tom's Cabin lasted in America well into the twentieth century. For a discussion of Uncle Tom's Cabin see Coad and Mims, American Stage, pp. 196-197, and Dramas from the American Theatre, 1762-1909, ed. Richard Moody (New York, 1966), pp. 349-359.

Nickinson did not limit his activity in August to the preparation of the theatre in Hamilton. In Toronto he lobbied successfully for the reduction of the licensing fee on amusements. "An Act to Amend the Law for Licensing Theatrical Performances," passed by the Toronto City Council on 29 August 1853, reduced the licensing fee for any theatrical performance at the Royal Lyceum Theatre only to one shilling a day rather than the minimum of five shillings a day set by the Act passed on 17 August 1840. The City Council's decision gave Nickinson an advantage over his predecessors and any future competition in the city. Nickinson reopened the Royal Lyceum Theatre for his "Second Regular Season" on 8 September 1853 with the same company of actors, and with an additional inducement to attract ladies into the auditorium. The regular ticket prices continued from his first season at boxes 2s 6d; upper boxes Is 10d; and parquette Is 3d. However, a lady and gentleman could, for the fall season, purchase tickets to the upper boxes for 2s 6d, the price of their admission to the pit, or a savings of 7d per ticket. The company performed in Toronto for two weeks, assisted during the second week by Charles W. Couldock as a visiting star.

The records do not indicate whether Nickinson took Morrison's criticisms to heart a few weeks later on 5 April 1854 when he again presented The Corsican Brothers to conclude the season. Its twelve performances rank The Corsican Brothers among Nickinson's most popular new plays that season. Uncle Tom's Cabin headed that list numerically with fourteen performances during the season of 1853-1854. Following The Corsican Brothers in popularity, a musical extravaganza, James R. Planche's Beauty and the Beast, enjoyed nine performances.

Second Season, 1854-1855
The Royal Lyceum Theatre opened again for "the second year of the present management" two weeks later on 17 April 1854, after being thoroughly "CLEANSED AND VENTILATED." Channings replaced Burton, the previous scenic artist, and Nickinson promised that Toronto would have "a theatre equal to any in North America."®® Editor Daniel Morrison did not accept Nickinson's equation of the Royal Lyceum to the best of the theatres in New York, although the removal of advertisements for the theatre from the Daily Leader's columns may have nurtured the venom of his review for the first play that season, The Wife, or A Tale of Mantua.

86 Toronto, Daily Patriot and Express, 6 December 1854, noted that "Mr. Nickinson . . . has fully redeemed his promise, made last spring--that if it could be done, Toronto should be equally as well represented, Theatrically, as any other city on this Continent."

Nickinson's awareness of his audience probably prompted the inclusion in his repertoire that season of Fiddle, Faddle, and Foozle,

the first Canadian play performed at the Royal Lyceum. G. Simcoe Lee, the walking gentleman, or second leading male, in Nickinson's company, authored the farce, which received its first production on 9 April 1853.81 Set in England, the farce concerned a wealthy young widow, Mrs. Foxington, and her three suitors: Captain Fiddle, a fop; Mr. Faddle, a retired Cockney salesman; and Fred Foozle, the lady's former suitor who restablished his claim on her heart. Fanny Fussy, the lady's maid who recaptured her former suitor, Mr. Faddle, completed the dramatic personnae. Because of the unique nature of a Canadian play, Lee's farce merited extensive comment in the daily press:

On Saturday evening, Mr. Lee's original farce, Fiddle, Faddle, and Foozle, was presented on the stage of the Lyceum, and was a most decided hit. . .. An original farce in Upper Canada is by no means an every day affair-- indeed it is the first with which the writer of this notice is acquainted., Now having said all this [plot summary], we must add, that we were disappointed. The playbill promised us "A New Canadian Farce," by "A Canadian Author." Mr. Lee is a Canadian, and the Farce is a new one--but it is not a Canadian one. . .. The Farce is English, both in its ideas and its character."

Nickinson presented another farce by G. Simcoe Lee, Saucy Kate, during his next season. Earlier the Amateurs had adapted Colman's The Unfinished Gentlemen into Canadian Virtue, and later Sir William Don would adapt The Manager in Distress into Native Talent, a vehicle chosen frequently thereafter by Charlotte Nickinson. Canadian one. . .. The Farce is English, both in its ideas and its character. . .. We expected to see our own absurdities— not those of the mother country. And we feel sure, that had Mr. Lee confined himself to what he may daily see around him, he would have been still more successful than he has been. . .. [Evaluation of actors] We were pleased with the Farce and the actors. We think it deserves to be repeated, and have no doubt that it will be a favourite.82

Less popular than the other plays noted this season, Fiddle, Faddle, and Foozle still enjoyed four performances during the season. It was not the only original script introduced, however, for Nickinson himself adapted from an anonymous French model a comic afterpiece, The Fortunes of War, for presentation on 13 January 1854 at a special benefit for 83 "Soldiers Widows and Orphans."

Lacking the popular success of other plays and afterpieces, The Fortunes of War received only two presentations. Only their most popular plays enjoyed frequent production year after year by Nickinson's company, and some pieces appeared in their repertoire only when the star with whom a piece was associated joined them for an engagement. Since his arrival at the Royal Lyceum in a managerial capacity in 1852, Nickinson had introduced over 187 separate plays and afterpieces by the end of the season of 1853-1854 on 5 April 1854. His major successes of the season indicate Toronto's preference for melodramas, such as The Corsican Brothers, or pieces starring his daughter Charlotte, such as The Good For Nothing.

84 Newspaper records are not complete for the entire period. Extant records detail 187 pieces.

This last volley of letters ended the battle and Nickinson left Toronto for a short season in Hamilton. Interestingly, criticism of Charlotte Nickinson's abilities as an actress appeared in only two of Daniel Morrison's reviews throughout this entire episode, but whether this evidences the superior talents of Nickinson's eldest daughter, or the already smitten heart of the Daily Leader's editor remains open to conjecture. Shortly after, or during, her father's last season of management at the Royal Lyceum Theatre in 1858, Charlotte married Daniel Morrison, and their courtship must have sparked interesting dinner-table conversation. The editorial battles between the Daily Leader and the Daily Patriot and Express dominated accounts of Nickinson's second season. Shadowed by this battle of words, one newspaper did provide, however, the only extant record of Mrs. John Nickinson in connection with her husband's theatrical activities. Her appearance coincided with Charles 102 Couldock's scheduled performance on 22 January 1855. Couldock did not meet the commitment and on 25 January 1855 the Evening Patriot noted in its "arrival" column the names of Mrs. Nickinson and Couldock from Buffalo. Presumably, Nickinson cancelled Hamlet, Richelieu, and The Lady of Lyons, plays regularly performed during Couldock's 104 appearances, on 22, 23, and 24 January, and substituted plays from his personal repertoire, while Mrs. Nickinson collected Couldock from Buffalo.

101 Robertson states that Charlotte Nickinson and Daniel Morrison married in 1858. Brown agrees with this date and adds that Charlotte retired from the stage after her marriage. Her last appearance, according to Brown, occurred on 28 April 1858 as Lady Teazle in School for Scandal at the Royal Lyceum Theatre, Toronto. Actually, School for Scandal was performed on 21 April 1858. Edwards maintains that the Morrison's married sometime in the I860's. Robertson, Landmarks, I, 489, Brown, American, p. 265, Edwards, Stage, p. 27.

105 Born in Beechwood, Pennsylvania, on 15 October 1833, Henry Denman Thompson joined Troyon's circus as a property boy. He made his stage debut as a supernumerary at the Howard Athanaeum, Boston. He acted in Toronto and Montreal throughout the 1850's and I860's. In February 1875, he debuted a twenty-five minute sketch entitled Joshua Whitcomb at Harry Martin's Varieties in Pittsburg, which developed into the full length play, The Old Homestead, which opened at the Boston Museum on 5 April 1886. Thompson performed in the play until his death in 1911, grossing three million dollars from the play over the years. Graham, Montreal, p. 110, and Walter J. Meserve, An Outline History of American Drama (Totowa, New Jersey, 1965), pp. 128-129.

106 Toronto, Daily Patriot and Express, 28 October 1854.

107 The people who worked with Nickinson both seasons included the following: Virginia and Charlotte Nickinson, Miss E. J. Phillips, A. Lyon, Robert Collins, William Petrie, R. T. Wilson, Patrick Redmond, and W. Allcock. Eliza Nickinson had married Charles Peters and both had severed their connection with Nickinson's company by this time.

Miss Kimberly,108 Peter Richings,109 Caroline Richings,110 William Davidge, Susan Denin, Morris Barnett, James Anderson,

111 0ne of America's representative comedians, William Pleator Davidge (1814-1888) was born in London. He debuted at Nottingham in 1836, and six years later married Elizabeth Clarke, before coming to America in 1850, where he debuted as Sir Peter Teazle on 19 April at the Broadway Theatre, New York, where he remained for five years. A member of the Wallack's stock company until 1869, he then joined Daly's company, remaining with him eight years. Davidge was the original Deadeye in the New York production of Pinafore. He died on 6 August 1888 en route to an engagement in California. Graham, Montreal, p. 107, and Brown, American, p. 93. {EJ Phillips was traveling with AM Palmer company on this train when Davidge died.]

Over the preceding fifteen years, audiences in Toronto had come to expect stars as part of their theatrical fare, and Nickinson looked to the Great Lakes circuit as a source of star attractions. Since the establishment of the railroads, the stars who toured in the Great Lakes region included the best from New York as well as the minor stars whose limited talents refused them entry to New York.

The stars came bringing their own repertoire of plays to augment Nickinson's repertoire. C. W. Couldock and Mile. Duret had appeared in previous seasons under Nickinson's management, and Sir William Don had appeared with Nickinson himself as a star under T. P. Besnard's management of the Royal Lyceum. Of the ten new stars introduced this season, four returned to join Nickinson's company for engagements in future seasons. Those who failed to elicit a popular response from the Toronto audiences did not receive invitations to return to the theatre.

Third Season, 1855-1856
The Royal Lyceum remained dark between 31 March and 11 April 1855 while Nickinson once again refurbished the interior of the theatre: "the seats are newly cushioned, and the house is re-painted, and re119 furbished throughout." Enhanced by the commodious nature of the theatre, the first installment of Nickinson's third regular season at the Royal Lyceum Theatre enjoyed favourable response from the Toronto populace between 11 April and 15 May. Following the performance of Peg Woffington, or Masks and Faces, on 4 May 1855, the editor of the Daily Colonist noted: Mr. Nickinson has done his best to make the theatrical performances in this city, both entertaining, and unexceptionable in moral tone and the highly respectable and fashionable audiences he obtains seems to show that he has so far obtained, in his enterprise, the approval of Toronto Society. And we really believe that he deserves it. The Toronto Lyceum is, we believe, as neatly fitted up, and pleasant a little theatre, for its extent, as there is anywhere in these provinces. The house on Friday evening, was completely filled, both in pit, and boxes. The present leading personages are Miss Louisa Howard,120 a young lady of evident talent, Mr. Henry Farren,121 and Mr. Buxton, Mr. Nickinson, himself, and the usual staff. 12 Nickinson interrupted his season at the Royal Lyceum in mid-May [1855] and transferred his company to his other theatres in centres along the railroad lines.

The theatres in Niagara and Hamilton lay on the stars' route from up-state New York, particularly Buffalo, to Toronto. From Toronto, short train rides took them to Guelph, back to Toronto, over to Hamilton again, and up to Brantford. From there, if the star wished, he or she could stop in London for performances en route to Detroit and Chicago. Although Nickinson did not own the London theatre, he and his daughter, Charlotte, both performed there under the management of Brunton.122 The railroads had placed his satellite theatres within a few hours of one another, and Nickinson could transport his stars and section of his company easily from the Royal Lyceum in Toronto, to any of the other theatres.12 The season of 1855-1856 witnessed a boom in the number of stars arriving at the Royal Lyceum in Toronto. No longer barred by frozen harbours on the Great Lakes, stars travelled from one theatre centre to the next in the relative comfort of railroad cars.

124 The core of Nickinson's company remained at the Royal Lyceum in Toronto. He maintained a minimum resident company in each of his other centres, but only the Toronto theatre remained open for the greater part of each year.

125 Nickinson brought his company back to Toronto for one night on 24 May 1855 in honour of Queen Victoria's birthday.

127 Playwright and actor, John Brougham began acting at sixteen in Ireland in 1830, and made his American debut at the Park Theatre, New York, on 4 October 1842. He made a reputation for himself writing burlesques of popular dramas, one of the most successful being his parody of Metamora in which Brougham played the leading role in imitation of Forrest. In 1848, he achieved his greatest single success as a playwright with Dombey & Sons at Burton's theatre in New York with Brougham as Bunsby and Baystock; John Nickinson as Dombey; and Charlotte Nickinson as Florence. Sir Lucius O'Trigger numbered among Brougham's most prominent roles, but in every part he demonstrated ''exuberant vitality, keen sympathy and appreciation, rare personal magnetism." Following a disastrous farewell tour, friends gave him a grand complimentary benefit in New York on 17 January 1878 at which they raised $10,000. Brougham died in New York on 7 June 1880. See Phelps Davidge and G. K. Dickinson.

The summer brought added excitement on Friday, 13 July 1855, when Toronto experienced its second Circus Riot, more serious than its predecessor some two years previous. The incident began the evening before during a drunken quarrel at a bawdy- house in the west end of the city, where members of Howe's Menagerie and Myer's and Madigan's Equestrian Troupe beat two of Toronto's young men, Fraser and Fawcett, and inflicted serious injuries upon them. On Friday, a group of Toronto men assembled on the circus grounds to take the law into their own hands and revenge their two luckless fellows. Following a fist fight, the Toronto men attempted to overthrow the then and to burn a circus wagon, and finally seized the wagon cages housing the animals and aimed them toward Lake Ontario. The intervention of the Mayor and his threat to read the Riot Act, dissuaded them from drowning the animals, but before they dispersed, the Toronto men destroyed the "ticket and other waggons, trunks, dresses, canvas, poles, chandeliers, and almost every other breakable substance."*'2® Capitalizing on the disturbance, on Saturday night, 14 July, Nickinson offered his patrons The Reign of Terror for their 129 amusement and reflection.

Thirteen of the company remained from the previous season while eight had been members of the company during Nickinson's first season as manager of the Royal Lyceum. Although he had to add new names to his roster each year, Nickinson endeavoured to maintain a core of actors familiar with his managerial practice of presenting a repertoire limited primarily to comedies, plus such plays the stars brought with them. Each year also, Nickinson added new names to his roster of visiting stars. The stars*33 who augmented the resident staff during the season of 1855-1856 numbered Henry Farren and Louisa Howard, Peter Richings and his daughter, Caroline, Henry Hall, John Brougham, William Davidge, G. K. Dickinson, Susan and Kate Denin,13 Charles W. Couldock, Professor Orrin and Sons,'*'33 James B. Roberts, Charlotte Wyette,137 Eloise Bridges,13® Andrew Jackson Neafie,135J and Mrs. 140 Annie Senter. Seven of these stars had appeared with Nickinson during previous seasons at the Royal Lyceum. The establishment of an extensive rail transportation network facilitated the attraction of more stars, generally of a higher calibre, to Toronto.

Although Nickinson succeeded in attracting the upper class of Toronto Society to the theatre, the Royal Lyceum did not house the stars with the decorum of a modern theatre. Audiences in the Great Lakes theatres were not models of public behaviour. Actor and audience alike endured considerable noise and confusion during the progress of a performance. In an article entitled, "Our Manners--The Theatre," on 27 October 1855, Daniel Morrison reviewed the auditorium rather than the stage at the Royal Lyceum: Of course, we expect noise and tumult in the pit. Gentlemen who go there have half their amusement in their own bawling, and certainly the skill with which the fine art of whistling is perfected, is a guarantee of much patient practice. However, we do not begrudge the denizens of the pit their harmless amusements, and shrill as their cry may strike our tympanum, we recognize a time-honoured custom and bear the infliction accordingly. But we must confess that we have been taught to think that people who go to the boxes should show some propriety of deportment. To wear hats in the presence of unescorted ladies, is one of the acts of Vandalism which we thought might be ranked with the past. . .. But it is inconceivable how a person of the least propriety of manner would wrap himself in his plaid, and sitting on the box front turn his stern to the stage. What ethics warrant a knot of men in taking the front row to the exclusion of the ladies behind them, and all wearing their hats to show their breeding--talking remarkably loud where they ought to be silent, and applauding in the wrong places?

The editor concluded his article with the suggestion that the manager install more gas lights in the boxes to provide them with better lighting, and the box keeper endeavour to maintain better order and attend to the removal of all hats. Morrison's concern with social behaviour in the theatre reflected the general concern at that time regarding the influence of the theatre on the social manners of its patrons. An examination of social manners appeared on the stage of the Royal Lyceum itself a month and a 142 half later, on 10 and 14 December 1855 when Nickinson presented Peter and Caroline Richings in Fashion, the social satire written by Anna Cora Mowatt a decade earlier.

Accepting discretion as the better part of valour, for Christmas week Nickinson switched from social satire to musical extravaganza, properly described on the playbill as "a Drama without the smallest claim to legitimacy, consistency, probability, or anything else but absurdity; in which will be found much that is unaccountably coincident with Shakespeare's Tempest &c."*4'' For Christmas week Nickinson regularly presented a musical extravaganza. In 1855 he chose the magnificent Fairy Burlesque by the Brough brothers entitled The Enchanted Isle, prepared with new scenery, choreography and machinery. An extravagant travesty of Shakespeare's The Tempest, The Enchanted Isle was one of the best known examples of its genre. Such extravaganzas and burlesques numbered among the most popular of dramatic genres in the 1830's and 1840's in England and in the 1850's in Toronto. Their success depended on their "free merriment, familiar themes new treated, and gorgeous settings,"14-7 The editor of the Daily Colonist "confidently recommend[ed] all persons who wish to enjoy a rare treat of holiday fun, to visit the theatre and witness the performance of a most laughable extravaganza called The Enchanted Isle. . .. The scenery, by Mr. G. Morris, is itself worth seeing. The dances are arranged by Mons. and Mde. Bouxary. The machinery, prepared by Mr. R. T. Wilson, is also very creditable workmanship. But go and see for yourself. The house has been crammed for two consecutive nights; and THE ENCHANTED ISLE will be repeated several times,148

Only the untimely backstage fire and death of Rosa Cook distinguished the season of 1855-1856 from the pattern Nickinson had established. He continued to import stars to augment his basic company and repertoire. The standard repertoire of the company consisted primarily of now forgotten comic farces and afterpieces, such as Born to Good Luck, Napoleon1s Old Guard, Love-a-la-Mode, Boots at the Swan, and The Ladies1 Battle. The company also maintained a second repertoire which appeared when tragedians, such as Couldock, Roberts, Neafie and Dickinson, joined the Royal Lyceum as stars. The company offered Richelieu, Richard III and Othello during the visits of three of these stars. All four of them performed Hamlet during their engagements with Nickinson this season. Although the company performed Hamlet frequently throughout this season and others, they supported a variety of Hamlets.

Never did Hamlet appear on an evening's bill when the company performed without a star. Nickinson's company did not include a tragedian; neither did it claim a resident leading lady. Technically Charlotte Nickinson occupied this position, but after establishing her reputation as an actress in the comic line, she toured extensively for most of the year herself, as a star in other centres along the Great Lakes Circuit. The leading roles in the classic comedies, School for Scandal, She Stoops to Conquer, As You Like It, and Much Ado About Nothing belonged to her, and Nickinson deleted them from the company's repertoire during her absences. Although she did not perform the dramatic role of Pauline in The Lady of Lyons this season, Charlotte Nickinson had frequently portrayed that character in previous seasons, and the company required no special rehearsals to support Louisa Howard and Eloise Bridges, two stars who played the role during the season of 1855-1856. Most of the visiting stars, as did the resident company, maintained a standard repertoire of plays.

For some stars, however, the members of the company had new lines to learn. John Brougham, then a member of 'Wallack's company in New York, joined Nickinson's company for the first week of July 1855. Performing three comedies, The Serious Family, The Irish Lion and The Bachelor of Arts, Brougham also offered "a selection of his favorite characters, a capital bill being presented tonight."*50 When a comic star introduced a new play which received popular favour during his engagement, Nickinson frequently added that play to his standard repertoire, with a resident member of the company assuming the star's former role. Generally, he introduced new plays only during the engagement of a star, and added the most successful of these plays to his bills between starring engagements.

Fourth Season, 1856-1857
Nickinson commenced his fourth season on 24 March 1856, and in format, both regards repertoire and visiting stars, it duplicated his first three seasons. Two new stars in particular, however, brought an added enhancement to the fourth season. Perhaps the second visitor of the season, J. W. Wallack, attracted large houses because the audience thought him his uncle, James W. Wallack, but the elder Wallack also arrived to perform with his old friend, John Nickinson. 151

150 Toronto, Daily Leader, 4 July 1855. The notice continues "as will be seen by the advertisement," but no advertisements remain for his engagement in this or other extant newspapers. *5*Robertson states that "it was a long time after he had taken the management of the Royal Lyceum that Mr. Nickinson was able to get any of the great actors of the day to visit Toronto and play in it. Fortunately, while in New York he had gained the friendship of James Wallack, the Wallack whose star was then in the ascendant and as an act of friendship Mr. Wallack accompanied by James Wallack, Jr. came here to play a short engagement . . . Mr. Wallack's coming broke the ice, and after this it was comparatively easy to engage stars."

The first performance of the elder Wallack at the Royal Lyceum almost coincided with his last, and the last, indeed for the entire company. Almost immediately after the conclusion of the performance on Tuesday, 22 July 1856, a fire broke out in a house south of King Street in Theatre Lane. The fire spread rapidly north to King Street and south to Wellington Street. "The theatre was saved with the greatest difficulty--the whole of Mr. Nickinson's company having applied themselves with almost superhuman exertions, succeeded with the co-operation of the firemen in extinguishing the flames after the 152 building had fairly taken." William Petrie, Nickinson's stage manager, directed the fire-fighting operations which saved the theatre, but the fire claimed its toll from some members of the company Monsieur and Madame Bouxary rented a frame house near the theatre, in which they leased lodgings to Miss Phillips and these three members of Nickinson's company lost nearly all their belongings. Toronto's volunteer fire department carried two hundred forty- eight men, six engines and a hook-and-ladder rig on its roster at the time of this fire.

Indeed, in all aspects of daily business life, Toronto had changed immensely in the twenty odd years since its incorporation. In 1856, its citizens could point with pride to thirteen banks and five insurance companies, who would have spent a busy week following the Theatre Lane fire; nine building firms, whose business would follow shortly as the owners set about rebuilding their property; three daily newspapers, half a dozen weekly periodicals, and several obscure monthlies. In addition, the local manufacturing interests included cabinet and chair works, breweries and distilleries, soap and candle makers, carriage makers, lithographers, and small factories making brushes and brooms, combs, mirrors, oil cloth, rope, starch, trunks, umbrellas, lightning rods, and buggy whips. In all, the assesed value of real property in Toronto in 1856 totalled over six million pounds sterling, three times the assessment in 1851 when Nickinson first visited the Royal Lyceum as a visiting star under T. P. Besnard. 3 Nickinson had divided his attention during his fourth year of management in Toronto to the administration of the Royal Lyceum and the establishment of a local militia force.

The outbreak of the Crimean War in 1854 had denuded Canada almost entirely of its British troops and necessitated a native militia in the colony. An Act in the British Parliament passed on 19 May 1855 provided for an Active Militia of Volunteers in Canada West to be composed of sixteen troops of cavalry, seven field batteries, five foot companies of artillery, and fifty companies of riflemen. Toronto slowly organized its forces forming the First and Second Troops of Cavalry on 27 December 1855, the Field Battery on 7 February 1856, and the First, the Second, and the Third Rifle Companies on 20 March 1856, four days prior to the opening of the Royal Lyceum on 24 March. The commander of the Third Volunteer Rifles was the former Sergeant of the 24th, now Captain, John Nickinson. The new duties incumbent on Captain Nickinson led the editor of the Daily Leader, now friendly to the Royal Lyceum Company, to complain "that his prolonged absence is a cause of disappointment. Perhaps as a result of Nickinson's military commitments, the Royal Lyceum company evidenced a certain laxity regarding their curtain time. A letter to the editor of the Daily Patriot complains: the doors of the Theatre are advertised to open at half past seven, the performance to commence at eight . . . still I in common with others listened in vain for the signal to raise the curtain. . .. If Mr. Nickinson finds it impossible to get his company together at eight o'clock, let him advertise the performance to commence at half-past. It would be infinitely preferrable to the present system of compelling an audience to wait a wearisome half hour gazing with anything but enraptured feelings upon a plain green curtain. 9

Another consistent complaint labelled against Nickinson's theatre, decried the continual noise created by audience members in the lobby. In the Daily Leader of 7 October 1856, the editor noted that although Nickinson stationed policemen in the pit to maintain order, perhaps he ought also to obtain "the services of a constable in the boxes."160 The review suggested that patrons partook of intoxicating beverages before and during the performances, and the editor commented that those who could not maintain the requisite of good breeding while in their cups, ought not to indulge.

157 Robertson states that Nickinson was called "Colonel" by the members of the acting company. However, his rank with the 24th Regiment was sergeant, and with the Toronto Volunteer Rifles his rank was captain, and is so designated in newspaper reviews and advertisements. Robertson, Landmarks" I, 489.

The season at the Royal Lyceum in 1856-1857 boasted numerous stars: Georgina Hodson, both the Wallacks, Fanny Morant, Charles W. Couldock, William Davidge, J. Collins, J. B. Roberts, Mrs. Melinda Jones, Andrew Jackson Neafie, Henry Farren, F. E. Belton,17 Charlotte Wyette, Mrs. Annie Senter, R. French, Mrs. Macready, C. Barton Hill, and Ben G. Roger. Of these stars, five of them, Hodson, Wallack, Jr., Collins, Roberts, Senter, appeared twice during the season and one of them, Couldock, appeared three times. Six of the visiting stars, Farren, Davidge, Couldock, Roberts, Neafie, and Senter, had all appeared the year before. Nickinson had discovered a guest star format which met with success during his first season at the Royal Lyceum and did not change it throughout his management.

164 James W. Wallack, Senior, and J. W. Wallack, Junior, both appeared in Toronto during the season. J. W. Wallack, Senior, had appeared in Toronto prior to the building of the Royal Lyceum Theatre.

165 Fanny Morant debuted at the Drury Lane Theatre as a walking lady under James Anderson's management, and substituted for Mrs. Nesbitt that season. In 1856, she came to America with Anderson and starred extensively across the continent. After her marriage to Charles Smith in 1860, she worked with Wallack's company until the season of 1868-1869, she joined Edwin Booth's company. After an engagement with Daly's company, she later transferred to Albert Marshall Palmer's Union Square Stock Company where she created the role of Countess Diane De Lanieres in The Two Orphans on 21 December 1874. Brown, American, p. 251, and Coad and Mims, American Stage, p. 254.

Toronto audiences had responded favourably to the addition of stars to the regular company and Nickinson catered to their interest by adding more stars each year. The successful stars, such as Couldock and Davidge in particular, he invited back season after season; others who failed to please his audiences did not receive invitations to return. The most successful stars often appeared several times within a single season. Nickinson's management of his stars reflects in miniscule the treatment of the play repertoire in stock companies earlier in the century. At that time, a season began with favourite plays from previous season. Gradually the manager added new plays to his bills and maintained the successful pieces in his repertoire, ending the season with a series of benefits for the company using recent or classical favourites for the benefit bills.

Nickinson's management of the stars reflects this pattern. When a successful star returned for his second and subsequent engagements, he began the engagement with the most successful pieces from his earlier seasons. Gradually, he introduced new plays and mingled old favourites with new successes during the remainder of his engagement. For each week of his engagement, he received a benefit. An analysis of the appearances of one of his popular stars, William Davidge, demonstrates this pattern.

During his seven engagements over a four-year period, Davidge, primarily a comedian, performed in Toronto on seventy-two nights under the management of John Nickinson. His involvement with the company extended over the production of one hundred and sixty-one pieces, but in reality only thirty-two different plays. During his first engagement with Nickinson in 1854, Davidge presented eleven plays and afterpieces in seven days, repeating four of them, Paul Pry, Poor Pillicoddy, Domenique the Deserter and Robert Macaire. He included the latter two pieces on the bill for his benefit on 2 August. All but one of the eleven pieces reappeared during his next two engagements at the Royal Lyceum, along with six new plays during his second engagement and another six during his third. The Wandering Minstrel, which appeared for the first time during his third engagement, received five presentations over the eleven nights he remained with Nickinson.

For his one engagement in Toronto during the season of 1856-1857, beginning on 26 May, Davidge presented sixteen separate pieces arranged in twenty-five spots on the bills for his eleven nights. The Wandering Minstrel appeared on the bill for the first evening, and on four subsequent evenings. He reserved his first new play of this engagement, The Fair One with the Golden Locks, until 3 June, and subsequently introduced two more new plays as well as a selection of his past successes. Of the one hundred sixty-three productions which Davidge presented during the seven engagements with John Nickinson, three plays and three afterpieces together constituted sixty of the productions. He performed The Wandering Minstrel seventeen times, Poor Pillicoddy eleven times, Dominique the Deserter ten times, Paul Pry nine times, and the Immortal Toodles and Two Bonnycastles each seven times.

Undoubtedly Davidge returned year after year because Nickinson could offer him a profitable engagement at the Royal Lyceum and at the other theatres he operated in nearby centres in Upper Canada. Engagements in Toronto probably held an extra attractiveness for Davidge, an English actor, since they afforded him an opportunity to return to British soil. Davidge and the other stars who returned for several engagements with Nickinson did so probably because the manager of the Royal Lyceum treated them well. During this season, as in previous seasons, each of the sixteen stars received one benefit a week during his or her engagement. Nickinson also accorded benefits to prominent members of 174 his resident company in the latter half of each season. The fourth season ended on 6 April 1857 after the usual series of benefits, most noteworthy among them, the benefits of 9 January and 25 March for the manager, John Nickinson.

Remarkably for a mid-nineteenth century manager, Nickinson claimed only one benefit each year during his first three seasons at the Royal Lyceum but during the season of 1856-1857 he had two benefits. Numerous benefits for a theatre manager generally indicated that the theatre was losing money. Nickinson's second benefit on 26 March 1857 suggests the beginning of a decline in business for John Nickinson at the Royal Lyceum. The Daily Leader had hinted that Nickinson's management was beginning to experience financial difficulty, as evidence in a note stating that Nickinson had visited Kingston to "see whether the good people of Kingston will support him," for a few nights. Thus, at the end of his fourth regular season at the Royal Lyceum, John Nickinson could already foresee the problems of his fifth season

172 The count is based on advertisements in the Toronto newspapers and playbills in the unpublished Davidge Scrapbook, Harvard Theatre Collection

Fifth Season, 1857-1858
The season of 1857-1858 commenced on 13 April 1857 and enjoyed such a flurry of stars that Morrison remarked in the Daily Leader: That portion of the public most favourable to the appearance of "Stars" on our boards, must have been abundantly gratified of late. Since the opening of the present season the stock company have, indeed, almost given way to the stars. Visiting stars had constituted the basis of John Nickinson's managerial success at the Royal Lyceum during his first four seasons and his play bills suggest that he hoped to reestablish his prior success by bringing in even more stars during his fifth season. Morrison's observation on the state of the stock company at the Royal Lyceum keynotes Nickinson's management and suggest implicitly the reason for his failure. Although he provided Toronto with its first regular theatre, he also contributed to its decline through his dependence on visiting stars, rather than a strong resident company. The phenomenon did not limit itself to Nickinson or Toronto, and Nickinson's career at the Royal Lyceum reflects the general decline of many American theatres at that time. In his memoires, published in 1855, William B. Wood, a former manager of the Chestnut Street and the Arch Street Theatres in Philadelphia, condemned the metricious effects of the "star system" generally: When the actors are a permanent body, and the manager a permanent person, everything [regarding pieces, casts, rehearsals, stage business, stage-scenery, stage effects, and final performance] can be pre-arranged. . .. But when a season is made up of a rapid succession of numerous stars, the first effect is that nothing can be arranged ahead. The star is the light of everything; the centre about which all must move. He has his own preferences of every sort.

Catering to a star undoubtedly reduced the competency of the company, and as the more proficient members left to become "stars" themselves those remaining offered a minimum of talent for the support of the star. As audiences recognized the artistic decline they withdrew their support of such companies, and the theatre suffered accordingly. Nickinson fought this decline by importing more stars. The stars who arrived during Nickinson's season of 1857-1858 included Frank S. Chanfrau, Charlotte Wyette, J. Collins, William Davidge, Henry Farren, George Holland, Lola Montez, Mr. and Mrs. George Pauncefort, Charles Bass, Charles W. Couldock, James Bennett, William McFarland, Miss Woodbury, 1 Henry Lorraine, Mrs. McMahon, Gardiner Coyne, Susan Denin, N. St. Clair, Mr. and Mrs. Waller, G. W. Jamison, Mr. and Mrs. John Drew, C. Barton Hill, Mrs. Annie Senter, Matilda Heron , Sallie St. Clair, 193 and 194 John Sefton with his daughter, Angela Sefton

177 Wood, Recollections, p. 440.

178 William Petrie, Mr. and Mrs. Owen Marlowe, Denman Thompson, W. J. Florence, and Charlotte Nickinson, all left Nickinson's company to star at other theatres.

191 An Irish comedian, John Drew was born in Dublin on 3 September 1827, but his parents moved to Buffalo, New York, in 1833. He visited the Albany Museum in May 1850 and later that year married Mrs. Mossop, the former Louisa Lane. In 1853 he leased the Arch Street Theatre, Philadelphia, with William Wheatley. Following a tour of England and Australia, he died in Philadelphia on 21 May 1862. Drew left the management of the Arch Street Theatre in 1855, but Mrs. Drew leased the theatre in 1860 where she continued the superb resident stock company they had established earlier. Phelps, Players, p. 258, and Coad and Mims, American Stage, p. 198.

192 The first influential actress of the emotional school which placed primary emphasis on extravagant displays of the more violent feelings, Matilda Heron's main contribution to acting lies in her adaptation of Camille for the American stage. Trained in the eloquent style of elocution by Peter Richings, she achieved success in such standard roles as Bianca in Fazio, Juliet, and Mrs. Haller. Visiting Paris in 1854, she memorized every detail of the production of La Dame aux Camelias and translated the script into English. Her debut as Camille in New Orleans in 1855 created little sensation, but furor took over when she staged the play at Wallack's Theatre in 1857. Immediately, she became the toast of America, and her phenomenal success as Camille netted her at least $100,000 before she settled into obscurity. As an actress, she exhibited an animal vitality and a wildness of passion unrefined by poetry or idealism. When her personal magnetism diminished she lost favour with the audiences. Matilda Heron had appeared previously at the Royal Lyceum with her family in 1851. Wilson, Acting, pp. 122-124.

Nine of the thirty stars who appeared this season [1857-58] had appeared previously at the Royal Lyceum under Nickinson's management, and two of them, Matilda Heron and Mrs. John Drew, had appeared when T. P. Besnard managed the theatre. The ever expanding railroad system in the United States and Canada during the 1850's had facilitated travelling and many more stars toured regularly by this time. Nickinson endeavoured to attract stars to the Royal Lyceum more than in any previous season, and the presence of thirty luminaries on the Royal Lyceum stage demonstrated his strenuous efforts. The economic condition of the province, however, thwarted Nickinson. After three years of bountiful wheat crops in Canada West, the crops failed in the fall of 1857 and brought bankruptcies and economic decline in its wake. At the same time, the Crimean War ended and England's demand for flour and timber from Canada declined 195 sharply. Simultaneously, the railroad building boom collapsed, and British capital which had poured into the railroad business in Canada halted its flow abruptly. Farmers' debts went unpaid. Merchants lost business. Railroads ceased expansion as a result of the diminishing traffic and lack of capital. The colony's economy slowed down considerably.1 The effects of this sluggish economy appear in the active record of the Royal Lyceum Theatre in a new play produced on 19, 20, and 21 January 1858 entitled The Poor of Toronto, or The 197 Great Money Panic of 1857

Nickinson's exertions to keep the Royal Lyceum operating, matched the efforts of farmers and tradesmen to survive the wheat failure. Although increased use of visiting stars was Nickinson's primary effort toward this end, notably, his greatest success of the season did not depend on a visiting star, but rather on the semiregular leading lady of the company, Charlotte Nickinson. On 24 March 1858, Charlotte appeared as Jessie Brown in Dion Boucicault's historical melodrama, Jessie Brown, or The Relief of Lucknow. Between 24 March and 16 April, she enacted the role on at least fourteen occasions, as audiences in Toronto turned out in force to view the dramatic account of General Havelock's arrival at the British garrison in Lucknow on 25 September 1857. Boucicault had written and prepared the script of the play for production at Wallack's 199 Theatre in New York on 22 February 1858. Nickinson's friendship with the elder Wallack probably accounted for the rapidity with which he acquired the script of The Relief of Lucknow. Less than a month separated the first appearance of the play in New York and its presentation at the Royal Lyceum in Toronto. Charlotte Nickinson culminated this period of her career in The Relief of Lucknow playing the dramatic role of Jessie Brown, the Scottish girl who encouraged the British soldiers at the garrison in Lucknow by her insistence that she heard "the pipes of the Campbells.

Shortly after her last appearance in The Relief of Lucknow, Charlotte Nickinson retired from the stage. Her farewell at the Royal Lyceum, on 21 April 1858, heralded the final decline of her father's management of the theatre. The great patronage accorded the Royal Lyceum by the citizens of Toronto during March and April diminished steadily. On 8 May 1858, the Daily Leader asked its readers to demonstrate their appreciation of Nickinson's labours in a practical way and reminded them that "praise is good but patronage is better."201 But patronage was not forthcoming. Within the city of Toronto itself, another economic factor possibly influencing business at the Royal Lyceum was the opening in April 1858 of the New Concert Hall on Adelaide Street, opposite the Court House. Designed primarily for concerts, the New Concert Hall offered three former regulars at the Royal Lyceum, Cool Burgess, Den Thompson and Patrick Redmond, on 19 April 1858 in a musical concert followed by the afterpiece, A Ghost in Spite of Himself.

Although the only extant 202 notice of this performance stated "For Two Nights Only," the possibility of a rival theatre, offering lower ticket prices, may have influenced Nickinson's decision to relinquish the management of the Royal Lyceum. Regardless, attendance at the theatre had declined steadily through the season of 1857-1858, and on 1 July 1858, Nickinson resigned the management of the Royal Lyceum to his young son-in-law, Owen Marlowe. William Petrie had resigned as stage manager at the Royal Lyceum and Nickinson may have known of Petrie's intention of converting the Ontario Hall into a theatre which would provide Toronto with a second theatre operating in competition with the Royal Lyceum. Petrie's City Theatre opened in the autumn of 1858 during the first 204 week of November. Possibly, indeed, Petrie's decision to open his own theatre in Toronto resulted from the implied rebuff of his long service to Nickinson implicit in Nickinson's establishment of Owen Marlowe, rather than Petrie, as manager of the Royal Lyceum.

Contemporary records provide no explanation of Nickinson's resignation, but undoubtedly financial stress occasioned by economic reversals in the province and in Toronto itself influenced his decision. Financial difficulties had plagued Nickinson throughout the entire season of 1857-1858, and he attempted various expediencies to improve the economic fortunes of the Royal Lyceum. He leased the theatre to outside groups, such as Donetti's Dogs, the Wren Juvenile Company, and Sandford's Opera Troupe, and continued to tour his other theatres in the province without success. After one such touring venture in the early summer, Nickinson held two benefits for himself within ten days of his return to the Royal Lyceum, 05 indicating the financial failure of the tour. Nickinson's five benefits during the season of 1857-1858, only one less than his total during the previous three seasons, indicate the financial disaster which shadowed the Royal Lyceum. Personal factors also may have inspired Nickinson to retire from the active management of the Royal Lyceum in 1858, although he maintained the lease on the theatre during the next season.

Over fifty years old in 1858, Nickinson died only six years later in a drug store in Cincinnati, Ohio, on 8 February 1864, presumably of a heart attack. His labours during the last year of his management of the Royal Lyceum undoubtedly precipitated the heart seizure. Further, his four daughters had reached maturity and he had helped launch them successfully on careers. Charlotte acted as a touring star throughout the Great Lakes region and soon married Daniel Morrison, the crusading editor of the Daily Leader. Following her husband's death, she would return to the Royal Lyceum Theatre, Toronto, after a retirement of nearly fifteen years, as its manager in 1872. Eliza had married Charles Peters, an old friend of Nickinson's and a fellow actor at her father's Utica Museum as well as at the Royal Lyceum. In 1857, Virginia had married her fellow actor at the Royal Lyceum, Owen Marlowe. After a tour as stars through the southern United States, they had returned to assume the management of the Royal Lyceum.

Nickinson's youngest daughter, Isabel, had already debuted at the Royal Lyceum and would soon marry Charles M. Walcot. The stage of the Royal Lyceum had supported all his daughters over the years. When Nickinson began his career as sole manager of the Royal Lyceum in 1853, Toronto had previously supported theatrical companies only for short seasons. As a touring star, he had appeared at the Royal Lyceum under T. P. Besnard's management, and at that time probably gauged the taste of the Toronto audience for comedies and stars.

His short season as co-manager with T. P. Besnard in 1852 had undoubtedly reinforced his original estimation of Toronto's theatrical market. At the same time, he must have noted the expansion of the railways which would easily connect him with satellite theatres in nearby centres. Most of all, he saw the wealth of the city and the possibilities Toronto held for a company trained in comedy, but also able to provide competent support for stars whose fortes ran the complete gamut of dramatic genres.

The repertoire of plays presented at the Royal Lyceum during Nickinson's five seasons as manager reflects this observation of Toronto's theatrical possibilities. The bills changed constantly year by year with no set pattern except for that established by his reliance on visiting stars. His company could support these stars in the standard tragedies and heavy dramatic pieces, and he added the comedies and light dramatic successes of stars whose line matched his own comic forte.

209 Graham, Montreal, pp. 83, 112. Walcotthad been a member of Nickinson and Besnard's company in 1852. The couple married, however, while they were members of Laura Keene's Theatre in New York.

Newspapers provide little critical evaluation of the plays presented either by the regular company or the visiting stars. The editor of the Daily Leader. Daniel Morrison, saw the need for criticism of the productions themselves, but he provided only a few sporadic attempts at this "new criticism" himself. Primarily the theatrical record of Nickinson's company consists of paid puffs, advertisements and playbills. While the city remained prosperous, Nickinson shared in that prosperity, but the depression of 1857 diminished the wealth of Toronto to the point where its citizens could no longer provide year round support for a resident theatre. Nickinson had trained his daughters and established them on their separate careers between 1853 and 1858. Faced with the loss of many of his original company, Nickinson may have tired of the strenuous duties incumbent on the manager's role and the lack of commensurate financial reimbursement. Whatever his reasons, Nickinson terminated his management on 30 June 1858. On 1 July 1858 Owen Marlowe inaugurated his first season at the Royal Lyceum as manager with Charles Mathews the Younger as his feature attraction, and an era in the theatrical history of Toronto passed from view.

The final phase in Toronto's theatre history during the period covered in this study produced a stock company firmly established under John Nickinson at John Ritchie's theatre. By this time itinerant stars had replaced itinerant companies in the major centres on the frontier. These itinerant stars conducted themselves in a manner reflecting their predecessors, the itinerant companies. Acting in a limited repertoire, adding only a few new pieces yearly, travelling from city to city and returning to the most remunerative centres, the star developed his own personal circuit. The period of John Nickinson's management at the Royal Lyceum reflected the pattern followed around the Great Lakes: stars, stars, and more stars. The same stars came, over and over, year after year. The theatre bill in Toronto repeated the bill and star of Buffalo during the prior week and of Rochester or Detroit or Chicago during the week to come.

Toronto audiences, however, showed a strong preference for English plays and a strong antipathy toward American plays. In comparison with American centres of the time, very few American plays were performed in Toronto during its first sixty-five years of existence and those performed seldom met success with the Canadian audience.

more on well known actors John Nickinson and EJ Phillips appeared with in Toronto

Bibliography
O'Neill, PB Anthony, A History of Theatrical Activity in Toronto, Canada, from its beginning to 1858, Louisiana State University dissertation, 1973


Robertson, John Ross, Robertson's Landmarks of Toronto, Toronto from 1834 to 1893 Volume 1, 1894 https://books.google.com/books?id=gVkRAQAAMAAJ&dq=inauthor:%22John+Ross+Robertson%22&source=gbs_navlinks_s



Last updated December 29, 2019

Plays performed in Toronto date more dates orig. pub EJP role/s
Rob Roy
Scott Walter
Peacock Isaac
Prince of Wales Toronto
Toronto
1848
1860
1818
Helen MacGregor
Diana Vernon
White Horse of the Peppers
Lover Samuel
Royal Lyceum

Toronto
1852
1838
Magdalene? Agatha?
Merry Wives of Windsor
Shakespeare Wm
Royal Lyceum

Toronto
1853
1597
Mrs. Page
Richard III
Shakespeare Wm
Royal Lyceum

Toronto
1853
mult yrs
1591
Queen, Lady Anne, Duchess of York
Uncle Tom's Cabin
Lemon Mark
Taylor Tom
Royal Lyceum

Toronto
1853
John Nickinson
1852
Cassy
Merchant of Venice
Shakespeare Wm
Royal Lyceum

Toronto
1854
mult yrs
1596
Portia
Pisarro
von Kotzebue Augustus
Royal Lyceum

Toronto
1854
mult yrs
1799
Elvira Cora
As you Like It
Shakespeare Wm
Royal Lyceum

Toronto
1855
elsewhere?
1599
Celia
Peculiar Position
Scribe Eugene
Royal Lyceum

Toronto
1855
John Nickinson
1837
Countess de Novara
Roll of the Drum
Wilks Thos Egerton
Royal Lyceum

Toronto
1855
John Nickinson
1843
role not specified
Venice Preserved
Otway Thomas
Royal Lyceum

Toronto
1855
1682
Belvidera
Blessed Baby
Moore J George
Royal Lyceum

Toronto
1856
John Nickinson
1847
Mary Jane mother of the blessed baby
Gamester
Moore Edward
Royal Lyceum

Toronto
1856
1777
Mrs Beverly
House Dog
Higgie Thomas
farce
Royal Lyceum

Toronto
1856
John Nickinson
1845
Miss Melpomene
Hunchback
Knowles J Sheridan
Royal Lyceum

Toronto
1856
John Nickinson
1832
Helen
Jane Shore
Rowe Nicholas
Royal Lyceum

Toronto
1856
John Nickinson
1714
Alicia
Lucretia Borgia
Hugo Victor
Royal Lyceum

Toronto
1856
1833
Lucretia
Taming of the Shrew
Shakespeare Wm
Royal Lyceum

Toronto
1856
elsewhere?
1590
Katharine, the shrew
William Tell
Knowles J Sheridan
Royal Lyceum

Toronto
1856
John Nickinson
1825
Emma Tell's wife
Coriolanus
Shakespeare Wm
Royal Lyceum

Toronto
1857
Barrett?
1608
Volumnia
Twelfth Night
Shakespeare Wm
Royal Lyceum

Toronto
1857
elsewhere?
1601
Countess

Olivia
Comedy of Errors
Shakespeare Wm
Royal Lyceum

Toronto
elsewhere?
1594
Adriana
She Stoops to Conquer?
Goldsmith Oliver
Toronto?
1852
s? elsewhere
1773
Mrs. Hardcastle
Uncle Tom's Cabin
Stowe Harriet Beecher
Toronto?
1860
John Nickinson
1852
Cassy
1892
12
5
1 week
Toronto
Grand Opera?
Joseph

business immense on Sat
1892
12
7
Toronto
Joseph

rehearsals of the Judge began EJP only in the last act farcial comedy
1893
5
22
1 week
Toronto
Joseph
perhaps 1 night Hamilton?
1894
12
24
1 week
Toronto
Grand Opera house
Camille Romeo and Juliet Transgressor

"fine house"
1979
Toronto
Mary Shortt master's thesis Univ of Toronto theatre 1809-1874 with chapter on Royal Lyceum and JN
2005
6
4
to Jun 8
Toronto
.trip
MG visits Sue Spencer and explores EJP's Toronto
Homepage A to Z Index Bibliography People Places Plays About these letters About EJ Phillips Chronology EJ Phillips Facebook Fan Page