Homepage A to Z Index Book outline People Places Plays About these letters About EJ Phillips EJ Phillips Facebook Fan Page

Cast of Characters
The first of these letters -- describing climbing Pike's Peak on horseback in August 1883 -- from actress EJ Phillips to her son Albert Nickinson was written from San Francisco traveling with the AM Palmer theatre company.


EJ Phillips about 1877 (1830-1904)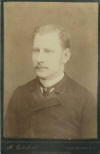 Albert Nickinson, Middletown NY about 1886 (1863-1948)

That these letters were saved is both a reflection on the travel and adventures reported by an intrepid actress, and (it must be admitted) the habits of a family of packrats. John Nickinson, actor, the father of EJ Phillips' children (and possibly her husband) had died in Cincinnati in February 1864, aged 56, leaving EJ Phillips (aged 33) with Hattie, aged 3 and Albert, aged seven months and herself to support.

John Nickinson (1808-1864)

Theatre manager AM Palmer (1838-1905) EJ Phillips joined the Union Square Theatre Company in New York in 1877, part of what has been described as the "Golden Age of American Theater". Palmer Theatre Company colleagues included Maurice Barrymore (father of Ethel, Lionel and John), Agnes Booth, wife of Junius Brutus Booth Jr. and sister-in-law of Edwin. She was in San Francisco when Palmer produced Oscar Wilde's first play Vera the Nihilist, but later toured in his Lady Windermere's Fan. Palmer's company performed at Grover Cleveland's 1885 inauguration and met Cleveland at the White House as part of their trip to Washington for a sold out Actor's Fund benefit performance in April 1887.
Dr. and Mrs. Dr. John T. Nagle kept a boardinghouse on East 21st Street and were friends as well as landlords. He was a public health physician at 301 Mott Street, and as an enthusiastic photographer collaborated with Jacob Riis in investigating New York slums.



Daughter Hattie Nickinson Dolman (1860-1946) married Philadelphia lawyer John Dolman Jr. (1837-1939) in 1887. Dolman cousins and their quilts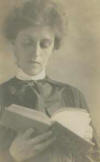 Albert married Mary Penelope Macardell Nickinson (1864-1955) in Middletown, New York on Thanksgiving 1889.

Grandsons Jack Dolman (1888-1952) and Edward Phillips Nickinson (1890-1948) were quite young in these letters. Each died fairly young, too soon to know their grandchildren.
I could never have produced this website without my mother's transcription of them. Em Turner Nickinson Kuhl (1928-2000) grew up in Pensacola and delighted in the company of Albert, her grandfather. I never knew him -- he died the weekend my parents met. Nor did I know her father Ted. But I grew up in Florida, going to Pensacola every summer and hearing stories of lots of relatives.


Mother 1996 reading the second edition

Beachnuts 1999, 619 North Baylen St., Pensacola Florida Only child Edward Phillips Nickinson had three children, 12 grandchildren and 20+ great-grandchildren, and now at least six great-great grandchildren 2010-2017.

Nickinson Family Tree I count myself lucky to have grown up with so many fine examples of "terrific old ladies", starting of course with my maternal grandmother the Poor Old Lady. What I hadn't realized was that the prototype went back so far. I never expected to know a relative so well who died 46 years before I was born. Mary Glen Kuhl Chitty

Last updated Dec 2017
Homepage A to Z Index Bibliography People Places Plays Site Map About these letters About EJ Phillips EJ Phillips Facebook Fan Page