Homepage A to Z Index Book outline EJ Phillips Facebook Fan Page
Housekeeping & Boarding House Life
1895 March Detroit to Albert and Neppie "So you are going through the delights of moving. You will be astonished to find you have so much worldly goods, but will need more."
EJP makes frequent reference to 'boarding house life' and seemed very reluctant in a Feb. 7, 1886 New York letter to give up 'the flat', [475 4th Ave. later admitting to quite enjoying spring cleaning when she kept house. She obviously enjoyed shopping for Albert and Neppie's new house in Middletown, New York after they were married in Nov. 1889.

EJ Phillips' account books from the 1870s give details of setting up house in Philadelphia in the fall of 1875 when she joined the Chestnut St. Theatre. the first entries are dated Sept 29 1875 and include a pitcher, goblets and barrel, grater and varnish, comfort [comforter?], vinegar cruet, teacan, pail, dish, bread dish, pan, bake pan, blankets, boiler, pie plate, forks and spoons 12, rolling pin and masher, pillow cases and basket for a total of $39.99. Oct. 13 records a bread board, irons and stand, bowls, gridiron, boiler and flour pail, soup plates and molglas p?, bowl, can opener, bread pail, pail, curtains, pitkin and griddle, table, chair, cupboard, ladle, plates, 2 vegetable dishes, pitcher, tea strainer for an addition $36.99. the next page is undated and has expenses totaling $82.65 including glass dish, hearth rug, sauce plates, butter pail, larger grater, knives, a $50 sofa, comfortables, pot, table cover, napkins, tablecloth, bed spring and Albert's bed. A later undated page has a total of $25.45 for a tin pail, 1/2 dozen plates and cups and saucers, pitcher, tin pail, teapot, coffee pot, butter dish, little plates, soap dish, dipper, dish, napkins, towels, table cloths, oil cloth, spread, knives, forks and spoons, 1/2 dozen plates, pitcher, pepper box, salt and sugar bowl.
Boarding House Life
EJ Phillips seems to have boarded Hattie and Albert with her friends the Zavistowski dancers after John Nickinson's death in 1864 We have receipts for money orders payable to Mrs. Christine Zavistowski in 1874 and 1875 from EJ Nickinson for $10, $20, $30 (varying amounts), some sent to Philadelphia and some to Suffern NY) while EJ Phillips was on the road acting and traveling.
Rutherford Stuyvesant built the city's first known apartment house on East 18th Street in 1869. [Blue Guide] Food Household Technology
New York, Feb. 7, 1886 How are your funds holding out? I have not much, but if you want your board money let me know. Do not run behind with that for your landlady may need it. Will close for this time with love and Kisses and best wishes for your prosperity.
Albert had moved in mid-February 1886 to Middletown, New York and was trying to establish himself in business as a printer. (EJ Phillips wrote to him from Chicago in mid-June "Have a little patience. 4 months is a very short time to give Middletown a trial."
New York, Feb. 10, 1886 Too bad boarding house is not what you would like, but I think you are right in remaining where you are until you know the place better, as you say and the people will have a chance of knowing you.
New York, Feb. 23, 1886 I hope you may like your new boarding house better than the last.
Chicago, June 13, 1886 My dress for the new play will cost $46. I shall have two weeks board to pay next Wed, they not having presented last weeks bill yet. The two weeks salary is knocked out but when I get my things all ready for The Martyr I shall then be able to help you
New York, Nov. 4, 1886 No salary for me this week, the theatre having been closed last week. We all feel very sore about it but what can we do? Fortunately I have just enough to pay my board this week, I having been very careful of spending for the play, or I should have been without.
New York, April 2, 1887 Your stock has cost $1000. Surely some one will buy it for $150. Take it and leave Middletown . You can board with Aunty until you get something to do.
Boston, Sept. 28,1887 [Next week] I shall go to New York and try to find a place in which to nestle before the winter. Do not want to go back to 39 W 12th. Paid there too much money for what I got. Hattie wants me to go to a hotel, but I am afraid New York Hotels are beyond my means. The "Sturtevant" is recommended to me as reasonable for the hotel, but not for me. I had to pay $16 per week last winter after Hattie left me. I can get good room and board at Sturtevant for $17.56 per week. That would be cheaper than $16 at Mrs. Mearas.
Boston, Sept. 29, 1887 I received a letter from Mr. Presbrey on Tuesday Eve. He had called at the Sturtevant House to see what they would ask for a room heated and board for me for the winter. Their terms would be $28 per week. Too steep for Mama!
Yet I was told by many that I could get there for $`7.50 per week. Do not know yet where I shall stop, so send letters to theatre until further notice. I may go to Nagles, but I did want to be in a hotel as I can have baggage attended to and a light in the hall when I get home at 11:30 or 12 o'clock.
Boston, Oct. 1, 1887 Tomorrow we leave here at 4 PM for New York. I am going with Mr. & Mrs. [Louis F] Massen to the Rossmore, 41st and B'way. Mr. Massen thinks I can make terms there to suit me for the winter. At all events I shall stop there until I can find something to suit my pocket-book.
Of course I would prefer being nearer the theatre than 41st, although B'way cars are very convenient but always crowded. It is possible that I may put up at Nagle's, but their prices are much higher than they were on [39 West] 12th Street. And you get very little for the price and have to climb from basement to attic for each meal, for I suppose they would want $18 per week for me on the top floor. However I will see when I get there. I want to get settled as soon as possible as rehearsals will commence at once and then dressmaking.
New York, Rossmore Hotel, Oct. 4, 1887 Nagles are full and if I could get the room Mrs. Kirby had, it would be $20 per week for me alone or $25 for two persons. Mrs. D[olman] told me to get married and it would only cost me $5 per week for my husband's board.
Well this morning I went to 50 West 24th where Mr. [Herbert] Millward roomed last winter (and will again if he does not have to travel all season with Jim [the Penman] No 1 Co) and there I can have 3rd story front room heated for $8 per week. It was being calcimined [white or tinted wash used on plastered surfaces] today and would not be fit for occupation before tomorrow night, so I told the lady I would call tomorrow and take it and move in on Thursday.
She will try to give me breakfast in my room, and the other meals I will take out. I shall not have carfare or hansom fare to pay. And in the long run I think, be cheaper than anything else, and when I feel like eating I shall not be tied down to boarding house fare.
In the hotels I cannot get anything comfortable under $4 per day, and have to waste a great deal of time in being waited on. You can still send letters to the theatre until I am settled. But I think my next address will be 50 W 24th.
New York, Oct. 14, 1886 I was very busy yesterday. Went to look at rooms, took them and move today to 39 West 12th Street -- near the old camping ground, opposite where Alice [Zavistowski Webb] used to live. I have 2nd story front room. Miss Ornera is the landlady's name and she has lived in the house 20 years, boarders have been with her 12 and 15 years. That ought to be a good recommendation. I find this [Ashland House] too expensive.
Boston May 1888 My first salary was eight dollars per week, and I had to buy stage clothes out of it. I paid $2.50 for board, but engagements were only for nine months in the year.
San Francisco, Aug. 23, 1888 The salary is fair to begin with, and I hope it will not be long before you will be able to ask for an increase. You say it is worth $20 in New York. My dear child it is worth $30. The room & board you have, you could not get under $15 per week. And you would not have that lovely garden and shade trees to look at when you get up in the morning. You are most delightfully situated, and until the "Happy Day" [ Nov. 1889 wedding] arrives I hope you will be able to remain where you are, for I am sure you could not better yourself.
47 E 21st Street New York, January 17th 1890 Too bad your boarding house is not pleasant. I sympathize with you. I have before now been placed in just such a position, not liking to say anything or move. The latter I guess is the only remedy in such cases. Not an easy one in your case, I suppose, the lady having, in her way, exerted herself to make your room comfortable.
Still if you are not comfortable I see no reason why you should remain, if you can do better. I suppose there would be quite a difference in the price between the room Mr. & Mrs. Glathery has, and your present quarters -- if not, why I think you had better change and be satisfied.
I imagine though it will cause unpleasant feeling towards you from your present hostess. But as you did not get the room you expected from her, you might make that an excuse for leaving. Also, that you, not being used to going into the yard, [no indoor bathroom?] always catch fresh cold by going there. I feel very sure that this excuse would be the truth. I have no doubt but that a great deal of your cold has come from those journeys.
I asked Albert in my last letter if he had any prospect of going into housekeeping. I suppose though that nothing available and suitable in the way of apartments have yet presented themselves. I would be happier to have you happier. And I hope something can soon be done to achieve that condition.
26 West 31st. St, Nov 1891 You ask if I am far from my old boarding house. Yes, it is quite a walk -- ten blocks -- that was 21st Street near 4th Avenue. This is 31st near B'way. My work will be at "Palmer's" Theatre this Winter and that is on the corner of B'way and 30th Street. And on the North side of 30th Street. This house being on the South side of 31st. Therefore I do not have to cross a street to go to my place of business.
Philadelphia June 27, 1892 You need not mention my ideas about it outside your own house, but I think you will find we shall follow Bronson Howard's play at Palmer's Theatre at the end of its run there with Joseph. The Co is to be first class in every respect, play in first class theaters &c,&c.
I think I shall be able to stand the travel. If I could have my children around me I would not want to travel but as it is I shall not feel so lonesome in hotels as I do in boarding houses in New York.
Philadelphia June 22, 1892 I get an increase of $10 per week. Shall have to be in New York rehearsing for three weeks before season begins. Joseph is the first production. I may have considerable travelling to do, but I can live at first class hotels as cheap as I can live in boarding houses in New York. Anyway the deed is done and I shall have to make the best of it now.
New York, Mar 19, 1893 36 East 21st Street My room is very nice but the board is scarce. And coffee is not good, but I shall try to endure it for another three weeks. When you come I shall take you all to a restaurant at least once a day and fill you up. And I will keep some fruit, crackers & anything else that Sunshine [grandson Ted Nickinson] may need in the room. We are close to Park & Tilfords Grocery Store.
Hotel Peteler, New York, Apr. 12, 1893 Well I came up here and am very glad I came. My room is not as large but the other conveniences [bathrooms?] are better. I am half a block from back entrance of theatre -- board is very good, and I get it for $9 per week -- quite a save on $20. I am saved the long ride after the performance and as we give 2 matinees -- today, the other on Saturday, I am spared from riding up and down and buying lunches as I should have to do on Matinee days for business up here is better than at the Square, and the play receives more enthusiastic applause.
Philadelphia, Aug. 3, 1893 [Aunty Zavistowski was not at all well, and considerably bothered by the 3 boys and 3 new bycyles [sic] but she is being well paid by Mrs. Conway who pays her $25 per week for board for self & the three boys.
New York, Sept. 29, 1893 I have not been well and on Tuesday Evening went to Dr G. Buckingham Smith, and he told me I have catarrhal gastritis and stopped any coffee and all fried food. Must eat plenty of beefsteak chops, baked potatoes and no pies or cakes. Drink cocoa or tea.
Montreal, Jan 2, 1895 Then off to Providence, R.I., for a week and then Harlem for a week. Do not know where I shall stop yet but if possible I will be in Harlem. I do not wish to climb "L" stairs at 11:45 PM and make it 12:30 before I could reach any of my downtown boarding houses.
Providence R.I. Jan. 9, 1895 Hammerstein's Theatre where we are to play next week fronts on the North side of 125th Street and the back door is on 126th Street so the boarding house I expect to go to is 219 West 126th Street. I have written to the lady of the house, by name Mrs. FL Wandell, to see if she can accommodate me.
Detroit, May 15, 1896 I am glad to hear Ted enjoyed his visit to New York. I feel it was not a very enjoyable time for any of you for I was tired, nervous & fidgety, and did not know what to do to make it pleasant for you. It made me very happy to have you all there and in my own happiness I fear I did not do all I might have done to make the rest of you comfortable. The rooms were all so small. We were crowded, yet I took the best they had.
New York Times, March 1898 The NY Times report of Mr. Pitt's death was headlined AN OLD ACTOR'S SUICIDE. A slightly smaller headline read Henry Mader Pitt, after a long career on the stage takes carbolic acid. Also a headline, but smaller type read "Was Once Very Successful". Mr. Pitt did not leave a suicide note, and had been living in a boarding house patronized by theatrical people, with his 21 year old son, while his wife [whom EJ Phillips briefly replaced in the play] was playing the play in Philadelphia. Mr. Pitt was found groaning in bed, a revolver on a chair beside the bed and an empty glass which had contained carbolic acid nearby. However by all reports he had seemed quite cheerful that morning.
Setting up housekeeping
New York, Jan 9, 1887 Hattie and John propose to go housekeeping in two or three rooms [after their spring 1887 wedding]. I hope that will get along -- but -- never since they were engaged, have I been so poor and unable to help Hattie to get ready as now.
47 E. 21st Street N Y, March 5th 1890 I am happy that the Knives and forks pleased you. The dinner size I will send you before long. Well of course the dinner size is larger. Now! I shall send you another half dozen! And you can choose which you think you prefer most. Another half dozen of the size you have, or half a dozen of the dinner size. As far as the difference in price is concerned, it makes very little difference.
For a year or two, you will find a dozen knives and a dozen forks quite enough to use. I did while keeping house in the Flat, and we had quite a number of people occasionally to dine with us. But never exceeding 9 or 10.
I see by the Mercury received today that Middletown is the cheapest place in the United States in which to buy carpets -- and from Emmet Crawford [Neppie's mother was a Crawford]. So I imagine you will not come to New York for yours. Now that the election is over I suppose Albert will be able to go and take you to see the rooms.
So you hope you will be able to get into your home by 1st of April. I suppose some cleaning will be necessary before you begin to put down carpets. I would like to run up and see the rooms, but now I do not know whether I shall be able to do so or not -- for we were told this Morning that the play would be done on Monday the 17th.
47 East 21st St NY, March 20th, [18]90 I have just returned from purchasing some crockery ware and glasses for your table. It is to be packed and shipped this afternoon. The dinner set is English china. It is not as handsome as I should have liked to send Neppie. But it is a set she will not be afraid of breaking every time she handles it. The shape is as pretty as any of the $150 sets of French china and quite as new.
I enclose a list of the pieces. See that all are there and in good condition (149 pieces including glasses, and three pieces of old fashioned blueware -- for kitchen use). I got all the pieces belonging to the dinner set -- except the soup tureen. As Neppie had a silver one I thought she would not have use for the other. When I am richer I will try to give Neppie a better, that is a finer, china set. Hope you will both take the will for the deed -- for the present.
Glad you are getting along so well with your furnishing, and are going to have such a pretty home. I will take a run over some Sunday, as soon as you are in the house, to see how cosy you both look. Take dinner with you and return. Hattie is quite interested in your going to housekeeping and would like to be able to help Neppie fix up.
47 E 21st ST NY, March 24th [1890] I thought the dishes would reach you on Saturday, but they probably are sent by freight and that takes time. I will go to the store in the morning to see about it. It was too late when I got your letter to go to-night -- was quite surprised to hear you would get into your house so soon.
You and Neppie must not thank me for the dishes until you see them -- then perhaps you will not want to. I wanted to give you French china -- but I saw something under $70 and that I did not like. What I have sent will do for the present, and hope someday to give Neppie some French China. Have you any bedroom crockery? If not, I will see about getting you some -- answer this at once and let me know.
47 E 21st Street N Y, March 25th/90 I started out this morning to find out the cause of the dinner set not reaching you. I was told that their "packers" had been ill -- and they could not get the goods off until yesterday -- but they were sent yesterday by Express. So I hope they were delivered to you to-day.
I looked at the Chamber sets of 12 pieces. They have them from $5 up. For $8 I can get you a quite handsome set. I afterwards looked at some at Macy's and I found them not so nice & much dearer. Have you any choice in colors? I have also sent you the other half dozen of knives and forks to-day, and a butter knife and sugar spoon to match.
Being at Macy's for the 1st time in weeks, I ordered your cards which, with the plate and a bunch of envelopes, will be sent to you by mail, to Box 296, in about 10 days, the time they take for filling orders.
I am very glad you were pleased with your tablecloths. The towels were so cheap I could not resist taking a dozen, although I knew you were provided for in that way. Those towels were only $4 per dozen. I should have thought them cheap at $6. One cannot have too many towels.
I hope you will not work too hard getting your house in shape & thereby make yourself sick. I would like to be near to help you. This cold wet weather will require you to have another stove up, will it not, before you move in? It will not do for you to risk catching cold. [Did EJP know Neppie was pregnant by then? Or was this her constant concern about health, especially about colds?]
Of course, you will not have all you need at first -- but a stove is essential to your health. And I think it will be too cold through April to do without one.
I am going to enclose a $2 bill for Albert to pay Express charges on Knives &c and picture; and there may be something to pay on the crockery ware.
Macys The same company as today, founded by a Nantucket Quaker in 1858, but the original Macys was on Sixth Ave near 14th St.
Ephemeral New York Macys 14th Street https://ephemeralnewyork.wordpress.com/tag/macys-14th-street/

Albert & Neppie's gold rimmed china teacups Macardell teapot The sugar and creamer seem to be a Zavistowski wedding present




47 East 21st St NY, March 26th [18]90I immediately went over to the store with your letter. They were sorry for the mistake and would make it all right over the claret glass -- but -- I told them not to bother with that, if they sent the plates all right.
But I bought a bedroom set of 12 pieces to go with the plates. I have not waited to hear what color Neppie would like -- but I have sent a set which would go with any color. I gave $8 for the set. They used to sell at $15.
They generally charge for packing bedroom sets but as they had to pack the plates they threw me the packing in. Glad you think the knives and forks pretty. How about the china? I think it is pretty.
Albert and Neppie's bedroom crockery set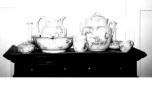 Caleb and Amy Rae now have this, in Coalmont Tennessee.
New York, April 17th/90 I chose the ticking for the pillows because it was the lightest color they had. I knew it was on the same color as your mattress, but did not think it was the exact pattern -- all the better! That style of ticking is used now more than the old-fashioned blue and white striped. Are the pillows large enough? They are 30 inches by 22.
Should there be any disagreeable smell from the pillows, you can send them back and it will be remedied. The salesman said that sometimes the "curing" of the feathers was not perfect, and they always wished their customers would let them know, and they would send other feathers until satisfaction was given. So do not be bashful! Is the bolster long enough? I forgot to take a measure of the bedstead. I am glad you like the clock. It is a good make and I hope will keep good time.
Philadelphia, Oct 16, 1890 Have you bought stoves yet for the parlor & dining room? For the dining room I would advise you getting a stove on which you could heat water, boil a kettle and cook an egg so that you would not have to keep so large a fire always in the Kitchen, as the latter does not heat any portion of your house and the dining room does. There are stoves made that are quite ornamental and yet useful in this way -- try it.
Bibliography
Faflik, David, Boarding Out: Inhabiting the American Urban Literary Imagination, 1840-1860, Northwestern University Press, 2012 https://muse.jhu.edu/book/20740
Gamber, Wendy, Boardinghouse Life in Nineteenth Century America, Johns Hopkins University Press, 2007 https://muse.jhu.edu/book/3492
Hawes, Elizabeth, New York, New York: How the apartment house transformed the life of the city (1869-1930), New York: Alfred A Knopf, 1993.https://www.amazon.com/New-York-Apartment-Transformed-1869-1930-ebook/dp/B00EO980EQ
Hearth: Home Economics Archive, Cornell University http://hearth.library.cornell.edu/
History of Household Technology, Library of Congress http://www.loc.gov/rr/scitech/tracer-bullets/householdtb.html
Hoy, Suellen, Chasing Dirt: The American Pursuit of Cleanliness. Oxford University Press, 1995 This splendid book is as much about public health as housekeeping and notes the significant changes which turned the US from a country with third world standards of hygiene into a nation obsessed with cleanliness.
McGovern, Ann, If you lived 100 years ago, New York, Scholastic inc, 1999 http://www.annmcgovern.com/?qatags=if-you-lived-100-years-ago
Last revised April 14, 2018
Homepage A to Z Index Bibliography People Places Plays Site Map About these letters About EJ Phillips Chronology EJ Phillips Facebook Fan Page