Homepage A to Z Index Book outline About these letters About EJ Phillips Chronology People Places Plays EJ Phillips Facebook Fan Page
Gay Parisians
French Farce, by Georges Feydeau and Maurice Desvailliere First Performed in New York Sept 23, 1895 at Hoyt's Theatre with EJ Phillips playing Angelique. Odette Tyler as Marcella and WJ Ferguson as Mt. Pinglet.

NY Times review 1895 Sept 24 Gay Parisians at Hoyts "Mrs EJ Phillips as the wicked friend's over-mature wife, accomplished work that for a moment approached real comedy."
From the French Hotel du Libre - Exchange , Maurice Desvallieres, Georges Feydeau Plays 2014 in translation https://books.google.com/books?id=EAnZAgAAQBAJ&dq=l%27hotel+du+libre+echange&source=gbs_navlinks_s
Odette Tyler (1869-1936) American actress and popular comedienne, was a member of the Madison Square Company for the 1884-85 season. Born Elizabeth Lee Kirkland in Savannah, Georgia. Her father went to West Point, but went with the South during the Civil War. Mrs. RD McLean Was she 15 in 1884 and acting in New York? How reliable is her birth date?

https://cabinetcardgallery.wordpress.com/2010/01/03/odette-tyler-theater-actress-and-daughter-of-a-confederate-general/
EJ Phillips received a copy of her book for Christmas New York, 12-29-1895 Miss [Odette] Tyler her book, Boss [A Story of Virginia Life] and a pretty paper cutter.
Lewis Strang in Famous Actresses writes of Odette Tyler that "her first professional appearance was made in 1884 in "Sieba," ... She was next engaged by Daniel Frohman for the Madison Square Theatre Company and made her debut in that house in William Gillette's The Private Secretary". Mr. Frohman then loaned her to Minnie Maddern... Charles Frohman next secured her as leading comedienne of the Empire Theatre Company. .. She originated the leading role in "The Gay Parisians"..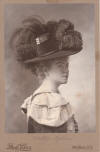 Odette Tyler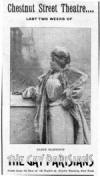 Sadie Martinot, Chestnut St Theatre Philadelphia



Sadie Martinot (-1923) [Mrs. Louis F. Nethersole] American actress, singer, played in comic opera in London and took leading roles in Irish drama with Dion Boucicault.
Married to Olga Nethersole's brother Louis and in the cast of the Gay Parisians 1897 playing Marcella, an architect's wife.
Wikipedia https://en.wikipedia.org/wiki/Sadie_Martinot
Kansas City review A Chestnut St. Theatre, Philadelphia program lists WJ Ferguson as Joseph Pinglet, a master builder, Mrs. EJ Phillips as Angelique, his wife and Sadie Martinot as Marcella, an architect's wife. Joseph Humphreys is listed as the stage director.
51 East 21st Street New York August 30th, 1895 I have been kept busy rehearsing and studying ever since my arrival -- and the weather has been terrifically hot! We are to begin our play on the 13th but out of town! But I do not yet know where, and I think open in this city on the 16th. We are "going to try it on a dog" I suppose! I have not many dresses to prepare, and those not elaborate. Only two dresses -- one bonnet -- and a wrap. Am in 1st & last acts -- only three in the play. Mr. [William Jason] Ferguson is the only member of the Company I ever met. I know him very well.
I have been rushed & will be until the play is produced -- still when words are familiarized I shall not have to work at home. If the play is a success I shall have an easy season, for the part is easy.
I like my new stage manager Mr. Humphreys very much in that he is very thorough and energetic and puts on no airs. He has done more in three days with his play than the Hollands and Mansfield combined did in five weeks. We have no waiting at rehearsals. We begin on time and get through without any trouble. Best stage Management I have seen since Union Square days.
51 East 21st St NY 9-11 -95 Today it was rumoured, and I heard it was announced in some of yesterday's papers - that we open on the 19th in Buffalo, NY for three nights and Saturday matinee, and return to open on the 23rd at Hoyt's [Madison Square] Theatre for a run. Mr. Chas Frohman is attending rehearsals, is very pleasant and seems to be well pleased with the work of the company.
The Genesee Buffalo Sept. 20, 1895 Well the agony is over and we still live. Opened last night to a full house and the play [Gay Parisians] went with roars of laughter. Guess it will be a go in New York.
51 E 21st N Y 10-18-95 Yes, our play continues to draw and no notice has been given us yet of its withdrawal. Did hear last night that they intended to keep it on for five months and perhaps longer, but that I rather doubt. But I think it will run into December. People are now taking about it and speaking highly in its praise.
I met Dr Carew in at lunch yesterday in 47 [E 21st St]. He hadn't got over laughing then, he had seen it; Gay Parisians} Wed'day night. He was delighted with it. Mrs. DeYoung
of San Francisco had just returned from Paris, where she saw the play several times, and was both surprised and delighted at our performance of it.
Yes, our play continues to draw and no notice has been given us yet of its withdrawal. Did hear last night that they intended to keep it on for five months and perhaps longer, but that I rather doubt. But I think it will run into December. People are now taking about it and speaking highly in its praise.
Gay Parisians 50th performance, New York Nov. 11, 1895 souvenir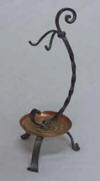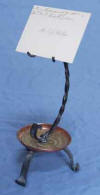 photos by Robert Conlon, Derry NH
This is a rather odd-looking six-inch high black and copper colored piece I use as a postcard holder. The inscription on the copper colored circle read HOYT'S THEATRE, Monday Nov. 11, 1895, 50th performance, "The Gay Parisians". Art historian Saralinda Bernstein Lichtblau thinks it was a calling card holder, which makes sense.
6 PM [envelope dated Nov 18, 1895 postmarked NY] Well I was not asked to go to London, but to Chicago for a Summer Season, after this Season is over, which will not be for some time yet. The Summer Season will be for from ten to sixteen weeks at Hooley's Theatre, possibly beginning in June. So I accepted and think that will be better than going to London and perhaps getting lost in the fog. The manager of "Hooley's" has been on, seen our play, likes it and has been making arrangement with Mr. Frohman to have the Company play with him during the summer.
11-18- [18]95] If you had yesterday's NY Herald you would see by the Gay Parisians advertisement that we have a summer season in Chicago and the Gay Parisians will also be done in London -- by another Company under Chas Frohman's management. We are announced to remain here until July 6th but Mrs. [Charles H] Hoyt told Mrs. Fernandez that we would play until January 21st. That would be 9 weeks longer. I also hear that when we close here, we go to Brooklyn and to Boston for a long run at the Boston Museum. "A long run" there will, I imagine, be about 4 weeks. I do not think we will go to Chicago before May
3219 Clifford St, Philadelphia Nov 19, 1895 My sweet Sister, [Neppie] And how did you enjoy your trip to New York? Did you like the Gay Parisians? I am so glad they did not want Mama to go to London. I'd like to go myself, but I did not fancy having her go so far away alone. My next door neighbors called on her a few weeks ago, and thought she seemed very well and in good spirits. Hattie
51 East 21st Street 11-26-95 We hear reports, but they are often changed or contradicted. I have heard that Chas Frohman is trying to place us in another theatre, in the City, on the 6th of January. I hope he will succeed, and that we shall not have to travel so early, but all is a mystery yet to us poor players.
51 E 21st St NY 11-29-95 By today's Herald I see that Chas Frohman is going to put John Drew in Palmer's Theatre on Jany 6th, and that I guess has given rise to the report that he was trying to get a theatre to put us in on January 6th, but I guess we will have to go to Brooklyn and Harlem and dear knows where! before getting to Boston when we are to stay for a "run" (4 weeks I guess). I hope that will not be before April for Boston is cold even then.
51 East 21st St N Y 12-29-95 [From] Miss [Odette] Tyler her book, Boss [A Story of Virginia Life] and a pretty paper cutter. … Next week I shall be in Harlem, and think I shall make arrangements to go up there to live. The following week Brooklyn. Then to Baltimore, Washington, back to Newark and then this City at Grand Opera House, one week in each city. Then an open, as yet, week and then Boston Feby 14th for a run for 5 or 6 weeks. This is what I have been told but then there may be changes.
PARK HOUSE 86 & 88 Park Place Opp. Military Park H. Koellhoffer, Prop'r.
Newark, N.J. Feby 7th 1896 I do not yet know where I can locate in New York. I am trying to find out about the "Chelsea House", 313 West 22nd Street.

EJ Phillips doesn't seem to have ended up at the Chelsea House, but one of Ted Nickinson's daughters and family lived at 360 W. 22nd Street in the 1960's.
The RUSSELL HOUSE Detroit, Mich. May 15th, 1896 What is the "Parada" and who teaches Ted to dance? I hope he made a success of his Debut on Wednesday Afternoon. I played Mrs. Pinglet [in Gay Parisians] that Afternoon in Toledo to a very bad house. I hope Ted drew better than his Grandma.
The business has not been good since we left N.Y. Men, women and children are all riding bicycles in every town. No business being done anywhere in any line save bicycles! There never was such a general craze before. About 8 men and two women in our Company have their bicycles with them, and ride from 10 to 20 miles a day. Gustave Frohman is an enthusiast on the subject, and I think will kill himself overdoing the thing.
Business for these two weeks has been so bad that we all feel our season in Chicago cannot last for 12 weeks, and we look for closing much earlier. Some say 6 weeks and I say four. But by the time June comes people may be tired of riding the bikes and like to take the theatre in.
TREMONT HOUSE Chicago May 21st, 1896 Should have enjoyed seeing [grandson] Ted's Terpsichorean achievements. His movements are so quick and light. He must have been a little fairy. Glad the Thrall Hospital accumulated so large a sum.
We are doing well so far and the Manager of the theatre told me he was sure it would (the play) have a long run as he considered it much better than "Charley's Aunt" [by Brandon Thomas Oct 1893] which two years ago ran 16 weeks, and we are booked for only 12 weeks.
TREMONT HOUSE Chicago June 3rd, 1896, We are still playing to good business. Monday night the management gave the receipts to the St Louis relief fund, $1000. I did not see a published account of it. It is time to go to shop.
St. Louis Relief Hundreds had died in the St. Louis Cyclone of May 1896 http://en.wikipedia.org/wiki/1896_St._Louis%E2%80%93East_St._Louis_tornado
Tremont House Chicago, July 6th, 1896 I cannot tell you when you will see me. I think they expect me to go to San Francisco and along the coast. So I am cut out of your garden luxuries this Summer. I have not made any arrangements yet, but things look that way, and as long as I can work I want to do so. We are now in our eighth week and shall go through the stated 12 without doubt, but I do not think it will be extended to 16 as they proposed two weeks ago.
Tremont House Chicago Il July 25th, 1896 Well. dear, on Monday night 7:30 I settled with Gustave Frohman (for Chas Frohman) for next season. Beginning in San Francisco August 17th. Leave here on Sunday August 9th, due in "Frisco on Wednesday and rest there until Monday 17th when we open at Baldwin Theatre for 2 weeks. Travel down the coast and up as far as San Diego and back up as far as British Columbia. Play in Victoria and Vancouver. Then back over the old road to Salt Lake, Denver &c until we reach Phila to play there four weeks.
Tremont House Chicago, Ill July 31st, 1896 I have been pretty busy the past week getting things ready for my Summer trip to the Pacific Coast. I have a new gown ready for Mrs. Pinglet. We stay and give four more performances here the week after. Leave 6 PM Wednesday August 12th arriving, D[eo] V[olente], in Frisco on Sunday 16th, begin Monday night August 17th for the Winter Season.
Wednesday noon August 12, 1896 All ready to leave the hotel for shop where we give the 100th performance in Chicago of Gay Parisians and go to train as soon after as possible. Well dear I am off for a long trip. If I can stand it, I will be improved by it, and whatever may come of it I do it for the best.
The Baldwin San Francisco Cal. August 21st, 1896 Yesterday took a ride to the "Cliff House". Saw the ocean and found many changes and improvements (not in the ocean -- but on the land). New bath houses (there was no old one). A new Cliff House on the same site as the old one -- very much larger -- but looks too new in its white and red paint to belong to the picture. The ocean and Seal Rocks and the seals themselves look just the same -- but no doubt the latter have been changed many times in six years. But the present occupants of the rocks go through the same aquatic sports and jump on and off the rocks -- same as their ancestors. Barking is exactly the same.
Our routes I sent to you have changed a little. We are here this week and next -- and on the 31st play in San Jose 1 night. Then to Oakland just opposite here on the 1st - 2nd and 3rd of September. 4th Stockton. 5th Fresno. On the 7th 8th and 9th Los Angeles. Then back to Sacramento for the 11th. 12th Marysville. 14th 15 & 16th Portland Ore, 17 Tacoma Wash. 18th Victoria B.C. 19 Vancouver B.C. 21 & 22nd Seattle Wash. 25th 26th Salt Lake City. 28th - Oct 3rd Kansas City Mo. Oct 5th - 10th St. Louis Mo. We are doing a good business.
Los Angeles Times Sept 6, 1896 AT THE THEATERS Wives that are neglected by their husbands and left at home to sit and I mope through the long evenings while their husbands are "detained by business" or "go to lodge meetings." or "sit up with a sick friend," and that are advised by people to "go and do likewise," should learn about the experiences of Mrs. Paillard, who, believing herself to be a neglected wife, went out with a neighbor. Mr. Pinglet, on one occasion "to make a night of it." so to speak. Mrs. Paillard was young and charming. Mr. Pinglet was middle-aged. married and hen-pecked. Mr. Paillard had business that took him away from home many nights. Mrs. Paillard stood this as long as she could and then got sick of it. She went to Mr. Pinglet, who was in the next flat .and who was also her husband's friend, and told him how she felt. It was "Terrible! Terrible! Terrible!" she said, and Mr. Pinglet thought so too. What could she do? Why, make the best of it—do as her husband did, said Mr. Pinglet. Find a friend whom ' she could trust, and go out and have a ' good time with him. But where was that friend to be found? Where else but In Mr. Pinglet, said Mr. Pinglet. The young and charming wife jumped at the suggestion. Mr. Pinglet gurgled with glee and jigged around with joy. They would go to the theater and then to a quiet little restaurant for a nice little supper. They would have a jolly good time, all unknown to Mr. Paillard and Mrs. Pinglet. Well, they went. And, Oh, what a time they had! What delightful, cyclonic night! And Mr. Paillard was mixed up in it, too, and Mrs. Pinglet heard about it. Such a time! Oh, the merry and multitudinous memory of it! Once was enough for both of them. It would take columns to tell all that befell them. The whole story Is presented in the most successful farce comedy ever produced in New York, The Gay Parisians, which has just celebrated its two hundredth performance at Hoyt's- theater, New York, and which will be presented at the Los Angeles theater tomorrow night, with the original cast and scenery. It Is a French farce of the liveliest kind, and everybody knows that a good French farce is a perfect whirlwind of fun. This one is a regular maelstrom of merriment. W. J. Ferguson, the noted character actor, is the Mr. Pinglet, and makes this mossy old would-be roué a delightful creation. Charles Frohman, under whose direction the farce is presented, has put a thoroughly clever cast into it, and the performance Is as perfect as the scenes are meaty and comical. California Digital Newspaper Collection, Center for Bibliographic Studies and Research, University of California, Riverside, http://cdnc.ucr.edu
Telephone 222 P.O. Box 572 MANOR HOUSE Vancouver, B.C. Septr 19th 1896 [Saturday] We arrived here by boat this Morning at 9 o'clock, but I did not get up here to this hotel until 10:30. We left Victoria at 2 AM having gone to the boat after performance and went to bed, but the boat did not leave until 2 AM. We return the same way tomorrow. Going from here to Victoria, change boat there and go through to Tacoma, or else we would have to get off the boat in Seattle at 4 AM, not a pleasant hour but by going through we get an undisturbed nights rest and leave for Seattle at 9. Ride two hours on the water and get there at 11 AM Monday. Play there Monday and Tuesday and then turn our faces homeward. By the time this reaches you we shall be about leaving for Kansas City. Then I shall be over 1500 miles nearer to you.
We had a fine house last night in Victoria. Arrived there 5:30 PM and boarded the boat at 12. Boat started for this place at 2 AM. Did not give me much time to get an idea of Victoria. I shall be glad when we reach Kansas City. Will have a few nights rest and hard travel will be over.
OCCIDENTAL HOTEL Seattle, Wash Septr 22nd 1896 We arrived here yesterday about 11 AM. Had a foggy trip through Georgian Bay and Puget Sound. All the beautiful views of the scenery were lost. We have had fog ever since we reached Portland. We leave here at 4 AM for Portland, remain there for seven hours and then start for Salt Lake. Two nights or rather three, counting tonight on the train. I do not think the trains are as tiresome as the boat. We had to take three to get here from Vancouver, B.C. and all were propellers. And the pumping noise of the machinery was too tiresome for comfort.
I suppose if I keep well, I shall not see any of you before December. Nearly five months since we parted, and what a lot of ground I have been over since then, and have still three thousand miles to cover before reaching you.
Wikipedia places Georgian Bay in Ontario, and the Straits of Georgia in Puget Sound. Puget Sound includes Metropolitan Seattle. http://en.wikipedia.org/wiki/Strait_of_Georgia http://en.wikipedia.org/wiki/Georgian_Bay
T H E K N U T S F O R D G.S. Holmes Salt Lake City Sept 26th, 1896 "On Sunday Morning in Vancouver, BC Mr. [Daniel] Frohman invited me with three others of the company to take a drive in Forest Park, and a more beautiful drive I never enjoyed. The grand old trees & the water views were beautiful" Was Forest Park Stanley Park? It certainly is a forested park, long logged with "monumental" trees.
It is four thousand miles from Vancouver to New York. Perhaps you didn't know I had been so far away. Last night Mr. [Gustave] Frohman came behind the scenes very much elated over a letter he had rec'd from his brother Charles [Frohman] saying that in May next he was going to send Gay Parisians and Too Much Johnson to Australia. The Company would start out from New York in May and be back in November. Did not exactly ask me to go, but was doing all he could to get my ideas about it. I do not see much money in it for myself. There would be ten weeks at least going and returning, without any salary and under heavy expenses all the time. I think in the end I would be paying for the privilege of playing. And it would pay better for me to watch Albert's garden "sass" [home garden] grow and help to eat it when it was ready next summer. I hear of no change in the route, but go on just as you have it. Beginning with Decatur, ill on the 12th and one night stands to follow until Omaha, Neb where we play three nights beginning on 22nd of Octr.
The NEW COATES Kansas City, Mo Octr 1st 1896 Leave here Saturday night for St Louis. Give 10 performances there beginning with Sunday night the 4th and ending Sunday 11th with two Matinees thrown in. Real pleasant. It will be State Fair week and Carnival time. What is troubling us is where we shall be able to find shelter. The City is expected to be over- crowded. We play at a new theatre named "The Century". Frohman's Empire Theatre Stock Co are playing there this week. We shall be the 2nd attraction. I sent you a paper with notice yesterday and enclose another notice in this. Very good for the "old lady"
The review from a Kansas City newspaper opens "French farces are much alike: you laugh at them until laughter becomes painful, and afterwards you wonder what was the cause of your mirth. The Gay Parisians is very funny much while you look at it, and very trivial after you have left the theatre. It has the usual number of persons who meet in a hotel and do not wish to be seen by each other...The story is of a woman who wishes to make her husband jealous. She goes to the theatre and afterwards to supper with another man, and after numerous recognitions the police raid the hotel ... It seems to a pity to waste so much good acting on such light material"
Sturtevant House Broadway & 29th Street New York Jan 9, 1897 Last night, our route was announced for the next two weeks -- we began to think they were going to close down our season. We go to Wilmington, Del next Monday the 11th of Jany, 12th Lancaster Pa, 13th Harrisburg Pa, 14th Trenton NJ, 15th Easton Pa, 16th Scranton Pa on the 18th Newark, so if Albert is busy this week, perhaps it will be easier for you & him to come to Newark -- than to come here this week. Please yourselves.
Baman says we are not to take the New Orleans trip - and Australia is now doubtful. So we are quite at sea for the present as to our future. [But EJP was in New Orleans in March 1897] I have no Matinee today! And I am happy. Such a treat! Only seven performances this week instead of nine or 11! I have not been out since my arrival except to go to the shop.
EJP didn't seem too enthusiastic about boat travel, so not going to Australia may not have been too big a disappointment. The Zavistowskis (Aunty Christine, and daughters Emmeline and Alice) had toured Australia in 1872 and Aunty went back in 1874.
T H E L O C H I E L Forrest Hunter Harrisburg, Pa. January 11th, 1897 I left the Sturtevant at 7 Sunday Morning, got to Hattie's before 12 and at 3:15 John, Jack and Hattie escorted me to Broad Street Station to take 4:30 PM train with Gay Parisians Co for this place where we arrived last Evening at 7:25.
We were called to a rehearsal at 10:30 this Morning, hence my hurry to leave Hattie. After all, we had no rehearsal, Miss [Sadie] Martinot having failed to leave New York in time to be here. We play here tonight. We have parts in a new play given to us to study and will soon have rehearsals [not clear what this might have been
Knoxville Chattanooga Charleston Atlanta Pensacola New Orleans

Central Hotel
Charlotte, NC
Feb 15th 1897
My dear daughter Neppie,
I will now try to write to you a history of my proceeding since Providence. We went to train after performance on Sat night -- reach NY after 7 AM. I took a cab for DesBrosses ferry -- crossed to New Jersey in time to take 8:30 train for Phila, got there at 11:50.
John, Jack and Hattie took me to Broad St. [Philadelphia] station. The train from New York was due there 6:47 -- Mr. Zack, our new business manager met me at the gate, and I left John, Jack and Hattie there, looking after me through the bars.
Charlotte is a very pretty place, and I find myself in the hotel where Mr. Kirby died - and have talked with the colored boy who worked for him five or six years - He asked about Lizzie and Fannie. I had no idea of coming to this house and finding it to be the hotel the Kirbys had lived in so long or finding anyone they knew.
We start at 1:30 in the morning for Asheville NC -- get there 3 PM. Next Morning start earlier for Knoxville -- have a change of cars and get there late in the afternoon. But Mr. Zack has told me that after that - the trips will not be so hard.
They are as follows Knoxville, Tenn., 18th Chattanooga, 19th Birmingham, Ala 20th, Macon, Ga 21st Sunday, 22nd Savannah, Ga 23rd Charleston SC, 24th Augusta Ga, 25th & 26th Atlanta Ga, 27th Pensecola, Fla [sic], 28th New Orleans for a week. March 8th Cincinnati Ohio, 15th Phila, 22nd Harlem. This is all I know so far. I have heard we go to Buffalo and Chicago again -- but not officially. Guess we will close about 1st of May.
I am now going to take a rest - have not had my clothes off for two nights and feel uncomfortable. Love & Kisses to my dear children Albert, Neppie and Ted - Your loving Mother
I began to write Phillips. I am half asleep


Hotel Imperial
Knoxville, Tenn.
Wed'day
Feb 17th 1897
My dear Son,
Have had some heavy traveling and loss of sleep. Left Asheville after performance last night at 1:30 AM. Got here at 4:45 AM. Went to bed soon as I got my room in the above hotel, and have remained there until 4:30. Am now dressed & ready for supper.
We leave after performance tonight at 4:30 in the morning. Get to Chattanooga at 11. Give a matinee at 2 and night performance. Then leave for Birmingham, Ala but exactly when I cannot say - but the untimely hours and loss of sleep - and the extra matinee rung in on us.
Saturday will be in Macon Ga., Savannah, Ga. Tuesday Charleston, Wed Augusta, Ga., Pensecola, Florida and Sunday New Orleans, when we shall have a little breathing time for a week. By that time hope to be able to tell you where we go after that - but at present it is doubtful. Love and Kisses my dear children three to you all from your loving Mother
Em Chitty lives in Knoxville and I have visited her there several times.
St Charles Hotel
Charleston SC
Feb 23rd 1897
My dear Son,
Left Savannah this morning at 5:50, reached here about 11. A lovely day, just warm enough to enjoy walking. I went out to the Battery - rode out in street car and walked back - the sea breezes felt lovely.
We leave at 7 in the morning for Augusta. Play a mat[inee] and night there and then to Atlanta for two nights - on Saturday night Pensacola - Monday 1st of March New Orleans where the long season of Gay Parisians closes Sat night March 6th.
Such was the order of Chas Frohman put up on call board last Evening. It was rather a surprise, for we had been told we were to play in Cin'ti, Phila and Harlem after leaving New Orleans - but Charles has changed his mind and we go straight through to New York, or where we want to go. I shall go to Phil[adelphia] to mend my clothes and get rid of my clothes and trunks.
We left Mr. [W.R.] Shirley ill in Savannah - was not able to play last night and may not join us again until we reach Atlanta on Thursday. I am sleepy and am going to take a little snooze before going to shop, so excuse a short letter this time. Love and Kisses to you all from your loving Mother

EJP's Charleston Google map http://maps.google.com/maps/ms?ie=UTF8&hl=en&msa=0&msid=202426891661796490166.000499abaac0b5ef84052&ll=32.778507,-79.930043&spn=0.012232,0.027788&t=h&z=16&layer=t

Charleston Bibliography
Rubin, Louis, Uptown Downtown in Old Charles, University of South Carolina Press, 2010
Wikipedia http://en.wikipedia.org/wiki/Charleston,_South_Carolina#Museums.2C_historical_sites_and_other_attractions
Wikipedia http://en.wikipedia.org/wiki/History_of_Charleston,_South_Carolina#Postbellum:_1865_-_1945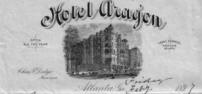 Hotel Aragon
"Open all year"
Cable address "Aragon Atlanta"
Atlanta, Ga.
Friday Feby 1897
Played last night to a good house. Play this afternoon and tonight - and leave very early in the morning for Pensacola Florida. Play there tomorrow night and Sunday push on to New Orleans where we are to open on Sunday night.
This has been a most trying two weeks I have ever gone through in travelling, and I do not think I could stand another two like them. I look for pretty hard work and discomfort in New Orleans next week. The crowds will be annoying and the accommodations very scarce and expensive, but I hope to pull through.
They are sending some of the Co home to New York by boat - a five days ride, but Mr. Zack has said he will try and send me by rail - and I hope he will be successful. I do not care for boating in March on the Atlantic Coast. I hope to reach Phila by Wednesday 10th of March. And Love and Kisses to my dear children Albert, Neppie & Teddie darling from their loving Mother
Mother and I were both excited to find that EJ Phillips had been to Pensacola, Florida, where grandson Ted ended up after going to Annapolis, serving in the Navy and marrying Em Turner Merritt. Albert happily spent a number of years living down the street from them, fishing in Pensacola Bay and gardening, though Neppie spent most summers in Middletown (and most of 1938 for which we have Albert's letters recounting what was happening in her absence).
Atlanta Constitution Feb 24 1897 The attraction at the Grand Thursday and Friday will be "The Gay Parisians," with the original company which was seen for 200 consecutive nights at Hoyt's theater, New York, followed by long runs in Boston, Philadelphia, Chicago, Manager Charles Frohman sends here also the entire original scenery used in the New York...Feb 25 An amusing farce is to be seen at the Grand tonight and Friday. It is "The Gay Parisians," a comedy which Manager Charles Frohman has presented with great success in New York, Chicago, Boston and Philadelphia, with probably one of the most excellent companies that has been seen in farce for many years. Feb 26 The patrons of the Grand were treated to a clever farce comedy production last night in "The Gay Parisians." All the parts were well cast and the play was one of the most amusing seen here this season.
Atlanta Bibliography
Aragon Hotel Postcard http://www.oldplaces.org/vintage_images/ga_atlanta_2.html
Atlanta Constitution, 1868-present https://www.newspapers.com/title_406/the_atlanta_constitution/
Wikipedia http://en.wikipedia.org/wiki/History_of_Atlanta#Post_Reconstruction_to_Present
EJ Phillips has connections with New Orleans in the 1870s through Ben DeBar and Lawrence Barrett.
EJP's New Orleans Google Map http://maps.google.com/maps/ms?ie=UTF8&hl=en&msa=0&msid=202426891661796490166.0004998bf9253de0ef10d&z=16

1044 Carondelet Street
New Orleans La
March 2nd 1897
My dear Son,
I was so tired on reaching here Sunday Morning and playing Sunday night that I had to put off writing until today. Great time of Mardi Gras is in full blast and processions and Balls & are all that people are thinking about. We have had two big houses, but the fun ends tonight and the Fast begins tomorrow. Then we may not do as well.
I have had very hard work for the past two weeks, but this week will not be so hard, only two Matinees, and no travel. We leave Sunday Morning and are due in Phila & New York Tuesday Morning, thus ending the long run of Gay Parisians. I feel that I need a rest and am not sorry -- much as I dislike to lose my salary.
I have not any news and may not write again until I reach Phila. I am so tired. Love and Kisses to my dear children Neppie, Ted and yourself from your loving Mother
next: Recalled from retirement 1898
After John Nickinson died in 1864 EJ Phillips was for some years a member of the famous stock company Ben DeBar [History of the American Stage} at St. Louis. She went from St. Louis to New Orleans to play old lady parts at the Varieties Theatre, the leading stock theatre at New Orleans, under the management of Lawrence Barrett (1838-1891).
Ben DeBar (1812-1877) had been "stage manager for Noah Ludlow and Sol Smith at the St. Charles Theatre in New Orleans, when they retired in 1843 he assumed management of their New Orleans and St. Louis theatres. St. Charles Theatre, New Orleans, LA http://cinematreasures.org/theater/3200/ First opened 1830s, burned 1842. Rebuilt a year later, burned 1899.
This 1897 trip to New Orleans seems to have been her first for many decades. Carondelet Street is about 8 blocks from the Mississippi, and considerably south of the French Quarter. The Gay Parisians appeared at the Varieties Theater, on Canal Street, which would seem to be the same one Lawrence Barrett managed in the 1870s.
EJP's New Orleans Google Map http://maps.google.com/maps/ms?ie=UTF8&hl=en&msa=0&msid=202426891661796490166.0004998bf9253de0ef10d&z=16
I first went to New Orleans in 1989 and have been back several times, including one trip when Interview with a Vampire was being filmed in the French Quarter where I was staying, with straw covered streets and carriages. Haven't been back since I've learned more about EJ Phillips career in New Orleans from 19th century newspapers, and not sure how much more I could learn, but would always be up for a good reason to go to New Orleans.
New Orleans Bibliography
Times Picayune New Orleans Readex 1848-1900
Wikipedia http://en.wikipedia.org/wiki/History_of_New_Orleans#The_Civil_War
Wikipedia http://en.wikipedia.org/wiki/History_of_New_Orleans#Late_19th_Century:_Reconstruction_and_Conflicts
St. Charles Theater Stock Company, New Orleans http://old-new-orleans.com/NO_StCharlesTheatre.html
Last revised August 25, 2020


1895
8
28
New York NY
rehearsals begin Gay Parisians
Jos Humphrey best stage mgr since Union Sq
2 doors Nagles
51 E 21st St
1895
9
19
3 nights
Buffalo NY
Star Theatre
Gay Parisians

EJP Angelique Pinglet
"trying it on a dog" out of town opening

Full house roars of laughter
Genesee
1895
9
23
New York NY
Hoyts Theatre
Gay Parisians opens NYC

EJP Angelique Pinglet
1895
11
4
New York NY
Hoyts Theatre
Gay Parisians program Odette Tyler Marcella Jos Pinglet WJ Ferguson
Jos Humphrey stage director
1895
11
11
to Jan 6
New York NY
Hoyts Theatre
Gay Parisians 50th performance with souvenirs
herald oct 31
1895
12
2
New York NY
Hoyts Theatre
Gay Parisians
1896
1
6
1 week
New York NY
hammersteins Harlem Opera House
Gay Parisians

Gustave Frohman in charge

play pleasing
Hotel Minot 136th St
1896
1
13
1 week
Brooklyn NY
Gay Parisians

to Newark and NY Grand Opera after Wash?
1896
1
20
1 week
Wash DC
Gay Parisians

and Baltimore?
1896
2
3
to Feb 9
Newark NJ
Gay Parisians

Park House
1896
2
17
Newburgh NY
Acad Music
Gay Parisians

Charles Frohman stage direction Jos Humphreys
1896
2
21
Waterbury CT
Gay Parisians

from Hartford to Holyoke MA
1896
2
23
6 weeks
Boston MA
Boston Museum
Gay Parisians

also Feb 14
1896
3
11

to 15

Detroit MI
Detroit Opera House
Gay Parisians

or Whitney Grand or Lyceum OR Capital Sq or Campbells Empire
1896
4
13
to apr 17
Providence RI
Gay Parisians

Narragansett House
1896
4
27
Brooklyn NY
Garrick Theatre
Gay Parisians

long rehearsal today leave Sunday by boat for Alabany
Clarendon
1896
5
1
to May 2
Brooklyn NY
Montauk Theatre
Gay Parisians

1896
5
4
to may16
Troy NY
Gay Parisians

Mansdion House
1896
5
5
Albany NY
Hardman Bluker Hall
Gay Parisians

Then Troy, Syracuse 2 nights Rochester 3 nights Toledo 3 nights Detroit 3 nghts
1896
5
7
Syracuse NY
Gay Parisians

"good house hope for better one tonight"
Empire House
1896
5
8
Rochester NY
Gay Parisians

Whitcomb House
1896
5
11
Erie PA
Gay Parisians

then Toledo

very bad house in Toledo
Reed house
1896
5
15
Detroit MI
Gay Parisians

no business but bicycles
Russell House
1896
5
17
10-16 wks?
Chicago IL
Hooleys
Gay Parisians

"good business"
Tremont House
1896
8
9
Chicago IL
Hooleys
Gay Parisians with Sadie Martinot
Aug 12th 100th Performance Chicago
1896
8
17
2 wks
San Francisco CA
Baldwin Theatre
Gay Parisians

leave Chicago Aug 12 for SF
also letter Sept 21
Baldwin Hotel
1896
8
31
1 night
San Jose CA
Halls Auditorium
Gay Parisians

1896
9
1
3 nights
Oakland CA
Oakland Opera House
Gay Parisians

Hotel Wilson
1896
9
4
Stockton CA
Gay Parisians

1896
9
5
Fresno CA
Bartons Opera House
Gay Parisians

1896
9
7
to Sep 9
Los Angeles CA
Los Angeles Theatre
Gay Parisians

Hotel ramona
1896
9
9
?
San Diego CA
Gay Parisians

Fisher Opera house if they actually went to San Diego
1896
9
11
Sacramento CA
Ciunic Opera House
Gay Parisians

San Jose, Oakland,

Fresno

Marysville Aug

Golden Eagle
1896
9
12
Marysville CA
Marysville theatre
Gay Parisians

1896
9
14
to 16th
Portland OR
Marquam Grand Opera
Gay Parisians

splendid house "Public hungry for a show"
The Portland
1896
9
17
Tacoma WA
Tacoma theatre
Gay Parisians

1896
9
18
Victoria BC
Victoria Theatre
Gay Parisians

from boat from Seattle and by overnight boat to Vancouver after performance
1896
9
20
Vancouver
Vancouver Opera house
Gay Parisians

drive thru Forest/Stanley Park with Gustave Frohman Sept 21
Manor House
1896
9
21
Seattle WA
Seattle Theatre
Gay Parisians

by boat from Vancouver thru Puget Sound
Occidental Hotel
1896
9
25
Salt Lake City UT
Salt Lake Theatre
Gay Parisians

Mormon Temple finished
Knutsford
1896
9
26
5 nights
Kansas City MO
Coates Opera House
Gay Parisians

"big house on Tuesday"
New Coates
1896
10
5
1 week
St Louis MO
Century
Gay Parisians

10 performance
then Decatur IL

Chas Frohman to be there while we are
1896
10
7
Des Moines IA
Foster's Opera House
Gay Parisians

1896
10
8
Burlington IA
Grand Opera House
Gay Parisians

then Davenport IA on sleeper
1896
10
10
Cedar Rapids IA
Greene's Opera House
Gay Parisians

1896
10
11
Dubuque IA
Grand Opera House
Gay Parisians

1896
10
12
Freeport IL
Germania Opera House
Gay Parisians

1896
10
22
3 nights
Omaha NE
Creighton?
Gay Parisians

Paxton
1896
11
2
Milwaukee WI
Davidson?
Gay Parisians

election returns
1896
11
16
Madison WI
Fuller Opera House
Gay Parisians

previously in Minneapolis/St Paul
Park Hotel
1896
11
26
Toledo OH
Valentine theatre
Gay Parisians

Thanksgiving in Toledo then overnight ttrain to Columbus
1896
11
27
Columbus OH
Grand Opera House
Gay Parisians

or Great Southern or High St theatre
1896
11
30
Pittsburgh PA
Pittsburg Opera House
Gay Parisians

Hotel Victoria
1896
12
14
last 2 wks
Philadelphia PA
Chestnut St Theatre
Gay Parisians

business pretty good but remain only 3 weeks
1897
1
4
to Jan 9
New York NY
Garden theatre
Gay Parisians

7 performances this week
Sturtevant House
1897
1
11
Wilmington DE
Grand Opera House
Gay Parisians

1897
1
12
Lancaster PA
Fulton Opera House
Gay Parisians

1897
1
13
Harrisburg PA
Grand Opera House
Gay Parisians

Hunter?
1897
1
14
Trenton NJ
Taylor's Opera House
Gay Parisians

1897
1
15
Easton PA
Able Opera House
Gay Parisians

1897
1
16
Scranton PA
Acad Music
Gay Parisians

1897
1
18
1 week
Newark NJ
Gay Parisians

left Patterson Jan 28 Elizabeth NJ
1897
1
31
Hartford CT
Gay Parisians

to Springfield Worcester New Haven Holyoke Norwich New London
US Hotel

1897
2
6
Providence RI
Keith's Opera House
Gay Parisians

or Providence

Opera House
1897
2
7
?
Newark NJ
Newark Theatre
Gay Parisians

EJP Angelique Pinglet
or Jacobs Theatre or Waldmann's Opera House:
1897
2
15
Charlotte NC
Opera House
Gay Parisians

to Asheville NC Knoxville Chattanooga TN
Central Hotel
1897
2
16
Asheville NC
Grand Opera House
Gay Parisians

1897
2
18
Knoxville TN
Staubs Opera House
Gay Parisians

Hotel Imperial
1897
2
19
Chattanooga TN
New Opera House
Gay Parisians

1897
2
20
Birmingham AL
O Briens Opera house
Gay Parisians

1897
2
21
Macon GA
Acad Music
Gay Parisians

1897
2
23
.
Savannah GA
Savannah Theatre
Gay Parisians

1897
2
24
Charleston SC
Acad Music?
Gay Parisians

Went out to the Battery
St charles Hotel
1897
2
25

& 26

Augusta GA
Grand Opera?
Gay Parisians

1897
2
27
Atlanta GA
Grand

Gay Parisians

then Cincinnati Phila Harlem Buffalo Chicago? close May 1
Hotel

Aragon
1897
2
28
Pensacola FL
Opera Hse?
Gay Parisians

1897
3
2
to mar 6
New Orleans LA
Acad Music
Gay Parisians

Season closed Mar 6

by order Chas Frohman
New Varieites?
1044 Carondolet St
Homepage A to Z Index About these letters About EJ Phillips Bibliography People Places Plays EJ Phillips Facebook Fan Page