Homepage A to Z Index Book outline EJ Phillips Facebook Fan Page
Dion Boucicault and EJ Phillips


Dion Boucicault, Strang's Players and Plays of the last quarter century 1902

Dion[ysius] Lardner Boucicault (1820-1890) The Irish actor and dramatist is said to have written between 120 and 150 plays. "Not only was [he] the most successful and popular playwright of his eras, he also remained widely admired as an actor." [Oxford] He also served as a house dramatist and stage director at the Union Square and Madison Square Stock Companies. The "sensation scene" became a trademark of his work -- a "spectacular display of stage pyrotechnics ...exploding steam-boats, snowstorms and avalanches, duels and massacres, urban conflagrations -- these and dozens of other sensations kept audiences at a high level of tension especially as Boucicault began to use them nearly twenty years before he finally perfected the invention of fireproof scenery". International Dictionary of Theatre
Theatre attendance suffered after this disastrous fire[ at the Brooklyn Theatre in 1876] and Boucicault was the first to suggest fireproofing of theatrical scenery. Dec 21, 1876 at Wallack's Theatre, Boucicault "attempted to set fire to a scene saturated with a solution of tungstate of soda and primed with a solution of silicate of soda, suspended over the center of the stage. A flame equal to the force of one hundred and fifth of the ordinary gas-jets of the stage was directed on the suspended canvas and held there about two minutes. The canvas did not blaze or smoke." Townsend Walsh, The career of Dion Boucicault, Dunlap society 1915 pp 186-188 http://books.google.com/books?id=2woEAAAAYAAJ&dq=boucicault+%22sensation+scene%22&source=gbs_navlinks_s
There were calls for immediate flame-proofing of theatres. But "unfortunately, however, it soon became evident that, whereas scenery thus treated could not be burned, neither could it long remain scenery. Night after night the stage was covered with a fine dust very distressing to the lungs of the artists and destructive to the furniture in the scenes. In a little over a week the paint has fallen almost entirely from the flats. The canvas of which had become ruined by dry rot."
EJ Phillips made her professional stage debut in Boucicault's play London Assurance in 1852 in Hamilton Canada. John Nickinson's greatest role was Havresack in Boucicault's Napoleon's Old Guard The Samuel French script https://babel.hathitrust.org/cgi/pt?id=mdp.39015063763273 lists John Nickinson as appearing in this in 1848 at Mitchell's Olympic Theatre. It was first produced in London in 1844 and in New York in at the Chatham Theatre in 1845 with J. Booth and Mrs. Booth as Melanie, at the Park Theatre in 1847 with Henry Placide and "Mr Nickinson and his talented daughter have still more recently enacte the parts of the veteran and his child at the Olympic, with decided success."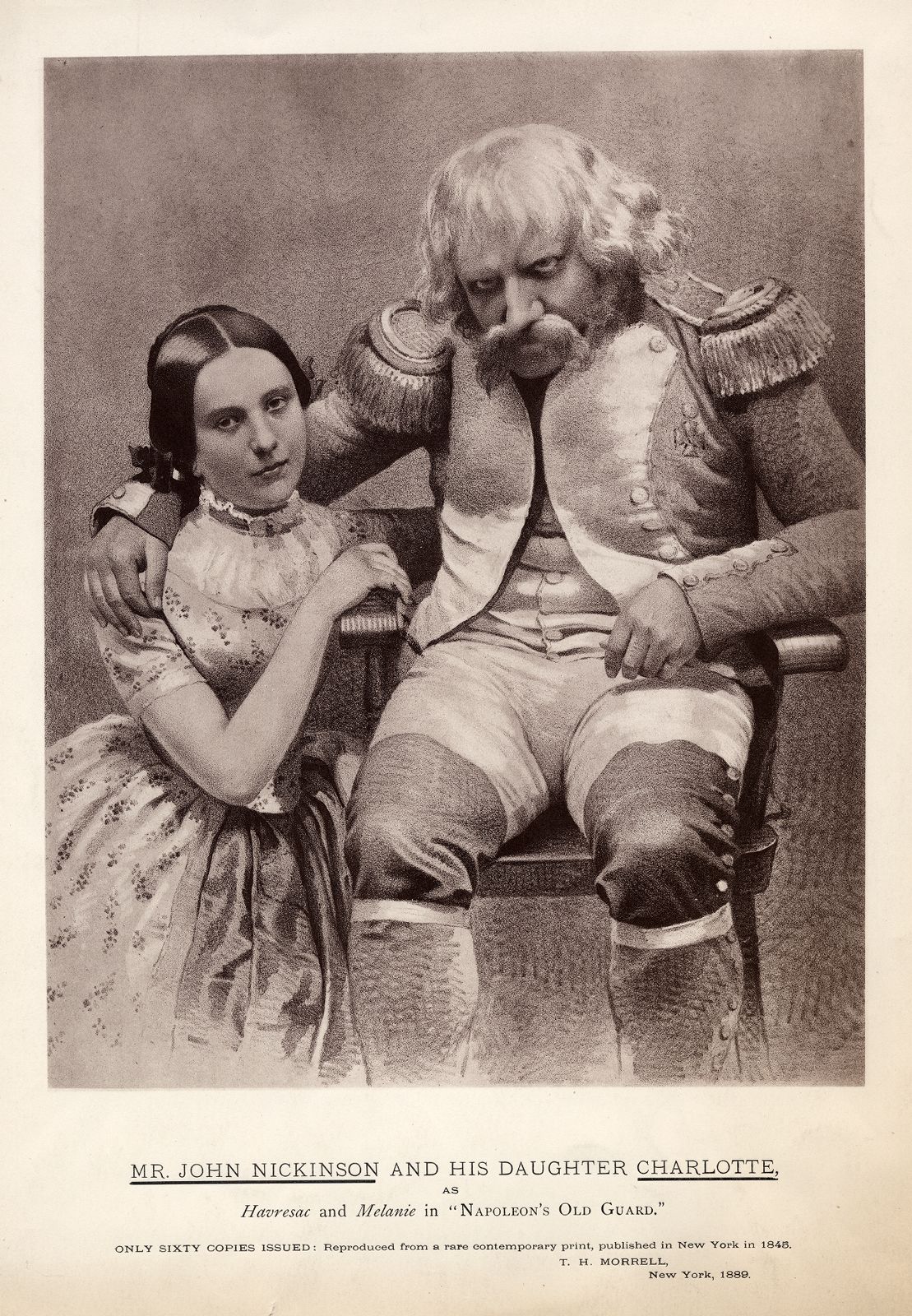 John Nickinson as Havresack and Charlotte as Melanie
A poignant note from Hattie to Neppie on Dec 19, 1897 "Baby is lovely .... her name is to be Melanie Nickinson. John and I liked Katherine Harriet but there were so many objections to the Katherine & so mnay suggestions that John got quite desperate & said that was the worst of having them, you did not know what to name them." Finally he selected "Melanie Nickinson" & that seems to suit as well as any. I always was sorry that I was not called "Melanie" which was what Papa & Mama had intended. I hope the little lady will like it herself but I don't suppose she will. People never like their own names. [Hattie's names were Christine Harriet Melanie Nickinson.]
Melanie is obviously a reference to the character played in Napoleon's Old Guard by both Charlotte Nickinson and EJ Phillips.
Maud Harrison made her stage debut in 1875 in Boucicault's The Flying Scud or Four-Legged Fortune, the first of the popular horse racing melodramas.
The Octoroon is a play by Boucicault that opened in 1859 at The Winter Garden Theatre, New York City. Extremely popular, the play was kept running continuously for years by seven road companies. Among antebellum melodramas, it was considered second only in popularity to Uncle Tom's Cabin (1852).[3] Boucicault adapted the play from the novel The Quadroon by Thomas Mayne Reid (1856). It concerns the residents of a Louisiana plantation called Terrebonne, and sparked debates about the abolition of slavery and the role of theatre in politics. Wikipedia Octoroon https://en.wikipedia.org/wiki/The_Octoroon Accessed 2016 August

The only direct knowledge I have of EJ Phillips in The Octoroon is a color copy of a playbill which hangs in my living room.
Playbill for Dion Boucicault's Octoroon, May 8, 1861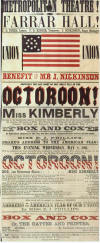 Boucicault was 63 in 1883. His first wife died in the Alps shortly after their marriage. Agnes Robertson, his second wife is not mentioned in these letters. His third wife Louise Thorndyke Boucicault is briefly mentioned.

Cleveland Nov. 17, 1893 Miss Elsie deWolfe did not gain her bit of diplomacy as Miss Ada Dyas & Mrs. Thorndyke Boucicault are engaged for A Woman of No Importance.

Biographer Richard Fawkes tells how Boucicault left New York for San Francisco in April 1885 with his son Dot, daughter Nina and Louise Thorndyke, who was then 21. They traveled to New Zealand and Australia. Boucicault was 64. He and Louise were married in Sept. in Sydney and Boucicault claimed to be a widower on the marriage certificate, though his wife Agnes Robertson was alive in London. Boucicault had been claiming they were never legally married. Son and daughter promptly cabled their mother who took out an ad claiming he was a bigamist. The newlyweds were in no rush to return to America and when they did they appeared in his play The Jilt, which drew in crowds eager to see the couple.

Dion Boucicault spent most of his last years teaching at a drama school established by AM Palmer. "The gentlemen were for the most part, awkward, stiff and slow, the girls graceful, quick and refined. Among the lady students we found twenty-two who aspired to be Juliets and Paulines and Parthenias, and one who consented to play old women. When faced with this result Mr. Palmer could not refrain from quoting Falstaff's bill of fare "Two gallons of sack for one half penny worth of bread!" D. Boucicault "My Pupils" North American Review 148 November 1888:435-440.

Edith Wharton wrote about The Shaughran in Age of Innocence [chapter XIII]
It was a crowded night at Wallack's theatre. The play was "The Shaughraun," with Dion Boucicault in the title role and Harry Montague and Ada Dyas as the lovers. The popularity of the admirable English company was at its height, and the Shaughraun always packed the house. In the galleries the enthusiasm was unreserved; in the stalls and boxes, people smiled a little at the hackneyed sentiments and clap- trap situations, and enjoyed the play as much as the galleries did.

Boucicault is buried in Mt Hope Cemetery, Hastings on Hudson New York http://www.mounthopecemetery.com/index.html

The only play by Dion Boucicault I've been able to see has been The Shaughraun in Boston in 1996 -- which with lots of drinking, fiddle playing, singing and dancing gave me the insight that this was the 19th century equivalent of sit coms. Im still looking into the relationship betwen AM Palmer and Boucicault, which seems to have been contentious at times.

Bibliography
Boucicault, Dion Leaves from a dramatist's diary, North American Review, Aug. 1889 http://cdl.library.cornell.edu/cgi-bin/moa/moa-cgi?notisid=ABQ7578-0149-32
Fawkes, Richard, Dion Boucicault, Quartet Books, 1979
Hogan, Robert, Dion Boucicault, New York: Twayne Publishers Inc. 1969
Quinn, Arthur Hobson, Representative American Plays, Appleton Century Crofts, 1953 includes Boucicault's Octoroon, as well as Fashion, Hazel Kirke, Margaret Fleming and other contemporary plays. Thanks to Bonnie Walters for this volume.

Websites
RF Dietrich, British Drama from 1890 to 1950, Death of Boucicault
http://chuma.cas.usf.edu/~dietrich/britishdrama2.htm#Boucicault
Richard Fawkes Dion Boucicault Collection, Templeman Library, Univ. of Kent, Canterbury https://www.kent.ac.uk/library/specialcollections/theatre/boucicault/index.html
Dion Boucicault Theater Collection, Univ. of South Florida http://www.lib.usf.edu/boucicault/
Dion Boucicault, Victorian Web http://www.victorianweb.org/mt/boucicault/
Wikipedia http://en.wikipedia.org/wiki/Dion_Boucicault

Boucicault plays EJ Phillips was in
London Assurance

Boucicault Dion

amateur grp

Hamilton

1852

1841

Grace Harkaway

Colleen Bawn

Boucicault Dion

Farrar Hall

Erie

1861

John Nickinson

1860

Anne Chute

Napoleon's Old Guard

Boucicault Dion

Metropolitan

Hamilton

1861

John Nickinson

1836

Melanie Havresac

Octoroon

Boucicault Dion

Metropolitan

Hamilton

1861

John Nickinson

1859

Dora Sunnyside a Southern belle

Willow Copse

Boucicault Dion

Pike's Opera House

Cincinnati

1863

Apr

1855

JN Bill Staggers EJP Lady Apsley Zavistowskis

Led Astray

Boucicault Dion

Union Square

New York

1880

1879 Chicago

1873

Baroness de Rivonniere

<![if !supportMisalignedColumns]>
<![endif]>
Captain Swift
was slightly altered and staged by Boucicault for Palmer during the 1888-1889 season.
Last revised July 13, 2019

Homepage A to Z Index About these letters About EJ Phillips Bibliography People Places Plays EJ Phillips Facebook Fan Page