Homepage A to Z Index Book outline People Places Plays About these letters About EJ Phillips EJ Phillips Facebook Fan Page

EJ Phillips & the traveling quilt
Over the years, as we worked on these letters Mother regretted that we had lost touch with the Dolman cousins. In July 1998 Mary Glen looked up Dolman addresses on the web and Mother wrote to them in Pennsylvania. In September we got an e-mail from Peggy Spencer (also a great-great granddaughter of E.J. Phillips and great-granddaughter of Hattie's son Jack Dolman). She provided phone numbers and addresses and an e-mail for her sister Susan Spencer (Misciewicz) in Toronto. Cousin Charlie Seymour's webpage had information on E.J. Phillips we were unaware of.
E-mails and packages family trees and other information went back and forth all fall. Sue mentioned the existence of a quilt made from pieces of E.J. Phillips costumes and the contents or her scrap-bag, and brought it to Boston when the three Spencer sisters got together for Christmas.
We met the day after Christmas 1998 to meet in person and take the quilt to the studio of Jay Penni, a photographer neighbor of mine. Sue also brought an essay written for an English class at the University of Pennsylvania by her mother Barbara Dolman Spencer (1913- 1988) the original recipient of the quilt and E.J. Phillip's great- granddaughter.
EJ Phillips crazy quilt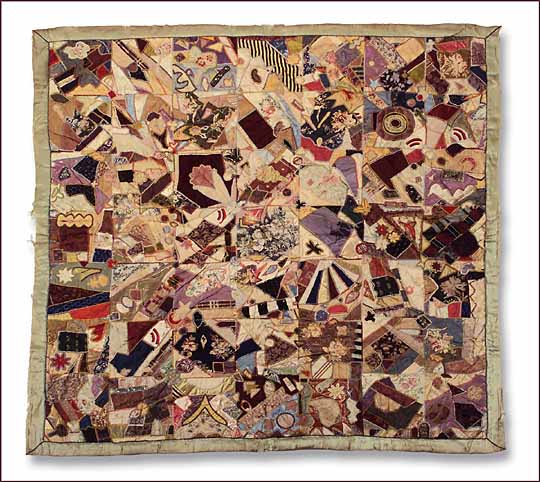 On my graduation from High School my [Barbara Dolman Spencer's] grandmother [Hattie Nickinson Dolman] gave me a patchwork quilt which had been started by her mother, Mrs. E.J. Phillips, who was an actress. The creation of this quilt was a very slow process. It was begun more than fifty years ago [before 1880] and some of the silks are older than that. It was not until two years ago [1930] that it was finally completed. Then my grandmother finished some of the feather-stitching and lined it.
When Mrs. Phillips was "on the road" she kept a plentiful supply of unbleached muslin squares in her trunk. In her spare moments she would arrange on these squares little scraps of costume material, for those were the days when actresses made and paid for the greater part of their stage wardrobes. Sometimes other actresses would give her pieces from their own scrap-bags, and occasionally she would get hold of neckties from the actors -- the large, flat ascot ties were excellent for this purpose.
A good many of the pieces were samples from a dry-goods store. The samples had been pierced through by a clip, so the resulting holes had to be covered with tiny patches of contrasting silk. There is no one pattern in the quilt, except that the [49] squares form a unit of construction. Even this is concealed sometimes by a piece appliquéd over the seam. Each separate piece is outlined in feather-stitching of appropriate colors. The lining turns up to form a border all around the quilt. The border is outlined in black feather-stitching. Note the butterflies covering up some of the holes..
To me, the most interesting thing about the quilt is that many pieces had a history. My grandmother can remember where most of the pieces came from, and in many cases, just how a particular dress was made, for as a young girl she helped her make a good part of the stage wardrobe. There is a bit of burgundy-colored brocade in the quilt, which came from the Nurse's gown in "Romeo and Juliet". Mrs. Phillips played the Nurse to Olga Nethersole's Juliet [1894]. The brocade long survived the Nurse, and has been remade several times. My grandmother still has several of those dresses in a special trunk. [These may be the costumes donated to the Swarthmore Players.]
A piece of purple and old gold brocade comes next. That was used for a tea gown in "Captain Swift" [1888]. Agnes Booth [wife of Junius Brutus Booth Jr., who was brother to Edwin and John Wilkes] and Maurice Barrymore [father of Ethel, Lionel and John] were in that.
Then there is a bit of silk which my grandmother thinks was worn in "The Creole" when they were playing in New York. At that time the manager told Mrs. Phillips to go to a costumer to be outfitted for a certain part. The dress finally selected had been worn by Mary Wells [1829-1878] as Lady Sneerwell in "The School for Scandal" [1881] Union Square Theatre Company production]. The white cherry silk in the next square was used for Mrs. Candour in the same play when it was at the Chestnut St. Theatre [Philadelphia 1873-74]. Later that silk was remade and used for the Duchess of Berwick in [Oscar Wilde's] "Lady Windermere's Fan" [1893]. The piece of flowered purple satin which looks almost new was donated for the quilt by Mme. Zavistowski, a famous dancer. There's a bit of ribbon too, from the hat of Mrs. Jarvis in "The Lights o' London" [Union Square Theatre Co. 1881]. The Shakespeare Jarvis of that production was played by Maud Harrison.
There's a story connected with the cream and pale-blue brocade. It was used in a play by Augustin Daly. The original company of Daly's made quite a sensation by their elaborate dress. When it was given later at the Chestnut [St. Theatre] a reviewer remarked that Mrs. Phillips was the only one who dressed up to the Daly standard.
The striking piece of silk, near the center, the light to dark lavender brocade, has perhaps the most interesting history of all. It was a ball gown worn to a reception in Cincinnati for the Prince of Wales, later Edward VII, in about 1861. When Mrs. Phillips was playing at Pike's Opera House Mr. Pike brought the dress to her saying it was too conspicuous for his wife to wear often, and if Mrs. Phillips could use it, she might have it. The skirt of that dress is still in existence, occupying the place of honor in the old trunk. (The Centennial History of Cincinnati 1904 described the Prince arriving in Cincinnati on Sept 29, 1860, with the Prince staying at the Burnet House, and the ball being at Pike's Opera House and the Prince opening the dance with Mrs. Pike as his partner. http://books.google.com/books?id=eJxABLtxX60C&printsec=frontcover&source=gbs_ge_summary_r&cad=0#v=snippet&q=samuel%20pike&f=false)
There's a very heavy white silk with a cherry figure which was used with cherry velvet for the Countess in "The Danicheffs" at the Union Square Theatre, New York [1877-78, revived in 1881]. The green velvet over there was used for a traveling dress in the second act. The velvet was later used for Mme. Prudence in "Camille" [1894].
The small pieces of olive green and tan figured silk were from the costume of Clarissa Champney's in "Our Boys" at the Chestnut [Street Theatre] which ran the whole Centennial summer [June 26- November 18, 1876]. A bit of purple satin with a black velvet figure is one of the handsomest pieces. It was made in military style, with gold buttons, for an iron-jawed sort of woman in [the Union Square Theatre's farce] "French Flats" [1879, revived 1884].
The other pieces are partly from Mrs. Phillips' private wardrobe, and partly from donations which cannot be traced. There are taffetas, moirés, and satins of all colors. Very few have shown any signs of wear of fading. Every time I look at my crazy quilt I find something new that I don't remember having seen before, and then I begin to dream about the glory of the footlights. Barbara Dolman Spencer, written for her freshman English class at the Univ. of Pennsylvania 1930
Two more EJ Phillips' quilts also exist, a tribute to the amount of time she spent on trains and to the all the people who supplied material, stitching and preserving the quilts.
New England Quilt Museum, Lowell MA http://www.nequiltmuseum.org/ Thanks to Barbara Wagner of Cincinnati for organizing a Yale Day of Service here in May 2010 which finally got me to this museum. I went back in 2017 to have this' quilt documented by the Massachusetts Quilt Documentation Project Quilt index http://www.quiltindex.org/
Quilters' Internet Resources, Sue Nickels http://www.sue-nickels.com/links.php
Quilts and Quilt making in America, Library of Congress http://memory.loc.gov/ammem/qlthtml/qlthome.html
Last updated Dec 28, 2019
Homepage A to Z Index Bibliography People Places Plays About these letters About EJ Phillips EJ Phillips Facebook Fan Page