Homepage A to Z Index Book outline People About these letters About EJ Phillips EJ Phillips Facebook Fan Page
Theatre companies and managers including Daly, Frohmans, AM Palmer and Wallacks

Touring stage companies By January 1882 the number of first-class American stock companies had diminished to three (of which the Union Square was one) giving employment to about 100 actors and actresses. "The remainder of the fraternity," wrote the New York Times, "must wander over the land for a livelihood, just as the strollers of old were wont to do" (January 1, 1882). There were upward of 3,500 theatres, opera houses, and places of amusement in the United States in 1887, giving employment to about 40,000 persons."
Railroads The expansion of the railroads was crucial to the growth of the theatrical industry. Only the railroad was capable of conveying scenery and actors.
The acting life Money Plays Theatres Travel EJ Phillips 1830-1904 Theatre companies and managers
Theatre companies Producers/Managers Lawrence Barrett James W. Collier William Henry Crane Augustin Daly Ben DeBar Louisa Lane Drew William Rudolph Floyd Charles Frohman Daniel Frohman Gustave Frohman Oscar Hammerstein Al Hayman Charles Hoyt Joseph Humphreys Henry C Jarrett BF Keith FF Mackay Steele MacKaye Marcus Mayer James H McVicker Ramsey Morris AM Palmer Samuel N Pike Eugene Presbrey William Seymour Sheridan Shook Denman Thompson Wallacks George Wood Theatrical training
Theatrical Syndicate EJ Phillips' career was ending at the Syndicate began, but she knew the Frohmans and Al Hayman
On August 31, 1896 six men gathered at the Holland House Hotel to discuss the creation of what would be name The Theatrical Syndicate. Abraham Lincoln Erlanger, Charles Frohman, Al Hayman, Marc Klaw, Samuel Nixon, and Fred Zimmerman pooled their resources--theatres that they owned, leased, and booked--to create more rational trips for theatres troops when they were on the Road. They told the theatre world that they would rid the theatre business of managers who booked several shows a night to ensure a performance (leaving the extra shows with nothing). They promised they would help the producers cut expenses by booking the troop in a logical route with stops all along the way. The rise of the Syndicate was a logical progression now that performances were on The Road, but with this new trust, both the show and the theatre itself were controlled by one company. Soon the Syndicate had created a monopoly which only allowed performers and houses to work with Syndicate products or not at all. Abby Manzella, The Syndicate and the Shuberts, University of Virginia 2000 http://xroads.virginia.edu/~hyper/incorp/theatre/syndicate.html
Norman Hapgood, The Theatrical Syndicate, International Monthly Vol 1, Jan 1900 pages 99-122 http://books.google.com/books?id=zrs0AAAAMAAJ&source=gbs_navlinks_s
James W, Collier (1836-1898)
"Under the regime of James Collier, Palmer's successor as manager [in May 1883], the Union Square fell quickly from former eminence. Collier...was in no way [Palmer's] equal in either judgment of plays or stage management". Durham 1986.
Shook and Collier Theatrical Firm Dissolved NY Times May 1,1886 https://www.nytimes.com/1886/05/01/archives/a-theatrical-firm-dissolved.html
Sheridan Shook and Collier had formed their partnership three years previously.
Limited information on Collier seems available, but I learned most from a baseball website describing James Walter Collier as an actor, and saloon keeper, owner of "Collier's Rooms," the upstairs saloon owned by 32-year-old character actor James Walter Collier where, on the rainy evening of March 17, 1871, the National Association of Professional Base Ball Players was formed. Delegates from 10 professional baseball clubs met at the saloon at the corner of Broadway and 13th Street, just across from Wallack's Theatre, where Collier frequently trod the boards. https://ourgame.mlblogs.com/colliers-rooms-and-other-finds-eb4c876b72a1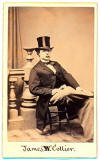 James W Collier 1873 NY Public Library
Obituary https://www.findagrave.com/memorial/175491044/james-walter-collier
William Henry Crane (1845-1928) Most noted as a comedian, Autobiography Footprints and Echoes 1927. Contributed essays on acting and the theatre to contemporary popular journals. Successful as an actor-producer, beginning in 1890 in The Senator, in which he frankly imitated Senator Plumb of Kansas. Concise Oxford C Dictionary of American Biography
Tacoma 1890 "Crane & Co played here last week and yesterday met them halfway between here and Portland. Both companies got out of the cars, and each greeted the other very warmly and ended in singing "Auld Lang Syne" in a very high key. It was very funny, and was thoroughly enjoyed by ourselves, as well as the natives, the latter looking on in blank amazement." Crane was performing in The Senator in 1890 with Lizzie Hudson Collier and Georgie Drew Barrymore
Strang's Famous Actors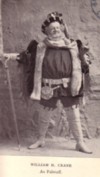 Strang says of Crane that "Although Mr. Crane's versatility and his talent for impersonation are limited, his comedy powers, within the limitations that nature has fixed for him, are exceptionally authoritative. His humour, especially, is broad, unctuous, and perfectly understandable. He laughs, and the world laughs with him, and there is neither bite nor sting to the fun that he invokes. His command of pathos is not so sure, and he is not always successful in scenes that require sustained emotion,"
Daly's Company
Augustin Daly (1838-1899), playwright and producer was a major rival to Palmer and Wallack. Daly "helped to establish the director as a major component in the theatre. His abandonment of "lines of business" (a then dominant method of casting) in favor of an ensemble company with no "stars"; his demand for natural acting; and his insistence on historically accurate sets, costumes, and properties marked the Daly Stock Company as the most progressive in America and one of the finest ensemble companies in the world." Durham 1986

Lewis Strang writes of Augustin Daly "he was a great manager, the greatest producing manager and the greatest stage-manager of his time. He became remarkably skilled in the regulating of theatrical effect, and although a martinet, he certainly knew how to train actors so that their team-work, regardless of their individual abilities, was noteworthy. For years he was the acknowledged head of his profession, and although for several seasons before his death his influence had been diminishing, the cause was not so much hat Daly was in his decline as that the American stage had made tremendous progress along the Daly lines, a condition for which Daly himself was briefly responsible. ...he refused to follow tamely the lead of the English theatre, and in breaking away he introduced the German farce and fathered the emotional drama of the French. With his company he invaded England itself, and even the Continent, and finally he "popularised' Shakespeare. ... he was "only a trifle better than Wallack [at producing American plays] notwithstanding the fact that one of his first and biggest successes was Bronson Howard's Saratoga. Daly opened his first Fifth Avenue Theatre on Aug. 16, 1869 ... Daly's firs American play, was given on Dec. 21 [1870}.
There's a brief mention of Daly in the quilt essay Fabric from a costume "used in a play by Augustin Daly. Could this be Leah the Forsaken in Cincinnati in 1863? The original company of Daly's made quite a sensation by their elaborate dress. When it was given later at the Chestnut [St. Theatre] a reviewer remarked that Mrs. Phillips was the only one who dressed up to the Daly standard.
Clara Morris on Daly Her "Life on the Stag"e talks a fair amount about Daly.
Augustin Daly Wikipedia http://en.wikipedia.org/wiki/Augustin_Daly

Daly, Joseph Francis, Life of Augustin Daly 1917 http://books.google.com/books?id=tDiXujfEbgoC writes of the number of actors who defected from Daly's to Palmer's.
Felheim, Marvin, The Theater of Augustin Daly, Cambridge: Harvard University Press, 1956 http://www.amazon.com/Theatre-Augustin-Daly-Nineteenth-American/dp/0837122090 writes that Augustin and Joseph Daly privately referred to the Union Square Theatre as the "Onion Square".
Letter from John Nickinson, New York to Augustin Daly, Folger Shakespeare Library, 1969 July 31 https://collections.folger.edu/detail/nickinson-john-autograph-letter-signed-from-john-nickinson-new-york-to-augustin-daly/5b1e5ca4-8f90-4320-8b2e-052a86216a85 This must have been from John Nickinson Jr.
Lyceum Company Theatre
The Lyceum Company opened the first of its twelve seasons at the Lyceum Theatre in New York City on November 1, 1887. "Although the company's leading performers were talented and respected, its greatest strength and experience lay in the supporting actors. The company included Mr. and Mrs. Charles Walcott (Isabella Nickinson) from 1887 to 1899.
The Lyceum Theatre was built in 1885 (demolished in 1902) by Steele MacKaye (1842-1894 dramatist [Hazel Kirke], actor and inventor) "who had recently been forced out of his brilliantly conceived Madison Square Theatre. The new theatre incorporated many of the innovations of the older auditorium and was the first theatre erected with electrical lighting throughout the building. The lighting was supervised by MacKaye's friend Thomas Edison." The Lyceum was on the west side of Fourth Avenue between 23rd and 24th Streets.
Once again MacKaye was quickly out of the theatre and Daniel Frohman who had helped manage MacKaye's Madison Square Theatre took over.
Philadelphia, July 1, 1888 Friday we received the wedding cards of Sarah Cowell & Mr. [William J.] LeMoyne. I think they will soon start for California with the Lyceum Co. [LeMoyne had been dismissed from the Madison Square Company in April 1887 because he had signed with Daniel Frohman and the Lyceum Company.]
Maud Harrison left Palmer's to join Daniel Frohman's Lyceum Company.
Empire Theatre "For many years the oldest and most prestigious playhouse in New York [all the earlier ones seem to have burned down], built by Al Hayman and Charles Frohman. Stood directly across Broadway from the Metropolitan Opera House, one door away from 40th Street. [Oxford] "With just over 1,000 seats it was a compact, well-designed playhouse and a favorite among actors and audiences. Concise Oxford Companion
William Rudolph Floyd (1832-1880) actor at Wallacks, then manager of Varieties Theatre, New Orleans, hired EJ Phillips 1868=1869 CDP
Portrait University of Illinois Theatrical Collection http://imagesearch-test1.library.illinois.edu/cdm/ref/collection/actors/id/1849
Charles Frohman (1860-1915) Youngest of the three theatrical Frohman brothers, his career as a producer was launched with Bronson Howard's Shenandoah. He organized a stock company in 1890 and built the Empire Theatre with Al Hayman in 1893.

Charles Frohman c1914
Frohman and several other men met secretly in 1895 "to organize what became known as the Theatrical Syndicate or Trust. Ostensibly the group's aim was to bring order out of chaos in cross-country bookings, but it soon controlled all the important theatres in the country and demanded exorbitant fees from producers and performers....Frohman recognized that a star could attract audiences even when his or her vehicle was weak, while a fine play without a star often had to struggle for business. It remains important to note that not all the plays Frohman offered were merely effective but ephemeral theatre pieces. He was responsible for the American premieres of many works by such significant and durable playwrights as Oscar Wilde, Sir James Barrie, Arthur Wing Pinero, Somerset Maugham and Georges Feydeau. Charles Frohman was at the height of his career when he died in the sinking of the Lusitania. He had been described as a "little round, slant-eyed Buddha". [Oxford]
Wikipedia http://en.wikipedia.org/wiki/Charles_Frohman
Relevance of the Syndiate Wayne S. Turney excerpts available http://theatreideas.blogspot.com/2009_02_08_archive.html
Wikipedia http://en.wikipedia.org/wiki/Theatrical_Syndicate
Daniel Frohman (1851-1940) eventually abandoned producing, but stayed active in the theatre, serving as president of the Actors Fund from 1904-1940


Daniel Frohman 1907 aged 56
Percy MacKaye, son of Steele MacKaye, wrote in his father's biography Epoch of Daniel Frohman "From my early childhood I remember "Dan" Frohman, as a genial friend of our family, later as a fellow member of The Players, and of course, as the warm-hearted friend and keen-minded counsellor of all theatre folk (especially of the aged in the Actor's Home). and in a note: "Steele MacKaye" Daniel Frohman wrote in 1926, "was my boss at the old Madison Square theatre, where he produced, in Feb 1880, his famous play, Hazel Kirke, which there made the longest run in theatrical history. I had been his "advance agent" and Mr. MacKaye engaged me as the business manager at that playhouse."

Memories of a Manager http://books.google.com/books?id=OydaAAAAMAAJ&source=gbs_book_similarbooks
NY Times review April 23 1911 https://www.nytimes.com/1911/04/23/archives/memories-of-a-manager-mr-daniel-frohman-discourses-of-the-old.html
He also wrote Daniel Frohman Presents An Autobiography http://books.google.com/books/about/Daniel_Frohman_presents.html?id=lDoOAAAAMAAJ

Wikipedia http://en.wikipedia.org/wiki/Daniel_Frohman
Gustave Frohman (c 1854-1930) Detroit, May 15, 1896 Gustave Frohman is an enthusiast on the subject [of bicycles], and I think will kill himself overdoing the thing.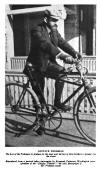 Gustave Frohman
New York, Nov. 29, 1895 By today's Herald I see that Chas Frohman is going to put John Drew in Palmer's Theatre on Jany 6th, and that I guess has given rise to the report that he was trying to get a theatre to put us in on January 6th, but I guess we will have to go to Brooklyn and Harlem and dear knows where! before getting to Boston when we are to stay for a "run" (4 weeks I guess)
Wikipedia http://en.wikipedia.org/wiki/Gustave_Frohman
North American Theatre Online has no entry for Gustave Frohman but there are a number of mentions of him
Oscar Hammerstein (1846-1919) We have a program from Hammerstein's Harlem Opera House, week of Jan. 24, 1895 with Olga Nethersole playing in Camille.
Wikipedia https://en.wikipedia.org/wiki/Oscar_Hammerstein_I
Hammerstein, Oscar Andrew, The Hammersteins: A musical theatre family, Black Dog & Leventhal Publications, 2010 "Oscar Hammerstein I popularized opera, the musical of his day. With an eye for the scandalous and the new he launched the morally modern, daring French opera repertoire. He reshaped traditional opera to provide both fine acoustics and a more intimate, dramatic, realistic experience. ...He died penniless but he left New York City infinitely richer for his efforts. ...Without Oscar I, there would have been no Oscar II. (1895-1960 https://en.wikipedia.org/wiki/Oscar_Hammerstein_II of Show Boat, with Jerome Kern and Oklahoma, Carousel, South Pacific, The King and I and The Sound of Music, with Richard Rogers. Grandson of Oscar I.

Al Hayman (1847-1917) Partner of Charles Frohman, who provided the financial backing behind the successful producer, and enabled them to build the Empire Theatre in New York in 1893. "Hayman's decision to leave artistic matters to Frohman and to allow Frohman lone public credit for productions mounted largely with Hayman's money meant that to playgoers he was little more than a shadowy figure. His fiscal acumen, however was such that he left an estate of $1,692,815, while his more visible partner, Frohman, left behind a mere $451." Oxford
NY Times Aug 11 1911 Al Hayman Quits Theatrical Field Al Hayman for more than twenty years has been one of the big men of the theatrical business in America. His name was seldom seen in connection with the theatrical companies and to the general public he was almost unknown, but within the profession and particularly on the financial side , he has been a factor of greatest importance. Mr. Hayman is known to be the wealthiest individual the theatrical syndicate and he has been recognized as a careful and skillful investor. It was in 1883 that Mr. Hayman began to make a fortune in the theatrical business. He went to San Francisco in that year, when railroad fares were high and transportation was difficult, and leased the Baldwin Theatre, built by "Lucky" Baldwin, and then unoccupied. He became a producing manager, organizing companies and bringing attractions from the East. Six years later [1889] he began operations in New York. https://www.nytimes.com/1911/08/11/archives/al-hayman-quits-theatrical-field-wealthiest-member-of-the-syndicate.html EJ Phillips was in San Francisco in 1883.
San Francisco, Aug 14, 1886 Well, it is now decided that we do not go to Los Angeles. We play here five weeks, that is three more after this which ends tonight, a week in Sacramento, and then Salt Lake and Denver and Omaha. That ends our engagement under the management of Al Hayman.
Boston, 1888 When [Al] Hayman the California manager sees the casts of the plays [going to California] I think he will be justified to "Kick". I cannot imagine what
A.M.P[almer] is about!

Wikipedia http://en.wikipedia.org/wiki/Al_Hayman
Joseph Humphreys (1861-1904) A clerk in a dry-goods store and employed by several circuses before becoming a character actor and director for the Kirally brothers. In 1889 Charles Frohman put him in charge of casting all Frohman productions (except for their stars) and made him his house director. His briskness and firmness antagonized many performers, but Frohman admired his work and kept him at this post until his death. Bordman Oxford Companion
EJ Phillips seemed to share Frohman's opinion and speaks well of him . Philadelphia Mar 1894 A colleague mentions an interview with Mr. Humphreys at the Empire Theater; New York, Aug,.30 1895 "I like my new stage manager Mr. Humphreys very much in that he is very thorough and energetic and puts on no airs. He has done more in three days with his play than the Hollands and Mansfield combined did in five weeks. We have no waiting at rehearsals. We begin on time and get through without any trouble. Best stage Management I have seen since Union Square days."
Gay Parisians program, Chestnut St. Theatre, week beginning Mon. Dec. 14, [1896] Produced under the Stage directions of Joseph Humphreys
NY Times obituary May 22 1904 DHumphreys died at sea sailing from Southampton to New York, shortly after passing Nantucket. "Charles Frohman's right hand man for fifteen years" https://www.nytimes.com/1904/05/22/archives/joseph-humphreys-dies-on-st-louis-passed-away-when-liner-was-within.html
Henry C. Jarrett (1828-1903) Joined AM Palmer in 1874.

Omaha June 1890 "We are a very agreeable crowd -- no complaints & no bickerings. Mr. [HC] Jarrett has done everything to make us comfortable and is a pleasant travelling companion"

Tacoma June 1890 "Yes, I think there was an effort made by Mr. [H.C.] Jarrett to have the train stop at Middletown. I had told him, and also the conductor who helped Neppie up on the steps, that I was very anxious to see you as I was going so far away ... Crane & Co played here last week and yesterday met them halfway between here and Portland. Both companies got out of the cars, and each greeted the other very warmly and ended in singing "Auld Lang Syne" in a very high key. It was very funny, and was thoroughly enjoyed by ourselves, as well as the natives, the latter looking on in blank amazement, but I do not think there were a quarter of the number Mr. Jarrett gives in his interview with the newspaper reporter. I think 40 would be nearer the mark than 400."

NY Times obituary Oct 16 1903 "In his day Mr.. Jarrett achieved wealth and fame and by bringing out a number of productions which set the country talking and he applied to his business methods which through their daring originality attracted universal attention in those days and have scarcely been surpassed in these. . Brought out the Black Crook a spectacular extravaganza from which he and his partner are said to have cleared $1,100,000 in a little more than a year. When the costly and dashing production began to wane on the public Mr. Jarrett through some subtle method succeeded in setting on foot a great controversy regarding the play in he newspapers -- clergy men writing in denunciation of it as immoral and others defending its great beauty ... In 1859 he ventured to produce Uncle Tom's Cabin in his native city Baltimore. Maryland was then a slave state and the audience drove the actors from the stage and wrecked the scenery. https://www.nytimes.com/1903/10/16/archives/death-of-henry-cjarrett-some-of-the-exploits-of-a-daring-theatrical.html
The Black Crook, http://www.musicals101.com/1860to79.htm

Benjamin Franklin Keith (1846-1914) Theatrical manager, started out in the circus business, expanding to become a vaudeville proprietor and promoter, inducing legitimate stage stars to appear and greatly increasing salaries. DAB Wikipedia http://en.wikipedia.org/wiki/Benjamin_Franklin_Keith Dictionary of American Biography
New York March 1893 "In today's Herald you will see an article stating that B.F. Keith of Boston will take charge of the Union Square Theatre on April 8th. That is the end of our present engagement, but Mr. Keith & Mr. [Ramsey] Morris are in negotiation to continue Joseph for an indefinite run."
Bernard Macauley (1837-1886) Actor-manager, mentioned by John Nickinson in May 19, 1863 letter to EJ Phillips, who went to his funeral in New York April 2, 1886
Macauley became leading man at Pike's Opera House in Cincinnati in 1863 and entered management in partnership with John Miles of Cincinnati (1868-1872). "Macauley espoused the 'artistic' theatre and indicated a repugnance toward the 'commercial', but he was also a part of the 'commercial' theatre ...it was Macauley's goal to present productions of superior quality, and he felt that the stock system was the best method. While he had made a $100,000 profit in two years in Cincinnati, he ended up near bankrupt with his Louisville theatre, though he continued to be a prominent actor. He died in Bellevue Hospital, New York City. Durham 1986.
T Allston Brown's History of the American Stage, published in 1870 says that Macauley was "at present manager of Wood's Theatre, Cincinnati, Ohio."
The Kentucky Encyclopedia http://books.google.com/books?id=8eFSK4o--M0C&dq=Bernard+Macauley+died+theater+OR+theatre&source=gbs_navlinks_s says Macauley's Theatre opened in Louisville in 1873. Macauley first worked at theatres in Buffalo and Memphis and began acting in Louisville in 1861 while managing a theatre in Indianapolis, and settled in Louisville in 1866. Macauley's brother Col. John T Macauley took the theater over in 1880.
His brother Daniel, a Civil War general moved to Indianapolis in 1860 and served three terms as mayor. http://indianapolis.about.com/od/landmarkslegends/a/IrishInIndy.htm and managed the Academy of Music Theater in the 1870s https://www.ben-hur.com/dan-macauley/ https://en.wikipedia.org/wiki/Daniel_McCauley
Younger brother, "Colonel" John T. Macauley (1846-1915), managed the box offices of theaters in Cincinnati and Indianapolis before settling in Louisville with his wife, Annie Amelia Kirlin Macauley, and their two daughters, Rachel and Mary Margaret. John took over management of the theater in September 1879, and bought it from his brother when Bernard fell into financial difficulties. In keeping with nationwide trends in theatrical productions, the resident stock company was replaced by traveling artists, who promoted their performances by sending portraits to the theaters they would visit, to be included in advertisements and press releases. Often they would autograph or inscribe their portraits to John Macauley or other theater employees, who would hang them on the walls of the theater's lobby. About the Macauley Theatre Collection http://digital.library.louisville.edu/cdm/description/collection/macauley/
photo University of Louisville B Macauley Collection http://digital.library.louisville.edu/cdm4/item_viewer.php?CISOROOT=/macauley&CISOPTR=211&CISOBOX=1&REC=1
Steele MacKaye (1842-1894)
Cambridge History of English and American Literature, The Drama 1860-1918, Steele MacKaye http://www.bartleby.com/227/1112.html
Buffalo's Steele MacKaye The Father of Modern Acting http://www.buffalohistorygazette.net/2011/06/buffalo-steele-mackaye-of-modern-acting.html tells of MacKaye's work with Buffalo Bill Cody, his involvement with the Columbia Exposition of 1893 and more.
Wikipedia http://en.wikipedia.org/wiki/Steele_MacKaye

MacKaye doesn't show up in these letters, but was certainly around New York during their time. Lewis Strang in Players and Plays writes that he "became a New York manager in the spring of 1879 when he opened the Madison Square Theatre on the site that had been occupied by Augustin Daly's Fifth Avenue Theatre, which had burned on Jan. 1, 1873. When MacKaye took the place it was known as Minnie Cummings's Drawing Room Theatre, and burlesques were given there... MacKaye spent the entire fall and most of the winter in remodeling the place and in installing the famous double stage, his own idea, which, however, never proved of much practical use. .. He engaged a company ... Inasmuch as the theatre was not ready for occupancy, these actors were sent on the road as the Madison Square Theatre Company, but no one had ever heard of any such theatre, so the name did not county for anything... " Hazel Kirke" was produced in New York at the reopening of the rebuilt Madison Square Theatre on February 4, 1880 ... The plan was to run it six weeks, but the critics condemned it on the opening night and business declined rapidly ... Then for some unaccountable reason, "Hazel Kirke" took a sudden turn. The size of the audiences increased, and in a short time it was a case of crowded houses at all performances. The run of "Hazel Kirke" continued until May 31, 1881, when it was withdrawn after its four hundred and eighty-sixth consecutive performance, during which time Rose Coghlan had drawn eight thousand dollars in salary as a member of the company without having made a single public appearance."
Marcus Mayer died 1918 at 76 [born c1840]. His May 9 1918 New York Times obituary said he was born in San Francisco and had worked for the Pony Express and Wells Fargo and edited a San Francisco newspaper. With Henry E Abbey he managed the first American tour of Sarah Bernhardt, and also managed Adelina Patti, Edwin Booth, Lilly Langtry and Henry Irving. https://www.nytimes.com/1918/05/09/archives/marcus-mayer-dies-once-noted-manager-director-of-tours-of-patti.html

Sept 1894 Philadelphia "I am trying through Marcus Mayer to get with the new English star, Miss Olga Nethersole -- who plays legitimate roles -- and is to a certain extent under the management of [Augustin] Daly."

Jan 1895 Montreal "Last night Miss Nethersole & [Marcus] Mayer gave a little supper tot he Company at the Window Hotel , and I went, and it was nearly 2 AM when I got back to this hotel. A nice way for an old lady to begin the New Years."
March 1895 Detroit "Marcus Mayer was here on Monday night and as he had just arrived from California where he had been with the Gaiety Girl I thought he would remain with us, but he left that night for New York so I could not speak to him about business"
March 1895 Boston "I have nothing arranged for next Season yet. Had a talk with Marcus Mayer, who told me he had not settled for anything for next season, but if he had anything he would give me an engagement".

producer and manager (c. 1847-1918) BE WWT
Letters to Augustin Daly, Folger Shakespeare Library https://collections.folger.edu/detail/mayer-marcus-l-autograph-letters-signed-from-marcus-l-mayer-london-to-augustin-daly/c73f9e3c-8b6f-48d3-966e-e0270cc40e7b
1894-1895) from Mayer, Marcus L., (ca. 1832-1903). 3 aut. let. sig. from London. (1) mentions Sarah Bernhardt and (3) discusses her contract with him
James Hubert McVicker (1822-1896). McVicker was a Scotsman and a comedian. On May 2, 1848, he appeared as the "First Low Comedian" in a theater owned by James B. Rice. Rice would later become Mayor of Chicago. McVicker worked in France and England and owned a stock company of actors in the U.S. He is best known, however, by the theaters he owned. In 1857, he built a theater on Madison St. west of State. It cost $85,000 and was completely equipped including a drop curtain that depicted the railroad bridge connecting Rock Island with Davenport. The curtain was considered by many a work of art. From opening night, until its destruction in the Great Fire of 1871, the stage was visited by the finest actors and the best musicians. His second theater was built in 1871 and was destroyed in the Great Fire nine weeks after opening night. After the fire, he spent $200,000 to build the Theater Ludlow. Sarah Bernhardt on her first American tour appeared at McVicker's Theater. In 1862, John Wilkes Booth achieved personal success in Richard III. His [McVickers'] daughter, Mary, was a popular performer starting at the age of ten. When she was 18, she married Edwin Booth the brother of the assassin. She died in 1881, childless, and 33 years of age. At the death of Lincoln, the City chose a Committee of One Hundred to be at the funeral in Springfield. James McVicker was one of the men chosen to represent the City. http://www.chicago-scots.org/clubs/History/Names-McD-Mu.htm
Ramsey Morris Died 1917
Philadelphia June 22, 1892 You probably will be surprised to learn I have made an engagement away from Mr. Palmer, with Mr. Ramsey Morris, a stock company to travel. Season to begin Oct 17th to last 30 weeks and possibly 5 weeks additional. I have been negotiating with him for several weeks and on Monday signed the contract. Mr. Palmer's season does not begin before Decr and possibly January. Mr. Morris got Mr. Palmer's consent to address me which makes me think Mr. Morris is in a way working for Mr. Palmer.
Philadelphia, June 27, 1892 Mr. Ramsey Morris was with us in our late visit to Chicago. Paid salaries and procured tickets for our return. I was introduced to him there. He is said to be an excellent business man. Has been with the Frohmans for some time. He obtained Mr. Palmer's consent to address me about the engagement. It is to be strictly a Stock Co, no stars. Mr. [John] Glendenning, Mr. [George] Giddens and Mr. [Reub] Fax are engaged. The two latter have been with Mr. Palmer and there was talk of the former being engaged by him.
The first play is to be Joseph which I am sure Mr. Palmer was going to produce sometime ago. All these things tend to make me believe AM [Palmer] is at the back of it, but for various reasons does not wish to make it known and you need not mention my ideas about it outside your own house, but I think you will find we shall follow Bronson Howard's play at Palmer's Theatre at the end of its run there with Joseph. The Co is to be first class in every respect, play in first class theaters &c,&c.
Obituary http://www.fultonhistory.com/Fulton.html Syracuse NY Daily Journal Nov 11 1917
Nym Crinkle on Ramsey Morris 1889 http://fultonhistory.com/Newspaper%2010/New%20York%20NY%20Dramatic%20Mirror/New%20York%20NY%20Dramatic%20Mirror%201888%20Dec-Aug%201890%20Grayscale/New%20York%20NY%20Dramatic%20Mirror%201888%20Dec-Aug%201890%20Grayscale%20-%200097.pdf
AM Palmer's

Union Square Theatre Stock Co. 58 E. 14th St.; The last play put on by Palmer was in 1883, and the company was disbanded in 1885. The theatre burned in 1888, was rebuilt but never re-established as a serious theatre, and demolished in 1936.
AM Palmer's Madison Square Theatre Stock Co Augustin Daly managed 1869-73 (burned down). Rebuilt in 1877; Steel MacKaye renovated and renamed in 1879 (first use of gas lights and folding chairs). A. M. Palmer managed 1885-1991. The Shuberts took the lease in the early 1900's. http://www.ibdb.com/venue.asp?ID=1248
Stanford White's Madison Square Garden Theatre 1890
New York, Feb. 19, 1886 Well I had a talk with Mr. Palmer yesterday. I am to be a member of his theatre so long as he has one - and the company goes to Boston 1st of May for four weeks soon afterwards to Chicago for four weeks and from there to San Francisco to open on the 2nd of August for six or seven weeks. That is the future programme as far as I know it. Salary not raised I am sorry to say - but the present might be less. And I am grateful to get what I do.
New York, Apr. 9, 1886 Had a talk with Mr. Palmer. Today we have not anything after Boston but go directly to Utica for two nights and probably finish that week in Buffalo, thence to Chicago for seven weeks - then to far distant San Francisco.
Chicago, July 21, 1886 Direct your letters to Baldwin's Theatre, San F'co % A M Palmers Co. He is beginning the Wallack and Daly style.
San Francisco, Aug. 4, 1886 The business is not yet settled as to route after we leave here - and I hear we stay here for five weeks. Mr. Palmer who with his wife & sons [Palmer's stepsons had taken his name] and Mrs. [Jennie June] Croly is still here, wants to send us back by way of Portland Oregon to play in Portland, St Paul, Minneapolis &c instead of Los Angeles - Virginia City, Denver, Salt Lake &c.
Palmer's Theatre Manhattan walking tour map Broadway & 30th, later (1891) Hoyt's Theatre, Union Square Theatre, Wallacks' Theatre (third) Broadway and Thirtieth Street (just south of Greeley Square)
New York, Nov. 23, 1891 Mr. Palmer is no longer the manager of the "Madison Square" Theatre on 24th Street, all his attention is now devoted to "Palmer's" Theatre, 30th and B'way.
Wikipedia http://en.wikipedia.org/wiki/Albert_Marshman_Palmer more on AM Palmer
AM Palmer "Why Theatrical Managers Reject Plays" Forum July 1893 pages 614-620 http://books.google.com/books?id=ZKHUzNaLXIIC&dq=why+theatrical+manager+reject+plays+forum&source=gbs_navlinks_s
Ryan, Pat M. AM Palmer, Producer: "A study of management, dramaturgy and stagecraft in the American Theatre 1872-1896, DFA Dissertation, Yale University 1959
Catalogue of the Library of the late Albert M Palmer to be sold at auction 1906 http://archive.org/details/cu31924029548959
Samuel N. Pike (1822-1872) Builder of Pike's Opera House in Cincinnati (where John Nickinson had been stage manager at the time of his death in 1864), and of the Grand Opera House in New York which opened in 1868. [Kings NYC] EJ Phillips New York Dramatic Mirror obituary (1904) says that after a short period of service in minor roles she [EJ Phillips] became the leading woman of the Pike company in Cincinnati. There was also a Pike's Opera House in New York.
Samuel Pike http://pre-prowhiskeymen.blogspot.com/2018/01/sam-pike-riches-from-whiskey-and-song.html

NY Times obituary Dec. 8,1872 https://www.nytimes.com/1872/12/08/archives/obituary-samuel-n-pike-the-derby-collection-of-paintings-close-of.html
Dec 13 1872 Pike's Funeral https://www.nytimes.com/1872/12/13/archives/funeral-of-the-late-samuel-n-pike.html Sheridan Shook was a pallbearer.
One story comes to us through Barbara Dolman Spencer's essay about the quilt squares made by EJ Phillips on long train trips, as told to her by her grandmother Hattie Nickinson Dolman. The striking piece of silk, near the center [of the quilt], the light to dark lavender brocade, has perhaps the most interesting history of all. It was a ball gown worn to a reception in Cincinnati for the Prince of Wales, later Edward VII, in about 1861. When Mrs. Phillips was playing at Pike's Opera House Mr. Pike brought the dress to her saying it was too conspicuous for his wife to wear often, and if Mrs. Phillips could use it, she might have it.
Eugene Presbrey (1853-1931) Stage director and manager for the Madison Square Theatre Company and Palmer's Theatre (1883-1896) and acted in Jim the Penman, Captain Swift, Aunt Jack Alabama and many other plays. "He was primarily a play constructor with all the tricks of his trade in his head and at his fingers' ends, and it is doubtful if he ever contributed anything original to the stage." He married Annie Russell in 1884. She divorced him twelve years later (1896). Presbrey went to California in 1913 and was an advisor to Hollywood movie studios. He was a water color and portrait painter who also designed and built yachts and collected marine and land shells. [Dictionary of American Biography Presbrey was 30 in 1883.

Houghton Library, Harvard Theatre Collection MS THR 456
Denver Sept 1886 "an observation car was put on at the back of the train on which a great many passengers and nearly all our company took seats to view the "Black Canyon" – it was so cold that I would not go, but returned to our sleepers, in which remained Mr. and Mrs. [Eugene and Annie Russell] Presbrey, the latter still in bed, .... About one hour passed when suddenly our car began to shake and bob around like a street car off the track jumping over the stones – the porter said "Something wrong", ran out and Mr. Presbrey looked through the window and said the observation car is off the track. "
New York Jan 1892 "Mr. Presbrey always likes to hurry us in getting ready and so tells us it will be done by the 1st of Feby. "

Boston Sept 1887 "I received a letter from Mr. Presbrey on Tuesday Eve. He had called at the Sturtevant House to see what they would ask for a room heated and board for me for the winter. Their terms would be $28 per week. Too steep for Mama!
New York, Feb. 14, 1890 No rehearsals yet. I asked Mr. Presbrey on Wed'day when [Ibsen's] Pillars of Society would be rehearsed. He said he didn't know.
Sheridan Shook (1828-1899) Politician, theatrical manager and brewer.

The "tasteful, elegant, and ample" Union Square Theatre in the center of the Union Place Hotel, on 14th Street, on the south side of Union Square, between Broadway and 4th Avenue, was designed and build by architect HM Simons for brewer-politician [and AM Palmer partner] Sheridan Shook. It began as a theater for "reputable burlesque and vaudeville" in 1871, but AM Palmer renovated and "transformed it into a home of legitimate drama" where it served as the home of the Union Square Theatre Stock Company from 1872-1883. AM Palmer's [second] wife was first married to Sheridan Shook.
Shook and Palmer became partners in 1872 (Kings New York City)
Sheridan Shook Association picnic July 9, 1887 https://www.nytimes.com/1887/07/08/archives/sheridan-shook-picnic.html
NY Times obituary April 27 1899

Obituary and drawing https://www.findagrave.com/memorial/137700353#view-photo=111695548
Wallacks The third Wallack's Theatre in New York opened on January 4, 1882 and was on Broadway and Thirtieth Street (just south of Greeley Square). Lester Wallack's management ended in 1887 and the stock company was disbanded in 1888. This was the longest continuously operating stock company in New York. Earlier Wallacks had been on Broadway near Broome Street (Soho) from 1852-1861, and then Broadway at Thirteenth Street (just south of Union Square) from 1861-1881. Owen Marlowe [Virginia Nickinson's husband] and Mrs. Charles Walcott [Isabella Nickinson] were members of Wallack's Theatre Company. more
EJ Phillips was at one time in Lester Wallack's company and figured notably in an old lady character in the notable production of Rosedale [or The Rifle Ball by Edward Bruce Hanley, adapted by John Lester Wallack Jan 1881-Mar 1894]" from Marie Burrough's Art Portfolio of Stage Celebrities 1894.
Lewis Strang writes in Players and Plays that "the ruling influence in the America theatre for many years was Wallack, father and son. The elder Wallack was an English actor and naturally disposed to favour English dramatic products, and Lester Wallack followed unfalteringly his father's footsteps. It is reported by many that it was almost an impossibility to get Lester Wallack to read, much less to produce, an American play. Occasionally, when the pressure became too strong for him decently to resist, Wallack would bring out an American play, thereby proving, to his own satisfaction at least, the reasonableness of his contention that American plays were worthless.; for when he did produce an American play, Wallack had a faculty of making it the worst American play that his collection contained."
Lester Wallack (1820- 1888)




Memories of Fifty Years (1889) http://books.google.com/books?id=ZOstAAAAYAAJ&dq=Memoirs+of+Fifty+Years+wallack&source=gbs_navlinks_s includes a photo of Charles Peters, husband of Eliza Nickinson
Sarony photo http://luna.folger.edu/luna/servlet/detail/FOLGERCM1~6~6~276616~119759:Lester-Wallack--in-the-character-of
Wikipedia http://en.wikipedia.org/wiki/John_Lester_Wallack
James. W. Wallack, Sr. had opened his own theatre, Wallack's in New York in 1852 and was sixty-five years of age when he played an engagement of three nights at the Royal Lyceum [Theatre, Toronto] in July, 1856. As Benedick in Much Ado about Nothing, he had lost none of the fire of his youth, according to the Leader, but he was in fact nearing the end of his acting career, and was to retire from the stage three years later. [Shortt].
Robertson's Landmarks of Toronto 1894 http://books.google.com/books?id=gVkRAQAAMAAJ&vq=nickinson&dq=robertsons+landmarks+of+toronto&source=gbs_navlinks_s says that John Nickinson induced James Wallack Sr and Jr. to come to Toronto after becoming manager of the Royal Lyceum, having been friends with Wallack Sr. in New York. While in Toronto Wallack played Benedick to Miss Nickinson's Beatrice in Much Ado about Nothing.
Wallack, Lester Memories of Fifty Years, Scribners 1889 http://books.google.com/books/about/Memories_of_fifty_years.html?id=ZOstAAAAYAAJ
Wikipedia http://en.wikipedia.org/wiki/James_William_Wallack c1794-1864
James W Wallack New York Times obituary May 25 1873 in his 55th year [c1818] https://www.nytimes.com/1873/05/25/archives/obituary-james-william-wallack-the-late-joseph-fagnani.html
May 26, 1873 https://www.nytimes.com/1873/05/26/archives/the-late-mr-wallack.html
May 28, 1873 funeral
https://www.nytimes.com/1873/05/28/archives/the-last-of-earth-funeral-of-the-late-james-w-wallack-the-actor.html

James Sr and Lester Wallack image https://dp.la/item/5b58ee232533be3e9d7f541b4fd3a9e3

Wallacks Theatre http://daytoninmanhattan.blogspot.com/2012/09/the-lost-1861-wallacks-theatre-broadway.html

The Wallack John Nickinson was referring to in 1859 as "like myself, on the sober tack" seems to have been James Wallack Sr.
George Wood (c. 1823-1886) manager CDP Mrs. Wood was left a widow with 3 sons and a mother to support in May 1886. EJ Phillips visited her in New York at 45th St. for Christmas 1890). The boys went to Girard College in Philadelphia.
Perhaps John Nickinson and EJ Phillips knew the Wood family from Cincinnati. Hownblow's History of the Theatre in America described Wood as a Cincinnati manager who leased what had been Brougham's Lyceum in 1864 and reopened it as the Broadway. Under the new management, the theatre regained much of its former prestige and many prominent stars appeared on its boards, among other ...Edwin Forrest in Virginius with Barton Hill and Maggie Mitchell.
Wood also brought Lydia Thompson and her British Blondes to New York. Horrible Prettiness, Burlesque and American Culture, Robert C Allen, 1991
NY Times obituary May 18 1886 "George Wood one of the oldest theatrical managers in the country" His second wife was Henrietta Grainger, an Australian actress. His career was described as "sufficiently full of ups and downs to satisfy even his longing for variety. ... in his prime made and lost money with apparently equal facility, both East and West." Woods introduced Lydia Thompson to America and was a business associate of PT Barnum. Mrs. Woods was "a chorus singer in [JC] Duff's Mikado company until her husband's precarious health demanded her full attention." https://www.newspapers.com/clip/10034184/george_wood_theatrical18_may_1886_ny/
Theatrical Training
The stock company system provided theatrical training by affording young actors the chance to play many different roles under the tutelage of their more experienced elders. The rise of the star system and decline of the stock companies influenced the demand for more formal training.
Dion Boucicault spent most of his last years teaching at a drama school established by AM Palmer. "The gentlemen were for the most part, awkward, stiff and slow, the girls graceful, quick and refined. Among the lady students we found twenty-two who aspired to be Juliets and Paulines and Parthenias, and one who consented to play old women. When faced with this result Mr. Palmer could not refrain from quoting Falstaff's bill of fare "Two gallons of sack for one half penny worth of bread!" D. Boucicault "My Pupils" North American Review 148 November 1888:435-440.
Buffalo, Dec. 20, 1892 I had a letter from Aunty [Christine Zavistowski] yesterday and she was telling me a young lady from M [iddle]'town was taking lessons from Uncle [Antonio Zavistowski] for the Highland fling which she would teach in Middletown. Aunty wanted Uncle to write you but he said if you knew he could do anything in M'town that you would write to him. I wrote for her to send Uncle to see you. That I knew you would be glad to see him & give him a night's lodging and a good meal. The young lady learning the Highland fling said she knew you and was getting up an entertainment for which she was to receive $300. I think Uncle would have instructed a class for less money.
Philadelphia Pa, 5-30-94 I would finish my visit soon as the 8th of July was over. I expect to give acting lessons to a young lady for a few weeks, and that will be the only thing to detain me. How long she may want to take them, I do not know. It will depend upon how she succeeds. She thinks it is easy work, and she was surprised to find there is as much work and fun in it. She is over thirty, rather late to begin.
3219 Clifford St, Phil Pa, June 15th 1894 I of course wanted to be with Albert for his birthday, but the young lady I told you of -- who is anxious upon my teaching her -- we began lessons last Wednesday, and the second lesson took place yesterday. She is to come regularly on those days and said yesterday that, perhaps after this week, she would come oftener.
She is willing to pay, and I need the money. She has begged me not to go away but to stay and give her lessons so I shall have to ask you to excuse me -- for not fulfilling my promise for the present but will, I hope be able to stay longer when I do come.
Another lady is to call on me this week -- who lately made her appearance in Palmer's Theatre NY in the Lady of Lyons. The newspapers were very severe on her, but it has not made her afraid. She thinks she has talent and is going to try it again. Whether she will want me to give her lessons or not I do not know, but when she calls -- and if so, that will add to my income a little. She has wealth.
Philadelphia, Aug. 12, 1894 I still have my one pupil, but she has missed several lessons on account of the weather, and consequently my income from teaching is as yet a small one, but if nothing turns up, I shall endeavor to get some other pupils when the hot weather is over and try to earn my salt, if I cannot get enough for bread. I did not expect this state of things so soon and feel it very seriously, but what cannot be cured must be endured.
Bibliography
Daly, Joseph Francis, Life of Augustin Daly 1917 http://books.google.com/books?id=tDiXujfEbgoC writes of the number of actors who defected from Daly's to Palmer's.
Felheim, Marvin, The Theater of Augustin Daly, Cambridge: Harvard University Press, 1956 http://www.amazon.com/Theatre-Augustin-Daly-Nineteenth-American/dp/0837122090
Forbes-Winslow, D. Daly's, the Biography of a Theatre. London: W.H. Allen [1944].
Frohman, Daniel, Daniel Frohman Presents, New York, C. Kendall & W. Sharp 1937
Frohman, Daniel, Memories of a Manager Reminiscences of the Old Lyceum and some players of the last quarter century, 1911 http://books.google.com/books?id=OydaAAAAMAAJ&dq=inauthor:%22Daniel+Frohman%22&source=gbs_navlinks_s
MacKaye, Percy, Epoch: the life of Steele MacKaye, genius of the theater, in relation to his times & contemporaries; a memoir by his son. New York Boni & Liveright 1927
Manzella, Abby, Looking at the Business of Theater 1896-1919, Univ. of Virginia, 2000 http://xroads.virginia.edu/~HYPER/INCORP/theatre/theatrehome.html
Marcosson, Isaac F. and Daniel Frohman Charles Frohman: Manager and Man New York: Harper Brothers, 1916
http://books.google.com/books?id=0o8ZAAAAYAAJ&dq=inauthor:%22Daniel+Frohman%22++Charles+Frohman:+Manager+and+Man&source=gbs_navlinks_s
Palmer AM "Why Theatrical Managers Reject Plays" Forum July 1893 pages 614-620 http://books.google.com/books?id=ZKHUzNaLXIIC&dq=why+theatrical+manager+reject+plays+forum&source=gbs_navlinks_s
Ryan, Pat M. AM Palmer, Producer: "A study of management, dramaturgy and stagecraft in the American Theatre 1872-1896, DFA Dissertation, Yale University 1959
Wallack, Lester Memories of Fifty Years, Scribners 1889 http://books.google.com/books/about/Memories_of_fifty_years.html?id=ZOstAAAAYAAJ
Relevance of the Syndicate 2009 http://theatreideas.blogspot.com/2009/02/relevance-of-syndicate.html
Theatrical Syndicate, Wikipedia http://en.wikipedia.org/wiki/Theatrical_Syndicate Theaters in the United States 1858 from Rede's Guide to the Stage
http://links.jstor.org/sici?sici=0030-8129(194606)61%3A2%3C522%3APAPSNC%3E2.0.CO%3B2-V
Last revised Feb 12, 2020
Homepage A to Z Index Bibliography People Places Plays About these letters About EJ Phillips Chronology