Homepage A to Z Index Book outline People Places Plays About these letters About EJ Phillips EJ Phillips Facebook Fan Page

Buffalo, New York

1890 1891 1892 1895 Buffalo tour Buffalo train stations Niagara Falls Rochester 1894 Syracuse Troy
EJP's Buffalo Google Map http://maps.google.com/maps/ms?ie=UTF8&hl=en&msa=0&msid=202426891661796490166.000499247fc2c944ecea6&ll=42.884471,-78.875163&spn=0.01066,0.027788&z=16
John Nickinson played in Buffalo in the early 1850s while he was based in Toronto. He also tried to arrange for jobs there 1859-1861 after the Royal Lyceum closed. EJ Phillips visited Buffalo in the 1890s with AM Palmer and then Olga Nethersole and the Gay Parisians. Mary Glen visited friends in 2005 en route to Toronto for a conference
previous: Chicago Sept. 1890

HOTEL IROQUOIS [Main & Eagle Streets]
Buffalo, N.Y.
Sept 29th, 1890
My dear daughter Neppie,
We were 9 hours late owning to a terrible smash up of two freight trains early this Morning as we were coming through Canada. One train waited at a place called Bismarck from about 4 AM until 1 PM.
The accident occurred about 3 miles ahead of us and it took all that time to clear away the debris so that trains could use the tracks. We saw the remains of the locomotives and the heavy iron wheels were bent as one might bend a knitting needle. We were told that a conductor of one of the trains was killed, and again we heard that no one was hurt. I hope the latter was true.
It made it very late for us and I feel very sorry for those who have to play tonight. The bill being Aunt Jack, I am exempt, so I thought I would write a few lines to you and Hattie before retiring. I am glad you are feeling so well. It is a good symptom.
I cannot tell you yet which way we go home. First I heard it would be by New York Central, but the latest is that we go by the Erie, and can either leave here on Saturday night or Sunday Morning.
I shall choose Saturday night, if it is settled to go that way and will try and stop over Sunday to see you. Do not make any fuss or preparations for me. Bread & butter and a glass of milk is all I want.
Mr. Palmer is here and I suppose will be here until after rehearsal on Friday, which he himself is superintending. Do not yet know whether there is a second piece for the opening of the home theatre or not. I am not in the chief one which is called A Pair of Spectacles. I play tomorrow night and Wed'day and Saturday nights. You see I am not having it so easy these three weeks as I anticipated. I am feeling stronger and better again, and under the circumstances do not mind work. With love to all and Kisses for my dear children I remain Your loving Mother
HOTEL IROQUOIS
Buffalo, N.Y., Octr 3rd 1890
My dear Son,
I am sorry you had to leave [very pregnant] Neppie on Wednesday but under the circumstances you could not very well avoid it, but she must have felt very nervous at your going away. However I suppose her Aunt being with her would make her comfortable, and I hope you got back safe and sound yesterday and found her all right. I shall be glad when I know she is all safe again. You ought now to have a nurse with her, I think. Give her my love and best wishes for a speedy recovery.
Yesterday I took a run over to Hamilton, Ontario [Canada, where her parents were buried] to see about the condition of the cemetery lot. I found it in very good state after an absence of 15 years, but my old friend, Mrs. Mallett was gone, having died in 1884 & her husband in 1883. I found one of his daughters and had a chat with her, and that is the only person I met whom I had ever seen before. Made me feel rather sad. With love and Kisses from your loving Mother
The Hotel Iroquois and Grover Cleveland play a central role in the plot of the novel City of Light, though EJ Phillips encounter with Grover Cleveland was under quite different circumstances.
Hotel Iroquois http://www.buffaloah.com/h/iroqH/index.html
next: Babies: Ted Nickinson Oct. 1890
previous: Baltimore 1891
The Genesee
Buffalo, May 15th 1891
My dear Son,
Glad you and Neppie had such a pleasant time at the concert. Did you assist or were you merely a spectator? Edward is a good little boy to let his mama have a little recreation. Has he cut a tooth yet? [He was 7 months old.] In a letter from Hattie this Morning she tells me that Mabel [Law, child of Nellie Dolman Law] has not yet cut a tooth and she will be 9 months old on the 27th. That is late.
All arrangements are made for my taking 10:35 train Saturday night for Philadelphia. The rest who go to New York will leave on Sunday AM. The Alabama cast leaves also on Monday Morning for Chicago, to be there three weeks and on the 13th of July they leave New York for Portland, Oregon. That is all I know about business.
If you want a printer or Press cleaner I am at liberty to take an engagement. Think the latter position would please me best or rather I should be best suited to it.
I cannot say when I can spend a month with you. I hope to see Neppie and, you, if possible in Philadelphia first. All will depend upon how well Hattie behaves in getting through the coming ordeal [childbirth]. She writes she is not at all nervous, only weighty.
Business has not been very good. There was great enthusiasm here the early part of the week over Grover Cleveland. Would like him to appear here for a benefit for me. He is a great favorite in the City. With Love and Kisses for my darling children Neppie, Edward & Albert from their loving Mother
Hattie was pregnant with Elizabeth Ellen Dolman.
next: Elizabeth Ellen Dolman May 1891 previous: Hartford Nov 1892
AMERICAN HOUSE
Geo A. Ross
Prop.
Troy, N.Y.
Novr 13th 1892
My dear Son,
Of course you are all happy at the result of the election. Hattie writes me that there are ten roosters in the Argus so you must be very jubilant. Orange Co though was "out of the swim". How about Middletown itself?
We are resting here today and at 9 AM tomorrow leave for Herkimer, a ride of 51 miles. Tuesday, Utica, Wed Oswego, Thursday Friday & Saturday in Syracuse. We are doing a very fine business and play pleases. We hope to play it in New York before the Winter is over. Aristocracy opens at Palmers[Theater] tomorrow night and is expected to run five or six months. [It closed on Feb 4, 1893.]
If I had not accepted this engagement I should have been out in the cold all winter. Maud [Harrison] is not yet drawing salary. Mrs. [Agnes] Booth is not doing anything and is awfully mad at A.M. [Palmer]. Mr. [Frederic] Robinson fortunately was engaged by Miss [Rose] Coghlan and, although at first his engagement was only for six weeks, yet he is going to travel with her for the Season, he having made a big hit in his part in Diplomacy.
I feel very comfortable with this party and if I can only stand the travelling during cold weather all will be well. So far have not exceeded $2.50 per day, and often only $2 per day. In New York nearly $3 -- that is I paid $20 per week, and had to furnish my own soap, matches and many other little things that are now furnished me. My washing does not cost anymore but is not as well done! Have had to buy a new trunk already and that I think will be one of my greatest outlays during the Season. Love & Kisses to my dear children from their loving Mother
The roosters represent Democrats, with eagles representing Republicans http://www.wvablue.com/diary/6458/scratch-the-rooster
T H E Y A T E S
Syracuse, NY Novr 18th 1892
My dear Son,
We stay here over Sunday, then go to Binghamton on Monday one night, Auburn Tuesday, Ithaca Wed'day and Rochester for the rest of the week. On Monday 28th, Niagara Falls, 29th Hamilton Ont, 2nd St Thomas Can[ada]., 3rd not settled, 5th Toronto for one week. The theatre is not far from the hotel.
Hope you are not ill from your extra work over the election. We are going along quietly and have been drawing well, but the storm will injure us here. We had a good house here last night but tonight will be doubtful. So dark, I had to turn on the electric light. This is a grand new hotel and elegantly furnished. I have parlor & bedroom, $3 per day.
Our Manager went to New York on Wed night on business connected with our playing in New York in the indefinite future. With love and Kisses to my dear children Neppie, Edward & Albert from their loving Mother
Niagara Falls, N.Y.
Novr 28th 1892
My dear Son,
We arrived here about 1:30 PM yesterday. After dinner took a walk to the Falls. Walking was not very pleasant and the wind rather cold, but I enjoyed seeing the grand old majestic Falls once more. 48 years since I first saw them [in 1844 at 14]. I found many changes, but the water rushes on as madly magnificent now as it did then, & still retains the youthful vivacity which made me rather envious of the Falls.
I have not been to the Theatre yet. It is only three blocks distant from this hotel. I do not think we shall have many tonight, the weather being so bad and the large hotels are closed for the season.
On this your third Anniversary I give you and Neppie my loving congratulations. May God Bless & keep you both in his watchful care. Answer this at once as I enclose X. With love and Kisses to my dear children Albert, Neppie and Edward.
No signature -- written in pencil, faint and hard to read.
Hotel Kaltenbach, Niagara Falls
next: Toronto Dec 7,1892
My Xmas day will be spent travelling from Buffalo to Wheeling, West Va.
"The Stafford"
Buffalo, N.Y.
Decr 20th 1892
My dear Son,
For a few moments, I was knocked silly. And I have scarcely recovered from the shock yet. Your Mother loves you! And I am your Mother! And to think of your having to witness such a dreadful scene, fills me with horror! My poor boy. I feel as if I wanted to fly to you! for I am sure you must have suffered. I shall feel nervous until I hear from you again. [What could have happened?]
We opened last night to a full house. Play well received. We are here for the week. And go to Wheeling, West Va. for next Monday and Tuesday nights. Thence to Johnstown, Pa, Scranton, Wilkesboro & Lancaster. Jany 2nd Washington, DC for the week. After that, if we do not go to New York, we shall go to Richmond, Va for the 9th, 10, 11 & 12th.
Josie [Dolman] has closed the Kindergarten school -- 4 pupils being all she could get together on Engleside Heights. I am sorry as it was nice for Jack and was company for Hattie.
I had a letter from Aunty [Zavistowski] yesterday and she was telling me a young lady from M [iddle]'town was taking lessons from Uncle for the Highland fling which she would teach in Middletown. Aunty wanted Uncle to write you but he said if you knew he could do anything in M'town that you would write to him. I wrote for her to send Uncle to see you. That I knew you would be glad to see him & give him a night's lodging and a good meal. The young lady learning the Highland fling said she knew you and was getting up an entertainment for which she was to receive $300. I think Uncle would have instructed a class for less money.
A merry Xmas to all. Love and Kisses to my dear children Albert, Neppie and Edward [John, Jack and Hattie is crossed out] from their loving Mother who could not write the other page over again to rectify the above mistake but will send it feeling that you know I love you all! and each one is equally dear to me as the other. So once more, love & Kisses to my dear children Albert, Edward and Neppie from their loving Mother
Xmas Day [1892]
Buffalo
Dear Son,
I dined alone but had a very good dinner. Snow going on all day. Splendid sleighing. Am ready, packed for departure at 9:15. All night on car and change cars at Pittsburgh 8 AM tomorrow, due in Wheeling at 11 AM and give a Matinee at 2. Sharp work. Our business here has been very fine.
I thank you and Neppie and Ted for my pretty gloves and hand'fs. A Kiss to all for the Kind remembrance. Love and Kisses to you all dear children from their loving Mother
next: Washington DC 1893
Troy NY
April 19th 1893
My dear Son,
I left Albany this morning at 10. We give a performance this afternoon at 2:15 and another at 8:15 PM and leave at 8 AM tomorrow for Providence, stay there 3 nights. Monday Boston. Monday May 1st Phila for one week. I will then ransack my trunks for your [Masonic] apron. I think I have it still. I offered it to you when you were leaving me to go to M'[iddle]town but you said it would not be of any use to you.
I am glad you have changed your mind, and hope you will be a good and faithful servant to the noble and time honored [Masonic] Fraternity -- even if you did not tell your Mother anything about it. Love & Kisses to you all dear children Neppie, Albert & Ted from your loving Mother
previous: Rhode Island, Feb. 1894
Whitcomb House


East Main St Rochester NY
Whitcomb & Downs, Proprietors
Rochester NY Feby 23rd 1894
My dear daughter Neppie,
Glad Albert has not had so much cold this winter and hope he will be careful through March for it is generally a very trying month. It is quite a long journey to the hospital and he ought to wrap up warm. I hope he finds his work there pleasant and will be able to work thoroughly into its intricacies very soon.
This has been a hard week, but there is nothing so bad but it might be worse. We feared we should have to open with a matinee yesterday, it being Washington's birthday and the City being full of GAR [Grand Army of the Republic] people on their annual convention, and we were overjoyed on our arrival to find we were not to give a matinee. Opened last night to a good house -- play tonight and twice tomorrow. Love and Kisses to my dear children Albert, Ted & Neppie from their loving Mother
next: New York March 1894
previous: Baltimore Dec. 1894
Whitcomb House
East Main St. Rochester, N.Y.
Whitcomb & Downs, Proprietors
Rochester, N.Y.
Decr 19th 1894
My dear Son,
Tonight Miss Olga [Nethersole] appears as Frou-Frou & I take a rest. She plays Frou-Frou on Friday night in Buffalo. The little lady is working altogether too hard. The rehearsal of Frou-Frou yester-day was from 12 until 6 PM & then had the Transgressor to play, and was to have more rehearsal after the performance, but I hear she fainted after the curtain fell on the last act, and had to be taken home.
A John L. Sullivan could not stand the work she has been going through with and not succumb. And she is straining her voice so much she will soon have none left. Whether [Augustin] Daly is forcing her to do those plays, or it is her own ambition, I do not know but there is a talk of two others being done, Carmen and something else before the season ends.
I do not know whether I shall be in the two other plays or not, but possibly be in one at least. And to travel, Act and rehearse new parts is not easy work and get dresses is more. Love and Kisses to my dear children from their loving Mother
John L. Sullivan (1858-1918) had lost his title as world heavyweight champion to "Gentleman Jim" Corbett in 1892. Wikipedia http://en.wikipedia.org/wiki/John_L._Sullivan
next: Toronto Dec. 1894
previous: Detroit March 13, 1895
THE MANSION
STAFFORD & CO
Buffalo, NY March 15th 1895
My dear daughter Neppie,
I suppose the anticipation of moving is filling your mind with the prospect of plenty of work for sometime to come. And how are you going to get through it? Take things easy, dear -- do not work too hard! And now! When do you expect to move? You must tell me all about it, for Albert's letter was very brief, only telling me the rent and number of rooms and about the locality.
Perhaps will not be quite as lively as where you are, but again will not be so dusty, and no doubt there will be a yard for Master Ted to play in. And is not much further from your Mamma! You may remember I came through Hanford Street one day, when I thought I was going past your Papa's stable. Is the house one or two stories? Or a double house? I wish I could help you to move but as yet, I am not certain what I am going to do.
I do not think Hattie is very well though she doesn't complain. She takes the family troubles and sickness too much to heart. Love and Kisses to my dear ones Albert, Neppie & Ted I remain their loving Mother
next: Boston March 1895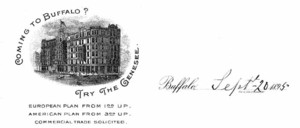 The Genesee Buffalo Sept. 20, 1895
My dear Son,
Well the agony is over and we still live. Opened last night to a full house and the play [Gay Parisians] went with roars of laughter. Guess it will be a go in New York. We are all very tired for we have worked very hard and the weather continues so hot - just as hot here as when we left NY.
Visit Buffalo/Niagara http://www.visitbuffaloniagara.com/
EJP must have seen Niagara Square and probably saw some of the following.
The Genesee is now part of the Hyatt in Buffalo, though what remains dates from 1923-1924. http://www.buffaloah.com/a/fountain/genhist/genhist.html

Mary Glen at the Genesee June 2005
No theatres in Buffalo are named. Perhaps it was the Academy of Music http://www.buffaloah.com/h/acad/index.html Main and Seneca Streets [1852-1969 known as the Metropolitan Theatre] then Academy of Music, around for 103 years, burned 1895] The Gay Parisians in 1895 played at the Star Theatre, Buffalo according to the New York Herald. [built 1890]. http://wnyheritagepress.org/photos_week_2010/star_theater/star_theater.htm Pearl, Mohawk and Genesee [1888-1919]

Theatre street car stop near the Hyatt/Genesee
Brisbane Building Completed in 1894. http://buffaloah.com/a/main/403/index.html http://www.visitbuffaloniagara.com/businesses/brisbane-building/
Ellicott Square Building did not open until 1896, but perhaps EJ Phillips saw it under construction. http://en.wikipedia.org/wiki/Ellicott_Square_Building Italian Renaissance building by architect Daniel Burnham.
She was too early to see Louis Sullivan's magnificent Guaranty Building 1895-1896, except perhaps under construction. https://en.wikipedia.org/wiki/Prudential_(Guaranty)_Building
Louis Sullivan and Guaranty Building http://en.wikipedia.org/wiki/Prudential_(Guaranty)_Building_(Buffalo,_New_York) http://www.hodgsonruss.com/Louis-Sullivans-Guaranty-Building.html
Lafayette Square laid out in 1804 by Joseph Ellicott, a representative of the Holland Land Company and the first developer of Buffalo. It was one of three squares included in his original plan for the City of Buffalo.... Governor Grover Cleveland dedicated the Soldiers & Sailors Monument in 1884. https://en.wikipedia.org/wiki/Lafayette_Square_(Buffalo)
Market Arcade 1892 http://buffaloah.com/a/bflobest/market/market.html No two blocks in Buffalo preserve as many fine turn-of-the century Neo-Classical commercial buildings as the 600 and 700 blocks of Main Street. The gem of this locally designated historic district, the Market Arcade (also known as the Palace Arcade), possesses one of the best interior pedestrian spaces in the city. .. The building's twin monumental facades of arches, columns, pretty ornament, and sculptured bisons proclaim civic pride to be more important than commercialism. The building anticipated the national fascination with ancient Roman architecture that was stirred by the World's Columbian Exposition held in Chicago in 1893. This movement received strong local impetus from the 1901 Pan American Exposition …Designed in 1892 by Buffalo architects Edward B. Green and William S. Wicks, the Market Arcade is the city's only historic covered shopping arcade. This nineteenth century building type, which first achieved popularity during the 1820's, is generally regarded as the forerunner of the contemporary suburban mall. The Market Arcade recalls more famous arcades, such as the Gallery Umberto I (1887-90) in Naples and London's Burlington Arcade (1818-19), which G.B. Marshall, the builder of the Buffalo Arcade, suggested to the architects as a model for his structure.;;When constructed, the building connected this bustling stretch of Main Street with the flourishing public market that formerly existed at Washington and Chippewa streets. It was the market — the "belly of Buffalo" - that gave the arcade

Niagara Square Also Laid out in 1804 by Joseph Ellicott in a design inspired by Pierre L'Enfant's Washington DC. At the intersection of Delaware Ave., Genesee, Court and Niagara Streets.
http://www.visitbuffaloniagara.com/businesses/niagara-square/
Old County Hall http://www.buffaloah.com/a/franklin/92/kim/kim.html Grover Cleveland had his office here while serving as mayor of Buffalo. 1871-1876
St. Joseph's Cathedral Said to be architect Patrick Keeley's finest work. The Hook & Hastings pipe organ was originally built for Philadelphia's 1876 Centennial Celebration. http://en.wikipedia.org/wiki/St._Joseph_Cathedral_%28Buffalo,_New_York%29
St. Paul's Episcopal Cathedral https://en.wikipedia.org/wiki/St._Paul%27s_Cathedral_(Buffalo,_New_York) A Richard Upjohn building 1845-1851. The 1874 funeral of President Millard Fillmore was held at St. Paul's.
Stanton/Dennis Building Only surviving cast iron building. Circa 1893 http://www.buffaloah.com/a/main/251/index.html
Ticor Title Building http://buffaloah.com/a/franklin/110/ Originally built as a Unitarian church in 1831, the oldest standing building in downtown Buffalo.
Buffalo and Erie County Historical Society http://www.buffalopresidentialcenter.org/Historical%20Society.html is housed in the only permanent building from the 1901 Pan American Exposition. The south portico, overlooking Hoyt Lake is a scaled down version of the Parthenon. Designed to showcase electric light and the generating power of Niagara Falls it reminded me of pictures I've seen of the Columbia Exposition of 1893.
Electricity at the Pan American Exposition, Buffalo 1903 http://www.youtube.com/watch?v=1GHMD-lkImc&feature=youtu.be
Buffalo train stations
Buffalo's first true railroad passenger station was built in 1848 on Exchange Street in downtown Buffalo. It was a relatively small brick building that was added to or changed on at least 5 occasions during its use. It was built by the New York Central and Hudson River Railroad, a part of Cornelius Vanderbilt's railroad empire which would eventually become the New York Central Railroad. In the 1880's Buffalo was a bustling gateway city for commerce to and from the west. Many community leaders wished to have a Union Station serving most of the area's railroads to centralize and simplify passenger train services at one location. An East Buffalo location was proposed for a "Grand Union Station" in 1889. This location, known as the "Fillmore Site" would be selected by the New York Central for their Central Terminal in the early 1920's. A true "Union Station" was never built, although several area railroads shared space in the Exchange Street station for many years in the beginning of the 20th Century. Henry Priebe, Jr. Buffalo Central Terminal and the Railroad Passenger, 1997-2002 http://central.terminal.railfan.net/history.html
more on Railroads
1896 Buffalo map http://www.lib.utexas.edu/maps/historical/buffalo_ny_1896.jpg
Bibliography
Belfer, Lauren, City of Light, Island Books, 2000 Random House 1999 http://www.randomhouse.com/boldtype/0599/belfer/
Author interview http://www.randomhouse.com/boldtype/0599/belfer/essay.html "a hundred years ago, Buffalo was one of the centers of America, the commercial gateway between East and West, a place of incredible wealth, sophistication, and innovation, the Silicon Valley of its day."
Buffalo Olmstead Parks Conservancy http://www.buffaloolmstedparks.org/
Dahl, John C. Great Railroad Stations: Buffalo http://www.trainweb.org/rshs/GRS%20Buffalo%201.htm
Dunn, Edward T. History of Railroads in Western New York, Canisius College Press, 2000
History of Buffalo Index http://www.buffaloah.com/h/histindex.html
LaChiusa, Chuck, Buffalo as an Architectural Museum http://www.buffaloah.com/a/bamname.html
Martin, Justin, Genius of Place: The Life of Frederick Law Olmstead: Abolitionist, Conservationist and Designer of central Park, Cambridge, Da Capo Books, 2011
Olmstead was approached to design parks for Buffalo in 1868. See the chapter on City Planning: Chicago and Buffalo which described the three parks he designed, and the Buffalo State Asylum for he Insane, in collaboration with HH Richardson. https://www.amazon.com/Genius-Place-Frederick-Olmsted-Lawrence/dp/0306821486
National Register of Historic Places listings in Buffalo NY http://en.wikipedia.org/wiki/National_Register_of_Historic_Places_listings_in_Buffalo,_New_York
Sheridan, Jan, Buffalo Treasures, Western New York Wares Inc. 1995 http://www.wnybooks.com/treasures.html
Smith, Ardis & Kathryn Theater in Early Buffalo, 1975 http://bechsed.nylearns.org/pdf/The_Theater_in_Early_Buffalo.pdf
Victorian Buffalo http://www.buffaloah.com/h/vanvic/vanvic7.html
Wikipedia, Buffalo http://en.wikipedia.org/wiki/Buffalo%2C_New_York
Buffalo Souvenir Music 1894-1906, Electric City Publishing, 2001 http://www.electriccitypublishing.com/
Last updated august 27, 2020
1859
9
6
Buffalo NY
Metropolitan Theatre
John Nickinson in Buffalo to see Henry T Meech with every prospect of getting that theatre
1861
7
27
weeks?
Buffalo NY
Buffalo & Rochester Dramatic Co playing in Buffalo Lockport Erie Ottawa and other places
1880
10
4
Buffalo NY
Acad of music?
Led Astray
1890
9
29
to Oct 3?
Buffalo NY
Star Theatre
Partners
call from Mrs Henry Meech last seen 1875
1892
12
20
1 week
Buffalo NY
Acad Music
Joseph
to Wheeling WV 2 nights Johnstown PA Scranton Wilkesboro Lancaster

1895
3
14
to 16
Buffalo NY
Star?
Olga Nethersole

1895
9
19
3 nights
Buffalo NY
Star Theatre
Gay Parisians

EJP Angelique Pinglet
2005
6
8
1861-95
Buffalo NY
.trip
MG explores downtown Buffalo with Ellen and George
Homepage A to Z Index Bibliography People Places Plays Site Map About these letters About EJ Phillips EJ Phillips Facebook Fan Page