Homepage A to Z Index Book outline About these letters About EJ Phillips EJ Phillips Facebook Fan Page
Ramsey Morris and the Joseph Company
NY Times Joseph review Mar 21, 1893, Union Square Theatre "The farce in its original form has been and remains a phenomenal success in Paris. First presented there in the December of 1890, it is still running, and at the same theatre. Here, its vogue will be somewhat shorter, unkind things will be said about it ... and when hungry oblivion makes way with the vivacious bit of nonsense "Died of adaptation" will serve as sufficient obituary.
From an undated clipping: Joseph proves a strong card at the Grand -- a bit of Realism at Jacobs and Sparrow's. The House contained a large and fashionable audience last evening on the occasion of the first presentation here of the high amusing comedy Joseph by Ramsey Morris' talented New York Company. Joseph is an adaption from the French of Leon Gandillot by Malcolm Watson of London, and the translation has been cleverly done. Joseph is in fact one of the brightest comedies of the day, and although there is here and there a French suggestion it is at no time offensive, the humor on the whole being sparkling, hearty and wholesome.
As originally produced in Paris, Joseph was somewhat highly spiced, but it has been carefully toned down by the translator without in any way destroying its piquancy. Mrs. E.J. Phillips was simply faultless as his somewhat domineering wife. A more perfect bit of acting than Mrs. Phillips' personation of this character is seldom seen anywhere.
A program from Stone's Opera House of Binghamton New York, Nov. 21, 1892 lists EJ Phillips' role as Mrs. Horace Bellingham, principal of Bellingham's Select Seminary. Characters included Elsie De Wolfe as Constance Flutterby and Amelia Chadwell, President of the Puddlington Branch of the Ladies Anti-Matrimonial League.
Philadelphia June 22, 1892 You probably will be surprised to learn I have made an engagement away from Mr. Palmer, with Mr. Ramsey Morris, a stock company to travel. Season to begin Oct 17th to last 30 weeks and possibly 5 weeks additional. I have been negotiating with him for several weeks and on Monday signed the contract. Mr. Palmer's season does not begin before Decr and possibly January. Mr. Morris got Mr. Palmer's consent to address me which makes me think Mr. Morris is in a way working for Mr. Palmer.
Philadelphia, June 27, 1892 Mr. Ramsey Morris was with us in our late visit to Chicago. Paid salaries and procured tickets for our return. I was introduced to him there. He is said to be an excellent business man. Has been with the Frohmans for some time. He obtained Mr. Palmer's consent to address me about the engagement. It is to be strictly a Stock Co, no stars. Mr. [John] Glendenning, Mr. [George] Giddens and Mr. [Reub] Fax are engaged. The two latter have been with Mr. Palmer and there was talk of the former being engaged by him.
The first play is to be Joseph which I am sure Mr. Palmer was going to produce sometime ago. All these things tend to make me believe AM [Palmer] is at the back of it, but for various reasons does not wish to make it known and you need not mention my ideas about it outside your own house, but I think you will find we shall follow Bronson Howard's play at Palmer's Theatre at the end of its run there with Joseph. The Co is to be first class in every respect, play in first class theaters &c,&c.
Philadelphia, Aug. 7, 1892 I am still idle and am very tired of it. About 2 1/2 months yet to wait before going to work and yet have not rec'd any instructions as to what I have to do or where I begin. Mr. [Ramsey] Morris sent for Photographs to make lithographs from the week before last so I conclude from that he is at work. I may receive some parts to study in a week or two.
Philadelphia, Aug. 25, 1892 Today I received the following telegram, "Will you play Lady Dunscombe [in Jim the Penman] one performance Sept 15th at Peekskill N.Y. for AM Palmer. Answer stating terms. Père Victor". I have replied, "Yes. $25 and all expenses". So if accepted I can take [daughter-in-law] Neppie with me then.
I suppose I should have to go over on Monday the 12th for rehearsals. So I can take Neppie and place her in an Erie train then. Mr. [Ramsey] Morris sent me a letter last week saying we open in Montreal, Canada on the 17th of Octr and that he would send me "parts" and directions about costumes in a week or ten days so it begins to look like business.
Troy, NY, Nov, 13, 1892 If I had not accepted this engagement I should have been out in the cold all winter. Maud [Harrison] is not yet drawing salary. Mrs. [Agnes] Booth is not doing anything and is awfully mad at A.M. [Palmer]. Mr. [Frederic] Robinson fortunately was engaged by Miss [Rose] Coghlan and, although at first his engagement was only for six weeks, yet he is going to travel with her for the Season, he having made a big hit in his part in Diplomacy. I feel very comfortable with this party and if I can only stand the travelling during cold weather all will be well.
Joseph at Stone's Opera House, Binghamton New York, Nov. 21, 1892

Saratoga of Canada Tecumseh House London, Ont Novr 30th 1892 Here I am all right. Played to a crowded house in Hamilton. Ladies in full dress. Arrived here today at 11:15. Leave tomorrow at noon for Brantford, only a short ride. Friday St Thomas and go back to give a matinee Sat in Hamilton. Do not play Sat night. I think we shall leave for Toronto after Matinee on Saturday.
The Rossin House Toronto, Canada King & York Sts Dec 7, 1892 Opened on Monday night to a very fine house, and had a fine house last night - $200 better than the first night. The house is a very pleasant one to play in. Have not met anyone I know. All are gone - and it makes me feel like a Centenarian.
Rehearsals of the Judge began this morning. I am only in the last act - and did not have to go to-day. It is another farcical comedy
z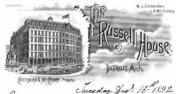 The Russell House

Detroit Mich
Tuesday Decr 13th 1892 Arrived here Sunday night. Opened last night to a fair house. Business in Toronto was immense on the two performances on Saturday. They turned people away, and around the lobbies people stood five deep. Have had a letter from Maud [Harrison] this Morning. A.M. [Palmer takes a company to Boston on the 26th of Decr. They are to open with Saints & Sinners (New play) don't it, eh? Miss [Julia] Arthur is to play Maud's part. He has left Maud out in the cold. Also Mrs. [Agnes] Booth. Miss [May] Brookyn takes her place in the plays that are to follow. The engagement is for 4 or 6 weeks, then they are to open in New York with Lady Windermere's Fan. Glad I did not wait for A.M. [Palmer].
Washington Post Dec. 29, 1892 Next Week's Amusements" "Joseph" at the Academy of Music There seems to be no doubt that theater-goers will have a rare treat when Ramsey Morris' comedy company (from New York) presents "Joseph" next week. The cast shows a brilliant list of names. "Joseph" should not be confounded with farce-comedy and Manager Morris' company will demonstrate the fact that they can make an audience roar for nearly three hours without once resorting to horse play or low buffoonery. "Joseph" ran for over 700 nights in Paris.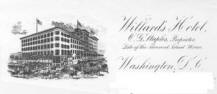 Willard's Hotel
O G Staples, Proprietor
Late of the Thousand Island House
Washington, D.C.
January 4th 1893
I arrived at Hattie's New Years Morning at 5:30. I did not have to knock at the door for Hattie & John were downstairs before I was out of the carriage, and though no noise was made by any of us, the door was only just closed when Jack called out, "I'm in bed Grandma; come up stairs and see me". Of course I did so, and was hugged & Kissed and made very welcome by him, but it was too early for any of them to get up, so I went to bed and had three hours sleep which I much needed, having gone through a very hard week of travel. Bad theatres & hotels and felt pretty tired. After breakfast I was shown Jack's tree and all his presents of which he had a goodly number and was much delighted with all. I left the house a little after 11. Hattie & Jack going with me to Broad St Station and John joined us there. I took the 12:25 train and reached here at 4 PM. We had a very quiet nice day & a good dinner. Roast Turkey, cranberry sauce, &c and an English plum pudding made by Mrs. Harrison and sent by Maud [Harrison] as a Xmas gift to us all and a very delicious present it was.
We are here for a week and it seems quite like a rest. We have had two good houses so far, the play has made a "hit" and the prospect is good for the rest of the week. From here we go to Richmond, Va for three nights, that will be the 9th, 10th, & 11th. On the 12th will be in Norfolk, Va, the 13th & 14th I am not sure of. We will be in Charleston [West] Va. On the 16th Cincinnati for a week, Albert's native town. One of the tours will be Toledo for 3 nights. We will open at the "Union Square" Theatre, NY on the 20th of March for three weeks and perhaps longer. Weather is very cold here! I am sitting by a grate fire and have my plaid shawl over my shoulders and still do not feel warm enough.
Willard's Hotel,
O.G. Staples, Proprietor
Late of the Thousand Island House
Washington, D.C.
Jany 6th 1893
Astonished to hear you have no sleighing - the sleighs are running here in fine order and the swells are displaying their fine "turnouts". I went out at noon to take a walk but was glad to come back. We had a very poor house last night in consequence of the snow-storm, I suppose. Mr. [Ramsey] Morris said to me last night that he wanted to talk to me about next season. He hints of being established permanently in a New York Theatre should Joseph be a hit in New York we shall remain for a longer period than three weeks. I am afraid though that the Union Square is not the right theatre for us - too far downtown now.
I suppose you have seen by the papers that AMP[almer] is to have possession of the Madison Garden Theatre in 1894. The company are now playing Alabama in Boston & rehearsing Lady Windermere's Fan" for next week I guess. Miss [Julia] Arthur, Miss [May] Brookyn & Mrs. [DP] Bowers are the ladies in the cast. [JH] Stoddart & [Frederic] Robinson are not in it. [Maurice] Barrymore, [Edward M.] Bell & [EM] Holland are. Miss [Maud] Harrison is still idle, as I suppose I should have been, had I not been lucky enough to accept this. In short time, you may hear from me, that I have re-engaged with Mr. [Ramsey] Morris.
Willard's Hotel
Washington D.C
Jany 8th/93
On account of cold weather & snow our business suffered, but we had a fine house last night, and the play has made a hit and a return date is talked of at some future day. Mr. [Ramsey] Morris wants me for the next season.
Georgie Drew Barrymore has been taken very ill in San F'co and is being sent home by Sea. Poor woman she is having a hard time of it. [She died July 2, 1893 in Santa Barbara California.]I i play in Pike's Opera House, Cin'ti [Cincinnati] and think I shall stop at the Burnett House as it is the nearest to theatre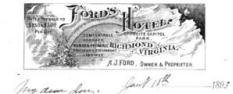 FORD'S HOTEL
opposite Capitol Park
Rates reduced to $2.50 & $3.00 per day RICHMOND VIRGINIA Comfortable coaches run to & from all stations & steamboat landings Jany 10th 1893
Glad that you have the prospect of good sleighing. I am tired of cold weather. I wish they would take us down to New Orleans You will see we are still jumping around the map and likely to do so until the 25th of June. We have a lot of traveling before reaching Union Square Theatre on the 20th of March.
The Burnet House Hotel Co.
T.W. Zimmerman, Treas & Manager
Cincinnati,
Jan 20th 1893 We leave here Sunday night for Canton Ohio for 1 night, Tuesday Alliance, Wed Zanesville Ohio 1 night, Thursday Cleveland for 3 nights. I have seen a few old acquaintances here, but more that knew me than those I knew. Have not heard from the Egans or Mrs. Bass -- all my other friends have died or gone away. It makes me feel sad.
We are going to play The Judge tomorrow night. We are busy rehearsing it. It is only for the 1 performance at present to secure the right of the play.
Enclosed in this letter is a clipping, no date THE JUDGE
The production in Cincinnati by Ramsey Morris' Comedy company of The Judge was a success, as the Mirror's special wire chronicled. Criticisms of the comedy since received indicate that Mr. Ramsey has secured a valuable piece of property. He will not need to use it for some time to come as Joseph maintains popularity. In the production of the Judge hits were made by George Giddens, Jameson Lee Finney (1863/68-1911), Elsie De Wolfe, Mrs. E.J. Phillips, and Helen Stockwell. Mr. Giddens and Miss De Wolfe received unusually high praise. ohn Glendenning , an able actor in many lines, seems to have been miscast.

Jany 27th 1893
Miss [Elsie] de Wolfe is quite ill -- so ill that I thought she would not be able to play last night but she did! She and her Mother are being entertained here by one of the Cleveland 400 in grand style -- have their carriage to and from the theatre -- a servant allotted each to wait on them while they remain here. Must cost the man as much as [illegible] dollars per day to keep up such an establishment as Miss De Wolfe described to me last Eve. I am glad she is having such a good time, as I think it will brace her up and next week will be a comparatively easy one as we go on Monday to Columbus for 3 nights and Indianapolis 3 nights.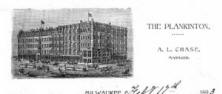 THE PLANKINTON
A.L. CHASE Manager
Milwaukee Feby 17th 1893
Yes, I am afraid Mr. [Edward M.] Bell has at last become weaker than Barley Corn, but like many thousands he would not believe anyone that the latter could ever overmaster him. I am very sorry indeed, for he is a very gentlemanly fellow, only about 36 years of age.
I am thankful we go no further North. Our hardest work in travelling will be over next week. We go from here to Janesville, Wis next Monday. Tuesday Rockford, Ill, Wed & Thurs Peoria, Ill. 26th to Chicago for two weeks. Thence to New York for three or more weeks. We have a week to rest & for rehearsals between Chicago and New York. I am well pleased with it, as we need brushing up and resting before appearing before the great critics of the metropolis
36 East 21st Street Tuesday March 14th 93 Arrived in the City yesterday and went to [Hotel] St Denis at 4:40 PM. Came up to 47 E 21st and learned there was a room vacant here. Came over and liked it and took it, and moved here this Morning. I have the 2nd story front room, not so large as Nagles or Beechers, but better furnished and more cosy. Two closets, running hot & cold water in one.
I have been to the dressmakers today and feel tired. It is harder work than acting. Love and Kisses to my dear children Albert, Neppie and Bit of Sunshine from their loving
36 East 21st Street New York March 19th/93 Today a thermometer in this room has registered 60 and even lower and now with big fire in the grate since 9 AM is (5 PM) only 68 and stands on the mantelpiece. So you can understand it is pretty cold for N.Y. City. I have been out at night only twice during the week and that across the street to see Mrs. Nagle.
Tonight I have to attend rehearsal, and tomorrow night begin work. I have been very busy all week getting things in good shape. Had Mrs. Cunningham here all day Friday. Feel now that I am pretty near ready and hope Joseph will be a success, so our engagement will be prolonged until end of Season.
I went behind the scenes during last act of Lady Windermere's Fan at Palmer's yesterday afternoon. I received a most hearty welcome from all sides.
My room is very nice but the board is scarce. And coffee is not good, but I shall try to endure it for another three weeks. When you come I shall take you all to a restaurant at least once a day and fill you up. And I will keep some fruit, crackers & anything else that Sunshine [grandson Ted Nickinson] may need in the room. We are close to Park & Tilfords Grocery Store.
Should Joseph make a hit and we remain through April perhaps we can arrange it, to be once more united. Jack is delicate and I would be afraid to have him come until warmer weather, for no matter where one goes they cannot find things just as comfortable as they are at home. I do not think this cold weather can last much longer but there is not telling what March may do. May have an /88 blizzard yet before she ends her career of /93.
I have nothing more to write that would be interesting to you unless to tell you the New Waldorf Hotel was opened on Thursday to the Public and everybody is amazed at the magnificence displayed. Only $20 per day for a suite consisting of Parlor, bedroom & bathroom. Meals extra. It is on the European plan. I guess we could live there for about $40 per day, $280 per week. Not much for a Rockefeller or Vanderbilt but the Astors will never get it out of this child. Cause why? She hasn't got that much & never will have. And if she had, would not spend it so foolishly.
36 East 21st St N.Y. March 24th 1893 Very sorry you have such a cold and hope the remedies employed have broken it up. If not go to a doctor. Do no funny business with it for Pneumonia is on the "rampage".
Our houses have been very good and the play pleases, but unfortunately Elsie [deWolfe] does not. We had a fine display of 1st nighters on Monday and everything went off well but "How old is she?" is still the question asked by everybody. It is not her age, but her manner that gives her that appearance, and is her misfortune, not her fault. The play is nicely staged. Three entirely new scenes and settings.
In today's Herald you will see an article stating that B.F. Keith of Boston will take charge of the Union Square Theatre on April 8th. That is the end of our present engagement, but Mr. Keith & Mr. [Ramsey] Morris are in negotiation to continue Joseph for an indefinite run. Whether their efforts will be successful remains to be seen. I hope they will be.
Hotel Peteler SE Corner of 124th Street & Lexington Ave NY April 12th 1893 Well I came up here and am very glad I came. My room is not as large but the other conveniences [bathrooms?] are better. I am half a block from back entrance of theatre -- board is very good, and I get it for $9 per week -- quite a save on $20. I am saved the long ride after the performance and as we give 2 matinees -- today, the other on Saturday, I am spared from riding up and down and buying lunches as I should have to do on Matinee days for business up here is better than at the Square, and the play receives more enthusiastic applause. The theatre is a fine large one -- fronts on 125th Street and runs back to 124th. I think the auditorium will hold more than double the number than could get in at Union Square. [Actually 1800 compared to 1300 at the Union Square Theatre.]
Next Monday and Tuesday, Albany, Wednesday Troy -- Thursday, Friday & Saturday Providence RI. Monday 24th Boston 1 week. May 1st Philadelphia 1 week -- 8th Pittsburg 1 week. 15th Brooklyn 1 week. 22nd Toronto 1 week. Season closing on the 27th of May.
Monday night Mr. [Ramsey] Morris again asked me to remain with him next season. I thought he had given up thinking of me. I told him the work was too hard and I could not stand it -- said he would show me the route and I would find the travel much easier, but he has not shown me the route yet! I cannot see success for the play next season and do not care to be mixed up with its failure. Do not know what I shall do, but I think I shall not reengage for Joseph.
A telegram from [AM] Palmer just recd "would like to see me" Well I have been down to AM's office. He offers me an engagement with Chas Frohman for next season to play in Lady Windermere's Fan. Season begins Sept 15th. I am to go down and see him tomorrow. Love & Kisses to you Nep and Ted from your loving Mother
The Harlem Opera House was at 207 West 125th Street (opened in 1889) was owned and managed by Oscar Hammerstein.
Hotel Peteler 124th St April 14th/93 I have been trying to get to Macy's to investigate the matter about the shirts. I asked the salesman if he was sure all the shirts were 16 inches and he said "Oh, yes!" As much as to tell me he never made mistakes. He was a sort of stupid, with a swelled head. I will try to get down in the Morning. I can ride nearly all the way from here to 6th Ave Elevated and that will take me to Macy's stop.
My time here is drawing to a close. We may not leave here until Monday Morning, as the ride to Albany is not very long, but I think as my trunk goes tomorrow night, that I shall go downtown and stop somewhere on Sunday night, so as not to go so far on Monday Morning


UNITED UNITED STATES HOTEL Boston April 24th 1893 Yes, I like Boston. Wish we could stay here until the end of the Season instead of doing so much travelling. I am always so much at home in this hotel, and the proprietor and his sister always give me such a warm welcome.
Next Sunday will be travelling to Phila. Stay there one week, 8th of May, Pittsburg 1 week. 15th to Brooklyn for one week, 22nd Toronto 1 week. Closing season on Sat night May 27th. Isn't that a heap of travelling for so short a time?
Have not yet settled anything for next season but do not travel with Joseph. May do worse; but hope to do better
Hotel St George Thursday Brooklyn May 18th [1893] Wm Tumbridge, Propr. I do not know where we "wind up our season". Last night Miss [Elsie] deWolfe did not play, owning to a very sore throat, and I suppose will not play again this week, and I heard last night that it is possible she will not go to Toronto. A Miss Halloway who has been playing "Susan" played "Constance" last night and under the circumstances filled the bill and is to continue playing it.
I asked Mr. [Ramsey] Morris last night to find somebody for my part for next week, or get the management to let us off from going to Toronto, as I should imagine he would be willing to do if Miss deWolfe was not able to go. So as things stand I do not know whether we will have to go to Toronto or not. I should like to tell you about "future movements" but do not know them until too late to tell anybody. We never know until Saturday, where and by what road we go. And even then are not sure until the train starts. I am very thankful, even if I have to go to Toronto, that next week ends my engagement with Mr. Morris.
If I do not have to go to Toronto, you may see me on Sunday, but if I go, I cannot now tell you when I will be able to go, for all will depend upon what route we take to Toronto. If by Erie, I will stop off and stay a few days, but I want to get my clothes put in order, for I am in rags, before making any Summer visits.
HOTEL SCHLOSSER European plan Penn Ave & Sixth St Thursday May 11th [1893] Pittsburg, Pa We returned by B & O on Sunday. I intend to take up my quarters in Brooklyn for next week, maybe at the Clarendon, but our agent has not sent on list of hotels & prices yet and when he does I may change my mind. Mr. & Mrs. [George] Giddens are going to stop in Brooklyn so I shall not be alone. There is a probability of our not going to Toronto. Our business here is not great. If it does not pull up for the remaining performance, I am afraid they will lose money. I do not want to go [to Toronto -- they went for a week in late May] very badly, for I am not feeling as well as I should like to for so long a trip
THE RUSSELL HOUSE Detroit, Mich
Novr 15th 1893

My I sent you a list of the places we visit on Monday. You can always direct a letter care of Chas Frohman's Lady Windermere's Fan Co Theatre and it will reach me. In Cincinnati next week we play at the "Grand Opera House" so you can send there.

I heard of the failure of the Joseph Co but not from [Albert]. Miss [Maud] Harrison sent me a notice of it from NY World. I was very sorry but not surprised. I knew it could not last another season.
Elsie de Wolfe (1865-1950) actress, decorator and hostess. Enjoyed amateur theatricals and turned professional after her father's death. Joined Charles Frohman's Empire Theatre Stock Co. in 1894. Despite a number of successes "she was unable to escape a sense of her own mediocrity as an actress". She left the stage in 1905, and later achieved distinction as a designer, a career "she created for herself and other women." Dictionary of American BIography
She was 27 in 1892. She first shows up in a Stone's Opera House (Binghamton NY) program Nov. 21, 1892, playing Constance Flutterby in Malcolm Watson's Joseph and was In The Judge in Cincinnati Jan 1893, as part of Ramsey Morris's company.
Lewis Strang writes that her father died in 1890 and after his estate had been settled Miss DeWolfe found that she would be obliged to earn a livelihood. Her tastes and training led her to choose the stage and she succeeded
in getting an engagement with Charles Frohman, under whose management she has remained most of the time since. Her professional debut was made at Procter's Theatre, New York, on Oct. 5, 1891, in Victorien Sardou's
"Thermidor" in which she assumed the leading emotional role, Fabienne Lecoulteur. She prepared herself with great care for the part, going abroad and studying it in French under the direction of Sardou himself. ...
"Sardou" Miss DeWolfe added, "is the best hated man in France, and he loves it!" He often says that, if the day comes that sees his countrymen own that he has produced anything great, he shall know that he has reached
the end of his career." After her appearance in "Thermidor," Miss DeWolfe spent two seasons on the road, acting leading parts in "Joseph,", "Judge," and "The Four-in-hand". Her Dictionary of American Biography article
says she left the stage in 1905.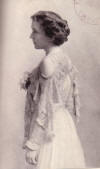 Elsie De Wolfe, Lewis Strang's Famous Actresses 1900
Campbell, Nina and Caroline Seebohm, Elsie deWolfe: A decorative life, Panache Press, c1992.
Smith, Jane S. Elsie deWolfe: A life in the high style, Athenaeum 1982
Wikipedia https://en.wikipedia.org/wiki/Elsie_de_Wolfe
Malcolm Watson . Author Pharisee and Social Fiction, produced at the Madison Square Theatre 1890- 1891 and Joseph produced by Ramsey Morris 1892-1893. theatre critic for the Daily Telegraph 1899-1926
http://www.abebooks.com/Collection-letters-Malcolm-Watson-theatre-critic/1609308313/bd
Ramsey Morris Obituary http://www.fultonhistory.com/Fulton.html Syracuse NY Daily Journal Nov 11 1917
Nym Crinkle on Ramsey Morris 1889 http://fultonhistory.com/Newspaper%2010/New%20York%20NY%20Dramatic%20Mirror/New%20York%20NY%20Dramatic%20Mirror%201888%20Dec-Aug%201890%20Grayscale/New%20York%20NY%20Dramatic%20Mirror%201888%20Dec-Aug%201890%20Grayscale%20-%200097.pdf
Last revised August 23, 2020

1892
5
16
to May 21
Chicago IL
Hooleys
Broken Seal
to Phila by May 25 where Elizabeth Ellen Dolman was ill
Sherman Hse
Ramsey Morris w/Frohman sometime
NY Clip letters
1892
6
22
Philadelphia PA
Ramsey Morris Stock Co engaged EJP wth Palmer's consent $120 per week raise
letters
1892
10
17
lv 15th

Montreal
Acad Music
Joseph Ramsey Morris season begins

1 week
30-35 weeks?
letter of Aug 7
letters
1892
11
1
to Nov 5
Baltimore MD
Joseph EJP Mrs Horace Bellingham
Wilmington DE Hartford Ct Troy Herkimer, Ithaca Oswego Oct 30 Mon
letters
1892
11
8
3 nights
Hartford CT
Opera House?
Joseph
Mrs Horace Bellingham
boardman
1893 3-20
62
letters
1892
11
13
3 nights
Troy NY
Rand's Opera?
Joseph
Ramsey Morris Co
to Herkimer, Utica. Oswego, Syracuse 3 nights in days ahead
letters
1892
11
18
Syracuse NY
Ramsey Morris Co
Joseph with Elsie DeWolfe

to Binghampton Auburn Ithaca Rochester Niagara Falls Hamilton St Thomas
letters
1892
11
21
Binghamton NY
Stones Opera House
Joseph
Mrs Horace Bellingham

Ramsey Morris

Elsie deWolfe

program
1892
11
25
Rochester NY
Joseph
beautiful theatre very nice hotel
New Osburn
letters
1892
11
28
Niagara Falls
Joseph
to Hamilton St. Thomas
first saw falls 1844
letters
1892
11
30
1 night
London ONT
Grand Opera house
Joseph
to Brantford St. Thomas Hamilton
Tecumseh House
letters
1892
12
5
1 week
Toronto
Grand Opera?
Joseph

business immense on Sat
letters
1892
12
7
Toronto
Joseph

rehearsals of the Judge began EJP only in the last act farcial comedy
letters
1892
12
13
3 nights
Detroit MI
Joseph
to Sandusky OH Bradford PA Erie PA

Russell House
letters
1892
12
20
1 week
Buffalo NY
Acad Music
Joseph
to Wheeling WV 2 nights Johnstown PA Scranton Wilkesboro Lancaster

Stafford

letters
1892
12
25
2 nights
Wheeling WV
Opera House?
Judge
Ramsey Morris Co
Christmas spent traveling from Buffalo
letters
1892
12
30
Wilkes Barre PA
Grand Opera
Joseph
Ramsey Morris Co
Johnstown PA from

to Scranton PA
Wyoming Valley Hotel
letters
1893
1
1
Wash DC
Acad Music
Joseph article in Washington Post
wash post
1893
1
4
1 week
Wash DC
Acad Music
Joseph
Norfolk VA

Staunton Charleston WV 1 night

Cincinnati 1 wk Toledo 3 nights
Willards
letters
1893
1
9
3 nights
Richmond VA
Acad of Music?
Joseph
still jumping around map likely until June 25th
Fords Hotel
letters
1893
1
12
1night
Norfolk VA
Joseph
then Staunton 1 night then Charleston WV Cincinnati 16th
letters
1893
1
20
1 week
Cincinnati OH
Pikes Opera House
Joseph Judge 1 perf copyrigt
to Canton Alliance/Salem Zanesville OH 1 night each Cleveland 3 nights
Burnet House
letters
1893
1
27
3 nights
Cleveland OH
Joseph
to Columbus 3 nights Indianapolis 3 nights
Holldenden
letters
1893
1
29
3 nights
Indianapolis IN
Grand Opera
Joseph
to Springfield OH Terre Haute Lexington KY
Dennison
letters
1893
2
9
to 11
Louisville KY
Joseph
to Dayton OH Logansport IN Racine WI
Willards
letters
1893
2
16
to 18
Milwaukee WI
Davidson Theatre
Joseph
bus v. good
Janeaville Wisc Rockford IL 2 nights Peoria IL 2 nights
Plankinton
letters
1893
2
26
2 weeks
Chicago IL
Schiller
Joseph
to March 6
Rock Island on Friday
Chicago orig 3 weeks
Sherman House
letters
1893
3
20
3 weeks
New York NY
Union Square
Joseph to Apr 8
Mrs Horace Bellingham
new Waldorf hotel opened Thurs
36 E 21st St Mar 14
Odell Hist NYS letters
1893
4
12
New York NY
Hammersteins Harlem Opera House
Joseph
great success here very full house
Hotel Peleter

124th and lexington
letters
1893
4
19
2 nights?
Albany NY
Leland Opera House
Joseph
to Troy Utica Syracuse
letters
1893
4
19
3 nights
Troy NY
Rand's Opera?
Joseph
American Hotel
Providence 3 nights, Boston Phila Toronto 1 wk? season end May 27
letters
1893
4
24
1 wk
Boston MA
Globe Theatre
Joseph
business here very good
over 900 nights in Paris ad
United States Hotel
Globe letters
1893
5
1
1 wk
Philadelphia PA
Joseph
fine business
letters
1893
5
8
1 wk
Pittsburgh PA
Joseph
business here not great
Hotel Schlosser
letters
1893
5
18
1 week
Brooklyn NY
Joseph next week ends Morris Engagement
Hotel St George
HAS letters
1893
5
22
1 week
Toronto
Joseph
perhaps 1 night Hamilton?
Rossin House
letters
1893
11
13
3 nights
Detroit MI
Lady Winderemere's Fan
Failure of Joseph company
Russell House
letters
Homepage A to Z Index Bibliography People Places Plays About these letters About EJ Phillips EJ Phillips Facebook Fan Page