Homepage A to Z Index Book outline People Places Plays About these letters About EJ Phillips more about Railroads EJ Phillips Facebook Fan Page
Kansas City
1886 1890 1896 Omaha St. Louis
Salt Lake City, Sept. 14, 1886 7 Saints and Sinners go to Kansas City for three nights & Matinee, St Jo on Thursday, Omaha Friday and Saturday.
Denver Sept. 26, 1886 I did not write yesterday for I expected every hour to hear that we were to stay here another week, canceling the dates in Kansas City and St Jo, and in that case, I would have telegraphed you. I remained in uncertainty until 9 PM when Mr. Wm Palmer came into the greenroom and announced that we were not to remain here; but were to fulfill the original programme by going to Kansas City, St Jo and Omaha. So the S[aints] & S[inners] Cast will leave by train 7 AM tomorrow.
We play Our Society this afternoon and S[aints] & S[inners] tonight. There has been a great deal of telegraphing and excitement about our staying, the management here offering a big certainty for our stay. Wallack had to be consulted about Kelcey remaining. At last his consent was got, and all seemed to point to our staying, but at the last moment the Kansas City people demanded the fulfilling of the contract with them, and that settled it. So we have to go.
I enclose you a five. We shall not reach Kansas City I suppose before 1 PM Monday. It takes 30 hours I believe to make the trip. If we lose time, as we seem to have done on all our trips so far, why we may only get there in time to go to theatre.
Kansas City, Mo
Septr 29th/86
My dear Son,
This morning Mr. Palmer told us that we leave Omaha on Sunday evening. Arrive in Chicago on Monday 2:15 PM and leave there by Michigan Central at 5 PM . Due at 42nd Street Depot [New York] at 9 PM Tuesday the 5th of Oct. We leave here tomorrow at 10 AM. After performance tomorrow night we leave St Jo for Omaha .
Guess Hattie will leave Phila for NY on the morning of the 5th. She will take a room for me at the Ashland [Hotel]. She sent me a clipping from last Sundays NY World that says we may not open until the 1st of Novr then with Jim the Penman. If so, I shall be out three weeks salary.
This has become a lovely profession. Managers do just what they see fit with you. [AM] Palmer closed the season for those who were not in the Cast of S[aints] & S[inners] last Saturday night. Yet if he had made the final arrangements to have played the Company this week in Denver he would have expected them all to remain whether they liked it or not.
Our business here is not good but last night was $20 better than Monday night. Hope tonight may increase as much. We did not give a Matinee today.
How soon shall I see you? If we do not open until 1st of Novr I may be able to take a run up to Middletown, but things are too uncertain to make any rash promises. This town has grown, and is growing faster than any town I ever saw, excepting Chicago. It is going ahead of St Louis. God bless you. Love & Kisses from your loving Mother
next Chicago Oct. 1886
Salt Lake City Sept. 28, 1888 Next week Denver, following week, 8th, 9th, & 10th Kansas City, 11th St Josephs, 12th & 13th Omaha.

Kansas City
September 8th 1890
My dear daughter Neppie,
I hope this will reach you on the 11th to wish you many happy returns of the day and much health and happiness to enjoy each successive anniversary of your natal day. Enclosed you will find P.O. order as a little remembrance. In my wanderings I could not find anything that I liked to send you, and thought this the best thing to do, as you could get with it something that you would like or need better than I could. The order is made out in Albert's name. He will collect it for you.
I am well pleased that you are progressing so well. The trouble with your eyes comes possibly from a little biliousness [Neppie was pregnant with Edward Phillips Nickinson.] I do not think it will be serious.
Have heard indirectly but not officially, that Mr. A.M. Palmer is to come to Chicago. Then I shall know whether I remain there for rehearsals or not. At present I cannot tell you anything definite about it. Love and Kisses to you and Albert, and best wishes for your health and happiness. Your loving Mother
1896 Vancouver, Sept, 19, 1896 I shall be glad when we reach Kansas City. Will have a few nights rest and hard travel will be over
previous: Salt Lake City 1896
Note that the New Coates is described as absolutely fireproof, presumably in contrast to the previous [1888] Coates.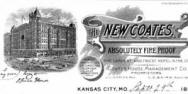 The NEW COATES
Absolutely Fireproof
Coates Opera House [on diagonal corner best attractions only]
Kansas City, Mo Septr 29th 1896
My dear Son,
Arrived here at 8:15 by my watch and 9:15 by Kansas City time this Morning. Had a quiet trip, uneventful except last night about 8:30 we met the Prisoner of Zenda Co on their way to San Francisco from Chicago. Our trains were stopped and the two companies were allowed to greet each other. I had retired, so did not see any of them but Mr. [James K] Hackett sent his kindest regards to me and regrets that he could not see me, by Miss Graves of our company. They open on Monday in San Francisco. Love & Kisses my dear boy from your loving Mother
The NEW COATES
Kansas City, Mo Octr 1st 1896
My dear Son,
Hope you are well in your solitude. I hear Neppie and Ted are all right. We opened to a big house on Tuesday night. Gave two performances yesterday, which rather tired us out after our long ride from Salt Lake. Didn't get up today until 1:30 and it is now 5:15.
Leave here Saturday night for St Louis. Give 10 performances there beginning with Sunday night the 4th and ending Sunday 11th with two Matinees thrown in. Real pleasant. It will be State Fair week and Carnival time. What is troubling us is where we shall be able to find shelter. The City is expected to be over- crowded. We play at a new theatre named "The Century".
Frohman's Empire Theatre Stock Co are playing there this week. We shall be the 2nd attraction. I sent you a paper with notice yesterday and enclose another notice in this. Very good for the "old lady". Have you made mushroom catsup yet? Your loving Mother
The review from a Kansas City newspaper opens "French farces are much alike: you laugh at them until laughter becomes painful, and afterwards you wonder what was the cause of your mirth. The Gay Parisians is very funny much while you look at it, and very trivial after you have left the theatre. It has the usual number of persons who meet in a hotel and do not wish to be seen by each other...The story is of a woman who wishes to make her husband jealous. She goes to the theatre and afterwards to supper with another man, and after numerous recognitions the police raid the hotel ... It seems to a pity to waste so much good acting on such light material"
Coates House
Kansas City, Mo
Friday Octr 3rd 1896
My dear grandson Edward.
The enclosed V is a little remembrance of your birthday from your Grandma Nickinson. I hope you are very well and having a nice time in Philadelphia with your cousin Jack. God bless you my dear and make you very happy on your birthday. With love and Kisses from Grandma Nickinson
The Coates House was at 10th Street and Broadway Boulevard, and though badly damaged in a fire in 1978 it is now an apartment building https://en.wikipedia.org/wiki/Coates_House_Hotel . The Opera House (1870-1901) burned and was not rebuilt. https://en.wikipedia.org/wiki/Coates_Opera_House
Coates photo http://www.vintagekansascity.com/places/coateshouse.html
Last updated Jan 29, 2018
Homepage A to Z Index People Places Plays Site Map About these letters About EJ Phillips more about Railroads EJ Phillips Facebook Fan Page