Homepage A to Z Index Book outline People Places About these letters About EJ Phillips Chronology EJ Phillips Facebook Fan Page
The first Booth EJ Phillips seems to have met was Junius Brutus Booth Jr. when she played Emilia to his Iago, in Othello at Pike's Opera House in Cincinnati in April 1865 . At the end of this engagement Lincoln was assassinated by Junius Brutus Booth Jr.'s brother John Wilkes Booth. Junius Jr. was married to Agnes Booth from 1867-1883 [his death] who kept Booth as her stage name, even after marrying John Schoeffel in 1885, manager of Boston's Tremont Theatre.
John Nickinson's youngest daughter from his first marriage Isabella Nickinson Walcott acted with all three Booth brothers. She played Calphurnia and her husband Charles WalcottJr. Octavius Caesar , with Edwin [Brutus], Junius Brutus Jr.[Cassius] and John Wilkes [Marc Anthony] Booth in Julius Caesar Nov 25,1864 at the Winter Garden, New York, in the Shakespeare Statue Fund Benefit. This is the only time all three Booth brothers performed together.
Charles Walcott Jr, his wife Isabella and and Nickinson son-in-law Charles Peters, as well as EJ Phillips' colleague Owen Fawcett also appeared in Edwin Booth's "Hundred Nights Hamlet" running from Nov 26 1864-March 22 1865 at the Winter Garden Theatre in New York.
John Wilkes Booth 1838-1865 https://en.wikipedia.org/wiki/John_Wilkes_Booth
EJ Phillips' manager AM Palmer was closely associated with Edwin Booth. The Actor's Fund of America was incorporated in 1882. AM Palmer was Vice President, and Edwin Booth one of the first 17 trustees. Edwin Booth founded the Players Club and AM Palmer was the first Treasurer and Vice President.
"We do not mingle enough with minds that influence the world," Booth said of his fellow actors, "We should measure ourselves through personal contact with outsiders … I want my club to be a place where actors are away from the glamour of the theatre." Two years after Edwin Booth wrote these words to his friend, theatre manager Albert Palmer, his dream was realized. In May 1888, he paid $75,000 to purchase a townhouse at 16 Gramercy Park South in New York City. History of the Players' Club http://www.theplayersnyc.org/history '

Edwin Booth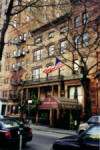 Players Club NYC

Players Club medallions

From a newspaper advertisement in the Cincinnati Daily Gazette, April 14, 1865.
PIKE'S OPERA HOUSE.
GRAND MATINEE
Saturday Afternoon, April 15.
The eminent Tragedian,
Junius Brutus Booth,
Will appear in conjunction with the
DRAMATIC COMPANY,
And renowned
ZAVISTOWSKI TROUPE...
BENEFIT of the popular Artiste,
MISS E. J. PHILLIPS, [Let's hope she got the money from this performance.]
And positively last night of the eminent tragedian,
JUNIUS BRUTUS BOOTH.

Lincoln Originals, Cincinnati Museum Center exhibit, http://library.cincymuseum.org/lincoln/lincolnoriginals.htm

Othello playbill April 1865, Pike's Opera House, Cincinnati, Ohio


Junius Brutus Booth Jr. Wikimedia Commons
Did the April 14th performance take place at all? Did EJ Phillips receive any money from her benefit? Did the entire acting company have to leave town under cover? How soon were they able to work again? EJ Phillips' had been widowed in 1864, and was a single parent with two small children to support. Hattie was 5 1/2 and Albert was almost 2.
Junius Brutus Booth, Jr. (1821-1883) Brother of Edwin and husband of Agnes Booth who still used his name professionally, though she had been widowed and remarried by the time of these letters. His father Junius Brutus Booth and brother Edwin had been members of the "Providence Museum Company", organized in 1848 in Rhode Island which at one time included John and Charlotte Nickinson. EJ Phillips was playing with Junius Brutus Booth Jr. in Othello in Cincinnati the night Lincoln was assassinated.
He was also married to Clementina DeBar Booth. (1840-1855). She was the younger sister of Ben De Bar, and mother of Blanche DeBar.
"Though a relatively undistinguished actor, Junius Jr. was highly regarded for his performances as King John and Cassius in Julius Caesar" Wikipedia, accessed 2018 Feb 10 https://en.wikipedia.org/wiki/Junius_Brutus_Booth_Jr.
Findagrave https://www.findagrave.com/memorial/11573822/junius-brutus-booth Buried Rosedale Cemetery, Manchester by the sea, Massachusetts
Agnes Booth (1846-1910) Born in Australia, first appeared in the US aged 12 in San Francisco as a child dancer. Married at 16 to Harry Perry and widowed a year later. She married Junius Brutus Booth, Jr. (brother of Edwin and son of the more famous actor of the same name) in 1865 (and was widowed again in 1883). Junius Brutus Booth Jr. appeared with EJ Phillips in Othello the night John Wilkes Booth assassinated Abraham Lincoln (Apr. 1865, Cincinnati Ohio)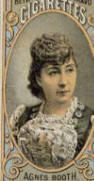 Agnes Booth, Between the Acts cigarette card
She surprised many with her excellent comic skills as the openly selfish Belinda Treherne in Engaged in 1879...Joining AM Palmer when his ensemble was at its height, she won distinction as the deceived Mrs. Ralston in Jim the Penman (1886); Mrs. Seabrook, the woman with a secret in Captain Swift (1888); the comic, uninhibited Joan Bryson, otherwise known as Aunt Jack (1889).
After leaving Palmer in 1892, her star began to wane, to some extent because of poorly chosen vehicles, but also because her robust acting style was seen as superannuated by the newer naturalistic schools. Oxford Companion to American Theatre
Agnes Booth was 37 in 1883. She appeared with EJ Phillips in Pink Dominoes in 1877. Old Love Letters was described as an Agnes Booth vehicle since 1878. Described in a New York Times review as a star of Jim the Penman. EJP reports that she wore "some very fine dresses" Nov. 1886 Her second husband Junius Brutus Booth Jr. died in Sept. 1883. Her third husband, Julius Schoeffel is the one occasionally mentioned in these letters..
Her son Sydney Barton Booth [1873-1937] joined Richard Mansfield's company in June 1888. Sarony photo http://ufdc.ufl.edu/part1/results/?t=%22Booth+Sydney%22
Buried at Rosedale Cemetery, Manchester by the Sea Massachusetts http://www.findagrave.com/cgi-bin/fg.cgi?page=gr&GRid=11575508
Palmer and company went to Washington DC in 1887 for a special Actors' Fund Benefit performance of Jim the Penman
The Washington Post of April 19, 1887 reported "ACTORS TAKE THE TOWN" A GREAT DAY IN THE HISTORY OF MANAGER PALMER'S COMPANY. They are received by the President and Cabinet Officers and present "Jim the Penman" to a Distinguished Audience.
The friends of Manager Palmer and his Madison Square Company spared no pains yesterday to make the stay of the party in Washington as pleasant as possible. The morning was spent in driving about the city to various points of interest, and at half past one o'clock the entire party visited the White House, where they were to be received by President Cleveland. They first were shown through the Red, Blue and Green Parlors, and then into the East Room, where they waited for the President. Mr. Cleveland did not keep them waiting long, but soon entered the room through the folding doors leading to the private parts of the house. Mr. Roessie introduced Mr. Palmer, who in turn introduced his son and daughter, and then his company beginning with Mrs. Agnes Booth. ... From the White House the party drove over to the State Department, where they were shown into the Diplomatic Reception Room. Here they were welcomed by Second Assistant Secretary Adee. While waiting for the Secretary, Mrs.. Booth's eyes fell on the picture of Daniel Webster. "Oh how much he looks like Edwin" she exclaimed. This called the attention of the entire party to the portrait which, especially about the forehead and the eyes, might be passed for a portrait of the great tragedian Edwin Booth.
Agnes Booth (1843-1910) as Mrs Ralston in Jim the Penman
https://en.wikipedia.org/wiki/Agnes_Booth#/media/File:Agnes_Booth_2.jpg
Agnes Booth in Aunt Jack, National Library of Australia http://nla.gov.au/nla.pic-an10698679-1
NY Times obituary January 4, 1910 https://www.nytimes.com/1910/01/04/archives/agnes-booth.html
Agnes Booth are we so soon forgot? NY Times https://www.nytimes.com/1910/01/04/archives/agnes-booth.html
Wikipedia http://en.wikipedia.org/wiki/Agnes_Booth
Buried at Rosedale Cemetery, Manchester by the Sea Massachusetts
http://www.findagrave.com/cgi-bin/fg.cgi?page=gr&GRid=11574594
Actors Fund Fair 1892
The Actor's Fund Fair was held May 2-7, 1892 in Stanford White's new (opened 1890) Madison Square Garden, with the objetiove of raising money for. an orphanage for the childrne of deceased actors. It raised $180,000. EJ Phillips was chairmnan of Subcommittee Nol 24 [of 40} charged with getting donations of toys from toy stores.

Georgia Cayvan got more votes than Agnes Booth as the most popular lady at the Fair. Al Hayman, AM Palmer and Mrs. Palmer made speeches and the naphtha [powered] launch [boat] was awarded to Agnes Booth NY Times May 8, 1892 https://www.nytimes.com/1892/05/08/archives/a-downpour-of-dollars-money-flowed-into-the-actors-fund-treasury.html

The fair began at 8 PM with its officers mounting a set of stairs into an overhanging box on the south side of the building. Jefferson entered moving "lightly up the stairs" with Palmer and the much enfeebled Edwin Booth, who was unable to speak publicly. Both actors were warmly applauded, and Jefferson made a brief speech. Then Booth and Jefferson bowed, hand in hand, to an applauding audience, while the band played The Star Spangled banner," and Mrs. AM Palmer waved the American flag above them.Bloom, Arthur, Joseph Jefferson: Dean of the American Theatre, Savannah, Frederic C. Beil, 2000
Actor's Fund Fair Souvenir Programme, Madison Square Garden May 2nd 3rd https://archive.org/details/souvenirprogramm00acto See the Agnes Booth cigar on page 18.



Actors' Fund Fair Harpers Weekly May 1892
Lawrence Barrett (1838-1891) was a great friend of Edwin Booth. Strang cites "the summer of 1870 saw the real turning-point in Lawrence Barrett's life". Barrett played Cassius in Julius Caesar in a production at Niblo's Garden, New York. Barrett played parts opposite Edwin Booth in the new Booth's Theatre for four months starting in December. 'In December 1871, he was once more a manager in New Orleans.' EJ Phillips was a member of Barrett's stock company in New Orleans and traveled with him to throughout the South and Midwest from 1871 until she went to the Chestnut St theatre in Philadelphia in 1875.
"Booth's financial affairs improved permanently when, in 1886, he formed a business and acting partnership with the American actor-manager Lawrence Barrett. " Encyclopedia Brittanica "Edwin Booth"
Twentieth century quilt
A piece of purple and old gold brocade comes next. That was used for a tea gown in "Captain Swift "[1888]. Agnes Booth [wife of Junius Brutus Booth Jr., brother to Edwin and John Wilkes] and Maurice Barrymore [father of Ethel, Lionel and John] were in that.

Bibliography
Bogar, Thomas A, Backstage at the Lincoln Assassination: Untold story of the actors and stagehands at Ford's Theatre, Regnery History, 2013 https://www.amazon.com/Backstage-Lincoln-Assassination-Stagehands-Theatre/dp/1621570835/ref=asap_bc?ie=UTF8
Centennial History of Cincinnati, 1904 Chapter XLIII Cincinnati in War Time http://books.google.com/books?id=eJxABLtxX60C&q=theatre#v=snippet&q=war%20time&f=false
Ferguson, William Jason, I saw Booth Shoot Lincoln, Pemberton Press 1969
George, Rebecca Langston, The Booth Brothers: Drama, Fame and the Death of President Lincoln, Capstone Press, 2018
Grossman, Edwina Booth Edwin Booth: Recollections by his daughter, Edwina Booth Grossman, and Letters to Her and to His Friends." Copyright, 1894, Century Company, New York excerpt http://www.authorama.com/19th-century-actor-autobiographies-3.html
Tebbel, John, A Certain Club: One Hundred Years of the Players 1888-1988, Hampden/Booth Theatre Library, 1989 has chapters on Booth, as a founder of the Players Club.
Titone, Nora, My thoughts be bloody: The rivalry between Edwin and John Wilikes Booth that led to an Amerian Tragedy. Focus is on John Wilkes and Edwin, but also discusses Junius Brutus Booth Jr and Adam Badeau I was startled to read that Edwin Booth produced Our American Cousin in New York at the Winter Garden theate in September 1865.
Winter, William Shadows of the Stage 1892 has a chapter on Edwin Booth http://www.gutenberg.org/files/18860/18860-h/18860-h.htm#Page_63
Lincolnconspirators.com, Dave Taylor https://lincolnconspirators.com/about/
Edwin Booth papers 1864-1881, Univ of Rochester
https://rbscp.lib.rochester.edu/finding-aids/D129
Edwin Booth recordings, Harvard Theatre Collection, Harvard Crimson 1935 https://www.thecrimson.com/article/1935/12/6/historical-recording-of-edwin-booth-placed/ Should check and see if this is available.
Wikipedia https://en.wikipedia.org/wiki/Agnes_Booth
Wikipedia http://en.wikipedia.org/wiki/Edwin_Booth
Wikipedia https://en.wikipedia.org/wiki/John_Wilkes_Booth
Wikipedia https://en.wikipedia.org/wiki/Junius_Brutus_Booth_Jr.
Last revised August 24, 2020
Homepage A to Z Index Bibliography Places Plays About these letters About EJ Phillips EJ Phillips Facebook Fan Page