Homepage A to Z Index Book outline About these letters About EJ Phillips EJ Phillips Facebook Fan Page
Shakespeare and EJ Phillips (and John Nickinson)
Shakespeare was not always seen as high-brow in the 19th century. I'm trying to find out more about Shakespearean burlesques and bowdlerizations.
Shakespeare in America
For most of the nineteenth century, a wide variety of expressive forms—Shakespearean drama, opera, orchestral music, painting and sculpture, as well as the writings of such authors as Dickens and Longfellow—enjoyed both high cultural status and mass popularity. In the nineteenth century Americans (in addition to whatever specific ethnic, class, and regional cultures they were part of) shared a public culture less hierarchically organized, less fragmented into relatively rigid adjectival groupings than their descendants were to experience. By the twentieth century this cultural eclecticism and openness became increasingly rare. Lawrence W. Levine, Highbrow/Lowbrow: The Emergence of Cultural Hierarchy in America, 1990 https://www.hup.harvard.edu/catalog.php?isbn=9780674390775
EJ Phillips (1830-1904) played 31 roles in 19 Shakespearean plays. We know of 15 plays and 26 roles, and would like to figure out the remaining 4 plays and 5 roles. A 1978 letter from Barbie Spencer, EJ Phillips' great-granddaughter lists Shakespearean roles EJ Phillips played in Toronto starting in the 1850s:
Hamlet: Player Marcellus, Guildenstern
Othello: Emilia [and Desdemona in Rochester]
Romeo & Juliet: Nurse [and Juliet in Cincinnati 1864]
King Lear: Goneril
Macbeth: Donalbein, Gentlewoman, Malcolm, Witches [and Lady MacBeth in Ottawa 1861]

More roles were listed in a handwritten autobiography in the Harvard Theatre Collection's Union Square Theatre manuscripts collected by her manager AM Palmer.
Shakespeare's Birthday and the Players Club John Nickinson, Shakespeare Richard III and Burlesques
O'Neill's thesis on Toronto theatre at the Royal Lyceum under John Nickinson indicates that EJ Phillips appeared in Toronto at the Royal Lyceum Theatre in A Comedy of Errors and MacBeth in 1852, in Hamlet, Romeo and Juliet and Richard III (with Charles Couldock) in 1853, The Merchant of Venice in 1854, King Lear and As You Like It (with Charlotte, Virginia and Isabella Nickinson) in 1855, The Taming of the Shrew, Merry Wives of Windsor, King John, and MacBeth with James Wallack in 1856, Twelfth Night (with Charlotte and Isabella Nickinson), Othello, and Coriolanus in 1857. She appeared in MacBeth in Ottawa in July 1861. James Wallack Sr appeared in July 1856 as Benedick in Much Ado about Nothing, with Charlotte Nickinson as Beatrice. O'Neill, PB Anthony, A History of Theatrical Activity in Toronto, Canada, from its beginning to 1858, Louisiana State University dissertation, 1973
In 1853 the actor manager John Nickinson took over the Royal Lyceum in Toronto. During his six years of management he presented a number of Shakespeare productions with a Canadian resident company; he became a popular favourite, noted especially for his Dogberry [Much Ado about Nothing] and other comic roles. Cambridge Companion to Shakespeare on Stage, Edited by Stanley Wells and Sarah Stanton, Cambridge University Press 2002 Untitled - elearn.uni-sofia.bg
Enjoyed the Actor's Shakespeare Company's production of Much Ado about Nothing in May 2018 and paid particular attention to the Dogberry. We don't know that EJ Phillips performed in it, though it was an important role for Charlotte Nickinson.
In "Much Ado About Nothing,'' love is a sport, a kind of verbal volleyball played at a very high level by Beatrice and Benedick, those quick-witted precursors to Sam and Diane. As with that sparring "Cheers'' duo, there's not a lot of tension surrounding the will-they-or-won't-they question when it comes to Beatrice and Benedick. It's clear that they will; indeed, it's hinted that they might already have. … Helping to set matters straight for Claudio and Hero by uncovering Don John's ruse is a Keystone Kops assemblage of inept constables in yellow parkas, led by the malapropism-prone Dogberry, portrayed by Simoes. Though the constables overstay their welcome — one feels the need of relief from the comic relief — Simoes does demonstrate impressive aplomb while scooting in and out of scenes on a hoverboard. Boston Globe 2018 April 17 A 'Much Ado' that brings Beyoncé to its battle of wits https://www.bostonglobe.com/arts/2018/04/17/much-ado-that-brings-Beyoncé-its-battle-wits/ZfrFeyl73tCa3pmJ1PD9VO/story.html
Robertson's Landmarks of Toronto mentions that Nickinson was particularly great as Dogberry and that the Lyceum had Shakespeare night and Bulwer nights -- "the usual Shakespeare plays were As you like it, The taming of the shrew and Twelfth Night. "Much ado about nothing" was always done with the wrestling scene, which is seldom done now, even in the best play houses."
Mark Twain, Huckleberry Finn and Shakespeare https://staringatangels.wordpress.com/2014/04/16/twain-Shakespeare-and-nonsense/

John Nickinson, Shakespeare and burlesque
William Mitchell's greatest success of the [1842 New York ] season was a burlesque of Richard III entitled Richard #3 a conflict over who was to be the new driver of omnibus #3. Mitchell played Richard eventually the omnibus driver, while John Nickinson played Henry King "an old omnibus driver" and Richard's predecessor. This play ran for twenty nine consecutive evenings. I'd like to know more about the history of burlesquing Shakespeare, which seems to have been popular in the 19th century. Certainly John Nickinson was known for appearing in these at Mitchell's Olympic Theatre in New York in the 1840s. David Rinear, Temple of Momus: Mitchell's Olympic Theatre 1987

Toronto's population at this time [1848] approached 25,000, but the lower classes tended to frequent the one hundred and fifty-two taverns and two hundred and six beer shops which dotted the city in 1850 rather than the [John Nickinson's] Royal Lyceum Theatre. The Apollo Saloon and Concert Room on King Street and the Shakespearean Saloon offered music, recitations, and comic skits for the amusement of the populace and the enhancement of their liquors. Presumably other saloons offered similar music hall attractions, which offered sturdy competition for the Royal Lyceum.
Accepting discretion as the better part of valour, for Christmas week Nickinson switched from social satire to musical extravaganza, properly described on the playbill as "a Drama without the smallest claim to legitimacy, consistency, probability, or anything else but absurdity; in which will be found much that is unaccountably coincident with Shakespeare's Tempest &c."*' For Christmas week Nickinson regularly presented a musical extravaganza. In 1855 he chose the magnificent Fairy Burlesque by the Brough brothers entitled The Enchanted Isle, prepared with new scenery, choreography and machinery. An extravagant travesty of Shakespeare's The Tempest, The Enchanted Isle was one of the best known examples of its genre. Such extravaganzas and burlesques numbered among the most popular of dramatic genres in the 1830's and 1840's in England and in the 1850's in Toronto. Their success depended on their "free merriment, familiar themes new treated, and gorgeous settings,"14-7 The editor of the Daily Colonist "confidently recommend[ed] all persons who wish to enjoy a rare treat of holiday fun, to visit the theatre and witness the performance of a most laughable extravaganza called The Enchanted Isle. . .. The scenery, by Mr. G. Morris, is itself worth seeing. The dances are arranged by Mons. and Mde. Bouxary. The machinery, prepared by Mr. R. T. Wilson, is also very creditable workmanship. But go and see for yourself. The house has been crammed for two consecutive nights; and THE ENCHANTED ISLE will be repeated several times,
Never did Hamlet appear on an evening's bill when the company performed without a star. Nickinson's company did not include a tragedian; neither did it claim a resident leading lady. Technically Charlotte Nickinson occupied this position, but after establishing her reputation as an actress in the comic line, she toured extensively for most of the year herself, as a star in other centres along the Great Lakes Circuit.
A MacBeth Travestie was produced in December 1852 and January 1853. This house to be sold the property of the late William Shakespeare. Inquire within. A musical extravaganza, in one act was produced in February 1852, along with Shakespeare's Ghost
MacBeth Travetie by WK Northall was first produced at New York's Olympic Theatre with John Nickinson as First Witch in 1843 and William Mitchell as MacBeth and Mrs Booth as Lady MacBeth. Script with stage business, cast of characters, relative positions, etc. https://babel.hathitrust.org/cgi/pt?id=uc2.ark:/13960/t4sj1k366;view=1up;seq=14
Later Shakespearean performances by EJ Phillips were in Cincinnati at Pike's Opera House including Emilia in Othello and Queen Gertrude in Hamlet in 1862 in a benefit for Civil War widows and orphans, and Goneril in King Lear with Edwin Forrest again in Indianapolis in 1868.
EJ Phillips' handwritten autobiography in AM Palmer's Union Square papers at the Harvard Theatre Collection records that she was engaged by Pike's Opera House in Cincinnati in 1862 and remained there until the theatre burned in March 1866. John Nickinson was eventually hired by Samuel Pike, but not until 1863 – so perhaps she was more employable than he was by the time they moved to Cincinnati, where their third child (and my great grandfather) Albert Edward Nickinson (July 8, 1863-1948), was born. Samuel N. Pike (1822-1872), a wealthy distiller had built Cincinnati's first Opera House in 1859, after hearing Jenny Lind sing and "vowed he would build a theater worthy of such a voice".
More of the Shakespearean roles may have been with Lawrence Barrett [1838-1891] in the South in the 1870s. She was in his company from 1871-1875, based primarily in New Orleans. We have 1873 playbills from Savannah as Queen Gertrude in Hamlet and Katharine in King Henry VIII, and as Eleanor in King John in Charleston South Carolina. Other roles she played included Celia in As You Like it, Adriana in Comedy of errors, Volumnia in Coriolanus, Portia in the Merchant of Venice, Queen, Lady Anne and Duchess of York in Richard III, Katharine the Shrew in Taming of the Shrew and Countess Olivia in Twelfth Night. Both Forrest and Barrett were among the most notable Shakespearean actors of their day.
Perhaps she was in Midsummer Night's Dream at Pike's Opera House, where Alice Zavistowski played Puck -- this was the last performance there as the theatre burned an hour after the curtain fell on March 16,1866.
Edwin Forrest (1806- 1872) is mentioned in EJ Phillips' New York Dramatic mirror obituary as someone she had acted with. We have a review from an unidentified newspaper of a performance at the Metropolitan Theatre [Indianapolis probably 1867?] of his performance in Othello where "Miss Phillips' Emelia was hardly inferior, if at all, to Iago and her last scene was striking.
The Dramatic Mirror obituary also mentions that she played with Charlotte Cushman. I was unable to trace this until I read John Dolman's Jr.'s Art of Acting where he recounts the following anecdote; "The unwillingness to act at rehearsals is a characteristic of third-rate actors; the great ones like Garrick have generally been less temperamental about it., though some have pretended to be more casual than they really were. Charlotte Cushman, for example, is quoted by her chief biographer, Emma Stebbins, as saying that she was content to get the general sense of her part at rehearsals; but my own grandmother [EJ Phillips] who was on the stage for forty-five years, used to say that the most stirring piece of acting she ever saw was a portrayal of Lady Macbeth, in the banquet scene, done at rehearsal, in street dress, by that same Charlotte Cushman.
It seems likely that this was in Chicago, though it may have been in New Orleans or elsewhere. I have a small undated newspaper clipping which mentions Charlotte Cushman, and a copy of a playbill from Wheatley's Arch Street Theatre, May 25th 1858 with Charlotte Cushman as Lady MacBeth.
Thanks so Susan Emanuel for a ticket to see the rarely performed King Henry VIII in Jan 2014. I can see why this play isn't performed all the time -- my edition of Shakespeare has a note saying it has "three and a half catastrophes, varied by a marriage and a coronation pageant, ending abruptly with the baptism of a child" [Elizabeth I]. The women certainly came off better than the men -- and keeping track of all the characters was challenging. There's a Cromwell -great great uncle of Oliver, later beheaded for heresy, and Cranmer (later burnt at the stake by Bloody Mary) A review said the play has 42 named characters plus supernumeraries -- and Actor's Shakespeare project used 10. EJ Phillips' playbill listed 21 actors. But it certainly had lots of running around and nicely done singing and dancing.
John Nickinson had died in Cincinnati in Feb 1864, leaving EJ Phillips little, if anything to support her and their two young children. She was leading woman in Pike's Stock Company in Cincinnati, playing in the Shakespearean and "standard drama", one of the "excellent resident dramatic company"
John Nickinson's New York Clipper Feb 1864 obituary read "Mr. Nickinson … was an excellent actor, and dressed and looked certain characters to perfection. He always managed to get through respectably, and very recently gave great satisfaction as Polonius [in Hamlet], Sir Peter Teazle [School for Scandal] and Ephraim Smooth [Wild Oats]. His elder daughters, by a former marriage, are Mrs. [Daniel (Charlotte)] Morrison, now in Montreal, where she is a favorite. and Mrs. C.[harles (Isabella) Walcot, Jr. Mr. Nickinson by his first wife leaves a son and 2 daughters, [actually four ] …the latter prominent members of the theatrical profession.
By his second wife - who is better known by her professional name as Miss Phillips, an accomplished member of the Pike's Opera Troupe, Cincinnati, he leaves two more children of tender age [Hattie 3 and Albert 7 months] now solely depending on their mother for support and education. Poor Nickinson was, unfortunately for himself and his family, endowed by nature with too large a heart for his pecuniary welfare and those he left must struggle on "amid this world's wide way" with no aid but the professional toil of the bereaved mother.
EJ Phillips' autobiography continued "During this season of 1864-65 a most unique performance of Hamlet was given by Gentlemen of the Cities of Cincinnati and Columbus for "The Benefit of the widows and orphans of the Soldiers, who died in the war". Hamlet was represented by Ex Lieutenant Governor [Charles] Anderson [1814-1895 later governor of Ohio after the death of Gov. John Brought in 1865] of Ohio. All the other parts were played by Lawyers, Doctors, Bankers, and Brokers – Mrs. Thomas Barry [Clara Biddies married 1856] Ophelia -- a young lady of the Opera House Stock Co "players", and I as "Queen Gertrude". The house was crowded! Very large prices had been paid for seats and boxes. One box sold for $600."
In April EJ Phillips played Emelia in Othello. The play was billed as "Last Night But Two of the Eminent Tragedian Junius Brutus Booth Received Nightly with Admiration by Crowded and Delighted Audiences who will appear this Thursday Evening April 13 1865, and Tomorrow, Friday Farewell Benefit". Abraham Lincoln was assassinated on April 14th
From a newspaper advertisement in the Cincinnati Daily Gazette, April 14, 1865.
PIKE'S OPERA HOUSE. GRAND MATINEE Saturday Afternoon, April 15.
The eminent Tragedian, Junius Brutus Booth, Will appear in conjunction with the DRAMATIC COMPANY,
And renowned ZAVISTOWSKI TROUPE...BENEFIT of the popular Artiste, MISS E. J. PHILLIPS,
And positively last night of the eminent tragedian, JUNIUS BRUTUS BOOTH.
[Let's hope she got the money from this performance.]

According to cousin Charles Seymour Jr.'s website Directing Theater is a Family Affair "the acting company had to leave town under the protection of a covered wagon to protect their lives" The Centennial History of Cincinnati 1904 reports that "Junius Brutus Booth, brother of the assassin was closing a two weeks' engagement at Pike's Opera House. He was stopping at the Burnet House. While there was no public demonstration again him, it was well known that his life would not be worth a farthing should be seen on the streets or in public. Of course the bills were taken down, and there was no performance that night. Mr. Booth was well pleased quietly to escape from the Burnet and disappear." (Tarbell's Lincoln vol. II page 247)
EJ Phillips knew William Jason Ferguson (1841-1930) who was famous as the actor who saw Lincoln shot. His stage career had begun at Ford's Theatre as a call boy. "The construction of the Theatre supports the claim that Ferguson was the sole witness. His description has been accepted as the most reliable account of the shooting (Sat Evening Post and NY Times (Apr 18, 1915)" and his book I Saw Booth Shoot Lincoln (1930)"
EJ Phillips knew him from when they were both in the Union Square Theatre Company. He played Joseph Pinglet in The Gay Parisians going on the trip west in Aug 1896 with EJ Phillips. "Mr. Ferguson caught cold, has a sore throat this Morning. [Grandson] Jack could not be more childish over it than he is."
Ferguson reports "There was much animosity shown against the actors and employees of the theater, it being supposed that they were implicated in the murder. Some of them were arrested. manager John T. Ford was among the number. He was imprisoned for forty days, and then released, entirely exonerated. A shopkeeper whose place of business was near the theater vigorously defended our people, and was with difficulty rescued from the intensely angered crowd that assailed him. A rope was actually tied about this neck." It would not be surprising if actors were chased out of town in Cincinnati as well.
John Nickinson's youngest daughter from his first marriage Isabella Nickinson Walcott[Calphurnia] and her husband Charles Walcott Jr. [Octavius Caesar] had performed with Edwin [Brutus], Junius Brutus Jr.[Cassius] and John Wilkes [Marc Anthony] Booth in Julius Caesar Nov 25,1864 at the Winter Garden, New York, in the Shakespeare Statue Fund Benefit. This is the only time all three Booth brothers performed together.
Charles Walcott Jr and Nickinson son-in-law Charles Peters, as well as EJ Phillips' colleague Owen Fawcett also appeared in Edwin Booth's "Hundred Nights Hamlet" running from Nov 26 1864-March 22 1865 at the Winter Garden Theatre.
Shakespeare's Tercentenary birthday in New York April 23 1864 "was "just barely noticed". Edwin Booth, "playing Romeo at the Winter Garden in Brooklyn paid some minor notice … As for London in 1863 Shakespeare was in the doldrums" Only Stratford made much of the occasion. The tercentenary of Shakespeare's death April 23 1916 was somewhat more anticipated, but the Great War intervened. New York responded enthusiastically, with lectures, sermons, concerts, and the planting of Shakespeare Gardens. The New York Times published Sunday supplements for ten weeks. Critic Alexander Woollcott said in the New York Times "the odds against Shakespeare are very great for "this is a generation which has been trained against him." Shakespeare on the American Stage: From Booth and Barrett to Sothern and Marlowe Charles Harlen Shattuck. 1987

Producer AM Palmer did not produce Shakespeare for the most part, so EJ Phillips' roles during her Union Square and Madison Square Theatre Company and Palmer's Theatre days (1879-.1893) seem not to have included Shakespeare until she had left Palmer's employ to work with the Frohmans. .
Players Club, Ladies Day and Shakespeare's Birthday
Edwin Booth founded the Players Club in Gramercy Park, New York in 1888 and died there in 1893.

United States Hotel Boston April 29 1890 My dear daughter [in law] Penelope I went to the "Players' Club" reception last Wed'day. It was an awful crush and I became very tired. Saw many new faces and met many old friends. I was there from half past three until after five. It was ladies day, no gentlemen admitted unless members of the club. So you may imagine the noise of 2 to 3 hundred women when all were talking at once. I was glad when I got away.
The Players Club opened New Year's Eve 1888, "The Theatre", Jan 12, 1889 reported speeches by Edwin Booth, Augustin Daly and Lawrence Barrett and the décor, including "the centre chandelier, peculiarly constructed of stags' horns, was designed by architect Stanford White.". Of the 71 members listed at least 11 were colleagues of EJ Phillips.
The chapter "Ladies at the Club" notes that the first Ladies' Day was April 29 1889 -- Shakespeare's Birthday -- EJ Phillips also went to this one as reported in the May 4, 1889 New York Clipper "the house of the Players' Club was thrown open from 2 to 6 pm.to nearly 800 theatrical and society women, including "Ada Rehan, Mrs. John Hoey, Mrs. Agnes Booth Schoeffel, Mrs EJ Phillips, Rose Coghlan, Mme. Ponisi, Annie Russell, Mrs. Annie Robe Griswold, Georgia Cayvan and Georgie Drew Barrymore."

Ladies were welcome only in the Great Hall and adjoining rooms and the Library -- but signs were posted "Don't stand on the stairs." A Certain Club One Hundred Years of the Players, John Tebbel 1989 ______________________________________________________________

Shakespeare artifacts? 1996 April 6 New York I am going to loan Miss Cowell my sewing machine and she is going to let me stand my bookcase and the Shakespeare easel in her back parlor 1887 Feb 9 New York The last two sections of the "Shakespearean Gallery" are ready and the Stoddart Co wants me to take them this week. What were these?
___________________________________________________________________________________
I knew that EJ Phillips had played the Nurse in Romeo and Juliet in the 1890s, but thought of that as a minor role, until I went to an Actor's Shakespeare Project performance in Boston in October 2013. Thanks to Susan Emanuel for the invitation and this expedition to the 1918 Strand Theater in Dorchester. The Nurse actually plays a bigger role than Juliet's mother, and has bawdy aspects – I wonder how EJ Phillips acted these.
EJ Phillips

Barbie Dolman Spencer suggested one might possibly be Queen Gertrude, or maybe Lady Macbeth
Bawdy aspects of Shakespeare
Shakespeare had been bowdlerized by Thomas Bowdler [1754-1825] whose published editions of the Family Shakespeare 1807-1850, omitted sections he and his sister considered unfit for women and children. It would be interesting to know how the various scripts EJ Phillips acted from varied. Given Olga Nethersole's steamy history it seems unlikely that her Juliet was much expurgated.

Although Edwin Booth claimed that he intended to "go even beyond Chas. Kean in my devotion to the sacred text of the late W.S." Booth still removed bawdy parts. Booth, after opening Booth's Theatre in Feb 1869 with Romeo and Juliet never acted the play again. While the scenery had been remarkable, Booth hated to play lovers. Shakespeare on the American Stage, Shattuck 1987 Romeo and Juliet as produced by Edwin Booth 1868 might provide some clues to his editing.. https://archive.org/details/shakespearestrag08shakes
Bowdler's expurgated Romeo and Juliet passages included:'
"the bawdy hand of the dial is now upon the prick of noon" – Mercutio, Act II, Scene 4, line 61
"Hie you to church; I must another way,
To fetch a ladder, by the which your love
Must climb a bird's nest soon when it is dark;
I am the drudge and toil in your delight," - Nurse, Act II, Scene V, Ln 66-69.
For Sex, sexual language, brief nudity and bawdy jokes: http://www.shmoop.com/romeo-and-Juliet/sex-rating.html
As this web essay points out " Watch out for references to death. In Elizabethan slang, "to die" means to have an orgasm. (Compare to the French slang for orgasm, "la petite mort," the little death.) Any reference to weapon/sword/dagger/tool/arrow/shaft/thrust can be interpreted not just in the literal sense (all the men in the play do carry swords) but also as a reference to their metaphorical "swords."

"To stand" is used as a metaphor for having an erection. References to falling, sinking, or bearing burdens are all supposed to conjure the image of women with men lying on top of them. (Or, occasionally, men with adventurous women on top of them.). The opening pages of the play are basically one long dirty joke. Two Capulets are talking about "thrusting" Montague women to the wall. Gregory boasts about his "naked weapon" and describes how he will use his "sword" to "cut off" the "maid's heads" or "maidenheads" To "climb a bird's nest" is also slang for having sex. … Even Juliet has her moments. In the balcony scene, as she's talking to herself about how amazing Romeo is, she's not just thinking about his dreamy eyes and great personality. "Tis but thy name that is my enemy," she argues to herself. "Thou art thyself, though not a Montague./ What's Montague? It is nor hand, nor foot, nor arm nor face, nor [tee hee] any other part belonging to a man"
Shakespeare realized sexual jokes, especially double entendres, put the twinkle in the performance," says John Basil, artistic director of the American Globe Theatre. "He's never crude but he always reminds us of our humanity on every level." Now, let's be clear: Shakespeare was not straight-up writing porn (his most explicit play, Henry VI, Part 2, contains a whorish total of six kisses). He used his gift for wordplay to weave some clever sexual imagery and naughty puns into every play…and I do mean every play. Bawdy Bard: How to find the sex in Shakespeare http://www.themarysue.com/bawdy-bard-how-to-find-the-sex-in-Shakespeare/
You see right away why she's [he Nurse] one of Shakespeare's most beloved characters: the very first words out of her mouth are a dirty joke. (Swearing on her maidenhead at twelve implies that she didn't have one at thirteen …

Yes, madam, yet I cannot choose but laugh
To think it should leave crying and say 'Ay';
And yet I warrant it had upon it brow
A bump as big as a young cockerel's stone,
By the way, "stone" does mean "testicle," just like you were thinking, and as for "cockerel"…
Lusty in every sense of the word, she's [the Nurse] a dry run or smaller version of Falstaff; Romeo & Juliet http://shakesyear.wordpress.com/2011/05/21/romeo-and-juliet-the-case-of-the-naughty-nurse-and-the-underage-bride/

Romeo and Juliet: Bawdy http://www.shakespeare-navigators.com/romeo/Bawdy.html has more explanations of Shakespeare's language untaught in most high school English classes.
_______________________________________________________________________________
The run with Olga Nethersole was between Oct 1894 and April 1895. Olga Nethersole (1867-1951) an English actress was already well known in England and Australia.
Charles Frohman's first foreign star, who paved the way for so many, was Olga Nethersole. His management of her came about in a curious way. A difference had arisen between Augustin Daly and Ada Rehan. Miss Rehan had decided to withdraw from the company, and in casting about quickly for a successor had decided upon Olga Nethersole, then one of the most prominent of the younger English actresses. While the deal was being consummated Daly and Miss Rehan adjusted their differences, and the arrangements for Miss Nethersole's appearance in American were abrogated. Miss Nethersole was left without an American manager. Daniel Frohman, then manager of the Lyceum Theater, stepped in and became her American sponsor, forming a partnership with his brother Charles to handle her interests. Jointly they now conducted an elaborate tour for her covering two years, in which she appeared in "Denise," "Frou-Frou", "Camille," and "Carmen.": Charles Frohman 1916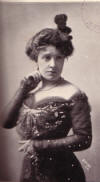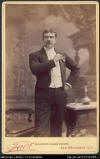 Maurice Barrymore
Olga Nethersole as Paula in The Second Mrs. Tanqueray, Strang's Famous Actresses, 1900

Maurice Barrymore (1847-1905) as Romeo was the father of John, Ethel and Lionel. He was then 48 to Nethersole's Juliet of 29. Six years later, in 1901 Barrymore became insane on stage (from then untreatable syphilis) and was institutionalized for the rest of his life .

Philadelphia Sept. 18, 1894 I am trying through Marcus Mayer to get with the new English star, Miss Olga Nethersole -- who plays legitimate roles -- and is to a certain extent under the management of [Augustin] Daly. The lady is expected to arrive next week, when matters will be settled and engagements made. And I hope to be one of the fortunate ones. No engagements have yet been made, except that she brings her "leading" man with her.
The New York Times review [Oct. 15, 1894 5:5] is headlined A Large Audience Patiently Sits Through "The Transgressor" at Palmer's Theatre -- A Great Deal of Very Loud Applause Bestowed upon a Generally Competent, but by No Means Brilliant, Performance of a Very Bad Play. The reviews notes that preparation had begun in March in London. "She came in like a small cyclone" and compares the plot to "Miss Bronte's story of Jane Eyre and Rochester, deprived the man of all manly attributes, tried to transform Jane into a type of the modern "Emancipated" woman and failed. In the critic's opinion Olga Nethersole's' personality will doubtless be very attractive after one has grown used to it.
Lewis Strang writes in Famous Actresses that she made her American debut at Palmer's Theatre, New York , on October 15th [1894] and subsequently making a most successful tour of the country. She played besides "The Transgressor" Marguerite Gauthier in "Camille", Gilberte in "Frou-Frou" and Juliet in Romeo and Juliet." ... "The Transgressor" by AW Gattie, in which Miss Nethersole made her first appearance in this country, was a somewhat crude play of the "problem" order, and in it the actress's opportunities to show her emotional power were somewhat limited... . Miss Nethersole made her greatest success that first season in "Camille".' It was an intensely realistic impersonation, deeply emotional and ardently passionate, an impersonation that moved on by its great dramatic vigour rather than by subtilty of conception of finish in acting... Miss Nethersole's Juliet was not highly esteemed. While she had moments of genuine power, her acting as a whole was uneven, besides being hurt by undue force and intensity." I should be pleased to omit any reference to "Carmen" but the notoriety of the Nethersole kiss will hardly permit that. The adaption of the novel that Miss Nethersole used, made a filthy play in which lust and animal passion were shown with disgusting frankness. Even if one ignored the vileness, he found but a cheap melodrama, poorly constructed at that, and abounding in mock heroics, false platitudes, and cheap sentiment... Miss Nethersole's acting was a study in lasciviousness, marvelously vivid and marvelously true to life".
Philadelphia week of Nov 10 1894 Romeo and Juliet and programs for Camille and The Transgressor, all with EJ Phillips in the cast. http://www.performingartsarchive.com/Ephemera/Misc/Charlotte-Cushman-Club-scrapbook_1888-1896/Charlotte-Cushman-Club-scrapbook_1888-1896.htm
Pittsburgh Pa, Novr 27th 1894 Opened last night to a fair house in Camille. I think the audience was pleased with Nethersole & hope business will increase.
We begin rehearsing Frou-Frou this Morning, but when it is to be played I do not know. I was in high hopes we had done with rehearsals for a time, but this very ambitious young Nethersole is determined to keep us at work. I did not have time to think since we commenced in New York until Friday last, when for the first day we had no rehearsal. It has been something dreadful but to my own astonishment I have pulled through. We are playing at the "Alvin" Theatre, almost adjoining this hotel. Next week Washington, the following week Baltimore. That is as far as I know at present.
Pittsburgh Pa. Novr 28th 1894 Yesterday I was called to rehearsal and did not rehearse, and today no rehearsal for the first time in over five weeks. Here I am living next door to theatre, which is also a great rest to me, and I am beginning to feel quite like myself.
We played Camille the past two nights, and the curtain did not fall on last act until 10 minutes of 12 each night. I being so near theatre got into my room at "14 of 12" but in New York and Philadelphia it used to be half past 12 before I got home, and it was very tiring to me.
I used to get to 3219 Clifford Street [Philadelphia] at from half past 12 to one AM every night. Get up at 10, take a breakfast and down to rehearsal, which would often not allow one time to go home to dinner, but I would get dinner at restaurant and go back to theatre to dress for performance. One Morning of the night we produced Romeo & Juliet, it was 5 in the Morning when I got home, we having a rehearsal after the performance of the Transgressor which began at 1 AM and lasted for me until 1/2 past 4. Then [daughter] Hattie & I got into a cab and arrived home at 5 AM.
Washington Post Dec. 6, 1894
AS THE FAIR JULIET Her Personal Triumph Complete"
Like a rich jewel in an Ethiop's ear is Miss Olga Nethersole's Juliet compared with the support she receives in this play. Personally the young English actress is a revelation and a fulfillment of the powers of which she gave promise in "Camille", but "Romeo and Juliet" is not a one part play. It is only truth to say that Mr. Barrymore's Romeo is as much a disappointment as his Armand was an agreeable surprise. He looks the part, and some of his scenes are excellent, but others are as crude and ill-digested as to destroy the harmony of his whole characterization. Beyond the Friar Lawrence of Barton Hill and the Nurse of Mrs. EJ Phillips, there is little to commend the rest of the cast.
Washington Post, Dec. 9, 1894
IN RE OLGA NETHERSOLE Some Critical Comments on the New English Actress
No new and almost unknown actress has come to Washington within recent years and in a single week's engagement gained such general and enthusiastic approval as Miss Olga Nethersole. ... As Juliet she challenged comparison with Julia Marlowe, who has long been Washington's prime favorite in this part. ... In the Transgressor she may be said to have risen superior to the play, but in Camille her triumph was unqualified
Rochester, N.Y. Decr 19th 1894
Tonight Miss Olga Nethersole appears as Frou-Frou & I take a rest. She plays Frou-Frou on Friday night in Buffalo. The little lady is working altogether too hard. The rehearsal of Frou-Frou yester-day was from 12 until 6 PM & then had the Transgressor to play, and was to have more rehearsal after the performance, but I hear she fainted after the curtain fell on the last act, and had to be taken home.
A John L. Sullivan could not stand the work she has been going through with and not succumb. And she is straining her voice so much she will soon have none left. Whether [Augustin] Daly is forcing her to do those plays, or it is her own ambition, I do not know but there is a talk of two others being done, Carmen and something else before the season ends.
I do not know whether I shall be in the two other plays or not, but possibly be in one at least. And to travel, Act and rehearse new parts is not easy work and get dresses is more.
John L. Sullivan (1858-1918) had lost his title as world heavyweight champion to "Gentleman Jim" Corbett in 1892
Toronto Xmas Eve 1894 We open with Camille to-night and play it at Matinee to-morrow and Thursday night -- and Saturday night -- Wed night Romeo & Juliet. Friday night and Sat night Frou-Frou in which I do not appear.
Toronto Dec 26th 1894 Took dinner at 3 and read during the rest of the day - went to work at seven, Transgressor being the bill. We had a fine house. Miss Nethersole's cold was still bad - but she got through having had two doctors - one a throat specialist - and I hear she is a little better this morning, but the weather has turned very cold and I am afraid it will not be very good for her to come out tonight - for it has been trying to snow.
Miss Nethersole caught cold at the Falls. She left Buffalo after the performance on Saturday night and went to the Falls with her maid and her dog - stayed up to see the Falls by moonlight - 4 AM. Was out early again in the morning and walked about - had dinner at 3 PM and then went driving in an open wagon until six. Consequently could scarcely speak on Monday morning.
I had told her to be careful - the air is always damp from the spray rising from the Falls - and is very apt to give cold the hottest day in summer. Sunday was a lovely day and the air just crisp enough to be very enticing. I took a long walk, but did not go riding and have no cold.
Tonight we play Romeo & Juliet if Miss Nethersole is well enough. Tomorrow night Camille, Friday night & Saturday Mat[inee] Frou-Frou, at night Transgressor. Then off for "Montreal".
Montreal Jan 1 1895 Last night Miss Nethersole & [Marcus] Mayer gave a little supper to the Company at the Windsor Hotel, and I went, and it was nearly 2 AM when I got back to this hotel. A nice way for an old lady to begin the New Year.
To-night Miss Nethersole invites us - I think to partake of some English plum pudding sent to her from England, so I suppose it will take us into the "wee small hours of the morning" again.
We do not give a matinee today. Miss Nethersole has recovered from her cold and is all right again. We opened last night to a very good house and play was well received. The sun is just bursting forth to smile on the New Year - a happy harbinger, I hope of good luck to us all. I have steam heat in my room, and it is turned off and I have to have the window open - on New Year's day 1895. A strange thing for this part of the world. And I do not think it healthy.
Jan 2 1895 Then after the performance we all met in Miss Nethersole's parlor, where an elegant supper was served. 17 of us sitting down to table, the feature of the supper being an English plum pudding sent all the way from London, Eng[land] and a very delicious one it was. So I had my good share of happiness for one day & very grateful I am for it.
I got home from the supper at 2:25 this Morning. Frou-Frou is the bill tonight & Friday night which lets me out. I play the nurse [in Romeo and Juliet] tomorrow night, Sat Mat.[inee] Camille and night Transgressor. Then off to Providence, R.I., for a week and then Harlem for a week. Do not know where I shall stop yet but if possible I will be in Harlem. I do not wish to climb "L" stairs at 11:45 PM and make it 12:30 before I could reach any of my downtown boarding houses. I think going to Harlem is a mistake anyway, at the present time, as they intend playing Olga [Nethersole] in New York after St Louis but perhaps they know best.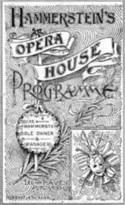 Hammerstein's Opera House Programme, Oscar Hammerstein, Sole Owner & Manager Miss Olga Nethersole Week Commencing Jan. 14, 1895 Camille

Oscar Hammerstein [1847-1919] built the Harlem Opera House in 1889 and subsequently a number of other theaters. He was the grandfather of Oscar Hammerstein II, known for Oklahoma, The King and I and The Sound of Music.
Chicago Feb 1895 I am glad you and your friends enjoyed Camille but am sorry you will not be able to see Romeo & Juliet - for we do not return to New York to play at [Stanford White's] Garden Theatre or any other theatre with Miss Olga Nethersole at present.
Olga Nethersole wrote in "My first Juliet" in the Playgoer Feb 1904 page 85 about Maurice Barrymore as Romeo "during my first season in America I appeared as Juliet. It was a terrible experience for me… No it was all my Romeo's fault. I was lying on the bier in Juliet's tomb and Romeo (Maurice Barrymore) was pouring out his agony of love in the most approved Shakespearean style. Suddenly he whispered to me "I have forgotten my dagger" She improvised by impaling herself on Romeo's sword and the next morning was "unanimously condemned by the critics "for introducing a new methods of killing Juliet." http://books.google.com/books?id=5pUtAQAAMAAJ&source=gbs_navlinks_s
Letters from EJ Phillips indicate that Nethersole and company also played in Milwaukee, St. Louis, Indianapolis, Columbus, Cleveland, Detroit, Buffalo, Lawrence Massachusetts and Portland Maine.
An undated clipping from a Milwaukee paper reviews Miss Nethersole as Juliet. "Every young actress is sure to make a mistake now and then, and Miss Nethersole has made one as Juliet.
Boston April 7 1895 Last night we closed our Season with Camille and after the curtain fell Miss Nethersole gave us a champagne & sandwich farewell. She, her brother [Louis Nethersole] & maid sail on Wednesday for England. I am very sorry we close so early, for she could have prolonged the Season for a few weeks with advantage to herself, and certainly to me.
July 26 1895 I suppose you have had a telegram for me this afternoon. It has come to me ‑- is from Mrs. [EL] Fernandez - wanting to know my terms for next season with Chas Frohman. I have wired her "Same terms as in Lady Windermere['s Fan]. I do not expect to be able to start before Saturday morning dear to see you. Now this business will detain me even a little longer. Will not surprise me if it is to join the Nethersole Company. She is to open at the Empire Theatre in October.
I like my new stage manager Mr. Humphreys very much in that he is very thorough and energetic and puts on no airs. He has done more in three days with his play than the Hollands and [Richard] Mansfield combined did in five weeks. We have no waiting at rehearsals. We begin on time and get through without any trouble. Best stage Management I have seen since Union Square [Theatre Company 1877-1884] days.

The New York Times reported April 11 1895 that Olga Nethersole had signed a multi-year contract with Charles and Daniel Frohman to return to the US for annual tours and also in London, and Paris, Berlin, Vienna and St. Petersburgh under her American managers.

While Nethersole was to return to New York in October 1895 EJ Phillips went on to tour in the Gay Parisians with Sadie Martinot, who was married to Louis Nethersole, brother of Olga, from 1895-1897. EJ Phillips' final stage appearance was in Philadelphia in 1898, filling in for Fanny Addison Pitt, in several performances of A Bachelor's Romance. Mrs. Pitt's husband, .
The Sapho Affair 1900 Early in 1900, Dr. Newell Dwight Hillis, a well-known and outspoken pastor, issued his opinion that "a common whipping post might be very wholesome for New York today." Hillis was in an uproar over what he deemed the morally lax standards on display in Broadway plays. He was not alone in this opinion. An organization calling itself The Society for the Suppression of Vice, led by Anthony Comstock, singled out Broadway as a bastion of subversive and morally corrupt works. One play, Sapho, was singled out for its bawdy depiction of a seductive woman and her many lovers.
Based on a French novel, Sapho starred English actress Olga Nethersole as Fanny, the offended seductress. In a scene that offended the sensibilities of some, Fanny is seen being carried up a flight of stairs by a man she was not married to. On top of that, Fanny appears to be eagerly anticipating what might transpire when she and her paramour reach the top of the staircase. New York newspapers, eager to fan the flames of moral indignation and to boost circulation numbers, condemned the play as a "reeking compost of filth and folly." Such publicity only increased the play's popularity. An inspector for the New York Police Department came to the conclusion that the play was not immoral. It had taken him 6 viewings to arrive at that conclusion.

During one performance, Olga Nethersole was placed under arrest for "violating public decency." Her trial transfixed the city for weeks. Instructed by the trial judge that they were "not the guardians of the morals of this community," the jury took only 15 minutes to find Nethersole innocent. No sooner had the judge laid down his gavel, than the curtain rose again on Sapho. This time, the crowds were even bigger. PBS, American Experience https://www.paleycenter.org/collection/item/?q=first&p=528&item=T:57497
Olga Nethersole as Sapho http://en.wikipedia.org/wiki/File:Olganethersole1.jpg
_____________________________________________________________________
EJ Phillips' New York Times obituary (August 10, 1904) headline read OLD ACTRESS DEAD and does not mention John or Albert Nickinson (or the three grandchildren) or the Madison Square theatre company. "Mrs. EJ Phillips, one of the oldest [74] actresses in this country, is dead in Philadelphia. ...In her forty-five years of stage life she was associated with nearly every prominent actor and actress of her time. During her three years with Lawrence Barrett she played nearly all the important Shakespearean roles. She had all the grande dame roles in Mr. Palmer's and afterward in Charles Frohman's stock companies.
EJ Phillips & the 21st century quilt Over the years, as we worked on these letters Mother regretted that we had lost touch with the Dolman cousins. In July 1998 Mary Glen looked up Dolman addresses on the web and Mother wrote to them in Pennsylvania. In September we got an e-mail from Peggy Spencer (another great-great granddaughter of E.J. Phillips). She provided contacts for her sister Susan Spencer in Toronto. E-mails, packages, family trees and other information went back and forth all fall. Susan mentioned the existence of a quilt made from pieces of E.J. Phillips costumes and the contents or her scrap-bag, and brought it to Boston for Christmas. We got together the day after Christmas 1998 in Boston to meet in person and take the quilt to the studio of Jay Penni, a photographer neighbor of mine. Susan also brought an essay written for an English class at the University of Pennsylvania by her mother Barbara Dolman Spencer (1913-1988) the original recipient of the quilt and E.J. Phillip's great- granddaughter. Quilt photo quilt.htm

"To me, the most interesting thing about the quilt is that many pieces had a history. My grandmother can remember where most of the pieces came from, and in many cases, just how a particular dress was made, for as a young girl she helped her make a good part of the stage wardrobe. There is a bit of burgundy-colored brocade in the quilt, which came from the Nurse's gown in "Romeo and Juliet". Mrs. Phillips played the Nurse to Olga Nethersole's Juliet [1894]. The brocade long survived the Nurse, and has been remade several times. The skirt of that dress is still in existence, occupying the place of honor in the old travel trunk."
19th century Opinions on Shakespeare's plays
Charlotte Cushman, MacBeth and drinking

Hamlet Ellen Terry as [Henry] Irving's Ophelia [in Hamlet] was notable for her research into this aspect of her role and made Ophelia disturbingly rather than prettily mad; this interpretation would be developed throughout the next century. The same period saw the introduction of a more sexual, voluptuous interpretation of Gertrude, begun by Fanny Morant in 1870 and continued by Margaret Leighton in 1884. Royal Shakespeare Company, Hamlet http://www.rsc.org.uk/hamlet/about/stage.html
Charles Frohman (1860-1915) and Shakespeare


After the failure of Palmer's Theatre, EJ Phillips worked for Charles and Daniel Frohman, appearing in Oscar Wilde's Lady Windermere's Fan and then toured with Olga Nethersole and others working with the Frohmans. .

Critic William Winter described the Nurse as the only satisfactory performance in Charles Frohman's production of Romeo and Juliet. [1899] "Mrs. WG Jones [1829-1907] gave an excellent performance as the nurse, making her precisely what she is in Shakespeare's text – garrulous, obsequious, kind, crafty, coarsely humorous, an incarnation of meanness, servility and conceit." William Winter, Shakespeare on the Stage 1915
Charles Frohman: Manager and Man, by Isaac Frederick Marcosson and Daniel Frohman, 1916
Maude Adams was now launched as a profitable and successful star. Like many other conscientious and idealistic interpreters of the drama, she had a great reverence for Shakespeare, and she burned with a desire to play in one of the great bard's plays. Charles Frohman knew this. Then, as always, one of his supreme ambitions in life was to gratify her every wish, so he announced that he would present her in a special all-star production of "Romeo and Juliet."
Charles Frohman himself was always frank enough to say that he had no great desire to produce Shakespeare. He lived in the dramatic activities of his day. It was shortly before this time that his brother Daniel, entering his office one day, found him reading.
"I am reading a new book," he said; "that is, new to me."
"What is that?" was the query? "'Romeo and Juliet,'" he replied.
When Maude Adams dropped the rôle of Babbie to assume that of Juliet some people thought the transfer a daring one, to say the least. Even Miss Adams was a little nervous. Not so Frohman. To him Shakespeare was simply a playwright like Clyde Fitch or Augustus Thomas, with the additional advantage that he was dead, and therefore, as there were no royalties to pay, he could put the money into the production.
When Frohman went to rehearsal one day he noticed that the company seemed a trifle nervous.
"What's up?" he asked, abruptly.
Someone told him that the players were fearful lest all the details of the costume and play should not be carried out in strict accordance with history.
"Nonsense!" exclaimed Frohman. "Who's Shakespeare? He was just a man. He won't hurt you. I don't see any Shakespeare. Just imagine you're looking at a soldier, home from the Cuban war, making love to a giggling school-girl on a balcony. That's all I see, and that's the way I want it played. Dismiss all idea of costume. Be modern."
The production of "Romeo and Juliet" was supervised by William Seymour. It was rehearsed in two sections. One half of the cast was in New York, with Faversham and Hackett; the other was on tour with Miss Adams in "The Little Minister." Seymour divided his time between the two wings, with the omnipresent spirit of Frohman over it all.
Miss Adams had made an exhaustive study of the part. After his first conference with her, Seymour wrote to Frohman as follows:
I thought I knew my Shakespeare, but Miss Adams has opened up a new and most wonderful field. An hour with her has given me more inspiration and ideas than twenty years of personal experience with it. …
On her last starring tour under the personal direction of Charles Frohman, Miss Adams combined with a revival of "Quality Street" a clever skit by Barrie called "The Ladies' Shakespeare," the subtitle being, "One Woman's Reading of 'The Taming of the Shrew.'" With an occasional appearance in Barrie's "Rosalind," it rounded out her stellar career under him….
The ideal play for Charles Frohman was always the one that he had in mind for a particular star. His special desire, however, was for strong and emotional love as the dominant force in the drama. He felt that all humanity was interested in love, and he believed it established a congenial point of contact between the stage and the audience…
Although he did not especially aspire to Shakespearian production, he used the great bard's works as models for appraising other plays. "Shakespeare invented farce comedy," he once said, "and whenever I consider the purchase of such a thing I compare its scenes with the most famous of all farces, 'The Taming of the Shrew.' It goes without saying that when it comes to the stage of the production, my aim is to imbue the performance with a spirit akin to that contained in Shakespeare's humorous masterpiece."
To Sir James M. Barrie, January, 1912:
I think your Shakespearian play is a most wonderful work. I quite appreciate all you say about its chances. I rather felt that a Shakespearian novelty of this kind would be most striking if produced by Tree on top of his newspaper claim of having lost over 40,000 pounds on Shakespeare. … said Frohman, solemnly, "they call me a 'commercial manager' because I won't play Ibsen or Maeterlinck. They didn't help me when I tried for higher game. I had years of poverty, years of privation. To-day I take advantage of a general feminine desire to view Miss To the Coughdrop; and, to the critics, I'm a mere Bulgarian, a 'commercial manager.' So was Lester Wallack when he admitted 'The World' to his classic theater. So was Augustin Daly when he banished Shakespeare in favor of 'The Great Ruby.' If the critics want to reform the stage, let them begin by reforming the public." …
To Viola Allen, September, 1913:
I was awfully glad to get your letter. First let me say you had better come to see "Much Ado About Nothing" this Saturday, because it is the last week. We withdraw it to-morrow night and produce a new program at once. "Much Ado" wouldn't do for more than two weeks. After that it fell. Of course I find on Broadway it is quite impossible to run Shakespeare to satisfying "star" receipts. So come along to-morrow if you can. It would be fine to have you, and fine to have some of the original members of the Empire company to play in this house, and I should like it beyond words. I don't, however, believe in that sex-against-sex play. In these great days of the superiority of woman over mere man I don't think it would do

EJ Phillips' Shakespearean roles we know of
play

theatre co

ejp date

to date

ejp role/cast

notes

As you Like It

Royal Lyceum

1858?

Celia

Comedy of Errors

Royal Lyceum?

1850

s?

Adriana

Coriolanus

Royal Lyceum

1857

?

Volumnia

Hamlet

Barrett

Savannah

1853 1873

Toronto

Queen Gertrude, Marcellus, Guildenstern, Player Queen

King Henry VIII

Barrett

Charleston SC

1873

Queen Katharine

King John

Royal Lyceum

1856?

Eleanor

King Lear

Metropolitan Indianapolis

1868

Goneril with Edwin Forrest

Macbeth

Her Majesty's Ottawa

1861

Toronto

Lady Macbeth, witches, Donalbain, Gentlewoman, Malcolm

Merchant of Venice

Royal Lyceum

1856

Portia

Merry Wives of Windsor

Royal Lyceum

1853

Mrs. Page

Othello

Pike's Opera Cincinnati

1865

1868

Emilia, Desdemona JB Booth Jr Iago

also Indianapolis Toronto

Richard III

Royal Lyceum

1853

Queen, Lady Anne, Duchess of York

Romeo & Juliet

Olga Nethersole

1865

1894

Nurse

Juliet Cincinnati 1864

Taming of the Shrew

unknown

1850

s? 1870s?

Katharine, the shrew

Twelfth Night

unknown

1850

s? 1870s?

Countess Olivia

Shakespeare Wm

.

.

know of 15 plays need 4 more, 26 roles need 5 more

31 roles in 19 plays from Palmer autobiography
Bibliography
Boller, Paul F. Jr American Presidents and Shakespeare, https://www.whitehousehistory.org/the-american-presidents-and-Shakespeare
Felheim, Marvin, The Theater of Augustin Daly, Cambridge: Harvard University Press, 1956 http://www.amazon.com/Theatre-Augustin-Daly-Nineteenth-American/dp/0837122090 has a chapter on Shakespeare, New Style.
Folger Shakespeare Library, Shakespeare in American Life
http://www.shakespeareinamericanlife.org/
Grimstead, David, Melodrama Unveiled, University of California Press, 1987
https://www.ucpress.edu/book/9780520059962/melodrama-unveiled
Levine, Lawrence W., Highbrow/Lowbrow: The Emergence of Cultural Hierarchy in America, Harvard University Press, 1990 https://www.hup.harvard.edu/catalog.php?isbn=9780674390775
Levine, Lawrence, William Shakespeare in America https://www.jstor.org/stable/1855917?seq=1
O'Neill, PB Anthony, A History of Theatrical Activity in Toronto, Canada, from its beginning to 1858, Louisiana State University dissertation, 1973
Shapiro James, editor, Shakespeare in America, Library of America 2014 http://www.loa.org/volume.jsp?RequestID=402
Shattuck, Charles Harlen, Shakespeare on the American Stage: From Booth and Barrett to Sothern and Marlowe 1987
Shoch, Richard W., Not Shakespeare: Bardolatry and Burlesque in the Nineteenth Century, Cambridge University Press, 2002 https://books.google.com/books?id=c-uDXSRWKtYC&source=gbs_navlinks_s
Wells, Stanley, Shakespearean Burlesques, Shakespeare Quarterly, Vol. 16, No. 1 (Winter, 1965), pp. 49-61 https://www.jstor.org/stable/2867735?seq=1#page_scan_tab_contents
Teague, Frances, Shakespeare and the American Popular Stage, Cambridge University Press, 2006 http://www.worldcat.org/title/Shakespeare-and-the-american-popular-stage/oclc/237125691/viewport

Romeo and Juliet: Bawdy http://www.shakespeare-navigators.com/romeo/Bawdy.html has more explanations of Shakespeare's language untaught in most high school English classes.
Last Updated Dec. 26, 2019
Homepage A to Z Index Bibliography People Places Plays Site Map About these letters About EJ Phillips Chronology