Homepage A to Z Index Book outline People Plays About these letters About EJ Phillips Chronology EJ Phillips Facebook Fan Page
John Nickinson's New York City 1837-1850 and beyond
John Nickinson's New York City Google map 1837-1850 Charles Dickens Edgar Allan Poe
John Nickinson and his first wife Mary Anne Talbot Nickinson had five children – daughters Charlotte (1832-1910), Eliza (1834-1917), Virginia (1838-1899), Isabella (1847-1906) and son John Jr. (1844-1916),. Charlotte and Eliza were born in Quebec, while John was still in the British army in Canada, and Virginia was born in Albany shortly after he left the army to become an actor. John Jr and Isabella were born in New York City.
After Albany (1836-37) the family came to New York, where John Nickinson played at the Franklin and Park Theatres, then to William
Mitchell's Olympic
from 1841-1850, until it closed abruptly. While the Nickinsons were in New York City they spent winters there and summers on tour in Canada. John Nickinson's later success in Toronto seems due to his contacts, particularly with James Wallack, and knowledge of theatre in New York. He produced plays which had recently been seen there, invited friends and colleagues to perform in Toronto and brought a new level of sophistication to Toronto dramatics.

What influence did the Panic of 1837 https://en.wikipedia.org/wiki/Panic_of_1837 https://dp.la/primary-source-sets/the-panic-of-1837 have on the Nickinson family fortunes? Banks failed, unemployment increased, and despite a brief recovery in 1838 the depression continued for about seven years.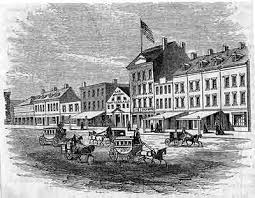 William Mitchell's Olympic Theatre 422 Broadway 1837-1854

William Mitchell as Crummles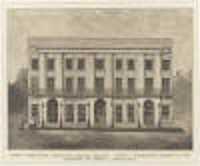 Palmo's later Chamber's Wikimedia |



Niblo's Garden 1828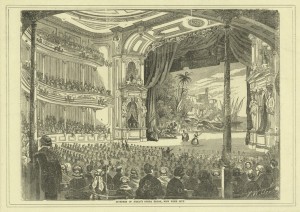 Niblo's Theatre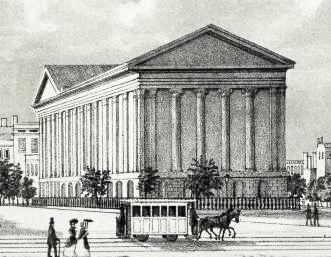 Astor Opera House 1850 Flomian -

The Temple of Momus: Mitchell's Olympic Theatre by David Rinear, gives a good idea of the New York City the Nickinsons knew on their arrival. "several smaller playhouses opened and closed in the city with dazzling rapidity during the 1820s and 1830s, but by the autumn of 1837 the only theatres which were operating on a continuing basis during the winter months were the Park, Bowery, National, the much smaller and even less significant Franklin, and the soon-to-be opened Olympic." Summer theater began in 1828 when restauranteur William Niblo established Niblo's Garden and by the late 1830s built a permanent theatre (but did not become a year round company for many years.) The Olympic was half the size of the Park, Bowery and National. The building was based on Madame Vestris' Olympic in London, and programs there as well "The entertainment will consist of the lighter varieties of the drama, combined with opera, vaudeville, and ballet, as at Madame Vestris' London Olympic." "While the fashionable members of New York society were making the Olympic dress circle and boxes a place in which to be seen, the opposite end of the socioeconomic spectrum was busily making the pit their particular province. ..Mitchell's pit became the favorite haunt for the newsboys butcherboys and apprentices known collectively to that day and age as the "b'hoys".... The better class of people went to the Park and the rude mechanicals and "riff-raff" attended the Bowery. But everyone went to the Olympic."...John Nickinson joined the Olympic in the fall of 1841 "and rapidly became a favorite".
Between 1836 and 1842 the annual number of Irish immigrants increased from 12,645 to 51,542... This piqued curiosity about Ireland and all things Irish, providing a favorable environment in which Tyrone Power and others established an audience. But Power drowned in 1841 and George Mossop, a minor comedian specializing in Irishmen left the Olympic after the first season. However John Nickinson "expressed a desire to learn the business of Irish characters and Mitchell encouraged him to work on several of the standard Irish vehicles. Nickinson appeared in his first Irish piece The Happy Man on 10 January 1842 and proved to be extremely popular in this, appearing in it twenty times during that season... Yet Nickinson was not exclusively or even primarily a specialist, he was called upon to play support to Mitchell in other farces, extravaganzas and burlesques more often than he played his newly developed line of business.
Mitchell's greatest success of the [1842] season was a burlesque of Richard III entitled Richard #3 a conflict over who was to be the new driver of omnibus #3. Mitchell played Richard eventually the omnibus driver, while John Nickinson played Henry King "an old omnibus driver" and Richard's predecessor. This play ran for twenty nine consecutive evenings. The next attraction was Cinderella with a duet sung by Edwin and Nickinson which was "loudly encored, Nickinson "lost the key sang in one different from that which was played by the orchestra." The audience found this hilarious, and even the hapless Nickinson finally gave up and joined in the general laughter. The Albion's critic found the incident, "a good joke -- for once-- but it must not be repeated." Although the critic was inclined to forgive Nickinson's vocal mistake, he found some of the contents of the new extravaganza in questionable taste. ...and the offended critic grudgingly admitted, "We may truly consider the piece a decided hit." David Rinear, Temple of Momus
Video of staged reading of John Wilkes Booth's Richard III in 2016 https://boothiebarn.com/2016/02/02/tonight-john-wilkes-booths-richard-iii/ 2018
Charles Walcot, whose son Charles Jr was to marry Isabella Nickinson, joined Mitchell's Olympic in September 1842. In 1843 Jan 23-Feb 7 John Nickinson was in Beauty and the Beast: Comic Operatic and Melo-dramatic Fairy Extravaganza at Mitchell's Olympic Theatre, with Charles Walcottplaying the Beast, and Mrs. Mossop (later Mrs John Drew and mother=-in-law of Maurice Barrymore) as Marygolda. Women Writers Dramatized 2000 https://books.google.com/books?id=3n1msu2y1WgC&dq=inauthor:%22H.+Philip+Bolton%22&source=gbs_navlinks_s
MacBeth Travetie by WK Northall was first produced at New York's Olympic Theatre with John Nickinson as First Witch Oct 16, 1843 and William Mitchell as MacBeth and Mrs Booth as Lady MacBeth. Script with stage business, cast of characters, relative positions, etc.
https://babel.hathitrust.org/cgi/pt?id=uc2.ark:/13960/t4sj1k366;view=1up;seq=14 John Nickinson and Walcott-- "two of Mitchell's most popular and useful actors: left the Olympic in 1847. John Nickinson went to the Park theatre. The Park burned on 16 Dec 1848 but John Nickinson had rejoined the Olympic in September 1848.
John Nickinson's greatest part was Havresac in Boucicault's The Old Guard, which he acted from 1848-52 in the Olympic Theatre, New York. He and Charlotte (playing Melanie to his Havresack) toured in this for three years. Described in Joseph Norton Ireland's Records of the New York Stage from 1750-1860 (vol. II June 24 1846) Niblo's Garden -- The first time the interesting and exciting drama entitled Napoleon's Old Guard ... It was triumphantly successful and continued being played nightly ... The Vauxhall Garden Saloon was opened on the first of June 1846 with Mr. BA Baker as stage manager and Henry Chapman, Nickinson, Miss [Charlotte] Nickinson [and others] as performers...The youthful and pretty Miss Nickinson made her first appearance as Rose in "Cousin Lambkin" and Clarissa in "Bothered Between 'Em". She was exceedingly neat and clever in juvenile walking ladies and a year or two later was warmly applauded as the representative of Florence Dombey at Burton's Theatre. Charlotte Nickinson joined the Olympic in 1846"although Miss Nickinson was but a teenager and had no professional experience, she rapidly became one of the Olympic audiences' favorite performers."

John Nickinson Castle Garden June 1848 George Holland manager, Charlotte also in company June 1846 Vauxhall Gardens "an unusually brilliant company". Nickinson played Alderman Lollipop in Cinderella March 7 1842. Dombey in Dombey and Sons at Burtons 1848 August 16 and Charlotte Nickinson as Florence. Sept 1850 John and Charlotte Nickinson in the company of the Astor Place Opera House. Planche's admirable interlude "Lavater the Physiognomist was played for the first time in new York on the 8th of May. Lavater was one of Nickinson's favorite parts, but his personation has since been surpassed in excellence by Mr. Walcott and Mr. C Mathew
One source says John Nickinson's last appearance in New York was in May 1862 at Laura Keene's Ireland's History of the New York Stage says he appeared for the first time in ten years as Havresack with Isabella Nickinson playing Melanie, and he played Spurrit in The Post Boy in June. Charles Peters and Owen and Virginia Nickinson Marlowe were in Laura Keene's company that season. But I have a playbill (a gift from Effingham Dolman) in which he was playing in Harlem Aug. 20 1862 in The Soldier's Return;' Or an Unwarrantable Intrusion as Old Potter, with Owen Marlowe, singing St. Patrick's Birth--day and concluding with the farce of Box, Cox, and Knox; or The Printer and the Hatter as Box with Marlowe as Cox. Marlowe and Isabella Nickinson were also in the Household Fairy! as Julian De Clifford and Katharine.
Did John Nickinson Drink with Edgar Allan Poe?
A reminiscent article of peculiar interest, written by one who knew Poe intimately in his latter days, appeared in the New York Times, in 1888 [Memories of Edgar A. Poe, Fordham still treasures his odd old cottage, Aug. 12, 1888] "Poe had his offs and ons, declares this chronicler. "He was not a steady drinker. Appreciation was his thirst. Often he found it in the society of intellectual women, who visited himself and wife in the city. Ordinarily grave and silent among them he could be chatty and witty. Craving excitement apart from his labor, he sought the companionship of his guild downtown, and he found that, too, in a little store in Nassau Street, between Ann and Beekman, where gathered a few elevated literary minds, reinforced by a sprinkling of actors like Peter Cunningham, John Brougham, Oliver Raymond, Tom Johnston and John Nickinson It was not a dramshop, but it dispensed various kinds of nervine, and it had facilities for adding emphasis to what 'the Governor of North Carolina once said to the Governor of South Carolina.' Clara Dargan Maclean, "Some Memorials of Edgar Allan Poe," Frank Leslie's Popular Monthly, April 1891, vol. XXXI, no. 4, pp. 457-464
http://www.eapoe.org/papers/misc1851/18910401.htm
IT'S a long time between drinks!" Everybody knows that's what the governor of North Carolina said to the governor of South Carolina. But who knows, for sure, which governor said it, to whom it was addressed, or when and where and under what circumstances it was uttered? Cambridge Sentinel, Volume XXXIII, Number 23, 4 June 1938
https://cambridge.dlconsulting.com/cgi-bin/cambridge?a=d&d=Sentinel19380604-01.2.9
Poe in New York Bronx cottage https://ephemeralnewyork.wordpress.com/2008/08/20/edgar-allen-poes-bucolic-bronx-cottage/
Poe in 1830s and 1840s New York https://ephemeralnewyork.wordpress.com/2017/10/23/edgar-allan-poe-on-new-yorks-inevitable-doom/
Poe on the Upper West Side 1844 https://ephemeralnewyork.wordpress.com/2016/05/23/a-rocky-west-side-knoll-inspires-edgar-allan-poe/
Poe and High Bridge http://highbridgeparkdevelopment.blogspot.com/2013/01/edgar-allan-poe-walking-high-bridge.html
Where did the Nickinson's live in New York?
Nickinson John comedian 42 Hamersley The New York City Directory ..., Volume 2 (Google eBook) C.R. Rode, late Doggett & Rode., 1843 - New York (N.Y.) [Hammersley is [now West Houston St.] http://forgotten-ny.com/1999/09/greenwich-village-necrology/

Longworth's American Almanac, New York Register, and City Directory ... (Google eBook) T. Longworth & Son., 1841 https://books.google.com/books?id=kjREAQAAMAAJ&vq=nickinson&source=gbs_navlinks_s also
also lists John Nickinson as living at 42 Hammersley

Later city directories list John Nickinson as living at 5 Crosby St in Soho. . (1845, 1846, 1848)
97 Crosby Street is about four blocks away from 5 Crosby. http://daytoninmanhattan.blogspot.com/2018/03/edward-judsons-1895-97-crosby-street.html In the 1840s the block of Crosby Street between Prince and Spring Street was still upscale. Commodious brick houses built in the 1820's and '30's were still occupied by well-to-do families....But the respectability of the neighborhood would erode by the time of the Civil War.
John Nickinson and Mary Anne Talbot Nickinson legally separated in March 1855 in Toronto, because "unhappy differences have arisen and do still subsist". Mrs Nickinson and Isabella seem to have gone to New York in early 1858. Mary Ann Talbot Nickinson's death March 13 1877 was reported in the New York Herald as being at the home of her daughter Mrs. C Peters. A funeral mass was celebrated at St Lawrence's Roman Catholic Church at 84th and Park avenue. A number of John Nickinson's first family's children also ended up in New York.
After Mitchell's Olympic Theatre in New York closed abruptly in 1850, John Nickinson formed his own company and with daughter Charlotte toured in Providence RI, Montreal, and Rochester and ended up in Toronto in 1851. Charlotte spent most of the rest of her life in Toronto, although Daniel Morrison worked for the New York Times and they lived in New York City briefly.
John Nickinson and Charles Dickens
Dickens wrote about New York theaters in American Notes for General Circulation " There are three principal theatres. Two of them, the Park and the Bowery, are large, elegant, and handsome buildings, and are, I grieve to write it, generally deserted. The third, the Olympic, is a tiny show-box for vaudevilles and burlesques. It is singularly well conducted by Mr. Mitchell, a comic actor of great quiet humour and originality, who is well remembered and esteemed by London playgoers. I am happy to report of this deserving gentleman, that his benches are usually well filled, and that his theatre rings with merriment every night. I had almost forgotten a small summer theatre, called Niblo's, with gardens and open air amusements attached; but I believe it is not exempt from the general depression under which Theatrical Property, or what is humorously called by that name, unfortunately labours.
"

American Notes was originally published in October 1842. John Nickinson was in New York when Dickens visited in 1842. As reported in Record of the New York Stage "
The 19th of February [1842] is memorable from the performance of the "Love Chase," with Nickinson as Fondlove, Hieldi as Waller, Gates as Wildrake, Mrs. Stickney as Widow Green, and Mrs. Shaw as Constance, being honored by the attendance of Charles Dickens. "

The Dickens Boz Ball Feb 14 1842 was at the Park Theatre. Dickens did many readings during his second 1867 US trip, but I don't know that he did any in 1842.


Dickens 1867 trip to America was a series of readings, and Lauren Hutton reported in Players and Plays published in 1875 about Dickens' reading of Dombey and Son. John Brougham's version of Dombey and Son "took the town by storm" and "Burton's fortune as an actor and manager were made." John and Charlotte Nickinson played Dombey and Florence Dombey and Oliver B Raymond's Toots "was so thoroughly Toots "that the Toots of Dickens himself, when he read Dombey to us here was a woeful disappointment" "Mr Nickinson and his daughter\, whom we remember as the best Havresack and Melanie in "The Old Guard" of their day. Lately from Mitchell's Olympic they added strength to Burton's company and their Dombey and Florence were perfect gems of acting."

I went to New York in October 2016 for a party at the Joseph Pulitzer Mansion on East 73rd St, at the invitation of Swarthmore friend Phil Davies, director of the Eccles Centre for American Studies at the British Library. I went the next day to the New York Public Library for the Performing Arts at Lincoln Center, and found the following newspaper clipping in great-great grandfather's John Nickinson file.

New York Season Nov 26 1870 (newspaper unidentified)
This article was published over six years after Nickinson's death, and twenty years after his regular appearances in the city. It recalls the illustrious career of John Nickinson and how sad it is that Nickinson is buried in Cincinnati, when he had so many people remembering him with great affection in New York.


"Nickinson spoke French well and imparted just enough of its accent to his British English in the role to give it the fullest expression of its nationality. Then too Nickinson had been a soldier and had that peculiar bearing which comes of thorough drill in a regular army. There is one other part of Nickinson's acting that always had great fascination for me. It used to be given about Christmas time, a dramaturgy by Walcott of one of Dickens's Christmas stories. "The Haunted Man". Nickinson played the old father. I have never seen such extreme old age so touchingly portrayed, in words whose awe was mingled indescribably with a most human pathos pray "Lord keep my memory green". I have heard Dickens read the story, but never felt its beauty and power so forcibly as when Nickinson uttered these words with his trembling arms, laden with the red berried holly and dark Christmas ivy. Dickens read it, but Nickinson looked as the one who thought it." A.R.C. [Am trying to identify who this was]

John Nickinson (1808-1864) died at 57 so he had limited experience of extreme old age. Actor Charles M. Walcott is credited as the author of the play The Haunted Man. His son Charles Melton Walcott Jr married Isabella Nickinson in 1863. John Nickinson and Charles Walcott played together at the Olympic Theatre in New York in 1842 and in Toronto in 1852.

Charles Dickens, The Haunted Man and the Ghost's Bargain, 1848 https://en.wikipedia.org/…/The_Haunted_Man_and_the_Ghost's_…
full text
https://archive.org/stream/hauntedmanthegho00dickuoft…
This is the fifth and final Dickens' Christmas story. A Christmas Carol was published in 1843.
Illustrations for the Haunted Man, Victorian web http://www.victorianweb.org/art/illustration/haunted/pva75.html

Bibliography Charles Dickens
Dickens, Charles American notes for General Circulation, 1842 https://www.gutenberg.org/files/675/675-h/675-h.htm
Dickens, Charles Dombey and Son https://www.gutenberg.org/files/821/821-h/821-h.htm Haven't found a script for John Brougham's version of Dombey acted by John and Charlotte Nickinson.
Charles Walcott also produced a less successful version.
Dickens, Charles Haunted Man https://archive.org/stream/hauntedmanthegho00dickuoft

"Dickens in America" BBC DVDs have actress and Dickens enthusiast Miriam Margoyles retracing the 1842 trip https://en.wikipedia.org/wiki/Dickens_in_America
Sections on New England, New York, Canada and Cincinnati.

John Nickinson's children also lived in New York as adults
Owen Marlowe, who married Virginia Nickinson, was with Laura Keene in New York 1861-1862, and in 1863-1867 with Mrs. John Drew's company in Philadelphia. in 1868 he was in San Francisco under the management of John McCullough. In June 1870 five Marlowes were living in New York, according to that year's census -- Owen, Virginia, Jesse, Ethel and Virginia. By June 1871 Owen Marlowe was back in San Francisco, and by January 1872 Virginia Marlowe was appearing there in plays with him. However by July 1873 Owen Marlowe was given a farewell benefit with a rosewood cane given by the Bohemian Club and went east by steamer through Panama. No mention in the newspapers when Virginia returned east. By Sept 1984 Owen Marlowe was appearing in Brooklyn in London Assurance. In 1874 he visited his family in England for the first time in 20 years, and in 1875 appeared in New York as Phileas Fogg in Around the World in Eighty Days, in "18 spectacular scenes:...from his London club room through the Suez into the interior of a Hindoo bungalow ...[leading] up to a "startling pyre" and a Grand Funeral Pageant." [Bordman, Gerald: American Musical Theatre: A Chronicle 2010]. In March 1876 he was appearing in Chelsea Massachusetts in Our Boys and died in May at Mass General Hospital of consumption. He died penniless and was buried in Forest Hills Cemetery, Boston. Virginia was appearing in Toronto at her sister Charlotte Morrison's Grand Opera House as the boy Paul in The Octoroon.
Their daughter Ethel Marlowe died in 1898, suddenly of heart trouble, at the Knickerbocker Theatre, in the third act of The Christian. Virginia's New York Clipper obituary (Mar. 18, 1899) reported that she had retired from the stage "at the time of her daughter's sudden death" and had since made her home with the married daughter, at whose house she died.
A 1905 article in Donohoe's magazine interviewed Mrs. Charles Peters [Eliza Nickinson] and said she had become a Catholic under the instruction of Jesuit Father Damen, while living in Yorkville New York. She went back to acting after the death of her husband and played a New England widow and Irishwoman in the 1870s and played similar roles in Boucicault's Shaughraun, various roles in the Irish village at the St, Louis World's Fair and the part of the Widow McNally in the Sunshine of Paradise Alley was written for her. She talks about going to the old St. Patricks School on Mulberry St .but when the sisters learned that the girls were the daughters of an actor they were promptly sent home. http://books.google.com/books?id=qgjZAAAAMAAJ&vq=nickinson&dq=eliza+nickinson+peters&source=gbs_navlinks_s
Mary Ann Talbot Nickinson died at Mrs. Peter''s house in New York in March 1877.
Son John Nickinson Jr. (c. 1844-Feb 1916) according to a brief New York Times (Feb. 15, 1916) obituary, was "for many years managing clerk at the grocery division of the Appraiser's Stores" and died suddenly at work at 72, leaving a daughter in Toronto. He had entered the Customs Service in 1881. An 1886 New York City Directory listed him as a clerk with an address at 221 East 81st. St.
John Nickinson Jr. seems to have been involved with theatrical publishing.
Project Gutenberg Punchinello project notes that applications for advertising should be addressed to John Nickinson, Room No. 4, No. 83 Nassau St. N. Y. [between John and Fulton St. according to Google Maps t.]
Punchinello Vol. 1. No. 3 http://www.fullbooks.com/Punchinello-Vol-1-No-3-April-16-1870.html
Vol. 1 No. 7 http://www.fullbooks.com/Punchinello-Vol-1-No-7-May-14-1870.html
Vol. 1 No. 19http://www.gutenberg.org/dirs/1/0/0/1/10015/10015-h/10015-h.htm
Vol. 2 No. 32http://www.gutenberg.org/dirs/1/0/1/0/10104/10104-h/10104-h.htm
Isabella Nickinson's last appearance in Toronto seems to have been on Jan. 11, 1858 at the Royal Lyceum in The Wife, playing Florabella.
She appeared on the stage in New York at Laura Keene's Theatre in May 1862 as Melanie to John Nickinson's Havresack. She married the actor Charles Melton Walcott Jr. (1840-1921) in 1863 in New York and played with him at the Walnut Street Theatre in Philadelphia. They then joined Daniel Frohmans' company in New York and appeared at the Lyceum Theatre from 1887-1899. Until her death they almost always played together. History of the American Stage Isabella was part of Laura Keene's company in 1862 and in November appeared as Uria in Blondette or the Naughty Prince and the Pretty Peasant. In April 1863 she was Pennie Durgan in Bantry Bay or Ireland in 1798 with Charles Peters as Phadrig. in 1894 she appeared in Henry Arthur Jones' Case of the Rebellious Susan and in 1895 in Oscar Wilde's An Ideal Husband.
Blanche Whiffen (the original Buttercup of HMS Pinafore) writes in her autobiography of being friends with Isabella Walcot. "Once, when we were rehearing [David Belasco Henry DeMille's] "The Charity Ball," Mrs. Walcottand I, thinking we had time enough, went out to seek some lunch while a scene just before outs was being rehearsed. As luck would have it, our scene was called while we were away, and when we came back, Mr. Belasco was very angry and called us down, ending up with: "And from now on you won't go out to lunch at all. You'll stay in the theatre and eat beans and drink water!" Mrs. Walcot, being a braver soul than I , spoke up pertly:" "All right, Mr. Belasco! I'll bring the beans if you bring the water!" And she did bring a pot of Boston baked beans the next morning, Mr. Belasco took the joke and helped us eat the beans, bringing us a large dipper of water. Mrs. Thomas Whiffen, Keeping off the Shelf, New York EP Dutton & Co, 1928 The Charity Ball opened Nov 1, 1889 at the Lyceum Theatre and also had Herbert Kelcey, WJ LeMoyne, and Charles Walcottin the cast, closing the season on May 26 1890 after 200 performances, according to the History of the New York Stage.
Players of the Present, John Bouvé Clapp, 1899 has several paragraphs on Isabella Nickinson Walcottand her career and a photo. http://books.google.com/books?id=QhsPAAAAIAAJ&dq=nickinson&q=nickinson#v=snippet&q=nickinson&f=false
Both Walcotts were in the Booth brothers production of Julius Caesar with Edwin as Brutus, Junius Brutus as Cassius, John Wilks as Mark Antony, and Charles Walcottas Octavius and Isabella as Calphurnia. After the Winter Garden Theater burned the Walcotts went to the Walnut St Theatre in Philadelphia for about 12 years, and joined Daniel Frohman's stock company in 1887. Walcott is noted (in Durham)as a member of the Madison Square Company in 1884-1885, where EJ Phillips had been since 1877. His father was also an actor, "an eccentric comedian and writer of burlesques" who had been at Mitchell's Olympic Theatre with John Nickinson. The son "sported a moustache and always wore the jovial expression of a genial English squire." Dictionary of American Biography
<![if !supportLineBreakNewLine]>
<![endif]>Isabella Walcott's NY Times obituary (June 4, 1906) refers to her "memorable run of 100 nights at the Old Winter Garden in Broadway, opposite Bond Street, [where] she played Ophelia to [Edwin] Booth's Hamlet" and says that she was "for forty years a familiar and loved figure on the stage." She died at her home 200 West 101st St., three months after a stroke at their country home in Rhinebeck. Her last stage engagement had been with Annie Russell.
Her NY Dramatic Mirror obituary June 9 1906 says she was born in New York City Oct 7 1847. Her "earliest recorded appearance was as Melanie in Napoleon's Old Guard, her father acting the part of Havresack.
Under the able direction of Laura Keene she received a thorough old fashioned training, playing leading juvenile characters in the Keene company."
More on Virginia, Eliza and Isabella's roles available in A history of the Thomas Allston Brown's New York Stage Volume 2 1851-1901
http://books.google.com/books?id=mJEXAAAAYAAJ&dq=nickinson+fanchon&source=gbs_navlinks_s
Ireland's Records of the New York Stage 1750-1860 has a number of references to John and Charlotte Nickinson
http://books.google.com/books?id=C6INAAAAQAAJ&vq=nickinson&source=gbs_navlinks_s
Bibliography
Rinear, David, Stage, Page Scandals and Vandals: William E Burton and 19th century American Theatre, Southern Illinois Univ Press, 2004 https://www.amazon.com/Stage-Page-Scandals-Vandals-Nineteenth-Century/dp/0809325721
Rinear, David, The Temple of Momus: Mitchell's Olympic Theater, Scarecrow Press, 1987

New York City Mayors 2010 has a list of New York Theaters https://books.google.com/books?id=mNe7Sph7lJ8C&dq=new+york+city+chatham+st+1837&source=gbs_navlinks_s
Demolished New York Theaters http://www.musicals101.com/bwaypast.htm
Timeline New York City 19th century https://en.wikipedia.org/wiki/Timeline_of_New_York_City#19th_century
The population of New York City from the June 1840 census was 312,710. The US population had increased by 32.7% from the 1830 census. By the 1850 census New York's population was 515,547.

Last revised August 24, 2020
Homepage A to Z Index Book outline People Plays About these letters About EJ Phillips Chronology EJ Phillips Facebook Fan Page
year
month
day
notes1
city
theatre
play events
2018
march
18
notes 2
age
source
1836
9
8
New York NY
Bowery Theatre
John Nickinson leaves Montreal for an engagement in New York

hist Montreal
1837
2
3
New York NY
Franklin Theatre
Monsieur Tonson JN first appeared in NY in Monsieur Morbleau by Wm T Moncrieff's

rec NY stage

1837
7
24
New York NY
Franklin Theatre
Pickwick Club John Nickinson as Pickwick
29
rec NY stage

1837
10
9
New York NY
Franklin Theatre
Geoffrey Dale JN as the miser's man Jacob Codling
Hutton NY clipper 1878
1838
1
1
New York NY
Mitchell's Olympic
Richard III JN as Catesby I & Lewey Madigan in Erin go bragh or a tale of Munster

Hist NY Stage
1840
1
10
New York NY
Mitchell's Olympic
Happy Man JN in first Irish piece at the Olympic
performed 20 times in season
31
Momus rec NY stage
1840
9
4
New York NY
Park Theatre
How to pay the rent JN with Tyrone Power

rec NY stage
1840
9
30
New York NY
Park Theatre
King Lear John Nickinson as Burgundy
32
rec NY stage

1841
0
New York NY
City directory lists JN as comedian living at 42 Hamersley [West Houston St]
NY City Directory
1841
2
1
?
New York NY
Park Theatre
Money John Nickinson in Bulwer Lytton's

Money
Odell
1841
4
24
New York NY
Park Theatre
Jack Cade JN as Friar Lacy with Edwin Forrest in Robert T Conrad's Jack Cade or Aylmere
premiere
life Edwin Forrest Odell
1842
2
10
New York NY
Mitchell's Olympic
Richard III burlesque JN as King Henry in

Hist NY Stage
1842
3
7
New York NY
Mitchell's Olympic
Cinderella JN as Alderman Lollipop in Cinderella or the Foreign Prince & a Large Glass Slipper
Charles Walcott
hist NY stage NY Clipper 1/26/1889

1842
5
18
New York NY
Mitchell's Olympic
White Horse of the Peppers

JN as Croaker in Samuel Lover's

Petty Sins & Pretty Sinners JN

Reuben Snaffler
hist am stage
1842
11
7
New York NY
Mitchell's Olympic
Don Giovanni in Gotham JN Mons Kickba
Clipper1889 Feb 2
34
NY clipper
1842
12
26
New York NY
Mitchell's Olympic
Captain of the watch by Planche JN Baron Vanderpotter
Hutton Players
1843
0
New York NY
City directory lists JN as comedian living at 42 Hamersley [West Houston St]
NY City Directory
1843
1
23
to Feb 7
New York NY
Mitchell's Olympic
Beauty & the beast JN as Croton Pump in Planche's Beauty & the Beast
NY Clipper 1889
1843
9
13
New York NY
Mitchell's Olympic
Charles WalcottSr and George Holland join Mitchell's Olympic
NY Clipper Momus
1843
10
3
New York NY
Mitchell's Olympic
Hamlet Travestie JN Polonius
1843-44 Salary $15/week Momus
35
NY herald loc
1843
10
New York NY
Mitchell's Olympic
MacBeth by Northall JN as first witch Mrs JB Booth [debar] as Lady Macbeth
Hutton Players
1843
11
7
New York NY
Mitchell's Olympic
Don Giovanni in Gotham JN as Mons Kickshaw in Chas Walcot's Don Giovanni in Gotham

3-4 other roles/plays in article
NY Clipper 2/2/1889
1844
0
circa
New York NY
John Nickinson Jr born

JN 34 Mary Ann 36
0
estimate

1844
1
8
New York NY
Mitchell's Olympic
Old King Cole John Nickinson as Old King Cole
rec NY stage

1844
2
8
New York NY
Mitchell's Olympic
Devil n Paris JN WalcottHolland Debar Fenno very effective acting in
Anglo American
1844
6
.
to Sept
New York NY
Niblo's Garden
John Nickinson in

Parson's Nose La Fille du Regiment
36
?
1845
0
New York NY
Napoleon's Old Guard print
JN and Charlotte
60 printed
37
Phelps NY state library
1845
2
3
New York NY
Mitchells Olympic
Devil in Paris JN Mr Debar Mr. WalcottMr Holland
Hutton Players
1845
5
New York NY
Bowery Theatre
principal members of company transferred to including Nickinson Chanfrau
rec NY stage

1845
6
1
New York NY
Niblo's Garden
Seven castles of the passions John Nickinson as Mephistopheles
rec NY stage

1845
7
13
2 weeks
New York NY
Niblo's Garden
Honeymoon John Nickinson with Mrs. Mowat, EL Davenport

Mem History City of NY
Cur Am Stage
1845
9
.
New York NY
Mitchell's Olympic
Charlotte Nickinson joins Mitchells Olympic
13
Shortt
1845
9
..
New York NY
Niblo's Garden
JN leaves Mitchell's Olympic for Park Theater Chas WalcottSr

leave NY to tour
Momus
1846
0
New York NY
John Nickinson comedian 5 Crosby

Soho
also 1845
NY City Directory
1846
0
summer?
New York NY
Niblo's Garden
Napoleon's Old Guard John Nickinson as Havresack in Boucicault's

?
1846
4
12
New York NY
Bombastes Furioso Ensign Nickinson

Major Genl Striker

Punch

1846
6
1
New York NY
Vauxhall Garden
Bothered between JN performer Charlotte's NY Debut as Rose in Cousin Lambkin & Clarissa in Bothered Between Em
14
Rec NY Stage Hist NY Stage
1846
6
8
New York NY
Vauxhall Garden
Captain of the Regiment JN as Martelle in Captain of the Regiment
Rec NY Stage
1846
10
10
New York NY
Mitchells Olympic
John Nickinson at

Anglo American
1847
4
17
New York NY
Burtons Theatre
Love and Murder John Nickinson as Senor Basta

in John Baldwin Buckstone's

38
Rec NY Stage
1847
10
7
New York NY
Isabella Nickinson born
JN 39 Mary Ann 41
0
players clapp
1848
0
New York NY
John Nickinson comedian 5 Crosby

also 1847
NY City Directory
1848
2
24
??
New York NY
Mitchell's Olympic
King of the Peacocks Isabella in
1
Odell
1848
5
8
New York NY
Burtons Theatre
Lavater the Physiognomist John Nickinson in James Robinson Planche's

rec NY stage
1848
6
5
New York NY
Castle Garden
Castle Garden re-opened Geo Holland, JN Charlotte
40
NY Clipper
1848
6
24
New York NY
Castle Garden
Old honesty new farce Holland Nickinson Mrs. Vernon Miss N Monson
Gazette of the Union
1848
8
16
New York NY
Burtons Theatre
Dombey & Sons CN Florence Dombey JN orig Dombey

by John Brougham' also stage mgr Burtons

CN 16
Hist NY Stage Players Albany
1848
10
New York NY
Mitchell's Olympic
Who's got Macready or a Race to Boston JN as Macready
Momus
1848
12
18
New York NY
Amphion
Love's Telegraph JN as Baron Pumpernickel
Odell
1849
5
10
New York NY
Astor Opera House
Astor Place riot
were Nickinson in NYC?
Wikipedia
1849
9
10
New York NY
Mitchell's Olympic
Brittania & Hibernia with Eliza John Jr Isabella Nickinson
Eliza 15 John Jr
Isabella 2
rec NY stage Shortt
1850
0
?
New York NY
Burton's Theatre
John Nickinson at Burton's Theatre

rec NY stage

1850
0
New York NY
John Nickinson comedian 5 Crosby Eliza Nickinson embroidery
NY City Directory
1850
3
9
New York NY
Mitchell's Olympic
Olympic closed abruptly
Hartnoll Oxford Companion
1850
5
13
New York NY
Niblo's Garden
Home John Nickinson as Squre Bullworthy by John Brougham
Record NY
1850
9
20
New York NY
Italian Opera house
John Nickinson
Italian Opera House Astor Place
42
Odell?
1850
10
?
New York NY
Niblo's Garden
Charles Peters came to America Fall 1849, first engaged Niblo's

Charles
25
hist am stage
1851
10
1
to 4
New York NY
Poetus Caecinna Charlottes final NY appearance in Isaac Clarke Pray's tragedy Poetus

Clarke Prays tragedy
DCB Odell
1852
5
23
New York NY
Olympic?
How to pay the rent JN Last appearance in New York until 1862

Odell
1855
1
11
New York NY
Eliza Nickinson married Charles Peters moves to NY
Chas 29
20
NY Herald Marriages deaths
1855
9
.
brief
New York NY
Barnum's Museum
Owen Marlowe first on stage as Lamp in Wild Oats

then southern & western theatre
25
Winter Brief Chronicles
1857
9
28
New York NY
Laura Keenes
Siam Light Guard with Mrs Chas Peters as Dodo and Chas Peters as Knappkin
1858
2
?
New York NY
Isabella and Mary Ann Nickinson go to New York
Mary Ann 52
IN 10
Shortt
1858
6
New York NY
Laura Keenes
Napoleon's Old Guard Isabella Nickinson 1st appeared at Laura Keenes as Melanie
HAS
1858
10
to 1859 march
New York NY
Laura Keenes
Our American Cousin Charles Peters original Binney by Tom Taylor

22
histrionic Montreal
1859
12
to Mar 1860
New York NY
Winter Garden
Octoroon
Dion Boucicault Agnes Robertson Jos Jefferson

Wikipedia etc
1861
9
16
to Dec late
New York NY
Laura Keenes
Seven Sons Owen Marlowe Fred Flutter

Mrs Marlowe Sulfurus
31
Hist NY Stage
1861
12
27
New York NY
Laura Keenes
Dickens Christmas with Peters Marlowe
Laura Keene
1862
0
?
to 1863
New York NY
Laura Keenes
Isabella Nickinson,

Chas Walcottleading man, Charles Peters Mr and Mrs. Owen Marlowe at Laura Keene's
Life of Laura Keene
1862
0
?
New York NY
Laura Keenes
Rivals Peg Woffington Isabella Nickinson as Mabel Vane in Peg Woffington Julia Melville The Rivals

players clapp
1862
2
9
New York NY
Laura Keenes
Fair one with the golden locks Isabella Nickinson as Papil in JR Planche's

Odell
1862
2
10
New York NY
Laura Keenes
Our American Cousin Owen Marlowe Sir Edw Trenchard Mrs Marlowe Sharpe
Laura Keene
1862
5
16
New York NY
Laura Keenes
Sea of Ice Owen Marlowe Geo de Lavel Mrs Marlowe Countess de Theringe

Chas Peters
Laura Keene
1862
5
21
New York NY
Laura Keenes
JN and daughter to perform at benefit Mr. Peters
NY clipper
1862
5
29
New York NY
Laura Keenes
Old Guard JN Havresack Isabella Melanie
Hist NY Stage
1862
6
2
New York NY
Laura Keenes
Post Boy John Nickinson as Spurritt
Hist NY Stage
1862
6
14
New York NY
Winter Garden
Wizards Tempest Prof

Anderson reopens with Messrs Nickinson and others in The Wizard's Tempest or the King of the Magical Island
54
NY Clipper
1862
8
20
New York NY
Washington Hall Harlem
Household fairy JN as Box Mr. Marlowe as Cox in John Madison Morton's Household Fairy

playbill
1862
8
20
New York NY
Washington Hall Harlem
Soldier's return or an unwarrantable intrusion

Owen Marlowe Isabella Nickinson
playbill
1862
9
2
New York NY
Laura Keenes
Old Heads and Young Hearts Isabella Nickinson Chas Peters Owen Marlowe
Laura Keene
1862
9
9
New York NY
Laura Keenes
Laura Keenes stock Co Owen Marlowe Isabella Nickinson JH Stoddart Stuart Robson MM Chas Peters
15
Laura Keene
1862
9
19
New York NY
Laura Keenes
Laura Keenes stock Co Owen Marlowe Isabella Nickinson JH Stoddart Stuart Robson MM Chas Peters
Laura Keene
1862
9
26
New York NY
Laura Keenes
School for Scandal Isabella Nickinson Maria Owen Marlowe Carless JH & MRS Stoddart
Laura Keene
1863
3
23
New York NY
Laura Keenes
Jessy McLane Isabella Nickinson as Mrs Gimp
with Chas Peters Chas WalcottLaura Keene
Hist NY Stage
1863
4
6
New York NY
Laura Keenes
Bantry Bay .Isabella Nickinson in Bantry Bay or Ireland in 1798 as Penny Durgan with Chas Peters
Clapp players
1863
4
16
New York NY
Laura Keenes
Rivals Isabella Nickinson as Julia Stuart Robson Bob Acres CM WalcottCapt Also Laura keene Lydia Languish
Players Present
1863
5
4
New York NY
Laura Keenes
Tib or our cat in crinoline Isabella Nickinson burlesque
Hist NY Stage
1863
5
31
New York NY
Isabella Nickinson married Charles M WalcottJr
16
Clapp players
1863
7
3
New York NY
Draft riots in NY and elsewhere
civil war
1863
10
8
New York NY
Mrs J Woods Olympic
Isabella and Charles Walcottat Mrs. J Woods Olympic Theatre
Hist NY Stage
1863
10
20
New York NY
Laura Keenes
No rest for the wicked Owen Marlowe Castelle Chas Peters JH Stoddart
Hist NY Stage
1863
11
25
1862?
New York NY
Laura Keenes
Blondette Isabella Nickinson in Blondette The Naughty Prince as Una
Hist NY Stage
1864
11
16
to Mar 65
New York NY
Old Winter Garden
Hamlet Isabella Walcottplays Ophelia to Edwin Booth's Hamlet by Shakespeare

100 night run
17
players clapp
1864
11
25
New York NY
Winter Garden
Julius Caesar Walcots play Cassius & Calphurnia with Edwin, Junius Brutus Jr & John Wilkes Booth
players clapp
1864
12
8
New York NY
Napoleon's Old Guard Benefit for Charles Peters run over by a 3rd Ave car

C

Walcott$4k raised
30
Hist NY Stage
1864
12
8
New York NY
Acad of music
School for Scandal Isabella Walcott as Maria
Hist NY Stage
1867
3
23
New York NY
Winter Garden
Winter Garden burns so Walcots move to Walnut st Theatre Philadelphia
20
players clapp
1868
2
25
New York NY
Mitchells Olympic
Fanchon Maggie Mitchell Owen Marlowe as Didier
.
1869
0
New York NY
John Nickinson clerk 1812 Third Ave
25
NY City Directory
1869
3
15
New York NY
Wallacks Theatre
School for Scandal Owen Marlowe Sir Benj also J Wallack JH Stoddart EM Holland
Hist NY Stage
1869
5
3
New York NY
Wallacks Theatre
Caste Owen Marlowe Captain Hawtree

1st US performance play
Hist NY Stage
1870
0
to 1871
New York NY
JN Jr Mercantile Library Association Board of Directors
NYT
1870
1
25
New York NY
14th St Theatre
Lady of Lyon Owen Marlowe Glavia
benefit for George Holland
39
Hist NY Stage
1870
1
28
to Apr 6
New York NY
Wallacks Theatre
Lost at Sea Owen Marlowe Lord Alfred Colebrooke bu Boucicault and Byron
Hist NY Stage
1870
4
to Nov
New York NY
John Nickinson Jr theatrical publishing
26
Punchinello
1870
6
1
New York NY
Owen Marlowe Va Marlowe Jesse 8 Virginia 5 Ethel 2
OM 40
VN 32
CENSUS US 1870
1870
11
2
New York NY
Charles Peters died
son Fred daughter Maud
36
NY Clipper
1870
11
28
New York NY
Sllemania Hall
Owen Marlowe readings just returned from California
Hist NY Stage
1871
4
15
New York NY
Laura Keenes
Rivals Owen Marlowe Sir Anthony Absolute

40
NY clipper
1871
6
8
New York NY
Acad of music
Colleen Bawn Owen Marlowe as Kyrle Daly
Hist NY Stage
1871
6
26
New York NY
14th St Theatre
Pretty piece of business Mr Mrs Chas Walcottbenefit for Owen Marlowe
Hist NY Stage
1874
5
4
to May 9
New York NY
Lyceum?
School for Scandal Owen Marlowe Sir Benjamin
Hist NY Stage
1874
11
10
New York NY
Grand Opera House
A Flash of Lightning Mrs CM Walcottas Bessie

Augustin Daly?

by Augustin Daly
27
Hist NY Stage
1877
3
13
New York NY
Mary Ann Talbot Nickinson died
71
ancestry?
1877
1
19
New York NY
Park Theatre
Colonel Sellers Mrs. Charles Peters in Mark Twain's Colonel Sellers

41
NY Clipper