A to Z Index Book outline People Places Plays About these letters About EJ Phillips Chronology EJ Phillips Facebook Fan Page

Midwest EJ Phillips' travels 1893 1895 1896
Chicago 1874 1875 1878 1879 1880 1881 1884 1885 1886-1890 1892 Columbian Exposition 1893 1894 1895 1896 Chicago Google Map

Cincinnati 1862-1866 1874 Jan. 1893 Cincinnati of John Nickinson and EJ Phillips Cincinnati Google Map

1860
9
29
Cincinnati OH
Pikes Opera House
Prince of Wales ball see EJP's quilt piece from a dress worn by Mrs. Pike
1862
10
?
to 1866
Cincinnati OH
Pike's Opera House

Cincinnati Pike's Opera House and the Civil War
1862
10
?
to 66 mar
Cincinnati OH
Pike's Opera House

EJP joins Pike's Opera House until fire destroys it march 1866
1863
3
11
Cincinnati OH
Pike's Opera House

John Nickinson becomes stage manager Pike's Opera House
1863
3
.
Cincinnati OH
Major Gen Ambrose Burnside HQ Dept of the Ohio XXIII Corp Morgans Raid inJuly
1863
4
13
to Ao4 16
Cincinnati OH
Pike's Opera House

Chimney Corner
Patty Probity EJP

with CW Couldock
1863
4
17
to 18
Cincinnati OH
Pike's Opera House

Willow Copse

John Nickinson as Bill Staggers EJP as Lady Apsley

in Boucicaul't's Willow Copse
1863
4
20
to 23
Cincinnati OH
Pike's Opera House

Massianello

opera by Christine zavistowski

1863
4
27
to 30
Cincinnati OH
Pike's Opera House

Napoleons Old Guard
1863
5
15
Cincinnati OH
Pike's Opera House

Major John Nickinson at Pike's letter from New York
1863
6
14
1 week?
Cincinnati OH
Pikes Opera House
Nickinson rehearses French Spy Massienallo Midsummer Nights Dream for Nashville trip
1863
6
Cincinnati OH
A Zavistowski actor listed at Clifton House
1863
7
8
Cincinnati OH
Albert Edward Nickinson born
1863
11
17
to Apr 21
Cincinnati OH
Mozart

Hall
Cincinnati Sanitary Fair

with art gallery lectures concerts to raise money for soldiers' relief

1863
12
17
Cincinnati OH
Pikes Opera House
Leah the forsaken EJP as Dame Gertrude in Augustin Daly's [Salomon Hermann von Mosenthal] JN father Herman
1863
to 1866
Cincinnati OH
Pikes Opera house
Zavistowskis at for season
1864
1
25
Cincinnati OH
Pike's Opera House

Fanchon Maggie Mitchell, John Nickinson as Father Barbeaud EJP Old Fadet

in Fanchon the Cricket
1864
2
9
Cincinnati OH
John Nickinson died
buried Spring Grove Cemetery
1864
3
4
Cincinnati OH
spirit letter to EJP about John Nickinson
1864
Cincinnati OH
Pikes Opera House
Romeo and Juliet
Juliet
1865
2
6
Cincinnati OH
Pikes Opera House
Hamlet for benefit of Civil War widows orphans
1865
4
14
Cincinnati OH
Pike's Opera House

Othello
Emilia JB Booth Jr Iago
1865
4
16
Cincinnati OH
Pike's Opera House

Pike's Opera House closed after Lincoln Assasination Junius Brutus Booth flees town
1865
4
16
Cincinnati OH
Pikes Opera House
Sermon on the assasination of Abraha Lincon
1866
3
16
to Mar 22
Cincinnati OH
Pikes Opera House
Alice Zavistowski appears as Puck in Midsummer Mnigjht's Dream hours before Pike's burns down
1866
3
22
Cincinnati OH
Pike's Opera House

Pike's Opera House burns

1866
9
21
to 1867?
Cincinnati OH
Woods Theatre
EJP engaged by Wood's Theatre
1874
10
24
Cincinnati OH
Cash to Madame Zavistowski for children
1893
1
20
1 week
Cincinnati OH
Pikes Opera House
Joseph Judge 1 perf copyrigt
to Canton Alliance/Salem Zanesville OH 1 night each Cleveland 3 nights
1893
11
23
1 week
Cincinnati OH
Grand Opera house
Lady Windermere's Fan

To Spring Grove Cemetery
2006
3
1862-66
Cincinnati OH
.trip
Cincinnati books and photos found in Cincinnati airport, still need to make trip to Cincinnati
Cleveland 1893 1895

1889
9
16
to 22nd
Cleveland OH
Captain Swift
1893
1
27
3 nights
Cleveland OH
Joseph
1893
11
20
1 week
Cleveland OH
Euclid Ave Opera House
Lady Windermere's Fan with Charles Frohman
1895
3
4
1 week
Cleveland OH
Olga Nethersole

Columbus 1894 1895

| | | | | | | |
| --- | --- | --- | --- | --- | --- | --- |
| 1894 | 10 | 24 | 3 nights | Columbus OH | | Olga nethersole |
| 1895 | 2 | 28 | to mar 3 | Columbus OH | | Olga Nethersole |
| 1896 | 11 | 27 | | Columbus OH | Grand Opera House | Gay Parisians |


Detroit 1870 1873 1874 1892 1893 1895 1896
1870
11
9
Detroit MI
Board paid for children in Indianapolis

1873
6
2
Detroit MI
Board paid for children in Indianapolis

1874
4
11
Detroit MI
Money to Mrs Fay for children's board
1874
11
25
Detroit MI
Cash to Madame Zavistowski for children sent to Philadelphia money order
1874
11
25
1 week
Detroit MI
travel expenses EJP board and meals
1878
12
1
Detroit MI
Detroit Free Press play
1881
11
2
-10
Detroit MI
Detroit Free Press play
1892
12
13
3 nights
Detroit MI
Joseph
1893
11
13
3 nights
Detroit MI
Lady Winderemere's Fan
1895
3
13
3 nights
Detroit MI
Olga Nethersole

1896
3
11

to 15

Detroit MI
Detroit Opera House
Gay Parisians

1896
5
15
Detroit MI
Gay Parisians

1896
11
19
to 24
Detroit MI
Detroit Free Press play
Indianapolis IN 1868 1870 1871 1872 1873 1874 1893 1895 Indianapolis Google map


1867
9
2
1 wk
Indianapolis IN
Metropolitian Theatre
EJP in Indianapolis
to 1868 ?
1868
3
?
Indianapolis IN
Edwin Forrest EJP first played with
1868
3
?
Indianapolis IN
Metropolitian Theatre
King Lear
EJP Goneril with Edwin Forrest
1868
3
?
Indianapolis IN
Metropolitian Theatre
Virginius
EJP Servia with, Edwin Forrest
1868
3
?
Indianapolis IN
Metropolitian Theatre
Virginius Othello EJP plays with Edwin Forrest
1868
8
8
Indianapolis IN
New Acad of Music
WH Leake secured EJP first old woman
1870
9
3
to Jun 30
Indianapolis IN
Children arrived Indianapolis
1870
11
28
to Dec 7
Indianapolis IN
Board paid for children in Indianapolis
1871
8
to sep 3
Indianapolis IN
Board paid for children in Indianapolis
1872
2
29
to Mar 11
Indianapolis IN
Board paid for children in Indianapolis
1872
10
4
1 week
Indianapolis IN
left New York for Indianapolis
1872
10
6
to Oct 11
Indianapolis IN
Board paid for children in Indianapolis
1873
7
17
Indianapolis IN
Board paid for children in Indianapolis
1873
8
3
Indianapolis IN
balance due Mrs Fay for children
1873
11
11
Indianapolis IN
Money to Mrs Fay for children's board
1873
11
13
Indianapolis IN
balance settled Mrs Fay for children
1873
12
16
to Dec 30
indianapolis in
Money to Mrs Fay for children's board
1874
3
9
to Apr 1
Indianapolis IN
Money to Mrs Fay for children's board
1874
3
24
to Sep
Indianapolis IN
balance Settled Mrs Fay Oct 4
1874
5
18
to Jun 4
Indianapolis IN
Money to Mrs Fay for children's board
1874
9
26
Indianapolis IN
travel expenses EJP board and meals
1874
11
13
Indianapolis IN
Cash to Madame Zavistowski for children
1874
11
13
2 weeks
Indianapolis IN
travel expenses EJP board and meals
1874
12
8
Indianapolis IN
Cash to Madame Zavistowski for children
1874
12
8
11 days
Indianapolis IN
travel expenses EJP board and meals
1893
1
29
3 nights
Indianapolis IN
Grand Opera
Joseph
to Springfield OH Terre Haute Lexington KY
1894
11
28
3 nights
Indianapolis IN
did they end up going?
1895
2
25
3 nights
Indianapolis IN
Camille
Madame Prudence
Kansas City 1874 1886 1888 1890 1896
| | | | | | | |
| --- | --- | --- | --- | --- | --- | --- |
| 1874 | 9 | 17 | ? | Kansas City MO | | money to children |
| 1874 | 9 | 17 | 3 days? | Kansas City MO | | travel expenses EJP board and meals |
| 1886 | 9 | 27 | 3 nights 4 perfs | Kansas City MO | Coates? | Saints and Sinners only |
| 1888 | 10 | 8 | 3 nights | Kansas City MO | Coates? | Jim the Penman |
| 1890 | 9 | 8 | 3 nights | Kansas City MO | Coates? | Saints and Sinners |
| 1896 | 9 | 26 | 5 nights | Kansas City MO | Coates Opera House | Gay Parisians |

Madison Wisconsin 1874 1896
1874
8
28
1 day
Madison wi
travel expenses EJP board and meals
1896
11
16
Madison W I
Fuller Opera H ouse
Gay Parisians

previously in Minneapolis/St Paul

Milwaukee 1873 1874 1875 1893 1895 1896
| | | | | | | |
| --- | --- | --- | --- | --- | --- | --- |
| 1873 | 5 | 27 | | Milwaukee WI | | Board paid for children in Indianapolis |
| 1874 | 4 | 29 | | Milwaukee WI | | Money to Mrs Fay for children's board |
| 1874 | 8 | 27 | 2 days | Milwaukee WI | | travel expenses EJP board and meals |
| 1875 | 4 | 23 | | Milwaukee WI | | $20 to Hattie |
| 1893 | 2 | 16 | to 18 | Milwaukee WI | Davidson Theatre | Joseph |
| 1893 | 11 | 8 | 1 week | Milwaukee WI | Davidson Theatre | Lady Winderemere's Fan |
| 1895 | 2 | 11 | 1 week | Milwaukee WI | Davidson Theatre | Camille Romeo & Juliet Transgressor |
| 1896 | 11 | 2 | | Milwaukee WI | Davidson? | Gay Parisians |
Omaha Nebraska 1886 1888 1890 1896 EJ Phillips Omaha Google map
1886
9
31
to Oct 2
Omaha NE
Saints & Sinners

AL Hayman and AM Palmer
1888
10
12
2 nights
Omaha NE
Boyds Opera House
Jim the Penman
1890
6
19
Omaha NE
Saints & Sinners others? 4 performances

Cheyenne Laramie Green River Granger Wyoming on train
1890
9
12
2 nights
Omaha NE
Aunt Jack, Jim the Penman Saints and Sinners
1896
10
22
3 nights
Omaha NE
Creighton?
Gay Parisians


St. Louis 1871-74 1893 1894 1895 1896 Theatres
Toledo Ohio 1870 1874 1896

1870
11
5
Toledo OH
Board paid for children in Indianapolis
1874
11
20
Toledo OH
travel expenses EJP board and meals
1874
12
2
Toledo OH
travel expenses EJP board and meals
1896
11
26
Toledo OH
Valentine theatre
Gay Parisians
Thanksgiving in Toledo then overnight ttrain to Columbus
EJP Midwest 1862=1875 https://www.google.com/maps/d/edit?mid=1_VyeFur1SEdv07ScaYvxqerXE2c&ll=40.446954935675606%2C-88.04152364999999&z=6
__________________________________________________________
Omaha 1890 1896
The Murray


14th & Harney
B. Silloway, prop
Omaha, Neb
Sept 12th, 1890
My dear daughter Neppie
I am glad you are completing your preparations for the reception of the little stranger and hope by this time all is ready. I am glad your dear Mama and Auntie are so near you to help you with their advice and experience, and take care of the little one until you are able to do so.
Last night we left St Joseph after performance. We played Saints & Sinners to a very fine house. Had a nice sleeping car and a section all to myself which is always a great comfort. I do not play tonight, but do twice tomorrow and leave for Chicago at 12:45 on Sunday Afternoon. Due in Chicago 7 AM Monday.
I am stupidly sleepy, and have been for several days, and sleep a great deal, and could sleep all the time. I am now going to have some dinner, and then go back to bed for another nap. With love and Kisses to you and Albert I remain, dear children, your loving Mother
EJ Phillips Omaha Google map http://maps.google.com/maps/ms?authuser=0&vps=3&hl=en&doflg=ptm&ie=UTF8&oe=UTF8&msa=0&msid=202426891661796490166.0004aa5af202103ebc787
No theater is mentioned, but perhaps it was "In 1880, Omaha's first modern opera house, the Boyd Theater, at 1420 Farnam St., saw the likes of Lillian Russell, Lillie Langtry and Edwin Booth before burning down in 1893."History of the Theater, Nebraska Life, http://www.nebraskalife.com/jf11_orpheum.asp The same article states "The history of the theater in Omaha is just about as old as the city which was settled in 1843.:
Boyd Theater Photo 1895-1910 http://digital.denverlibrary.org/cdm4/item_viewer.php?CISOROOT=/p15330coll22&CISOPTR=31134&CISOBOX=1&REC=11 makes it seem likely the Boyd Theater was rebuilt.
Theatre in Omaha http://en.wikipedia.org/wiki/Theatre_in_Omaha,_Nebraska
Railroads http://en.wikipedia.org/wiki/Railroads_in_Omaha http://en.wikipedia.org/wiki/Union_Station_(Omaha) The Union Pacific Railroad has had headquarters in Omaha since 1862.
History of Omaha http://en.wikipedia.org/wiki/History_of_Omaha,_Nebraska#1868_to_1899
next: Chicago 1890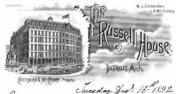 The Russell House Detroit 1893 1896
Detroit, Mich
Tuesday Decr 13th 1892
My dear Son
Arrived here Sunday night. Opened last night to a fair house. Business in Toronto was immense on the two performances on Saturday. They turned people away, and around the lobbies people stood five deep. Have had a letter from Maud [Harrison] this Morning. A.M. [Palmer] takes a company to Boston on the 26th of Decr. They are to open with Saints & Sinners (New play) don't it, eh? Miss [Julia] Arthur is to play Maud's part. He has left Maud out in the cold. Also Mrs. [Agnes] Booth. Miss [May] Brookyn takes her place in the plays that are to follow. The engagement is for 4 or 6 weeks, then they are to open in New York with Lady Windermere's Fan. Glad I did not wait for A.M. [Palmer].
I am going to send your Xmas money for yourself, Neppie & Ted. I have no time to go shopping and do not see anything in these towns that takes my fancy. So think it best, for you all, to send the wherewithal to buy your own gifts. 20 for you, same for Neppie and 10 for Ted. [I] shall be just as well pleased with a letter telling me you are all well, as with the richest gift you could possibly buy from Tiffanys. With warmest love & Kisses to my dear children Albert, Neppie and Edward from their loving Mother
1893 Milwaukee 1893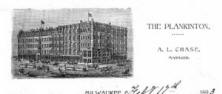 THE PLANKINTON
A.L. CHASE
Manager
Milwaukee Feby 17th 1893
My dear Son
Yes, I am afraid Mr. [Edward M.] Bell has at last become weaker than Barley Corn, but like many thousands he would not believe anyone that the latter could ever overmaster him. I am very sorry indeed, for he is a very gentlemanly fellow, only about 36 years of age.
I am thankful we go no further North. Our hardest work in travelling will be over next week. We go from here to Janesville, Wis next Monday. Tuesday Rockford, Ill, Wed & Thurs Peoria, Ill. 26th to Chicago for two weeks. Thence to New York for three or more weeks. We have a week to rest & for rehearsals between Chicago and New York. I am well pleased with it, as we need brushing up and resting before appearing before the great critics of the metropolis. Love and Kisses to my dear children Neppie, Ted and Albert from their loving Mother
Milwaukee, Nov. 8, 1893 Columbian Expo
THE RUSSELL HOUSE
Detroit, Mich
Novr 15th 1893

My dear daughter Neppie,
I sent you a list of the places we visit on Monday. You can always direct a letter care of Chas Frohman's Lady Windermere's Fan Co Theatre and it will reach me. In Cincinnati next week we play at the "Grand Opera House" so you can send there.

I heard of the failure of the Joseph Co but not from [Albert]. Miss [Maud] Harrison sent me a notice of it from NY World. I was very sorry but not surprised. I knew it could not last another season.

I have not as yet been asked to go to California and I do not think I shall be. It would, as you say, be very pleasant to spend the cold months there, but to study a lot of new parts, rehearse and get costumes ready, would not be so pleasant, and there would not be any money in it for me. Besides there is no glory in belonging to Palmer's Co anymore. I will enclose an article from last Sunday's Chicago Tribune which shows the state of things as viewed by the recent performances given by the Co in Chicago.

You say Albert does not come home to dinner until six. How is that? And where does he get his lunch? Rather too long a time to wait from seven until six. Is he "banting"? Better not. Annie Pixley is said to have tried it and she is no more! Very sad to think of her going so soon.

I am not able to work as hard as I need to do. The week after next will be hard work. Three one night towns and long trips. Go onboard a boat tonight. Do not think I will sleep much. We are due in Cleveland at 7 in the Morning. Slight showers of snow have been blowing about all day & yesterday, not enough to cover the ground but I am afraid enough wind to make the Lake very rough.

Glad Teddy keeps well and wanted to go see Aunty Zavy again. She would be delighted to see him I know. I think she is alone now. The boys went to school and Mrs. Conway was going away on a month's visit somewhere and I guess has gone by this time. Aunty's fingers with rheumatism bother her considerably.

Must now get ready to go back to work. Love and Kisses to my dear children three Albert, Edward and Neppie from their loving Mother
Banting was a London cabinetmaker, whose method of reducing corpulence by avoiding fat, starch and sugar was published and much discussed in 1864, hence used humourously as a verb OED.
Annie Pixley 1858-1893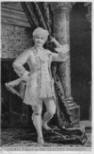 The Southern
Walnut Street
Absolutely Fireproof
St Louis, Decr 5th 1893

My dear daughter Neppie,
On Friday last the Thermometer registered 3 degrees below zero at 5 AM in La Fayette. And we had a big snow Fall all the way to Peoria and a foot deep there and it is cold here.

I had an excellent [Thanksgiving] dinner in Evansville, quite a surprise to us all. It was a sumptuous bill of fare and we thoroughly enjoyed it. We did not give a Matinee. Had a very good house at night. Opened last night to a very poor house. That is, the lower part of the house was good, but the balcony & gallery were almost empty, showing the poor man has not the money to attend theatres. Times are very dull all through this part of the Country.

Next week we have six towns to play in as follows Monday, Springfield Ill, not far from here and we stay here until Monday Morning. Tuesday, Bloomington, Ill [Indiana?], Wednesday Decatur, Ill, Thursday Terre Haute, Ind. All these places are not far apart and the journeys will not be fatiguing. Friday, South Bend, Ind a little longer ride. Saturday Grand Rapids, Mich. The following week we are not to play. On Xmas day open in Baltimore for a week. Then to Phila for two weeks. After that New England, playing one week in Boston and one week in Providence.

Ted's ring is called the Isabella ring. They were very popular at the [Columbian Exposition] Fair as souvenirs. When Ted is old enough he can wear it on his watch chain. Love and Kisses to my dear children Albert, Edward and Neppie from their loving Mother

The Southern
St. Louis Decr 10th 1893
My dear Son,
Mr. [AM] Palmer sent to Mr. [Charles] Frohman to release me for California. Mr. Frohman sent Mr. [JG] Saville to me to ask if I wanted to go, and that he, Mr. Frohman, did not want me to go. So I said I did not want to under any circumstances. And Mr. Frohman made me an offer of resting this week. Would pay my salary and send me to Phila so that I would be well rested to join the Co in Baltimore, but as I could rest next week I told them I preferred working this week unless I got very tired and would then take their offer and go home from Terre Haute on Friday.

I was not well after my arrival here indigestion and diarrhea and they thought the one night stands this week would be too fatiguing to me, but I am feeling better and hope to pull through. More consideration than I ever received from AMP[almer]. With love and Kisses to my dear children 3 Ted, Neppie & Albert from their loving Mother

1895 Hotel Ste Clare
Wm P Beyer
Prop
Absolutely Fire Proof
Detroit, Mich March 13th 1895
My dear Son,
Your nice little note rec'd this noon. Thought someone was sending me a contract to sign.
So you are going through the delights of moving. You will be astonished to find you have so much worldly goods, but will need more.
Next week we are to be in Boston and remain 3 weeks but rumors are about that we may go to Phila for three nights or a week. Marcus Mayer was here on Monday night and as he had just arrived from California where he had been with the Gaiety Girl. I thought he would remain with us, but he left that night for New York so I could not speak to him about business, but I shall know in Boston.
My address next week is Boston Museum. We leave here tonight at 11:35 by Michigan Central -- due in Buffalo at 6:45 AM tomorrow. I did have a letter from Robert Taber, husband of Julia Marlowe, wanting to know my terms for next Season. I wrote him a week ago yesterday but so far have had no reply so I imagine I frightened him. Would like to be with them there, for she plays all the old plays in which I am at home, and there would not be much study, but I would require lots of good clothes. Love and Kisses to my dear children Albert, Neppie and dear little Ted from their loving Mother.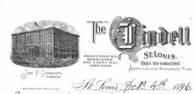 1896
The Lindell
St Louis Octr 4th [1896]
My dear Son,
Here I am. Arrived this Morning at 7. Had a hard time finding shelter, but I succeeded in locating at the above. Four blocks from theatre, which is a new one next door to Pope's old theatre which has been taken down, and a new block of buildings is being erected on the site, for stores, I guess.
Well, dear, I have not had my clothes off all night, but am now going to undress and go to bed for awhile. I feel a little tired. We open tonight -- "But tell it not in Gath ". Close Saturday night and leave on Monday for Decatur, Il and one night stands for the rest of the week and three nights of second week, closing up the week with three nights in Omaha. Love and Kisses from your Mother
Lindell Hotel opened in 1863.
Gath Philistine city, birthplace of Goliath 1 Sam 5:8, 17.4, 21.10
St. Louis Train Station
In 1891, the Terminal Railroad Association sponsored a national competition for its design. Theodore C. Link, a St. Louis architect and former railroader, submitted the winning entry. His design included the Headhouse, the Midway and the Train Shed. The Headhouse, designed to suggest a medieval bastioned gate, contained the ticket office, waiting rooms, a 70-room Terminal Hotel and a restaurant. The Midway was a covered transfer area for passengers. The Train Shed, one of the largest ever built, was an 11.5-acre roofed area of loading platforms and 31 tracks. Constructed at a cost of $6.5 million, St. Louis Union Station opened on September 1, 1894. Susan Hall, Union Station Reborn, Historic Traveler, Primedia Publications, 2005 http://away.com/primedia/transport/union_station_reborn.html
Union Station first opened in 1894, but ceased operation as an active train terminal in 1978. Union Station reopened in August of 1985 as the largest adaptive re-use project in the United States. http://www.stlouisunionstation.com/about/
St. Louis Union Station, Wikipedia http://en.wikipedia.org/wiki/St._Louis_Union_Station more on Railroads
The PAXTON


Ralph Kitchen
Manager
Omaha, Neb.
Octr 25th 1896
My dear daughter Neppie,
We closed our engagement here last night, but do not leave until tomorrow at 10 AM to go to Des Moines, Iowa. Consequently we have a day of rest here, for the second time only since leaving Boston last Spring. We are looking for another week of hard travels before reaching Milwaukee. We shall have six hours of ride tomorrow. Are due in Des Moines at 4:50 PM . The next day we shall take quite as long in going to Burlington [ Iowa ]. On Wednesday night we go on board a sleeper at Davenport to take us to Cedar Rapids, Cedar Rapids to Dubuque and Freeport, Ill on Saturday night.
Milwaukee Novr 2nd. There we hope to be when the Election returns tell us who will be the new man in the White House for the next 4 years. People seem to think and talk of nothing else in this part of the Country. I shall be glad when the whole thing is settled and no trouble arises from it.
Does [Ted] enjoy his tricycle? I dare say he keeps you in constant dread of something happening to him. I hope he will be very careful and look out for wagons, Bicycles, Trolleys & Steam cars! But he is a good little boy and I think he will be careful for his Papa and Mama's sakes.
We are still on the same old lines travelling and playing, but it seems a little more like hard work. The journeys are long, tire-some & early rising quite fatiguing.
But I hope we shall be able to pull through all right and you, Albert and Ted will be able to come for dinner at Hattie's on the Sunday after Christmas. As we go to play at Murray Hill N.Y. Theatre, I can stay over until Monday and go to New York with you. Love and Kisses to my dear children 3, Albert, Neppie and Edward from me, their loving Mother
The RUSSELL HOUSE
Detroit, Mich.
May 15th 1896
My dear daughter Neppie,
What is the "Parada" and who teaches Ted to dance? I hope he made a success of his Debut on Wednesday Afternoon. I played Mrs. Pringlet [in Gay Parisians] that Afternoon in Toledo to a very bad house. I hope Ted drew better than his Grandma.
The business has not been good since we left N.Y.. Men, women and children are all riding bicycles in every town. No business being done anywhere in any line save bicycles! There never was such a general craze before. About 8 men and two women in our Company have their bicycles with them, and ride from 10 to 20 miles a day. Gustave Frohman is an enthusiast on the subject, and I think will kill himself overdoing the thing.
Business for these two weeks has been so bad that we all feel our season in Chicago cannot last for 12 weeks, and we look for closing much earlier. Some say 6 weeks and I say four. But by the time June comes people may be tired of riding the bikes and like to take the theatre in.
I am glad to hear Ted enjoyed his visit to New York. I feel it was not a very enjoyable time for any of you for I was tired, nervous & fidgety, and did not know what to do to make it pleasant for you. It made me very happy to have you all there and in my own happiness I fear I did not do all I might have done to make the rest of you comfortable. The rooms were all so small. We were crowded, yet I took the best they had. I thank you all for coming to see me and Kissing me goodbye. Love and Kisses to my dear children -- Ted, Albert and Neppie from me their loving Mother
Madison Wisconsin 1896


The PARK HOTEL
Geo. A. Lougee, Prop.
Madison, Wis. Novr 16th 1896
My dear daughter Neppie,
[Ted] is a good dear boy to think he will write to me again before getting an answer to his first letter. I know a bigger boy who is not so thoughtful.
This is a very pretty place, capitol of Wisconsin. I took a walk down to Lake Monona this Afternoon. The air was like a lovely day in May. Should like to stop here for a week. We leave 10 in the Morning for Rockford, Ill. The travel will not be so severe as some "one night stand" towns we have been to.
Hattie has a girl. Thinks she will be a good one but time will have to prove it. She is a Colleen Rhu. Excuse a longer letter. Gas is bad and it is supper time. My love and Kisses to you dear children three, Albert, Ted and Neppie from your loving Mother
Bibliography
Detroit Free Press historic newspapers https://freep.newspapers.com/
St. Louis Post Dispatch Proquest 1874-1922 http://www.proquest.com/about/news/2009/St-Louiis-Post-Dispatch-and-Baltimore-Sun-Added-to-ProQuest-Historical-Newspapers.html
City Of St. Louis Cultural Resources Office, History and Heritage https://www.stlouis-mo.gov/by-topics-term.cfm?termID=85&termName=History%20and%20Heritage&topTermName=Community
Missouri Historical Society Museum http://www.mohistory.org/

Last updated August 25, 2020
Homepage A to Z Index Bibliography People Places Plays Site Map About these letters About EJ Phillips EJ Phillips Facebook Fan Page