Homepage A to Z Index Book outline About these letters About EJ Phillips EJ Phillips Facebook Fan Page

Olga Isabel Nethersole Camille Romeo & Juliet Transgressor
Charles Frohman's first foreign star, who paved the way for so many, was Olga Nethersole. His management of her came about in a curious way. A difference had arisen between Augustin Daly and Ada Rehan. Miss Rehan had decided to withdraw from the company, and in casting about quickly for a successor had decided upon Olga Nethersole, then one of the most prominent of the younger English actresses. While the deal was being consummated Daly and Miss Rehan adjusted their differences, and the arrangements for Miss Nethersole's appearance in American were abrogated. Miss Nethersole was left without an American manager. Daniel Frohman, then manager of the Lyceum Theater, stepped in and became her American sponsor, forming a partnership with his brother Charles to handle her interests. Jointly they now conducted an elaborate tour for her covering two years, in which she appeared in "Denise," "Frou-Frou," "Camille," and "Carmen.": Charles Frohman 1916
Lewis Strang writes in Famous Actresses that she made he American debut at Palmer's Theatre, New York , on October 15th [1894] and subsequently making a most successful tour of the country. She played besides "The Transgressor" Marguerite Gauthier in "Camille", Gilberte in "Frou-Frou" and Juliet in Romeo and Juliet." ... "The Transgressor" by AW Gattie, in which Miss Nethersole made her first appearance in this country, was a somewhat crude play of the "problem" order, and in it the actress's opportunities to show her emotional power were somewhat limited... . Miss Nethersole made her greatest success that first season in "Camille".' It was an intensely realistic impersonation, deeply emotional and ardently passionate, an impersonation that moved on by its great dramatic vigour rather than by subtilty of conception of finish in acting... Miss Nethersole's Juliet was not highly esteemed. While she had moments of genuine power, her acting as a whole was uneven, besides being hurt by undue force and intensity." I should be pleased to omit any reference to "Carmen" but the notoriety of the Nethersole kiss will hardly permit that. The adaption of the novel that Miss Nethersole used, made a filthy play in which lust and animal passion were shown with disgusting frankness. Even if one ignored the vileness, he found but a cheap melodrama, poorly constructed at that, and abounding in mock heroics, false platitudes, and cheap sentiment... Miss Nethersole's acting was a study in lasciviousness, marvelously vivid and marvelously true to life".
A 1901 Cosmopolitan article "Through bad business arrangements and misunderstandings, three managers claimed her on her arrival, Frohman, Daly and Marcus Meyer. As none of these was sure of possession the new star was not properly advertised."
Olga Nethersole as Paula in The Second Mrs. Tanqueray, Strang's Famous Actresses, 1900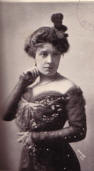 Philadelphia, Sept. 18, 1894 I am trying through Marcus Mayer to get with the new English star, Miss Olga Nethersole -- who plays legitimate roles -- and is to a certain extent under the management of [Augustin] Daly. The lady is expected to arrive next week, when matters will be settled and engagements made. And I hope to be one of the fortunate ones. No engagements have yet been made, except that she brings her "leading" man with her.
Pittsburgh, Pa Novr 27th 1894 Opened last night to a fair house in Camille. I think the audience was pleased with Nethersole & hope business will increase.
We begin rehearsing Frou-Frou this Morning, but when it is to be played I do not know. I was in high hopes we had done with rehearsals for a time, but this very ambitious young Nethersole is determined to keep us at work. I did not have time to think since we commenced in New York until Friday last, when for the first day we had no rehearsal. It has been something dreadful but to my own astonishment I have pulled through. We are playing at the "Alvin" Theatre, almost adjoining this hotel. Next week Washington, the following week Baltimore. That is as far as I know at present.
Pittsburg, Pa Novr 28th 1894 Yesterday I was called to rehearsal and did not rehearse, and today no rehearsal for the first time in over five weeks. Here I am living next door to theatre, which is also a great rest to me, and I am beginning to feel quite like myself.
We played Camille the past two nights, and the curtain did not fall on last act until 10 minutes of 12 each night. I being so near theatre got into my room at "14 of 12" but in New York and Philadelphia it used to be half past 12 before I got home, and it was very tiring to me.
I used to get to 3219 Clifford Street [Philadelphia] at from half past 12 to one AM every night. Get up at 10, take a breakfast and down to rehearsal, which would often not allow one time to go home to dinner, but I would get dinner at restaurant and go back to theatre to dress for performance. One Morning of the night we produced Romeo & Juliet, it was 5 in the Morning when I got home, we having a rehearsal after the performance of the Transgressor which began at 1 AM and lasted for me until 1/2 past 4. Then Hattie & I got into a cab and arrived home at 5 AM.
EJ Phillips played the Nurse to Olga Nethersole's Juliet.
The New York Times review [Oct. 15, 1894 5:5] is headlined A Large Audience Patiently Sits Through "The Transgressor" at Palmer's Theatre -- A Great Deal of Very Loud Applause Bestowed upon a Generally Competent, but by No Means Brilliant, Performance of a Very Bad Play. The reviews notes that preparation had begun in March in London. "She came in like a small cyclone" and compares the plot to "Miss Bronte's story of Jane Eyre and Rochester, deprived the man of all manly attributes, tried to transform Jane into a type of the modern "Emancipated" woman and failed. In the critic's opinion Olga Nethersole's' personality will doubtless be very attractive after one has grown used to it. https://www.nytimes.com/1894/10/16/archives/new-bills-at-the-theatres-olga-nethersoles-debut-and-a-new-london.html
Washington, D.C. Decr 4th 1894
Reviews of Camille, Romeo & Juliet and Olga Nethersole's performance and career
Toronto Canada Dec 24th 1894 We open with Camille to-night and play it at Matinee to-morrow and Thursday night -- and Saturday night -- Wed night Romeo & Juliet. Friday night and Sat night Frou-Frou in which I do not appear.
Montreal Jany 1st 1895 Last night Miss Nethersole & [Marcus] Mayer gave a little supper to the Company at the Windsor Hotel, and I went, and it was nearly 2 AM when I got back to this hotel. A nice way for an old lady to begin the New Year.
Chicago Feb. 1895 I am glad you and your friends enjoyed Camille but am sorry you will not be able to see Romeo & Juliet - for we do not return to New York to play at [Stanford White's] Garden Theatre or any other theatre with Miss Olga [Nethersole] at present.
Boston April 7, 1895 Last night we closed our Season with Camille and after the curtain fell Miss [Olga] Nethersole gave us a champagne & sandwich farewell.
next: Gay Parisians New York, Aug. 30, 1895
51 East 21st St NY, 9-11 -95 Today it was rumoured, and I heard it was announced in some of yesterday's papers - that we open on the 19th in Buffalo, NY for three nights and Saturday matinee, and return to open on the 23rd at Hoyt's [Madison Square] Theatre for a run. Mr. Chas Frohman is attending rehearsals, is very pleasant and seems to be well pleased with the work of the company.
Photographs
Ann Everall Callis, Olga Nethersole and the Sapho Scandal MA Thesis, Ohio State University 1974 http://rave.ohiolink.edu/etdc/view?acc_num=osu1141931398
Cosmopolitan "Olga Nethersole" Lavinia Hart 1901 http://books.google.com/books?id=6InNAAAAMAAJ&pg=PA23&dq=transgressor+gattie&hl=en&ei=_XJgTZrwMcSclget6f2QDA&sa=X&oi=book_result&ct=result&resnum=2&ved=0CC0Q6AEwAQ#v=onepage&q=nethersole&f=false
Olga Nethersole, Wikipedia http://en.wikipedia.org/wiki/Olga_Nethersole Established the People's League of Health
Olga Nethersole was arrested for "violating public decency" 1900 while in Clyde Fitch's Sapho (and later acquired) - a great marketing tool


Last updated August 27, 2020


1894
9
18
Philadelphia PA
Mayers Nethersole
Olga Nethersole trying to get engagement through Marcus Mayer
Olga under Augustin Daly
1894
10
15
New York NY
Palmer's Theatre
Transgressor
Mrs Woodville

Olga Nethersole US debut
1894
10
16
1 wk
St Louis MO
Olga Nethersole
to Columbus OH Indianapolis 3 nights
Southern
1894
10
24
3 nights
Columbus OH
Olga nethersole
Louisville 3 nights, Evansville

Lafayette Peoria 1 night each, St Louis
1894
10
29
New York NY
Palmer's Theatre
Camille
Madame Prudence
1894
10
31
Philadelphia PA
EJP home from St. Louis then to New York letter from hattie Romeo & Juliet Transgressor dresses Marcus Mayer
1894
11
27
Pittsburgh PA
Alvin
Camille

EJP Madame Prudence
"fair house" rehearing Frou Frou
Hotel Schlosser
1894
12
4
Wash DC
Albaughs
Camille Romeo and Juliet Transgressor
from Indanapolis?
fine house
Randall
1894
12
6
Wash DC
Albaughs
Romeo and Juliet review Washington Post
1894
12
10
to 16
Baltimore MD
Lyceum Theatre
Camille Romeo & Juliet Transgressor
Rochester Buffalo Toronto Montreal Providence

Mt Vernon Hotel
1894
12
17
to 19
Rochester NY
Lyceum Theatre
Camille Romeo and Juliet Transgressor
Daly talk of doing Carmen 1 other play
Whitcomb House
1894
12
20
4 peformance
Buffalo NY
Acad Music
Camille Romeo and Juliet Transgressor
Niagara Falls stopped Kelmanback Hotel
1894
12
24
1 week
Toronto
Grand Opera house
Camille Romeo and Juliet Transgressor

"fine house"
Rossin House
1895
1
1
1 week
Montreal
Acad Music
Romeo & Juliet Camille Transgressor
"very good house" Marcus Mayer
Queen's Hotel
1895
1
14
New York NY
Hammersteins Harlem Opera House
Camille
Madame Prudence
Marcus Mayer
219 W 126th St
1895
1
21
Albany NY
Olga Nethersole
then Troy Utica Syracuse NY
1895
1
28
2 weeks
Chicago IL
Hooleys
Romeo & Juliet EJP Nurse
Tremont House
1895
2
11
1 week
Milwaukee WI
Davidson Theatre
Camille Romeo & Juliet Transgressor
Hotel Davidson
1895
2
18
1 week
St Louis MO
Grand Opera House
Camille Romeo & Juliet Transgressor
Southern
1895
2
25
3 nights
Indianapolis IN
Camille

Madame Prudence
1895
2
28
to mar 3
Columbus OH
Olga Nethersole

American Hotel
1895
3
4
1 week
Cleveland OH
Olga Nethersole

Hollenden
1895
3
13
3 nights
Detroit MI
Olga Nethersole

Hotel Ste Claire
1895
3
14
to 16
Buffalo NY
Star?
Olga Nethersole

to Cleveland Columbis Detroit Milwaukee

Mansion Stafford & Co
1895
3
22
Cambridge MA
EJP to Harvard, Longfellow House washington Elm
1895
3
23
3/18- 4/6
Boston MA
Boston Museum
Camille Romeo & Juliet Transgressor
visited Mrs Seymour
Odette Tyler
Hotel Bowdoin
1895
3
25
Lawrence MA
Olga Nethersole
to Portland Maine Tuesday
1895
4
18
New York NY
Olga Nethersole sails to England to play 10 weeks in London
"very short season 20 weeks'
Dec 14 93 letter
Homepage A to Z Index Bibliography People Places Plays About these letters About EJ Phillips Chronology EJ Phillips Facebook Fan Page