Homepage A to Z Index Book outline People Places Plays About these letters About EJ Phillips Chronology EJ Phillips Facebook Fan Page

Philadelphia the city
I made many trips to Philadelphia when I was in college in New Haven, and lived in Swarthmore the year after I graduated. I did meet cousin Barbie Dolman Spencer but not her daughters Sue or Peggy. I hadn't been back in many years until 2002 visiting Effingham Dolman in Delaware after a meeting in Princeton NJ. He took me to Swarthmore Players Club to see the family plaques on the recently restored seats. I went to Philadelphia for a meeting in April 2004 and met high school friend Jeffrey Ray for lunch and a visit to the Atwater Kent Museum where he worked. We visited the Walnut Street Theatre and Washington Square. Was in Philadelphia for an SLA/Pharmaceutical librarians' meeting in June 2011 and brought a camera and walked around with Jeff after brunch at the Bellevue and had addresses this time.
Philadelphia letters 1887- 1898 EJ Phillips died in Philadelphia in 1904 and is buried at West Laurel Hill Cemetery
1876 Centennial Baseball Fairmount Park Forrest Home Girard College Philadelphia Churches Philadelphia theatres Public Works Shopping Transportation- railroads & trolleys Willow Grove

EJP's Philadelphia Center City Google Map http://maps.google.com/maps/ms?ie=UTF8&hl=en&msa=0&msid=202426891661796490166.00049829adf8d3f988adc&z=16
EJP's & Dolman's Fairmount Park/North Philadelphia Google Map http://maps.google.com/maps/ms?ie=UTF8&hl=en&msa=0&msid=202426891661796490166.0004982a30c21dde6bc64&z=14
Philadelphia timeline 1850s-1890s https://en.wikipedia.org/wiki/Timeline_of_Philadelphia#1850s-1890s
Center City
In 1871 EJ Phillips "began a three years engagement under the management of Lawrence Barrett, and next appeared at the Chestnut Street Theatre in Philadelphia, which was then controlled by FF Mackay. The [New] Chestnut Street Theatre was built in 1862 on the north side of Chestnut Street between Twelfth and Thirteenth Streets, a full seven blocks to the west of the old theatre, and considered by many too far removed from the theatre district to succeed. But "the rapid westward expansion of center-city Philadelphia soon made the new Chestnut Street Theatre the city's most fashionably located theatrical facility. .. FF Mackay was manager of the Chestnut Street Theatre from 1875-78, along with William Gemmill (c. 1845- 1882 CDP) and J. Frederick Scott. However in 1878 severe internal difficulties began and the Company's previously favorable position (as Philadelphia's only first-class resident company) began to erode. Many of the company's best actors resigned. http://www.performingartsarchive.com/Theatres/Theatres-C/Chestnut-Street-Opera-House_Philadelphia/Chestnut-Street-Opera-House_Philadelphia.htm
EJ Phillips joined New York's Union Square Theatre Company in 1877. 834-836 Chestnut St. Philadelphia, drawings http://www.philadelphiabuildings.org/pab/app/pj_display.cfm/5945 Must be the old Chestnut St Theatre.
Chestnut St. Theater 1211-1215 Chestnut St. photos http://www.philadelphiabuildings.org/pab/app/pj_display.cfm/5770

Now "Claire's Wig", the Elizabeth Blackwell Planned Parenthood and Mental Health Association of South East Pennsylvania.
Concert Hall and Chestnut Street Theatre, Chestnut Street at Twelfth (north side), 1211-27 Chestnut Street, Watercolor by Benjamin R. Evans, 1879, Library Company of Philadelphia. https://libwww.freelibrary.org/digital/item/597 "Our Boys" at the Chestnut [Street Theatre] ran the whole Centennial summer [June 26- November 18, 1876]. A program lists Mrs. EJ Phillips as Miss Champneys, an elderly young lady. The cast included McKee Rankin as Charles Middlewick.
Our Boys 100th Performance Sept. 6, 1876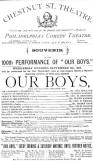 The Chestnut Street Theatre Stock Company disbanded in 1880 and the theatre was demolished in 1917.Durham1986
1876 EJ Phillips in Caste as the "Marquise de St Maur"
1893 Jan in Lady Windermere's Fan
1898 Mr. and Mrs. LeMoyne in a Clyde Fitch's Moth and Flame at Chestnut St. Theatre
Chestnut Street Opera House, 1021-1029 Chestnut St. http://www.philadelphiabuildings.org/pab/app/pj_display.cfm/14712 seems to be a different establishment. more Philadelphia Theaters
Hattie's picture taken at 1204 Chestnut Street would seem to have been in this same block. An 1876 Gopsill's Philadelphia City Directory lists three Elizabeth Phillips. Only one might be EJP. Her address was 3232 Mansard Square. [Google Maps does not recognize this address.]
The John Dolman law offices were at 727 Walnut Street, according to Gopsill's Philadelphia City Directory 1890. http://search.ancestry.com/search/db.aspx?dbid=3346 the Northwest corner of Washington Square. The John Dolmans, Sr. lived at 1738 Franklin St. in Philadelphia [North Franklin, at Cecile B. Moore Ave., near Temple University]

Sushi opening soon June 2011 across the street

Philadelphia Saving Fund Society founded 1818; built 1868 bank until 1932
Washington Square history http://www.ushistory.org/tour/washington-square.htm http://en.wikipedia.org/wiki/Philadelphia_Savings_Fund_Society
Shopping
Wanamaker's was Philadelphia's first department store and opened to serve the Centennial Exposition of 1876, though the present store [now Macy's] is built on the same site the current building did not open until 1910 http://en.wikipedia.org/wiki/Wanamaker's http://en.wikipedia.org/wiki/John_Wanamaker



Baum's Dance & Theater The sign says since 1887, but the website says this address 106 South 11th Street, off Chestnut is only since 1936. But EJ Phillips may well have visited an earlier location in search of costumes http://www.baumsdancewear.com/about/history
Philadelphia Squares
Franklin Square http://historicphiladelphia.org/day/franklin-square/ Logan Square http://en.wikipedia.org/wiki/Logan_Circle_(Philadelphia) Rittenhouse Square http://www.visitphilly.com/museums-attractions/philadelphia/rittenhouse-square/ Washington Square http://en.wikipedia.org/wiki/Washington_Square_(Philadelphia)

Penn Square Philadelphia City Hall was under construction 1871-1901 most of the time EJ Phillips was living in or visiting Philadelphia. http://en.wikipedia.org/wiki/Philadelphia_City_Hall It was nearly completed when the fireworks to celebrate the arrival of the twentieth century Dec 31 1900


Philadelphia City Hall 1899 City Hall Virtual Tour http://www.phila.gov/virtualch/

Philadelphia City Hall 2017 April visible from my hotel room
Centennial of 1876
Following the end of the American Civil War, Americans began to prepare for the celebration of the nation's 100th birthday in 1876. Various citizens of Philadelphia proposed that this exhibition should be held in this city and a resolution to that effect was adopted by the Select and Common Councils in January 1870. The International Exhibition opened to the public on 10 May 1876 and closed on 10 November 1876. http://www.phila.gov/phils/Docs/Inventor/graphics/agencies/A230.htm http://en.wikipedia.org/wiki/Centennial_Exposition


1876 Centennial Philadelphia Opening Day
Memorial Hall, Fairmount Park, East Memorial Hall Drive and the Avenue of the Republic, Built as the art gallery for the 1876 Centennial Exposition. Now the Please Touch Museum.
https://en.wikipedia.org/wiki/Memorial_Hall_(Philadelphia)
Centennial Exhibition 1876, Free Library of Philadelphia http://libwww.freelibrary.org/cencol/
Centennial Exhibition of 1876, Library of Congress https://www.loc.gov/rr/news/topics/worldsPhila.html
Wikipedia http://en.wikipedia.org/wiki/Centennial_Exposition May 10 to November 10, 1876,
1876 Centennial, Smithsonian exhibition http://www.sil.si.edu/Exhibitions/Smithson-to-Smithsonian/labels/102_high.html
Centennial Gatehouse now in Rittenhouse Square


Fairmount Water Works http://www.fairmountwaterworks.org/


Public Works
Electricity Walking around Center City Philadelphia in June 2011 I found this plaque commemorating electric lights installed on Chestnut St in 1881 between the Delaware and Schuylkill Rivers.



Plaque Municipal Water Works Centre Square 1801-1815
Transportation 1870s - 1890's
Broad Street Railroad Station drawings and photos http://www.philadelphiabuildings.org/pab/app/pj_display.cfm/17945 Market St., North Broad St., Filbert St. and North 18th Street was for the Pennsylvania Railroad
Broad Street Station opened in December, 1881. Wikipedia Broad Street Station
A large train shed covering the stub-ended tracks which serviced it was begun in 1892 and completed in 1893. Pennsylvania Page, 30th Street Station History, Allen P. Underkofler , 1996-2002 http://www.chesco.com/~apu/prr/prr_30.html more on Railroads
Baltimore and Ohio 24th Street Station Wikipedia 24th Street Station Opened 1888, demolished 1963. Trains to Baltimore and Washington DC.
Reading Terminal Headhouse and Train Shed, now the Pennsylvania Convention Center. Opened 1893 http://en.wikipedia.org/wiki/Reading_Terminal


Facade [minus the Hard Rock Cafe] seems similar to what EJ Phillips must have seen.
Reading Terminal Market 12th and Arch Streets, Opened 1892
Today's Reading Terminal Market had its roots in the Butchers' and Farmers' and Franklin Markets, both located on the 1100 block of Market Street. In 1890 the Philadelphia and Reading Railroad Company purchased this block for its new terminal. The merchants' refusal to relocate for the new building resulted in an agreement to erect a new market tucked beneath the train shed and tracks. .. The Reading Terminal Market opened for business on February 23, 1892. The street-​level Market reverberated with the sound of trains rumbling overhead. The stalls were laid out in a grid pattern with twelve aisles running east-​west and four wider avenues running north-​south. Sawdust was spread on the floor to absorb spills and moisture rising from the vast cold storage facility in the basement. By 1913 the Market was booming, with 250 food dealers and 100 farmers occupying its stalls. http://www.readingterminalmarket.org/about-the-market/history
Philadelphia-Camden NJ ferry http://www.riverlinkferry.org/
Victorian trolleys tour http://www.trustedtours.com/store/Victorian-Trolley-Sightseeing-Tour-of-Philadelphia-C262.aspx "Burgundy and green Victorian style trolleys" Are these like ones the Dolmans and EJ Phillips rode? A trolley tour of Fairmount Park is also available.
More Philadelphia Theatres
Arch Street Theatre
Opened in 1828 as a rival to the Chestnut and Walnut Street Theatres in Philadelphia. The theatre's heyday began in 1861 when Mrs. John [Louisa Lane] Drew (1820-1897) established it as one of the greatest of American stock companies. The house was under her control for the next 31 years. John Dolman Sr. played there 1853-1860, until he became a lawyer because his in-laws refused to have their daughter marry an actor. EJ Phillips played in Jim the Penman there in 1887
Louisa Drew's funeral Sept. 1897
John Drew founded the Arch St. Theatre and married Louisa Lane Drew. They were the parents on Georgia Drew Barrymore, and grandparents of Lionel, Ethel and John. http://www.theatrealliance.org/barrymores/barryname.html
Arch Street Theatre, 609-615 Arch Street photos http://www.philadelphiabuildings.org/pab/app/pj_display.cfm/16554 Irwin R. Glazer Theater Collection, Athenaeum of Philadelphia


Broad Street Theatre 237 South Broad Street photos http://www.philadelphiabuildings.org/pab/app/pj_display.cfm/7992
Now the site of the Doubletree Hotel Broad & Locust Sts.


Academy of Music 1420 Locust http://en.wikipedia.org/wiki/Academy_of_Music_(Philadelphia) is across the street.



Union League 140 S Broad St built 1865 (with later additions) http://www.unionleague.org/history-philanthropy.php
Stratford Hotel, now the Bellevue Hyatt http://en.wikipedia.org/wiki/The_Bellevue-Stratford_Hotel 1881-present building opened 1904
1890 Oct Saints & Sinners being so late on Friday night I could not catch the 1:17 train, so I took a room at the Stratford Hotel, Broad Street for the night, and did not return here until after performance of Jim on Saturday night


Bellevue Hyatt
1891 Jan Played yesterday Matinee in Captain Swift, rehearse Jim the Penman
Hotel Davidson, Nov 8, 1893 Milwaukee New Years day open in Philadelphia for two or more weeks at Broad St theatre.
Philadelphia, Mar 15, 1898 I was called very unexpectedly to play a part at the Broad St. Theatre -- and everything had to be given up to that.
Girard Theater May 5, 1895 On Monday the 13th I appear at the Girard Theatre for one week as the "Marquise de St Maur" in Caste. It is 19 years [1876] since I played it at the Chestnut [St Theatre, Philadelphia].
621 West Girard Ave. http://www.philadelphiabuildings.org/pab/app/pj_display.cfm/5420
National Theatre New York, Mar 5, 1894 So I expect my season will close on the 1st of May. Where I do not yet know, as we have not yet heard our route: only that we close Holy Week and begin our new season at the National Theatre, Phila on Easter Monday.
Park Theatre, Broad and Fairmont Ave, Broken Seal Mar 28, 1892
701-705 North Broad, now a YMCA? http://www.philadelphiabuildings.org/pab/app/pj_display.cfm/6835
Image http://www.cardcow.com/154911/park-theatre-broad-fairmount-ave-philadelphia-pennsylvania/
Walnut Street Theater 825 Walnut St. photos http://www.philadelphiabuildings.org/pab/app/pj_display.cfm/20373
Isabella Nickinson Walcottand her husband Charles Walcott were in this theatre company before joining Daniel Frohman's New York company in 1887


Walnut Street Theatre
Walnut St Theatre still in business, though the neighborhood has changed, as Thomas Jefferson University Hospital is all around.
Walnut Theatre Online (1809-present) http://www.walnutstreettheatre.org/ 825 Walnut St. at 9th Street
We have a number of doleful letters from Mrs. M Augusta Garretson, who managed the Walnut St Theatre from Aug 21 1859 until she sold it to Edwin Booth and his brother in law John Sleeper Clark in 1865..
Philadelphia churches
Philadelphia, Sept. 20, 1891 I went to Church this Morning at Girard Ave & 27th Street. Quite a bright pretty church inside -- surpliced boy choir but no further attempt at "High Church".
St. Augustine's Church of the Covenant is at 2701 West Girard Ave.
Louisa Lane Drew's funeral Sept. 1897 St. Stephen's Church Louisa Lane Drew is buried in Mt. Vernon Cemetery, Philadelphia, 3501 West Lehigh Ave
https://www.ststephensphl.org/artwork 19 South 10th St.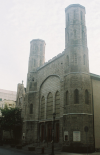 St. Stephen's Church Philadelphia

John Dolman's funeral July 1895 Zion Church
New York, July 19th 1895 I returned last Evening after seeing the last sad but beautiful [Masonic] rites performed over our dear departed friend [John Dolman Sr]. Services by the Rev'd Mr. White, who married Hattie & John, and Mr. Walker of Zion Church were conducted at the house and finished at the grave.
Masonic Temple, South Broad St https://pagrandlodge.org/ Dedicated 1873 Both John Dolman Sr and John Nickinson were Masons.


Zion Church 707 North 8th St. Philadelphia, Rector Colin Campbell Walker Protestant Episcopal
Houses
John and Hattie Nickinson Dolman married in April 1887 and first lived at 2116 Warnock St.
New York, Mar 17, 1887 [Hattie] goes to Phila on Tuesday to look after her house & get it in order. A fire was built in the range yesterday. Nellie [Dolman Law] has made the [wedding] cakes.
Warnock St. now seems to run only from 800-899, according to MapQuest. Yahoo maps places Warnock St. so close to Temple University that 2116 may well have become part of that campus.
They moved to Keystone St. Wissinoming in August 1888. Jack Dolman had been born in May 1888.
Yahoo maps places Wissinoming about 7 miles north of Philadelphia
Keystone St. San Francisco Aug.10,1888
Have just received a telegram from [son-in-law] John [Dolman] telling me this, "Moved safe & comfortable to Wissinoming. All well". Had a letter from Hattie this morning telling me John had been looking at the place. It is 30 minutes ride from Broad Street [station] on the Pennsylvania road. House has 9 rooms, heater & range and a large lot of ground, 42 by 100 ft. Rent $17 per month.
Wissinoming
Wissinoming is a small neighborhood in Northeast Philadelphia in the State of Pennsylvania, United States of America. Most people would agree that the boundaries of Wissinoming are the Delaware River on the east, Frankford Avenue on the west, and Robbins Avenue on the north. Few agree on the southern boundary which some put at Cheltenham Avenue, some at Sanger Street, and some at Bridge Street. Where and what is Wissinoming? http://homepages.rootsweb.com/~wdstock/ History http://homepages.rootsweb.com/~wdstock/history.htm
In Jan. 1891 the Dolmans [Hattie and John] arranged to move to 826 North 27th St. Elizabeth Ellen was born in May 1891.
826 North 27th St Jan 23rd, 1891
John and Hattie are endeavoring to move back to the City. They have a house in view on 27th Street North, no 826, above Brown Street and near the Park entrances. The only difficulty is getting released from their lease of the Wissinoming house!
This moment, a letter from Hattie, saying "John has paid the 1st month's rent for 826 N. 27th Street, dating from February 1st. Says the worst Castor can do is to sue him for 7 months rent and John thinks he can save that money by the change. So now moving will begin -- 8 days to do it in. Mrs. Dolman will be so delighted that she will work day and night for them. I think the change will be beneficial to Hattie for I think nervousness at being so much alone is half the trouble with her.
New York, Feb. 5, 1891 I suppose you were surprised to hear my daughter Hattie had left Wissinoming. They have been thinking of moving for sometime but a desirable house was offered to John in the City the week I was there, and the moving was decided upon in three days. The house is near two or three entrances to the Park. It is a three story brick, same number of rooms as the Wissinoming house but more complete & comfortable. And of course gas & water. The dining room and kitchen are smaller than I should like, but it's the style they build houses in, now in Philadelphia.
They had very nice weather for moving, and all their goods and chattels arrived in safety at their new home, Hattie included. She begins to look pretty stout but not very strong. This address is/was southwest of Girard College, about two and a half miles from Franklin St. 826 North 27th St. would have been much closer to 1738 North Franklin St. and to Fairmount Park than Wissinoming.
They moved to 2130 North 30th St in Oct. 1891, and eventually to 3207 Clifford Street.
2130 North 30th St. Oct. 4, 1891
Now to surprise you with a bit of news that greatly surprised us. The house has been sold, and Hattie has to move within two months, but has the privilege to move as soon as she pleases. John saw a house yesterday that he liked and after Hattie has seen it he may take it. It is 2130 North 30th Street. The Ridge Avenue cars are the line they will have to use.
Should the house prove satisfactory I think they will be in a better neighborhood than here, and not far from the Park. The house is entirely new, same rent as this one, but with more advantages in the way of electricity, lighting, gas and gas burners in cellar. Looking glasses over mantel and on wardrobe doors. And one small extra room that will do for storage.
3207 Clifford St.
May 25 1892 is the first mention of this address. The distance between this house and 2130 N 30th St. is/was less than a mile and just over two miles from Franklin St.
June 27th 1892 Tell Neppie the journey to the Park is much shorter and easier to accomplish than at 27th St.
5-30-1894 Buildings are going up all around us. Twenty-six homes are being built on the square of ground between our block and the reservoir. A Chapel and four houses on the block behind us and South of Columbia Ave they are building as fast as they can, and as far as the Park boundary will let them. I used to be able, from three windows, to see West Phila but the view is blocked by three story houses.
Fairmount Park http://www.fairmountpark.org/ History http://www.ushistory.org/districts/fairmountpark/index.htm
Fairmount Civic Association http://www.fairmountcivicassociation.org/
May 27 1891 I have made two trips to Lemon Hill with Jack. He has walked all the way and we have played ball there. We see the Observatory from the sitting room windows - I suppose you remember the Observatory and the elevator running up & down it.
Strawberry Mansion seems to be just east of the Clifford Street address. http://en.wikipedia.org/wiki/Historic_Strawberry_Mansion
Forrest Home, Philadelphia
During his lifetime, [Edwin] Forrest was a major supporter of both the General Theatrical Fund and the American Dramatic Fund Association, two charities that were predecessors of The Actors' Fund of America. His principal dream, though, was to create a retirement home for the elderly members of the profession he so loved, and he left the bulk of his enormous estate to be used for the realization of that dream. The Edwin Forrest Home opened its doors in Philadelphia in 1876, four years after Mr. Forrest's death. It continued to serve retired members of the profession until the 1980s, when its Board of Managers decided to close the home, sell the property, and contribute its sizable assets to The Actors' Fund for the construction of its new nursing home in Englewood, New Jersey, whose main section has been named the "Edwin Forrest Wing." http://www.hsp.org/files/findingaid3068edwinforresthome.pdf
The first site for the Forrest Home was the actor's summer residence, Springbrook, which he built in 1865 on 100-plus acres in Northeast Philadelphia, from the Delaware River to Frankford Avenue adjoining Cottman Avenue; he stipulated that it be made an actors' retirement home after his death. ... There was a maximum of only 12 residents at a time, because Forrest wanted it to be a real home, not an institution. The residents lived among souvenirs of Forrest's career — his costumes, suits of armor, daggers, dueling pistols and knives, including some Bowie knives given to him by their inventor, Jim Bowie, who was one of his friends. Steve Cohen, Superstar Part 2, Philadelphia City Paper, Feb. 3-10, 2000 http://citypaper.net/articles/020300/feat.cover2.shtml
Aug 1894 "this morning she [EJ Phillips] has gone to a funeral at the Forrest Home -- the second in a week. Last Tuesday Mr. Geo. Parker was buried. Mama went there and saw Mrs. [Benedict] DeBar whom she knew some years ago [in St. Louis]. Mrs. DeBar was busy looking after the arrangement of flowers , and at the grave learned forward &* threw in a little bunch of green. On Friday she died & mama has gone to the funeral this morning. ... Mrs. DeBar & Aunty were great friends at one time.:
Girard College http://www.girardcollege.com/
History http://en.wikipedia.org/wiki/Girard_College#History_of_Girard_College
Girard College opened in 1848 with the aim of supporting orphaned poor boys who had lost their fathers, as had the Wood boys EJ Phillips knew. Their father, who had worked with John Nickinson, died in 1886.
Philadelphia Entertainments
Baseball Philadelphia, August 29,1887 On Saturday [son-in-law John Dolman] took us and Mrs. Dolman & Walter [Dolman] to see a game of baseball by the "Philadelphias" & Detroits. Mrs. Dolman & I got pretty excited over the game. I standing up at a home run and Mrs. Dolman crying out "Stop, stop" to one of the men who was running from 3rd base. We quite disgraced ourselves.
In 1883, [second baseman Al] Reach founded the Philadelphia Phillies with Colonel John I. Rogers, a politician and lawyer. In 1887, Reach built the new Philadelphia Base Ball Park at Huntington and Broad. The stadium cost $101,000 and seated 12,500. ... Atwater Kent Museum http://www.philadelphiahistory.org/akm/collection/object/ Yahoo Maps places West Huntington one block south of West Lehigh.
Baker Bowl N. Broad St., W. Huntingdon St., N. 15th St. and W. Lehigh Avenue. Philadelphia Baseball Grounds 1887-1895, rebuilt 1895 1913 national League Park
A Pennsylvania Historical marker stands on Broad Street just north of West Huntingdon Street, Philadelphia. The marker is titled, "Baker Bowl National League Park" and the text reads, The Phillies' baseball park from its opening in 1887 until 1938. Rebuilt 1895; hailed as nation's finest stadium. Site of first World Series attended by U.S. President, 1915; Negro League World Series, 1924-26; Babe Ruth's last major league game, 1935. Razed 1950. The marker was displayed at the Vet[erans Stadium] through the end of the 2000 season and then moved to the location of the ballpark, just behind where the right field foul pole would be. Some distinctive buildings visible in vintage photos of the ballpark remain standing and help to mark the ballpark's former location. One is the roughly 10-story-tall, triangular building across Lehigh to the north-northeast, behind what was centerfield. It was originally a Ford Motor Company building, and was completed at some point prior to the 1915 World Series. Another is the neoclassical North Broad Street Station train depot building across Broad Street from what was the end of the first base grandstand. It was built in the 1920s and is visible in later aerial photos of the ballpark. The building itself now houses a different occupant. The modern North Broad (SEPTA station) stands nearby. http://en.wikipedia.org/wiki/Baker_Bowl
Hattie to Neppie Aug 26, 1897 We are going to Willow Grove this afternoon. Mama has never been there, & I want her to see it, so this is our birthday spree. John will meet us out there. We will ride out by trolley. It is such a beautiful ride.
Willow Grove Park 1896-1976 http://en.wikipedia.org/wiki/Willow_Grove_Park in Willow Grove, Montgomery County, Pa, about 10 miles north of Philadelphia. The park was located at Easton Rd. and Welsh Rd. (Rte 63) and was reachable by trolleys from Philadelphia and Doylestown http://en.wikipedia.org/wiki/Willow_Grove_Park Now Willow Grove Shopping Mall
Rise and decline of Willow Grove Park, Harold E. Cox 1963 http://www.wgpark.com/page.asp-page=5.html
Bibliography
Glazer, Irvin R. Philadelphia Theaters: A Pictorial Architectural History, Athenaeum of Philadelphia and Dover Publications, Inc. New York, 1994.
Looney Robert F. Old Philadelphia in Early Photographs 1839-1914, Free Library of Philadelphia and Dover Publications, New York, 1976.

A background to Philadelphia history http://www.ushistory.org/philadelphia/index.html
Edwin Forrest Home records, Historical Society of Pennsylvania, 1792-1990 59 boxes http://www.hsp.org/sites/www.hsp.org/files/migrated/findingaid3068edwinforresthome.pdf
Historic Philadelphia http://www.ushistory.org/tour/index.html
Philadelphia timelines 1850s to 1890s https://en.wikipedia.org/wiki/Timeline_of_Philadelphia#1850s-1890s
National Historic Landmarks: Pennsylvania, http://en.wikipedia.org/wiki/List_of_National_Historic_Landmarks_in_Pennsylvania
National Historic Landmarks Philadelphia http://en.wikipedia.org/wiki/List_of_National_Historic_Landmarks_in_Philadelphia
Philadelphia Architects and Buildings http://www.philadelphiabuildings.org/pab/index.cfm
Philadelphia Historical Commission http://www.phila.gov/historical/
Philadelphia History Museum at the Atwater Kent http://www.ushistory.org/tour/atwater-kent.htm http://www.philadelphiahistory.org/ Original home of the Franklin Institute.
Philadelphia Theatrical Papers 1877- 1943, Univ. of Delaware Library http://www.lib.udel.edu/ud/spec/findaids/phila.htm
Philadelphia trolleys, The John Gibb Smith, Jr. Collection, Free Library of Philadelphia http://www.library.phila.gov/pix/trolleys/trolleys.htm
Free Library of Philadelphia Theater Collection, 1901 Vine St. between 19th and 20th Streets http://libwww.freelibrary.org/collections/collectionDetail.cfm?id=25
Playbills collection http://dla.library.upenn.edu/dla/pacscl/detail.html?id=PACSCL_PRIN_MUDD_TC113USNjP Nineteenth century playbills from the following Philadelphia theaters: the Walnut Street Theatre, the Academy of Music, the Arch Street Theatre, the Chestnut Street Theatre, National Theatre (Walnut Street), the National Theatre (Chestnut Street), the Melodeon, and the Continental Theatre and scrapbooks which include newspaper clippings, photographs, and reviews of actors and performances.and more. Now housed at Princeton?
Finding Aid Free Library of Philadelphia Rare Book Dept. http://dla.library.upenn.edu/dla/pacscl/detail.html?id=PACSCL_FLP_FLPTHCPLAYBILLS
Jeffrey Ray lecture on Philadelphia: from Colonial City to Modern Metropolis https://www.youtube.com/watch?time_continue=3981&v=pM1FgNT4DcQ
Last Updated Dec. 28, 2019
Homepage A to Z Index Bibliography People Places Plays Site Map About these letters About EJ Phillips Chronology EJ Phillips Facebook Fan Page