Homepage A to Z Index Book outline EJ Phillips Facebook Fan Page

Recalled from retirement
EJ Phillips did not want to retire after returning to Philadelphia from the Gay Parisians in New Orleans. The Panic of 1893 had long lasting effects on the American economy and employment. She continued to network and maintain contacts with colleagues.
An August 1897 trip to New York to see Mrs. Fernandez "and about a thousand actors & actresses -- more or less -- going in and out of her office. She had an idea that I was booked for next season, and was surprised when I told her I was not."
But as Hattie reported a few days later "This resulted in a telegram "offfering her an engagement at the Schiller Theatre, Chicago, in a Stock Co. But the whole thing seemed so uncertain & unsatisfactory, she thought it best not to accept." In Sept 1897 "I had a call from Mrs. Fernandez last week to be in New York to attend a rehearsal today. I wired that I would be there, and on Saturday monring she wired me not to come. It had been decided not to do the play." In November EJ phillips wrote to Neppie "I am still idle and likely to be, but I was lucky in not going to the Schiller's Theatre, for it was a non-success. Theatricals are very dull this season so far. So many too are out of employment."
3219 Clifford Street
Philadelphia Pa
Feby 11th 1898
My dear daughter Neppie
Melanie [Dolman, ] is on her first trolley ride today. I wonder how she will get through with it. She is a big baby to manage now. She was ten weeks old yesterday, but looks 3 months.
Week before last I went to National Theatre at a matinee to call on Mr. Stoddart who was playing there in Sporting Duchess. We had a pleasant chat and he spoke to me about a part in a new play he expected to play in and he would speak to the management about me. I have not heard from him since, but the papers say the play is to be done in Chicago on Easter Monday. It is called Beside the Bonnie Briar Bush by Ian McLaren. I have read it, a pretty story, but it would require a considerable amount of coaxing to make a strong play. I do not expect to hear anything more about it.
Wednesday matinee I went down to Chestnut St Theatre to call on Miss [Ellie] Wilton and Messrs [WJ] LeMoyne and [Herbert] Kelcey. Next week they produce a new play. They expect to make a great hit. I am to go see it. Sarah Cowell LeMoyne is to be in it, but not Miss Wilton. Sarah had gone to New York on Wed'day so did not see her, but will on Monday. [play seems to have been Clyde Fitch's The Moth and the Flame.]
If there is anything you want out of my wardrobe for evening wear, let me know and I will send it. Now and always your loving Mother
scan in Sporting Duchess program
3219 Clifford Street
Philadelphia Pa
Feby 22nd 1898
My dear daughter Neppie
I did not intend being so much behind time in answering your good newsy letter, but each day finds me busy and the hours pass. A baby in the house is paramount to all other considerations & we all have to take a back seat when Melanie has the floor, which she takes pretty often, but she is a good little soul, and we have to answer her.
So you are going to move again. I wish I could help you to do so, financially and personally but alas, I am no good either way, much as my heart yearns towards you. I have been idle for a year and so have many others in my profession, even those younger than I. Whether I shall be able to appear again is doubtful, though I am not in bad health, but the accumulation of years has me tied down and I cannot do as I have done. I did hope to be able to pull through for another five years at least, but it is vanity for me to think it. "All is beauty."
I went to Chestnut St Theatre last Saturday to see Mr. and Mrs. LeMoyne in a play. They made a hit here in a play and are going to produce it in New York at the Lyceum Theatre Easter Monday.
Is getting dark so will say good night. Love and kisses to you dear children, Albert, Neppie & Ted from your ever loving Mother
The play she saw seems to have been Clyde Fitch's The Moth and the Flame according to John Clapp's Players of the Present, 1899
http://books.google.com/books?id=QhsPAAAAIAAJ&dq=1898+lemoyne+chestnut+street+theatre+philadelphia&source=gbs_navlinks_s
Tuesday March 15th [1898]
My dear daughter Neppie
I was beginning to think something was the matter and was about writing, when I was called very unexpectedly to play a part at the Broad St. Theatre -- and everything had to be given up to that.
A week ago Sunday Mr. and Mrs. [Willie] Seymour called to see me -- he being here with Mr. Sol Smith Russell who was playing a two weeks engagement at the Broad St. Theatre. We had a pleasant chat -- and he left about 6 PM and I did not suppose I should see him again. -- but as I was washing the supper dishes on Monday he came in a cab -- to ask me to go with him to the theatre to play "Clementina" in A Bachelor's Romance in place of Mrs. F.A. Pitt whose husband Mr. H.M. Pitt had died at 3 PM that day in New York and she would have to go on to New York to attend the funeral -- so I took a couple of gowns and went.
When we arrived at the theatre it was about 8 PM -- and Mrs. Pitt had decided to play that night -- but they asked me to stop and look at the play and go to rehearsal next morning. I did so and played the part on Tuesday night and twice on Wednesday -- Thursday Mrs. Pitt returned and played that night. Not having acted for a year and two and a half years since I studied the part -- you can imagine I had to "hustle" but everyone said I was very good and the management was very much pleased and thanked me very much [illegible].
On Saturday Mrs. Pitt's son bought me a very handsome azalea plant -- in a beautiful jardinière with Taberet stand the material of which the two latter are made is a kind of crockery, but very strong and in a bronze color. All very lovely, but I felt it was too much for Mrs. Pitt to send me for the little I had done, as I had never met her but two or three times, but Mr. Pitt was with us in the very long run of Jim the Penman. He was a capital actor and refined gentleman. The news of his committing suicide was proven to be a mistake, and was a great consolation to his wife.
Tell Albert Willie Seymour has five children, two daughters and three sons. The eldest 14 years and the youngest 5 months. He is traveling as stage manager with Sol Smith Russell this year and his family live in Roxbury, Boston, Mass. Love and kisses dear children three, Albert, Neppie and Teddie from your loving and longing to see you old Mother
Eddie [Dolman] no better! but still living. (Did he die in 1889 or 1899?)
Fanny Addison Pitt (1847-1937)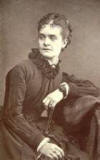 A Bachelor's Romance by Martha Morton Sept 1897. http://books.google.com/books?id=Tvs_AAAAYAAJ&dq=A+Bachelor's+Romance+by+Martha+Morton&source=gbs_navlinks_s Mrs. Pitt's Part was Miss Clementina, described as "a maiden lady with a sharp tongue".
New York Clipper 1898 March 19 The past two weeks, during which Sol Smith Russell was seen in A Bachelors Romance, netted satisfactory financial returns . Fannie Addison Pitt was called away suddenly on Tuesday by the death of her husband in New York , and for three performances her part was wall played at short notice by Mrs. E . J . Phillips . Following Julia Marlowe cornes Herbert Kelcey and Effie Shannon , March 28, in The Moth and the Flame , which they produced a short time ago at the Chestnut Street Theatre.
The NY Times report of Mr. Pitt's death was headlined
AN OLD ACTOR'S SUICIDE. Henry Mader Pitt, after a long career on the stage takes carbolic acid. Was Once Very Successful
He Had Played in Many Well-Known Parts, but at Last Managers Considered Him Unreliable on Account of His habits.

Mr. Pitt did not leave a suicide note, and had been living in a boardinghouse patronized by theatrical people, with his 21 year old son, while his wife was playing the play in Philadelphia. Mr. Pitt was found groaning in bed, a revolver on a chair beside the bed and an empty glass which had contained carbolic acid nearby. However by all reports he had seemed quite cheerful that morning. March 8 1898 https://www.nytimes.com/1898/03/08/archives/an-old-actors-suicide-henry-mader-pitt-after-a-long-career-on-the.html

Unfortunately this seems to have been EJ Phillips last performance.
3219 Clifford Street
Phila Pa
August 1st 1899
My dear Son,
I have improved sufficiently to take my place at the table during meals and do justice to Hattie's good catering - but my strength seems slow in returning - but I suppose it is only natural at 69 to feel a little "played out" and that is how I feel "for a fact".
In my hurry in writing you a day or two before I was taken sick, I omitted answering your question about Mr. McIntosh as to whether he was the same man who was in the "casts" in the programme. Yes! he was a very clever Amateur and often obliged your father by playing parts when he was short of actors whom he could trust.
I had known him in Hamilton [Canada] long before. He belonged to the Amateur Company that I first played with there. I made my first appearance on any stage as "Mam'selle DeVolange" in The Pride of the Market, whether Mr. McIntosh was in the cast or not I do not remember, but in my second appearance a few weeks later he was "The Dougal" creature and I was "Diana Vernon" in Rob Roy. Then a few weeks after that we both appeared in the Tragedy of "Douglas. Mr. McIntosh was "Young Norval" and I as his Mother, "Lady Randolph".
I cannot give you the exact date of these appearances, but I think it was in the Fall of 1848. I had passed my 18th birthday. Mr. McIntosh always a newspaper man, was editor of the Hamilton Times, Spectator &c. Was doing splendidly in all his ventures when a gold mine fever was raised somewhere in Northern Canada & he joined the craze, sold out everything and started for the gold fields.
Of course he lost everything except his wife and several children - and not relishing the idea of again beginning life at the foot of the ladder, he left Canada & went to Chicago where I met him in 1875 while I was traveling with [Lawrence] Barrett.
He saw my name, found out my hotel, "The Briggs House", sent up his card. I said "Send the gentleman up" - he came - stood at the door of my room and throwing his hands up - said "Well, it is Elizabeth, isn't it?." He was going to his office but he "would be back at 2 PM" and I must be ready to go home with him to see his wife & family.
When I went next to Chicago it was to join the Union Square Co in June 1878. I at once set out to find him and the family where I had left them - the family had moved but I found them - but all in mourning for the devoted husband and loving father T.L.W. McIntosh.
I hope this hurried story will not give you the idea that I am fast preparing to join poor Uncle [Zavistowski] in his retreat - but I wanted to give you as good an idea of Mr. McIntosh as I could without boring you.
He was a gentleman and a great friend of your father's. I think when I met him in Chicago, and until his death - which was very sudden from heart disease - he was connected with a publishing and Bookbinding establishment and was making money. He was a very bright businessman. Love and Kisses to Neppie and dear little Edward and to you dear son from your loving Mother
Briggs House Chicago was at the northeast corner of Randolph and Wells http://www.encyclopedia.chicagohistory.org/pages/11591.html Near McVickers Theatre
Chicago hotels http://www.encyclopedia.chicagohistory.org/pages/603.html
3219 Clifford Street
Phila Pa
Dec 29th 1902
Dear daughter Neppie,
We are all pretty well, but the Bulletin tells us this Evening that Typhoid fever is now pretty bad in West Philadelphia, and though smallpox is on the decrease it is not yet over there -- so what comes next we cannot tell, can only hope for the best.
I had a call from Miss [Ida] Vernon who was traveling with John Drew's Co -- and the week following Miss Kate Fletcher called. She was with James O'Neill in Monte Cristo. She was well and asked after you. Would like to see you all but cannot for the present -- adieu. Your loving Mother
Last revised Dec 26, 2019
Homepage A to Z Index Bibliography People Places Plays Site Map About these letters About EJ Phillips EJ Phillips Facebook Fan Page